Outrageously Easy Quinoa Pizza Crust
Published on May 20, 2018
by
Kristina Stosek
Prep Time:

5 minutes
Cook Time:

25 minutes
Serves:

9-inch crust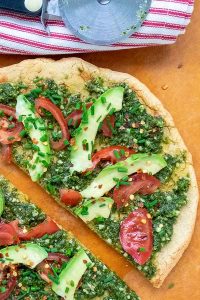 ​This post may contain affiliate links, please see our
privacy policy
for details
This recipe for quinoa pizza crust is so easy. You'll be making it on a regular basis! It's also gluten-free, yeast-free and plant-based, making this pizza crust recipe acceptable for most diets.
I called it "Outrageously Easy Quinoa Pizza Crust" because the recipe takes only 5 minutes of prep time and only 5 ingredients plus spices. A pizza recipe doesn't get easier than this!
What does quinoa pizza crust taste like?
If you're looking for a healthy and delicious pizza crust, look no further! The quinoa crust has just the right amount of crispness and will hold several toppings without being soggy.
the many uses of quinoa pizza crust
You can make a mouthwatering vegan sandwich by replacing bread with this pizza crust. Add fresh toppings like avocado, pesto, fresh tomatoes, onions and lettuce for a tasty plant-based sandwich.
However, this crust is the perfect base for your favorite pizza toppings. So go ahead and pile on the veggies, fruit, or whatever you like. Just be sure to bake it until the crust is golden brown and crispy. Enjoy!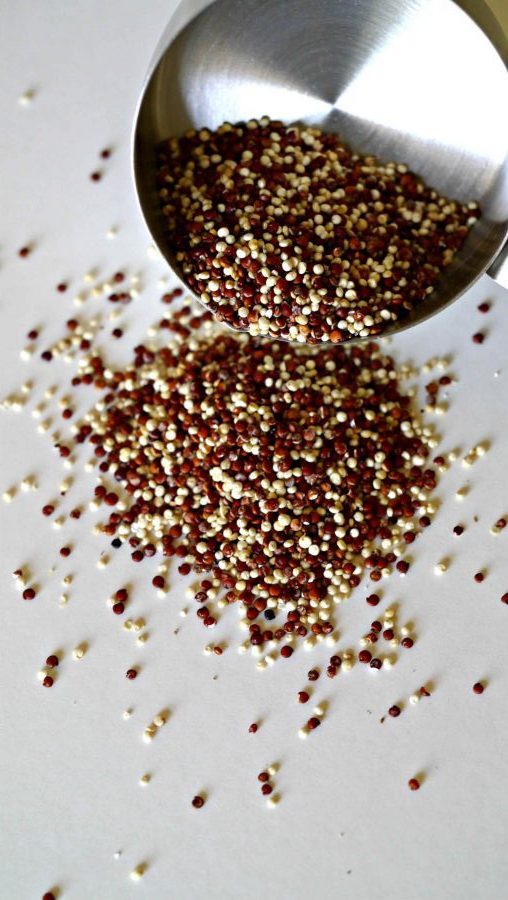 FAQ about quinoa
When it comes to quinoa, there are a lot of questions. What is it? Where does it come from? How do you cook it?
If you're new to quinoa, here's a quick overview. Quinoa is a seed some call a grain that originates from South America. Quinoa is a flowering plant in the amaranth family.
This tiny edible seed comes in various colours, including white, black, red, and yellow.It's high in protein and fiber and a good source of iron and magnesium.
Quinoa has a slightly nutty flavour and a texture similar to rice. When cooked, quinoa will become fluffy and slightly transparent.
But the most common question we get is, can you make a pizza crust out of quinoa? Yes, you can bake with quinoa flour. Quinoa flour is the closest to sorghum flour, and you can use both interchangeably.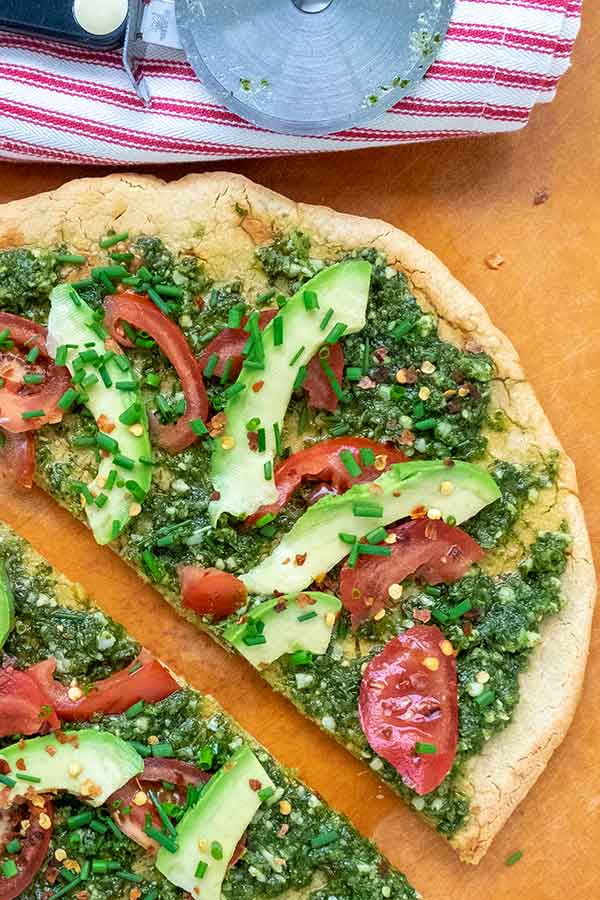 A rustic Italian pizza
For a rustic Italian pizza, add your favourite toppings with cheese and bake five to ten minutes longer, until the cheese has melted and is bubbling. Enjoy!
quinoa pizza recipe notes,
This gluten-free recipe is probably the easiest and nutritious pizza crusts. If you have five minutes, then you can make this quinoa pizza dough.
Start whisking the dry ingredients together. Then, slowly whisk in the water, and the pizza dough is ready. How easy is this recipe?
This easy quinoa pizza crust is so simple to make and is a healthier alternative to traditional pizza crusts. Whether making a traditional pizza with tomato sauce and cheese or getting creative with your toppings, this crust is the perfect base.
And since it's so easy to make, you can have pizza any night of the week!
Love pizza? Check out these incredibly delicious gluten-free pizza recipes! I especially love the gluten-free yeast free pizza dough recipe.
Let's Connect!
Be sure to FOLLOW US on FACEBOOK and PINTEREST.
Many thanks!
Kristina xx
Outrageously Easy Quinoa Pizza Crust
Published on May 20, 2018
by
Kristina Stosek
Instructions
1.

Preheat oven to 400 F and line a baking sheet or pizza pan with parchment paper

2.

In a large bowl whisk together dry ingredients

3.

Slowly whisk in the water until the mixture becomes a thick batter

4.

Spread the batter onto prepared pan into a 9-inch circle

5.

Bake for 20 minutes. Remove from the oven and using the parchment paper flip the crust over, peeling back the paper. Bake for 5 more minutes

6.

Top with fresh ingredients and enjoy, or add desired toppings with cheese and bake until the cheese has melted. About 5 - 10 minutes
Leave a Comment
Kristina
Miranda, the only thing that I can think of is did you use Psyllium husk, NOT powder. And when you measured the flour did you fill your measuring cup with a spoon and levelled it off with a knife? Not scooping out the flour with the measuring cup. I make the quinoa pizza crust at least once a week, and the texture is good.
Disappointed in texture- followed the recipe carefully but the first indication of a problem when the "thick batter" promised at the end of mixing was instead like putty. Sadly it was still a little like putty when cooked, although it held together and tasted ok.
Kristina
Gagan, psyllium husk is very different from Xanthan gum. However you can try ground flaxseed or ground chia seed.
Hi, Is there a substitute for Psyllium husk? I don't have on hand but have Xanthan gum. Thanks