Outrageously Easy Quinoa Pizza Crust
Prep Time
5 Minutes
Difficulty
Beginner
Cook Time
25 Minutes
Serves
9-inch crust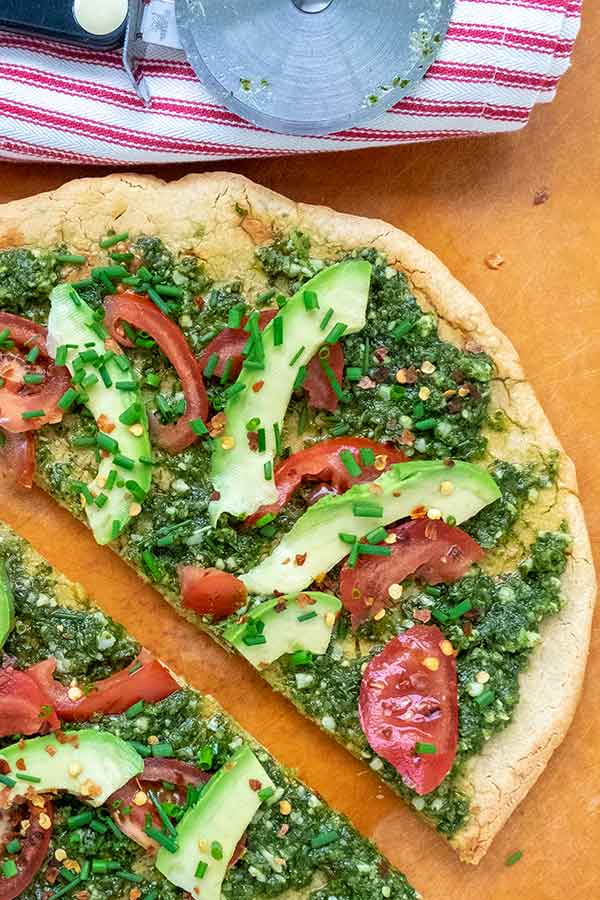 Average Rating: 5 | Rated By: 14 users
Outrageously Easy Quinoa Pizza Crust recipe that takes only 5 minutes of prep time, yes 5 minutes. The healthy gluten-free pizza crust has just the right amount of crispness and will hold several toppings without being soggy.
This vegan, gluten-free quinoa pizza crust makes a wonderful bread substitute. I like to add fresh toppings such as avocado, pesto, fresh tomatoes and chives for that perfect mouthwatering healthy sandwich.
What is quinoa?
Quinoa is a flowering plant in the amaranth family. This tiny edible seed comes in various colours, including white, black, red, and yellow. The nutrient-rich naturally gluten-free seeds are packed with protein, vital dietary fiber, B vitamins, and minerals. The plant has been cultivated for about 5000 years and is indigenous to the Andean region of South America, specifically Bolivia, Ecuador, Chile, and Peru. 
Quinoa pizza crust is perfect for multiple toppings!
For a rustic Italian pizza, add your favourite toppings with cheese and bake five to ten minutes longer, until the cheese has melted and is bubbling. Enjoy!
quinoa pizza recipe notes,
This gluten-free recipe is probably the easiest and one of the healthiest pizza crusts. If you have five minutes, then you can make this quinoa pizza dough.
Start whisking the dry ingredients together. Then, slowly whisk in the water, and the pizza dough is ready. How easy is this recipe?
Love pizza? Check out these incredibly delicious gluten-free pizza recipes!  I especially love the gluten-free yeast free pizza dough recipe.
Ingredients
1/3 cup tapioca starch/flour
1/2 tsp. Sea salt
1/2 tsp. GF aluminum free baking powder
1/2 tsp. GF dried oregano
1/4 tsp. GF garlic powder
3/4 cup water
*As an Amazon Associate and member of other affiliate programs, I earn from qualifying purchases. Please check out my sponsorship and disclosure policy page for more details
Instructions
Preheat oven to 400 F and line a baking sheet or pizza pan with parchment paper
In a large bowl whisk together dry ingredients
Slowly whisk in the water until the mixture becomes a thick batter
Spread the batter onto prepared pan into a 9-inch circle
Bake for 20 minutes. Remove from the oven and using the parchment paper flip the crust over, peeling back the paper. Bake for 5 more minutes
Top with fresh ingredients and enjoy, or add desired toppings with cheese and bake until the cheese has melted. About 5 - 10 minutes
Similar Recipes
Gluten Free Pizza Crust (Vegan)
A gluten-free pizza crust that is delicious and vegan. Folks who don't eat gluten need to avoid not only the apparent sources of wheat, rye, and barley but also more obscure items such as malt and modified food starch. Thanks to all these restrictions, it can be challenging to find a good pizza crust recipe […] Read More
Prep Time
20 Minutes
Difficulty
Moderate
Cook Time
17 Minutes
Serves
2x16-inch
Gluten-Free Butternut Squash Pizza Crust
A gluten-free pizza made with a butternut squash crust. A pizza crust doesn't have to be made only with grains. In today's world, a healthy approach to making pizza is adding vegetables to the crust. In this recipe, I used butternut squash, adding valuable nutrients and fibre.      Why use squash to make pizza crust? […] Read More
Prep Time
15 Minutes
Difficulty
Easy
Cook Time
90 Minutes
Serves
12-inch pizza
20 Minute Keto Pizza For One
This Keto Pizza For One has been a long time coming. We all know how satisfying a delicious cheesy pizza is. This 20-minute keto pizza recipe is when you are short on time or have that last minute craving for Italian food and want to avoid carbs. Seriously, every last bite of this grain-free pizza […] Read More
Prep Time
5 Minutes
Difficulty
Easy
Cook Time
15 Minutes
Serves
9-inch pizza