Gluten-Free Artichoke Dip Pizza {Vegetarian}
Prep Time
15 Minutes
Difficulty
Easy
Cook Time
15 Minutes
Serves
8 pc
Be the first to rate this recipe.
This gluten-free artichoke dip pizza is precisely that, a pizza topped with delicious creamy artichoke dip, fresh tomatoes and plenty of fresh basil. I used two kinds of cheese, mozzarella for the dip layer and Parmesan for the topping adding a crispy and salty flavour to the tomatoes. Honestly, it is the best combination in a vegetarian pizza. At our house, I typically make pizza at the end of the week, but with Thanksgiving happening this week I decided to keep it simple tonight with this delicious artichoke dip pizza. I made a basic gluten-free pizza dough for this recipe because it is super easy, another pizza crust I would use is the outrageously easy quinoa pizza crust or our yeast-free gluten-free pizza crust. Both are perfect with these toppings. Once you make the dough which takes about 15 minutes to make, the topping takes less than 5 minutes to put together. Now all you have to do is place it in the oven and bake for not more than 15 minutes. And there you have it, a delicious vegetarian pizza under 35 minutes. Perfect, quick and easy pizza that everyone will enjoy! This recipe also makes a wonderful appetizer. I make the pizza into a rectangle and cut it into bite size pieces. The appetizer is beyond delicious. No need for dips, chips or crackers, because this appetizer will be a huge hit at any party, you will see 🙂
Ingredients
BASIC GLUTEN-FREE PIZZA DOUGH
1/2 tsp. Baking soda
1/4 tsp. Himalayan salt
1 cup warm water (110 - 115 F)
3 Tbsp. Extra virgin olive oil
1 tsp. Pure maple syrup
TOPPING:
1 cup grated mozzarella cheese
1/3 cup GF mayonnaise
2 Tbsp. Chopped fresh basil
1/2 tsp. GF crushed red pepper flakes
1 garlic clove, minced or grated
1 tomato, thinly sliced (I used Romano)
1/4 cup grated parmesan cheese
Fresh basil for serving
Instructions
DOUGH
Place the flour, yeast, baking soda and salt into a large bowl and mix until combined. Add the warm water, olive oil and maple syrup and mix well. Using your hands, form the dough into a ball. Cover bowl with plastic wrap. Set aside for 30 minutes.
While dough is rising, preheat the oven to 450 F
Cover a pizza pan or a rimmed baking sheet with parchment paper and place the ball of pizza dough on the paper. Using a roller spread the dough out until it is in an even layer about 1/2-inch thick. Set aside
In a medium bowl mix the artichokes, mozzarella cheese, mayonnaise, basil, red pepper flakes and garlic and spread over the pizza dough. Top with tomato slices and sprinkle with parmesan cheese
Bake for 12 - 15 minutes until the crust is golden brown and the cheese golden. Scatter with fresh basil leaves and enjoy!
Similar Recipes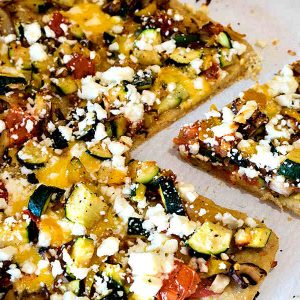 Gluten Free Greek Pizza Recipe
When it comes to a great pizza, it is all about the crust. After trying many different combinations of ingredients, I have finally developed the perfect gluten free pizza crust. The crust is crispy on the outside and soft on the inside. The best part is, there is no yeast and no kneading necessary. I […] Read More
Prep Time
15 Minutes
Difficulty
Easy
Cook Time
22 Minutes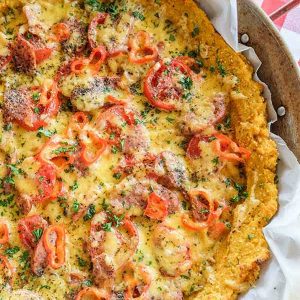 Gluten-Free Butternut Squash Pizza
A gluten-free pizza crust doesn't have to be made with only flour. In today's world, a healthy approach to making pizza is adding vegetables to the crust. In this recipe I used butternut squash, adding valuable nutrients and fibre. My favourite toppings are spicy Italian Sausage, fresh tomatoes, onions, bell pepper, and cheddar cheese, all […] Read More
Prep Time
15 Minutes
Difficulty
Easy
Cook Time
90 Minutes
Serves
12-inch pizza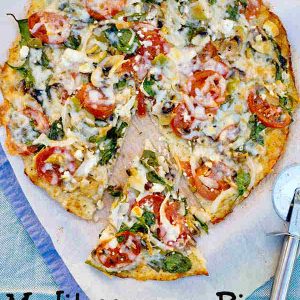 Gluten-Free Keto Mediterranean Pizza
Have you made cauliflower pizza crust and found it to be too soggy? I promise this 4 ingredient gluten-free keto pizza crust will come out crispy and delicious, just the way you like it. The topping on this pizza is lightly seasoned making this gluten-free keto Mediterranean pizza outstanding. Total carbs per slice only about […] Read More
Prep Time
15 Minutes
Difficulty
Easy
Cook Time
45 Minutes
Serves
1 large pizza (14-inch)