African Beef Stew Recipe
Published on Feb 24, 2016
by
Kristina Stosek
Prep Time:

15 minutes
Cook Time:

140 minutes
Serves:

4 - 6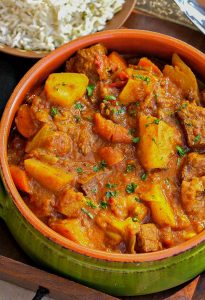 ​This post may contain affiliate links, please see our
privacy policy
for details
From the savory depths of tender beef to the aromatic spices, this slow-cooked African Beef Stew is just the perfect hearty, cozy dinner to make when craving comfort food. This hearty stew is a culinary masterpiece, enjoyed for its bold flavors, intricate spice combinations, and the use of wholesome ingredients. Instant pot method included.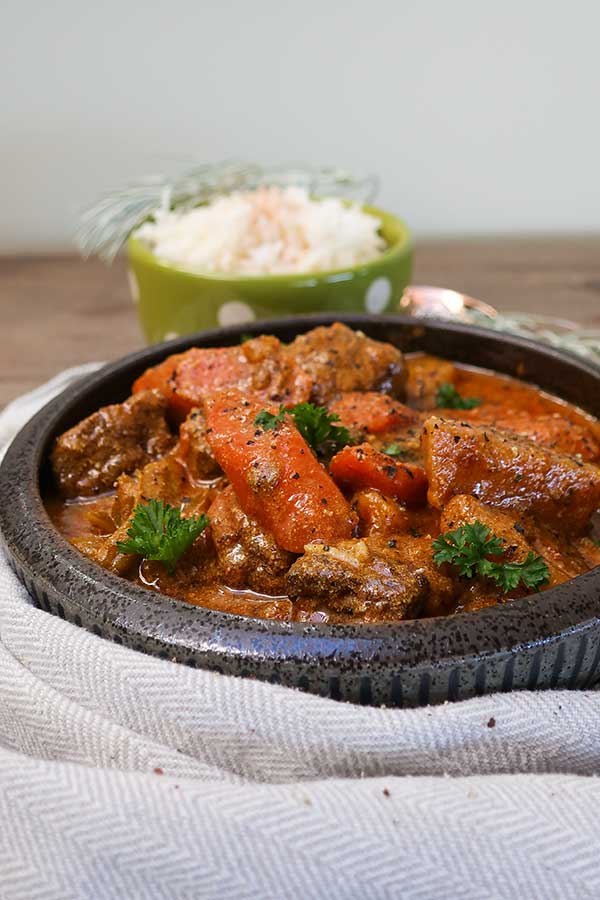 The Flavors in African beef stew
African beef stew is a flavorful and hearty dish that varies in taste depending on the region and local ingredients used, but it generally features a rich and complex flavor. Here's a description of the flavors typically found in African beef stew:
Umami-rich Beef:
The base of the stew is usually made with tender chunks of beef, which provide a deep, savory, and meaty flavor. The meat is often browned before simmering, adding a caramelized taste to the stew.
Spices:
African cuisine is known for its vibrant and aromatic spices, crucial in the stew's flavor. Common spices include cumin, coriander, paprika, ginger, cinnamon, curry, black pepper, cloves, and cardamom. These spices contribute layers of warmth, earthiness, and a touch of heat to the stew.
Chilies and Heat:
Many African beef stews incorporate chili peppers or hot sauces to add heat and a spicy kick. The level of spiciness can vary widely depending on regional preferences, but it often adds a bold flavor.
Herbs:
Fresh herbs like cilantro, parsley, and thyme are frequently used to provide a refreshing and herbaceous note to balance the richness of the stew. These herbs can be added at the end of cooking or as a garnish.
Tomatoes:
Tomatoes, whether fresh, canned, or paste, are a common ingredient in African beef stew. They contribute a slightly tangy and sweet taste that complements the spices and helps create a thick and luscious sauce.
Vegetables:
Various vegetables like onions, carrots, bell peppers, and potatoes are often included in African beef stew. These vegetables add their unique flavors and enhance the dish's overall depth and texture.
Broth or Stock:
Beef or vegetable broth can be used as the cooking liquid, infusing the stew with additional meaty and savory flavors. The slow simmering of the stew allows the flavors to meld and intensify.
Coconut milk:
Depending on the region, coconut milk is used in many recipes, adding creaminess to the dish.
Sweetness:
Some African beef stews may incorporate sweet elements like dried fruits (such as apricots or raisins) or honey to balance the spiciness and add a touch of sweetness to the dish.
The precise flavor of African beef stew can vary greatly from one recipe to another, reflecting the diverse culinary traditions across the continent. It's a delightful dish that combines a harmonious blend of spices, herbs, heat, and hearty ingredients, making it a beloved comfort food in many African households.
serving suggestions for African beef stew
Rice: Fluffy white rice, aromatic basmati, or even fragrant jasmine rice makes an excellent base for serving African beef stew. The rice's mildness balances the stew's bold flavors
Flatbreads: Various African flatbreads, such as chapati, roti, gluten free naan, or pita, can be used to scoop up the stew. They provide a different texture and can be a fun way to enjoy the dish.
Rolls: Serve this flavourful beef stew with gluten-free pull-apart soft rolls or the delicious gluten-free artisan crusty rolls.
Pickled Vegetables: Pickled vegetables or relishes, such as South African atchar or Moroccan preserved lemons, can add a tangy contrast to the stew's richness.
Yogurt or Sour Cream: A dollop of plain yogurt or sour cream can provide a cool and creamy contrast to the stew's spiciness, especially in North African dishes.
Fresh Herbs: Garnish the stew with fresh herbs like cilantro, parsley, or mint to add a burst of freshness and color.
Chutneys and Sauces: Consider serving the stew with a side of chutneys, hot sauces, or sambals, which can add extra layers of flavor and heat.
Nuts: Crushed or chopped nuts, such as peanuts or almonds, can provide a crunchy element and a nutty flavor that complements some African beef stew recipes.
Remember that the choice of accompaniment often depends on the specific type of African beef stew you are preparing, as the flavors and ingredients can vary widely across the continent.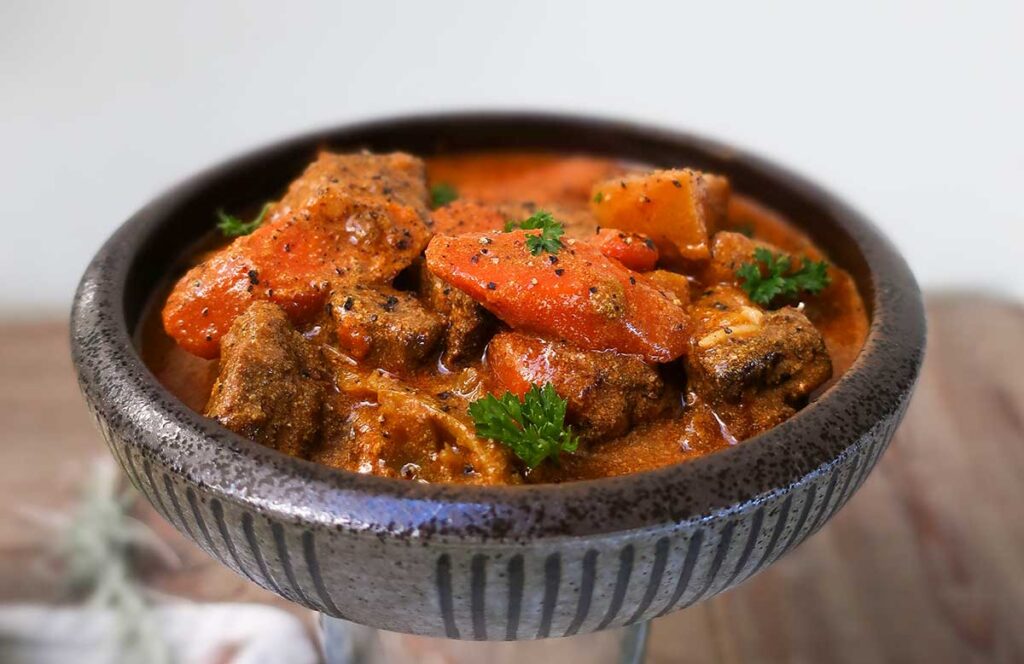 African beef stew – recipe details
When it comes to African beef recipes, it is all about spices. So the first thing to do is season the beef with curry powder, paprika, a generous amount of black pepper and cinnamon.
Yes, you may be surprised about cinnamon. However, cinnamon is extremely aromatic and has a sweet and savoury flavour that sets this stew apart.
sear the beef well for rich beefy flavour
Once the beef is generously seasoned, it is seared. The beef stew flavour will intensify by searing the meat. So sear the meat well.
Next add the onions, garlic, bell peppers, tomatoes, tomato paste and coconut milk. Slowly simmer the stew for about an hour and a half.
Now add the remaining vegetables such as carrots, potatoes and cabbage, and finish cooking the stew until the meat is fork tender and the vegetables just right. The reason the vegetables are added at the end as not to overcook them.
And that is it for this African beef stew recipe. Nothing to it…right?
Another popular beef stew recipe is the Instant Pot Spiced Beef Stew with Mung Beans. A little different but so good!
African Beef Stew the Instant Pot Method
STEP ONE
Season the beef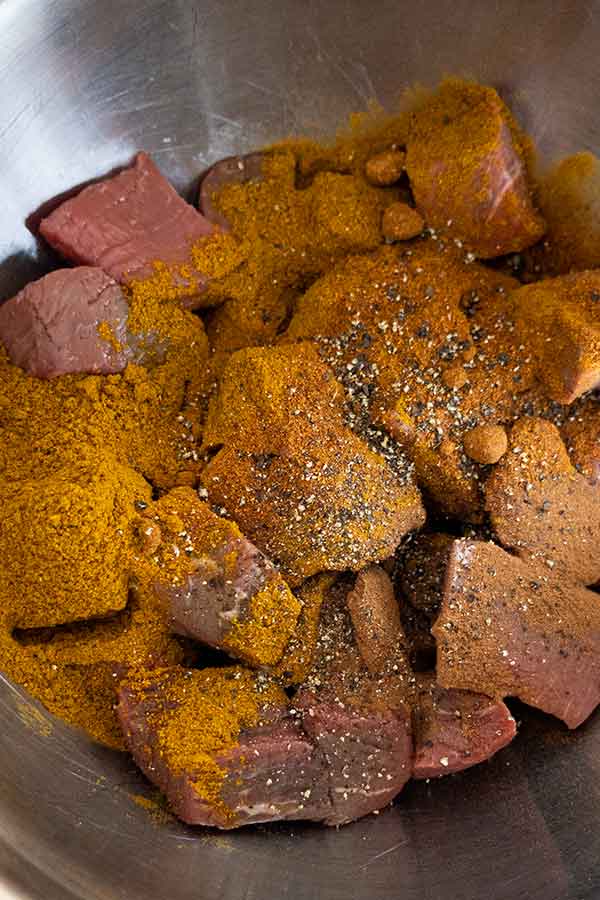 STEP TWO
Sear the beef in a skillet. I used a cast iron skillet.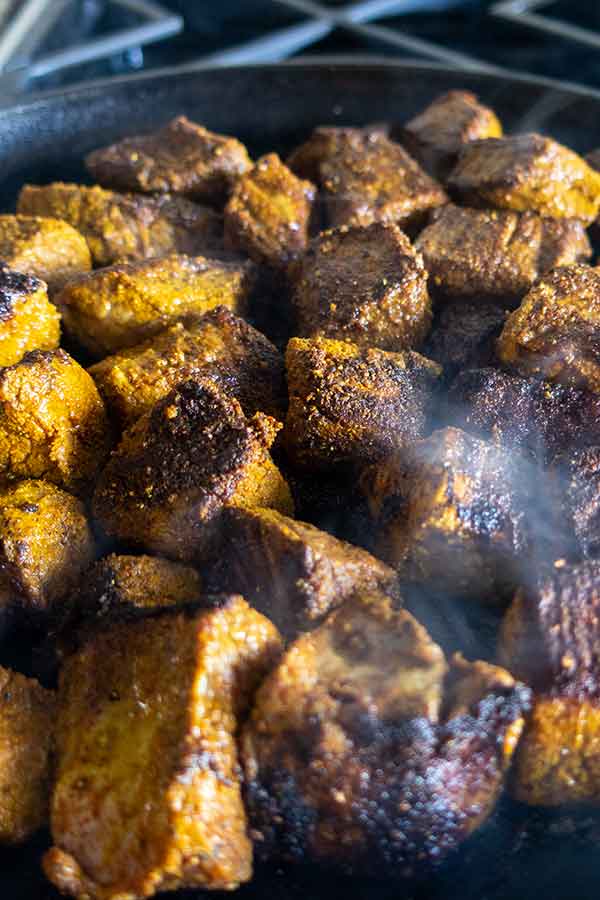 STEP THREE
Deglaze the skillet with 1/4 cup of water and add it to the instant pot with seared beef and remaining ingredients. Stir to combine. Close the lid. Cook on manual for 35 minutes, then release steam naturally. Enjoy!
This African beef stew recipe is such a simple dinner to throw together and so incredibly delicious. Cooking with ethnic spices adds diversity and uniqueness to our food, such as in this beef stew recipe.
Let's Connect!
Be sure to FOLLOW US on FACEBOOK and PINTEREST. And don't forget to sign up for our newsletter. We always have something new and exciting for you!
Many thanks!
Kristina xx
African Beef Stew Recipe
Published on Feb 24, 2016
by
Kristina Stosek
Instructions
1.

Heat oil in large saucepan over medium-high heat

2.

Season the beef with spices and add to the hot saucepan. Sear the beef until brown all over

3.

Add onions, garlic, ginger and bell pepper, reduce the heat to low and continue to cook until onions are translucent about 5 minutes. Stirring as needed

4.

Stir in tomatoes and continue to cook until the mixture begins to simmer

5.

Add coconut milk and tomato paste and season with salt. Cover and simmer over low heat for 1 ½ hours, stirring occasionally

6.

Add Carrots, potatoes, and cabbage and cook covered for 45 more minutes or until the beef easily flakes with a fork. If the stew becomes too thick add a little more coconut milk or water. Garnish with fresh herbs if you wish

7.

* Instant pot version included in the blog
Leave a Comment
Kristina
thank you Tom for sharing
The best stew ever, my family loved it
Kristina
thank you for sharing Nancy!
Omg! This recipe is of the charts so sooo good; thanks for the delicious recipe , this one is my favorite beef stew recipe
Kristina
Ashley, I am so happy to hear that, thank you
my husband loved this beef stew, thank you.
Kristina
I am so happy to hear that Ambrosia, thank you
I'm always trying to find new ways to feed my family. This stew is so good, it was unreal. My husband liked it so much he asked for it again next week!
Kristina
sounds delicious! Could this be done in the instant pot?
Made this a few times now, it's so GOOD!!!!
Kristina
I am happy to hear you enjoyed it Roger
I love the flavours in this stew, OMG soooo good!!!
Thank you for pointing this out! Please see revised instructions
The ingredients call for a pepper and tomato paste when do they go in?