Gluten-Free Salads
Salads are often considered a healthy food choice, as they are typically made with fresh vegetables and can be low in calories. In addition, they are light, refreshing, and often naturally gluten-free, making them a good choice for someone following a gluten-free diet. But most importantly, they are usually rich in nutrients and offer a variety of textures and delicious flavors.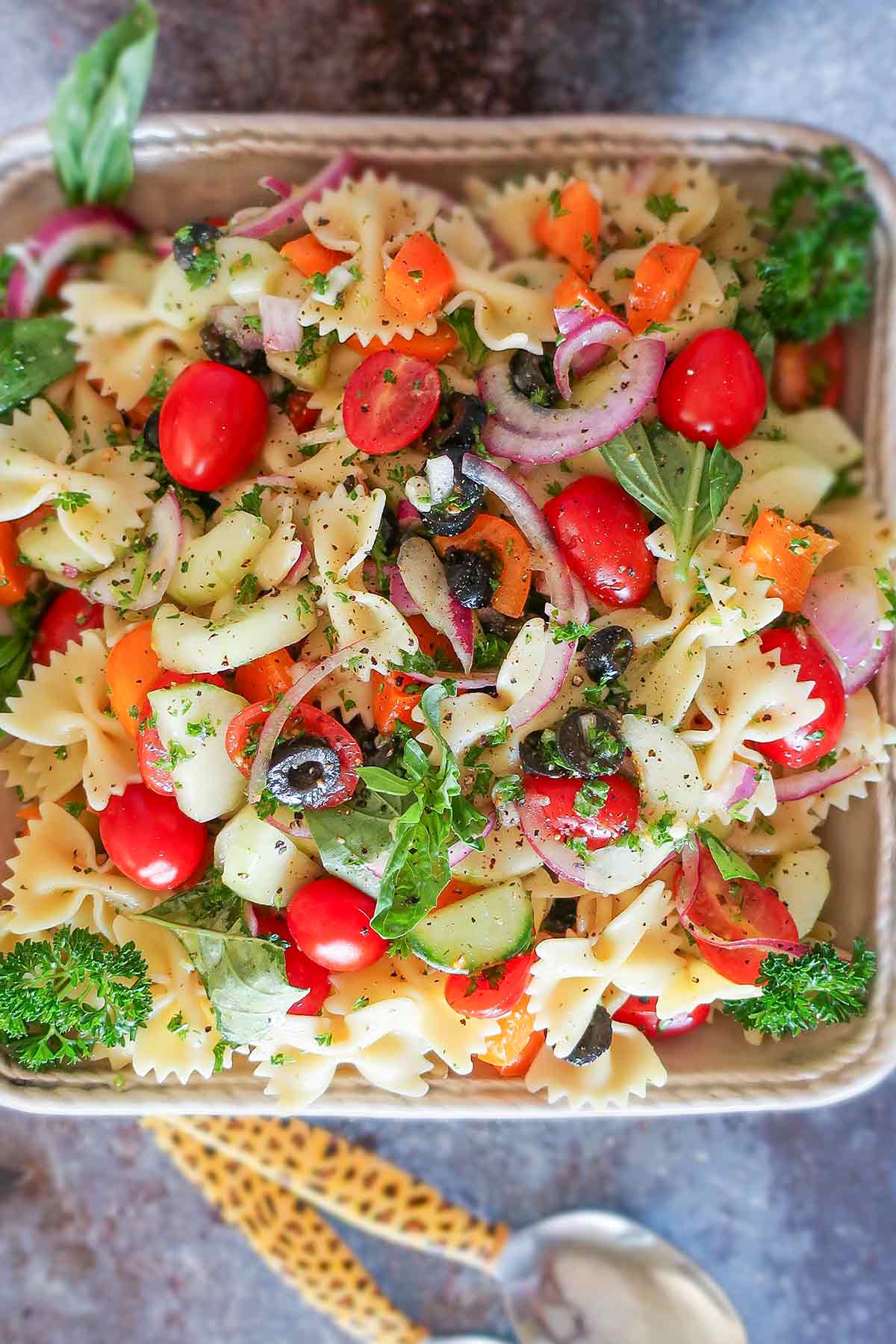 Most simple salads are naturally gluten-free but it would surprise you to know how easy it is for gluten to sneak into your salad, especially on the type of salads most of us enjoy, with lots of extras and dressings for flavor and texture.
If you are dining out, you should have an eye on the ingredients list of the dishes regarding gluten content and follow our tips below: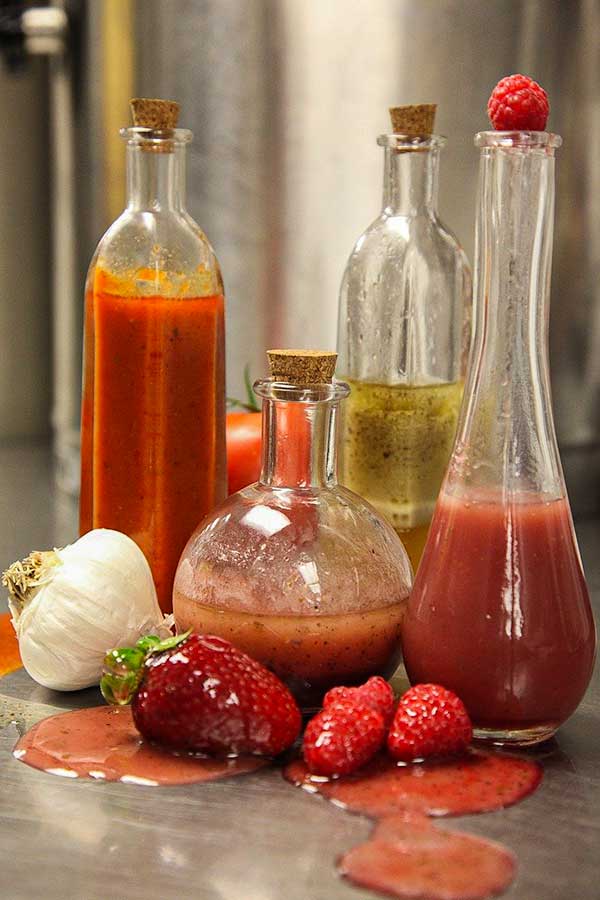 Where to Look for Gluten in Your Salad
We would recommend avoiding open salad bars in restaurants due to the high risk of cross-contamination. If you order a salad in a restaurant, make sure to specify your diet restrictions.
Salad dressings: Many bottled dressings contain gluten as a form of thickening. Some brands offer gluten-free options but make sure to read labels as some of them do not clearly specify that they are gluten-free. If you prepare a gluten-free salad at home, you could make your own healthy salad dressing.
Cold cuts: Processed cold cuts may contain modified starches which could be gluten-based. We would recommend you to avoid any kind of cold cuts or make sure about seasoning/marinades used on the meat as some may contain gluten.
Cheese: Even though most cheeses are naturally gluten-free, it is important to be aware of the possibility of cross-contamination with gluten products during preparation and repackaging. The best solution is to buy the cheese directly from the manufacturer.
Moroccan Chickpea Rice Salad
This plant-based Moroccan Chickpea Rice Salad is packed with exotic Moroccan flavors, and fresh herbs and is super easy... Read More
Prep Time
15 Minutes
Difficulty
Beginner
Serves
6
Gluten Free Summer Pasta Salad 
This easy and light Gluten Free Summer Pasta Salad with fresh veggies, flavored with vinaigrette and plenty of fresh herbs,... Read More
Prep Time
15 Minutes
Difficulty
Easy
Cook Time
12 Minutes
Serves
6 - 8
Classic Thai Celery and Fennel Salad
A healthy Classic Thai Celery and Fennel Salad. This salad is made simply with fresh ingredients such as celery,... Read More
Prep Time
10 Minutes
Difficulty
Easy
Serves
4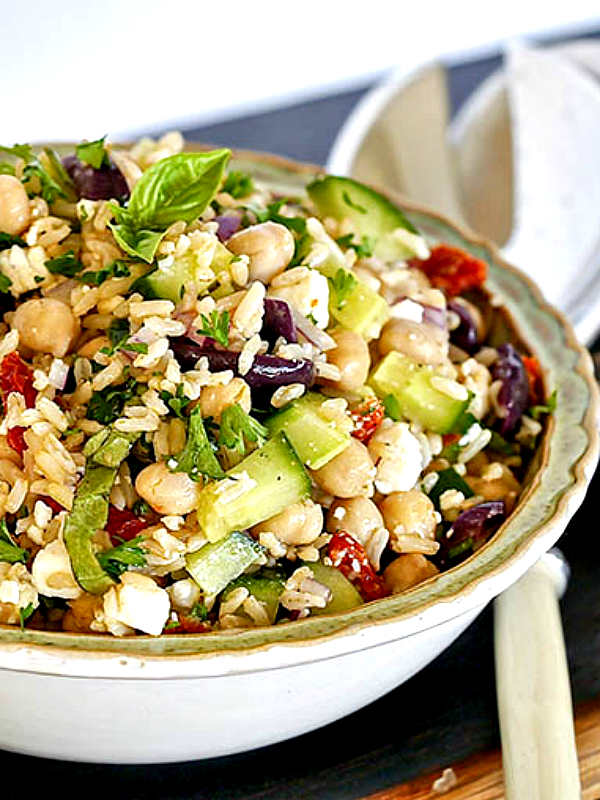 Gluten-Free Salads Recipes
Healthy Beet Salad – Easy Recipe: This simple and healthy salad makes a great addition for summer picnics and barbecues.
The Grind Salad – Naturally Gluten-Free: This healthy salad is rich in fiber, vitamin C, and protein, making it a healthy vegetarian option for lunch.
Orange and Raspberry Quinoa Salad: This healthy, satisfying salad makes a tasty packed lunch or light supper. This gluten-free salad recipe is infused with refreshing citrus and mint.
Asian Winter Salad with Maple Ginger Chicken: A gluten-free salad recipe perfect for winter as the tender, hot chicken with maple ginger glaze adds a little warmth.
Mediterranean Brown Rice Salad: You can serve this salad with lamb, pork or chicken for extra proteins or as a vegetarian side or main dish. This gluten-free salad carries a delicious mixture of flavors from the creamy feta, cucumber, and olives.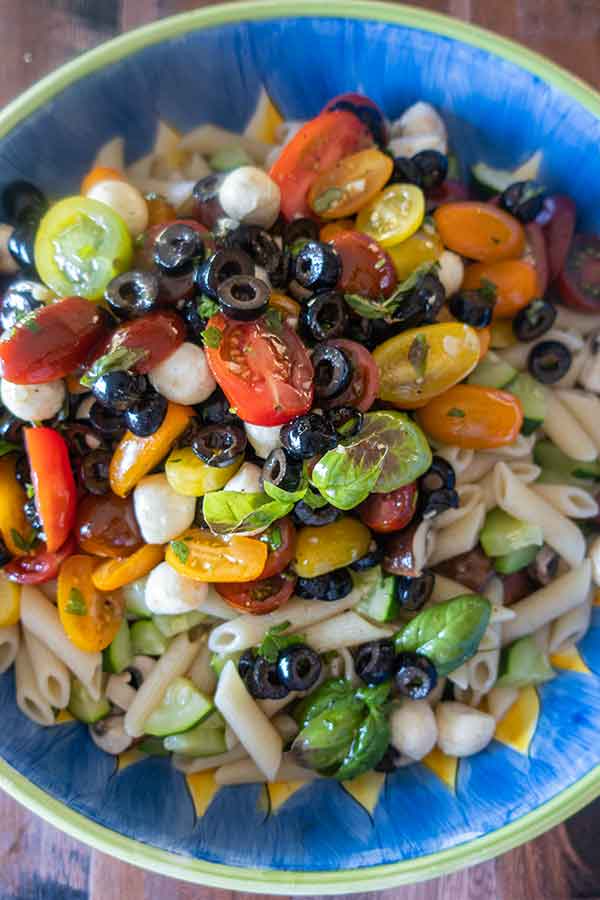 Gluten-Free Healthy Pasta Salads
Pasta salads are always a great dish for barbecues, larger gatherings, or as a simple meal at home. On a gluten-free diet, pasta salads are really easy to prepare, you just need to switch the normal pasta for a gluten-free one, for example, rice or corn pasta.
These are some of our favorite gluten-free pasta salads:
Parsley, Sundried Tomatoes And Red Pepper Pasta Salad: This vegetarian salad is perfect for any occasion, you can also serve it as a side dish with chicken or fish.
Gluten-Free Italian Pasta Salad: In this healthy gluten-free salad recipe, the ingredients such as fresh basil, parsley, garlic, cherry tomatoes, olive oil, fresh lemon juice and bocconcini, are making this a beautifully flavoured light pasta salad.
Gluten-Free Beef Sukiyaki Noodle Salad: Japanese-inspired Gluten-Free Beef Sukiyaki Noodle Salad…tender slices of beef, noodles, red onions, shiitake mushrooms, bok choy, green onions, tofu and fresh baby spinach richly flavoured with tamari-mirin sauce. This healthy salad can be served warm or at room temperature
Gluten Free Summer Pasta Salad: Cucumbers, grape tomatoes, bell peppers, red onions, garlic, black olives, fresh parsley, and basil, all tossed with gluten-free pasta. It's flavorful and with rainbow colors. Enjoy this plant-based summer salad for dinner, at your next barbecue, or save the leftovers for a healthy lunch.
For more gluten-free salads recipes, visit our salad category!
Let's Connect!
Be sure to FOLLOW US on FACEBOOK and PINTEREST.
Many thanks!
Kristina xx
Gluten-Free (Yeast-Free) Thin Crust Pizza
Enjoy a quick, easy gluten-free crust pizza with our Thin Crust Pizza recipe without yeast. Say goodbye to lengthy... Read More
Prep Time
15 Minutes
Difficulty
Easy
Cook Time
13 Minutes
Serves
14-inch pizza
Gluten-Free Crazy Crust Pizza
This gluten-free crazy crust pizza is one of our easiest pizza recipes. Soft, crispy bottom crust topped with our... Read More
Prep Time
10 Minutes
Difficulty
Easy
Cook Time
45 Minutes
Serves
6 - 8 pc
New York-Style Gluten-Free Pizza
Best Ever New York Style Pizza made with a yeast-free crust. The wide slices of thin, crispy crust foldable... Read More
Prep Time
15 Minutes
Difficulty
Easy
Cook Time
15 Minutes
Serves
12-inch pizza