Quick and Easy Rice Recipes for Dinner – Gluten Free
Rice is one of those staple ingredients you will find in every kitchen. This grain is naturally gluten-free, making it an easy ingredient to add to dinner recipes.
You can cook rice on the stovetop, in the oven, in an Instant Pot or the easiest cooking method is in a rice cooker. If you are intimidated to cook rice for fear of undercooking or overcooking the rice, the rice cooker is the best option.
Today we share our best quick and easy rice recipes for last minute dinners or when you crave something with authentic flavours. Our most popular rice dinners are inspired by Mexico, India, Morocco and Thailand.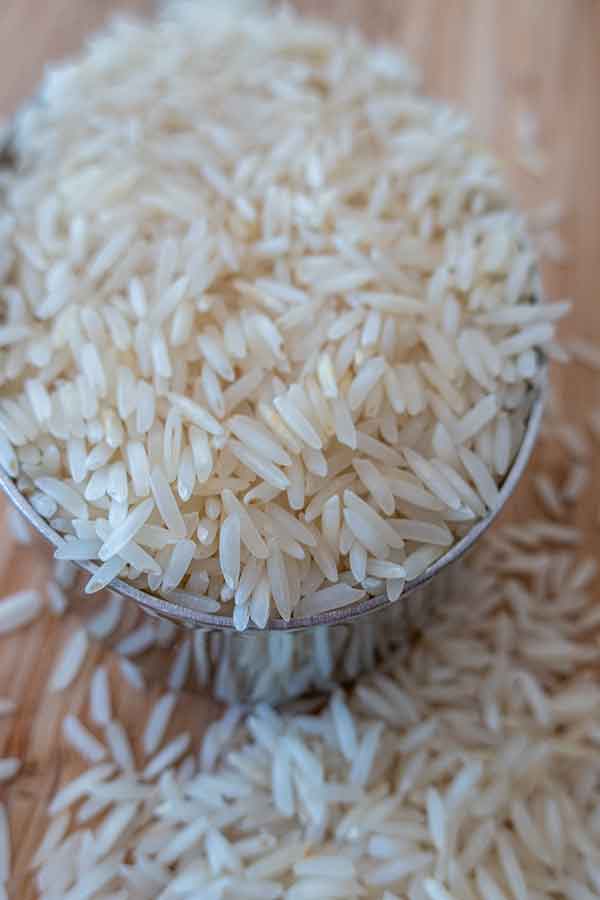 Why is white rice easier to cook with?
White rice has a gentle taste and is excellent for rich flavoured dishes. Basmati rice is probably my favourite because it is fragrant, has a floral flavour and cooks at half the time as long-grain rice.
Should brown rice be soaked first, and why?
It would be best if you soaked brown rice before cooking. The ratio is 1 to 3. This means 1 cup of rice to 3 cups of lukewarm water. Soak the grain for at least 90 minutes or overnight. Then drain and rinse well.
Brown rice is higher in phytates compared to white rice, which can interfere with the absorption of nutrients and minerals. Soaking the rice is a way to reduce them, help break down hard to digest components of the grain, and release beneficial nutrients.
Basmati vs Jasmine rice
Basmati rice is best for stir-fries, casseroles, or making simple rice as a side. The grains are almost double in size. They are light and fluffy when cooked and will stay separated.
On the other hand, Jasmine rice becomes soft and has a sticky texture and can be used for rice puddings or even risotto.
What is the best rice for risotto?
A traditional risotto recipe is always made with medium-grained Arborio rice, allowing the risotto to remain creamy and delicious.
You will find, these quick and easy rice recipes will show you how simple it is to create a spectacular last minute glute-free dinner for family and friends in under an hour. In addition, you will find these recipes are impossible to mess up and are budget-friendly.
Let's get started, these gluten-free rice dinner recipes.
They are all about
healthiness, rice, simplicity, and deliciousness!
30-Minute Louisiana Chicken With Edamame Rice
The Louisiana-style chicken is a mix of rice, red onions, bell peppers, garlic, honey, fresh tomatoes, tamari sauce and edamame. So much goodness in a simple 30-minute rice dinner with a blend of savoury, zesty, and spicy flavours.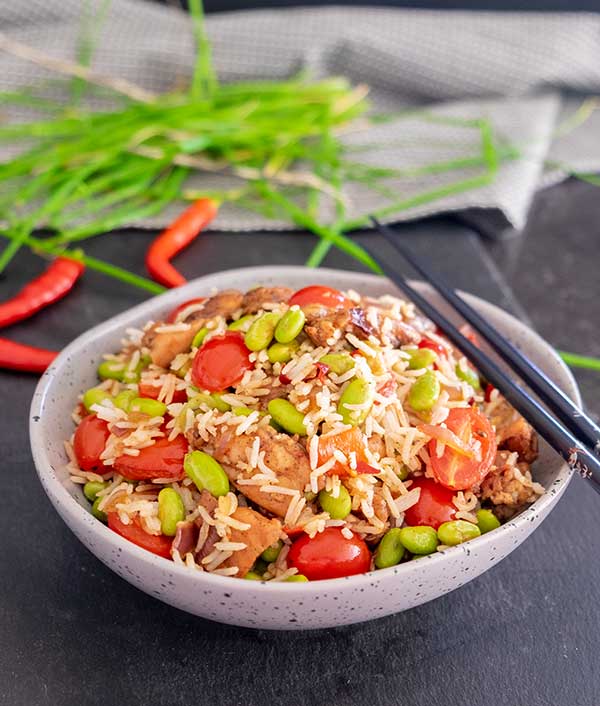 Gluten-free chicken dinner with rice using only one skillet. The chicken is extra crispy, and the rice is well seasoned with chorizo sausage, chilli powder, cumin, paprika and garlic. For added freshness, cilantro and more lime juice. Soo good!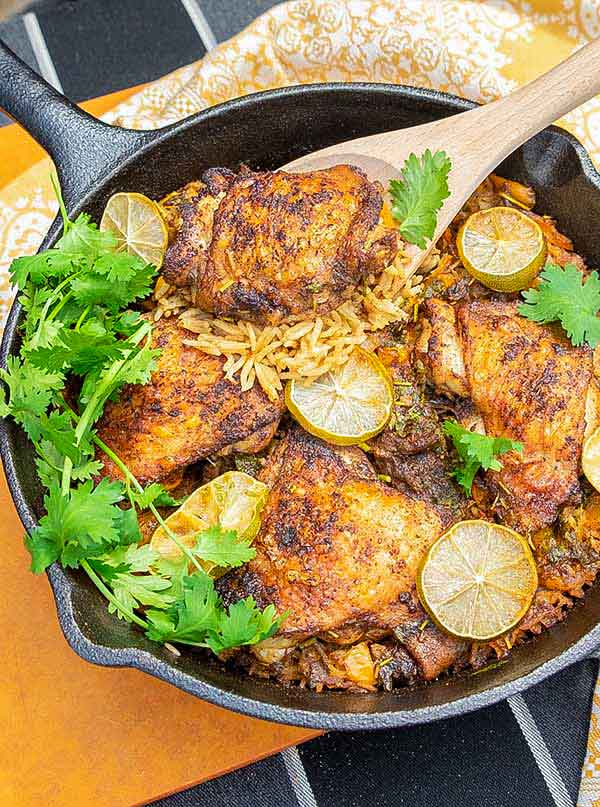 Firecracker Rice Bowl with Sesame Meatballs
This Firecracker Rice Bowl is an all-in-one bowl with tasty tender sesame meatballs and healthy rainbow veggies flavoured with a spicy-sweet sauce. The key ingredient in this gluten-free rice dinner recipe is the very best firecracker sauce!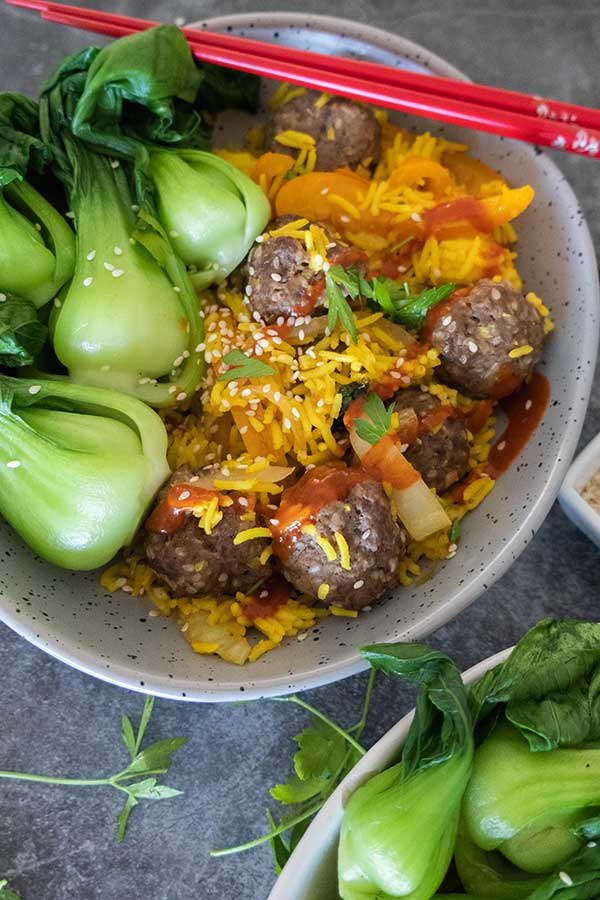 Are you looking for rice dinner that tastes like take-out? I promise you will love this Kung Pao Chicken with the easiest fried rice recipe. The chicken is roasted, not fried, adding healthiness and making this recipe super simple. Not to forget, the spectacular Kung Pao sauce… so so good!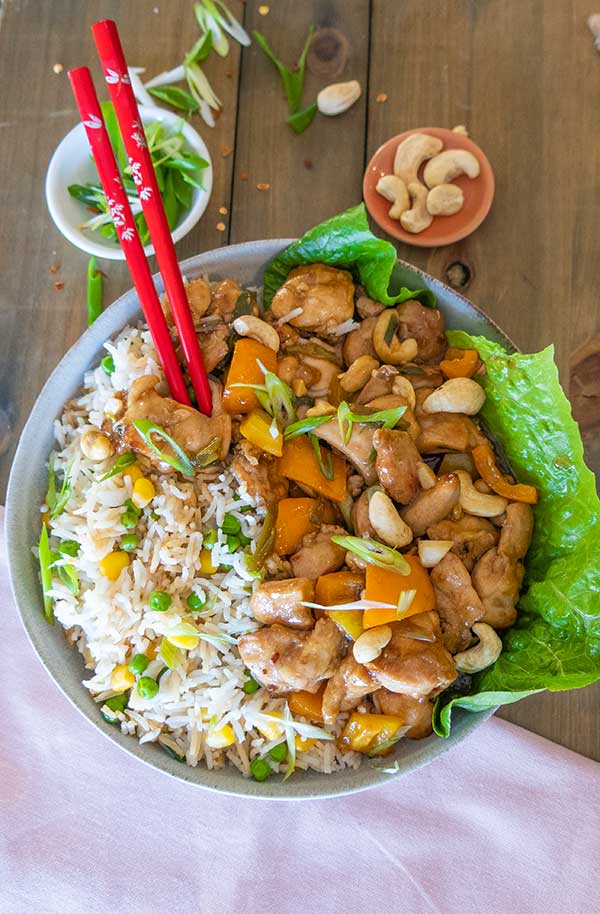 This Honey Garlic Chicken with Coconut Rice is one of our popular Thai dinner recipes. A gluten-free dish that is more than just a simple chicken and rice dinner. The star in this recipe is the coconut rice scented with Thai flavours. This is a quick and easy dinner that stands out from most.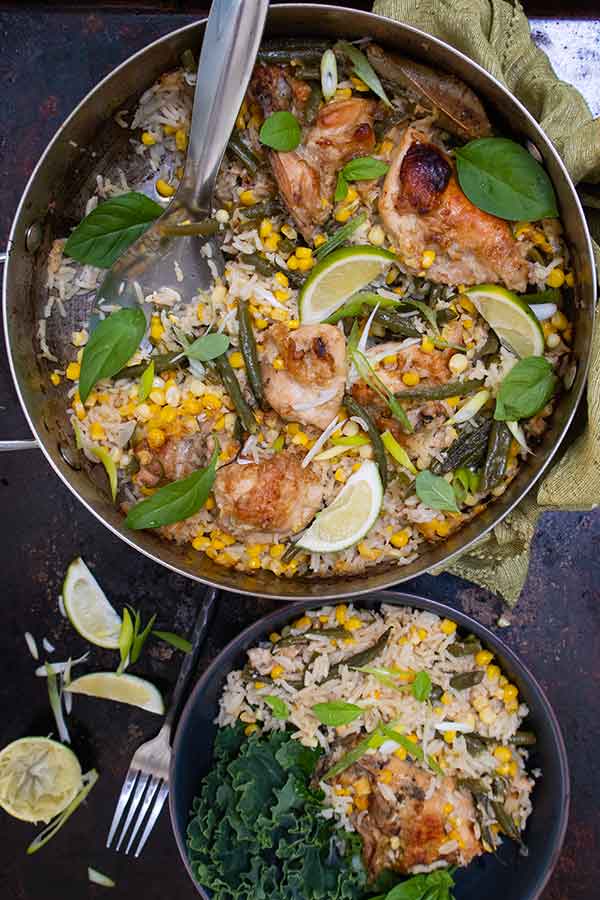 For busy weeknights, the dinners tend to be simpler. This is where one-skillet chicken dinners became so popular. This recipe is a Moroccan-style chicken rice dinner that is ridiculously tasty, healthy, and easy to prepare!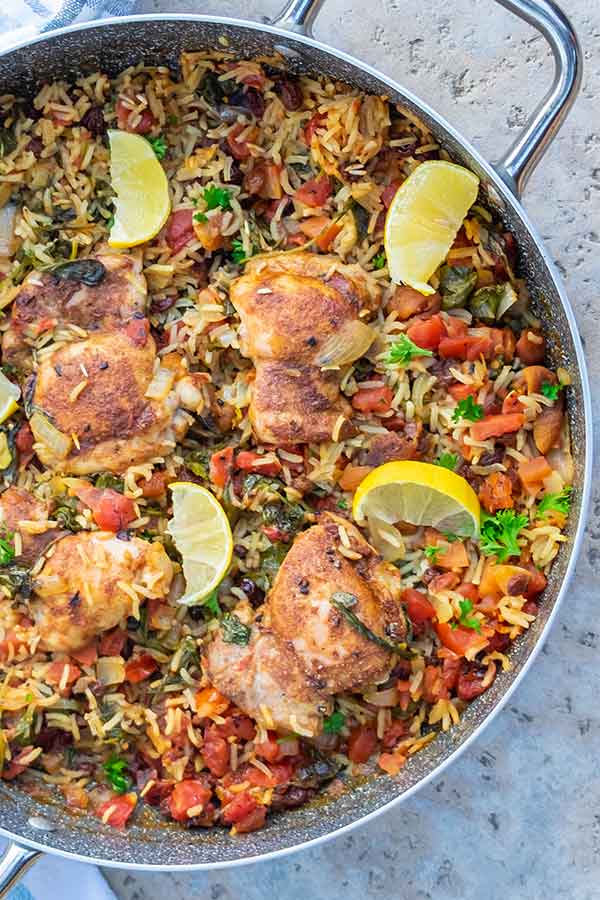 This Mexican-inspired dish is a 30-Minute One Pot Cheesy Chicken Taco Rice Casserole. This recipe is budget-friendly and will satisfy even big appetites. The cheesy rice and chicken dinner is loaded with full-bodied flavour making this savoury rice dish exceptional.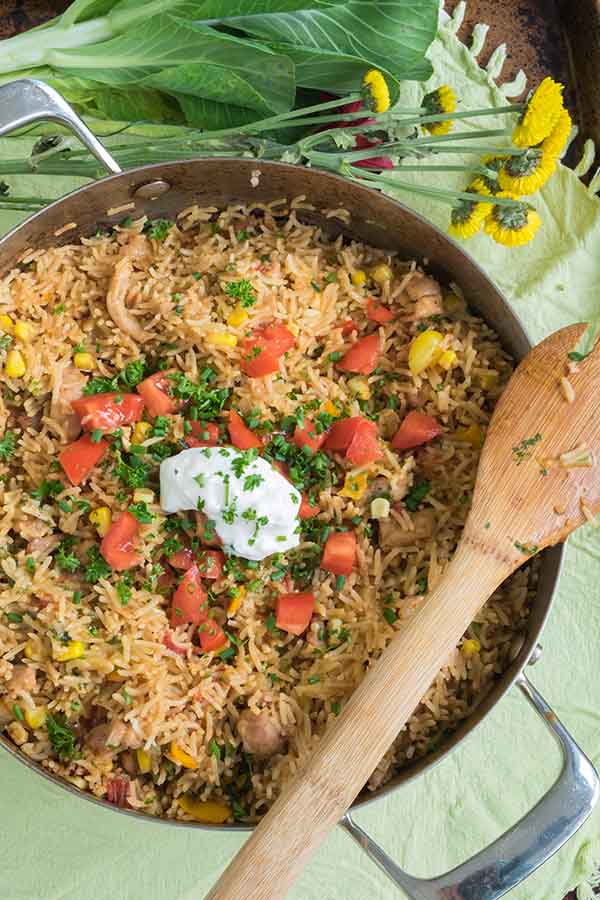 Spicy Indian Stuffed Peppers
Stuffed peppers are easier to make than you may think. They are filled with tender meat and rice with classic Indian spices such as cumin, curry, cinnamon and fresh cilantro. This Indian-inspired dish is a healthy gluten-free dinner beyond stuffed pepper expectations.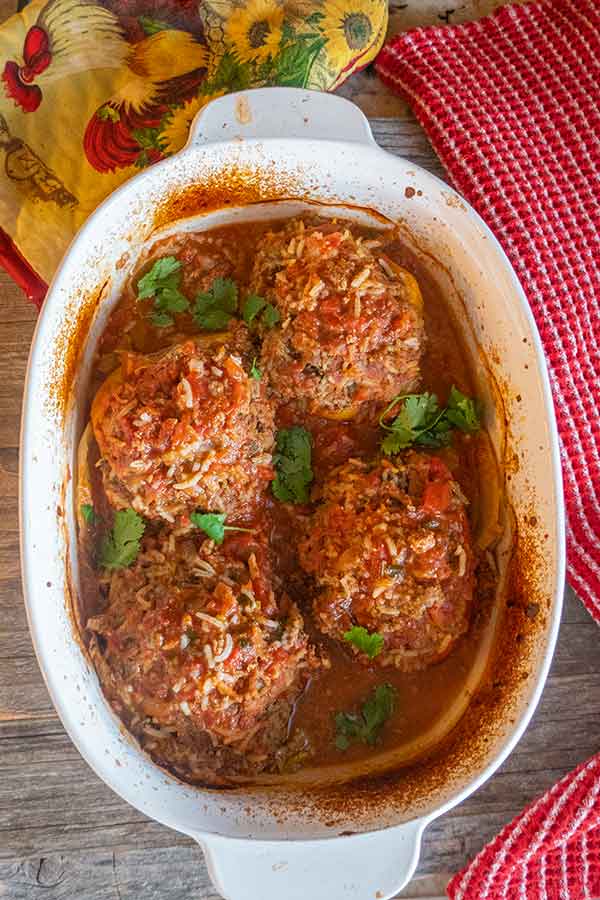 A vegetarian brown rice salad that can be served as a meal. The rice dish is made with typical healthy ingredients of the Mediterranean, such as cucumbers, olives, tomatoes, red onions and feta cheese.
The earthy chickpeas finish this meal to perfection by adding heartiness and texture. This healthy meal is an absolute delight!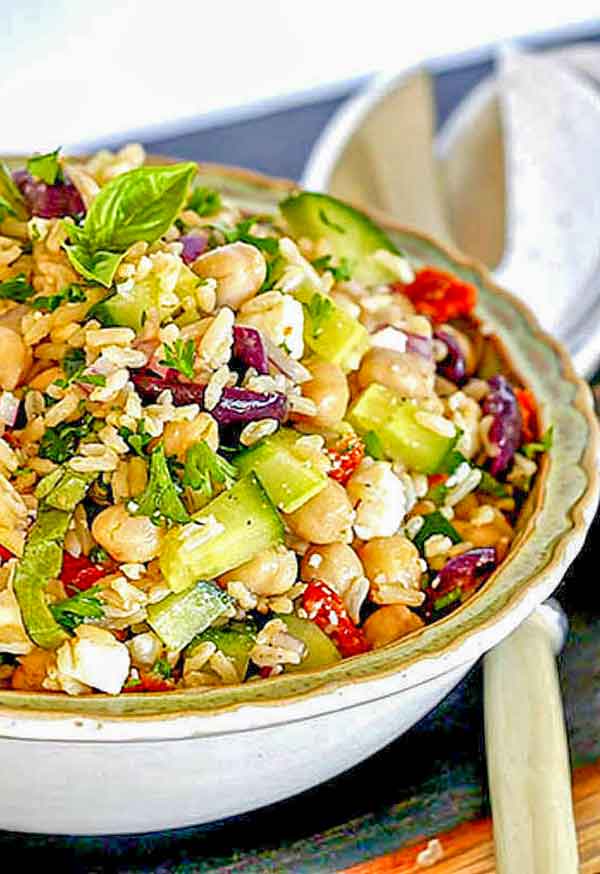 Another Mexican-inspired rice dish is this salsa verde chicken dinner. Did you know that Mexican recipes are one of the most popular ones? This dinner recipe is perfect on a busy weeknight. I often cook rice the night before, making everything even easier. So next time you are short on time, take out your Instant pot, and your dinner will be ready in a jiffy. Yes, 20 minutes of cooking time is all you will need.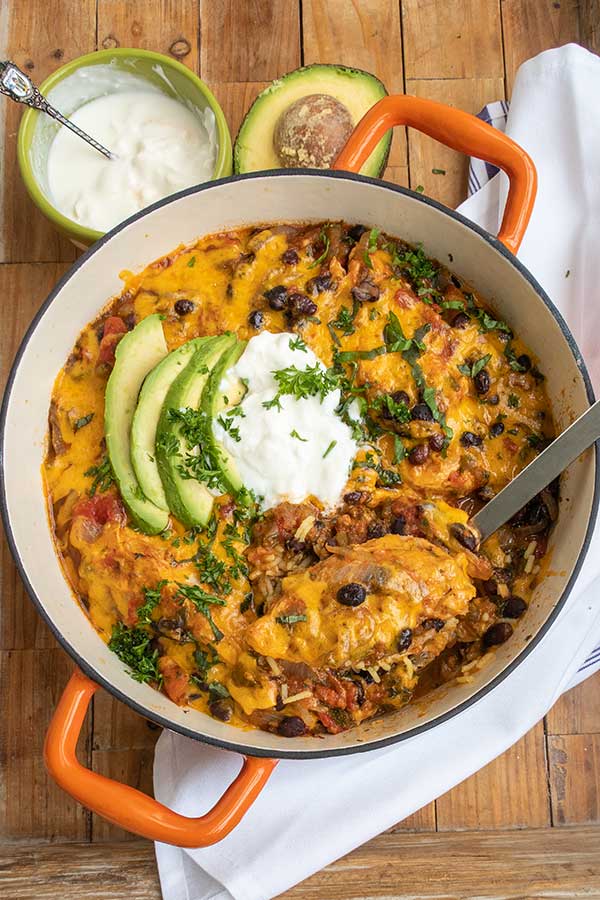 This Southwest Chicken Stuffed Poblano Pepper is one of our most popular healthy dinner recipes made with rice. The stuffed peppers are oozing with deliciousness like chicken, rice, tomatoes, black beans, corn, and plenty of cheese. YUM!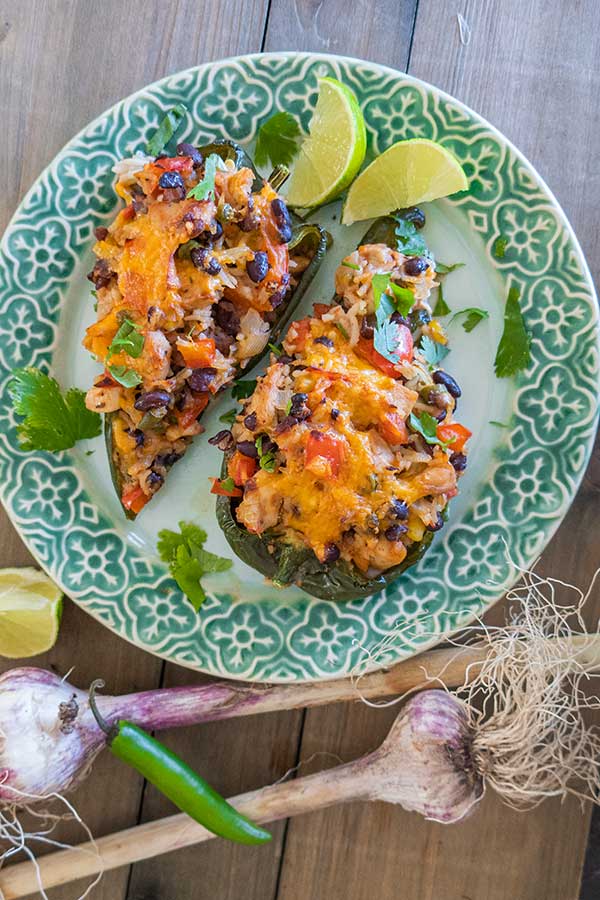 If you are looking for a gluten-free rice dessert, check out the dairy-free Indian Spiced Creamy Rice Pudding, or the Creamy Carrot and Rice Pudding,