Our 10 Favourite Gluten-Free Skillet Dinners
With this round-up of creative skillet recipes, you will discover how surprisingly delicious gluten-free dinners can be. There is so much that can be done with only one skillet and a handful of basic pantry ingredients.
Today I will share with you gluten-free skillet dinners that will surprise even the novice cooks. These quick and easy gluten-free dinner recipes will get your dinner on the table in no time.
All you may need to add is gluten-free garlic bread, a gluten-free roll or a salad, and you'll be enjoying a hearty family dinner in minutes. The great thing about skillet dinners is the easy cleanup…only one skillet, you can't beat that 🙂
Our 10 Favourite Gluten-Free Skillet Dinners
One of my favourite gluten-free chicken dinners is one that uses only one skillet. Weeknights tend to be super busy, so the last thing you need is a complicated dinner. Keeping it simple when making weeknight meals is always appreciated, especially when the meal is hearty and healthy! The entire chilli lime chicken dinner with chorizo rice is made well under an hour. The cleanup…5 minutes. Now that is a perfect hearty weeknight meal!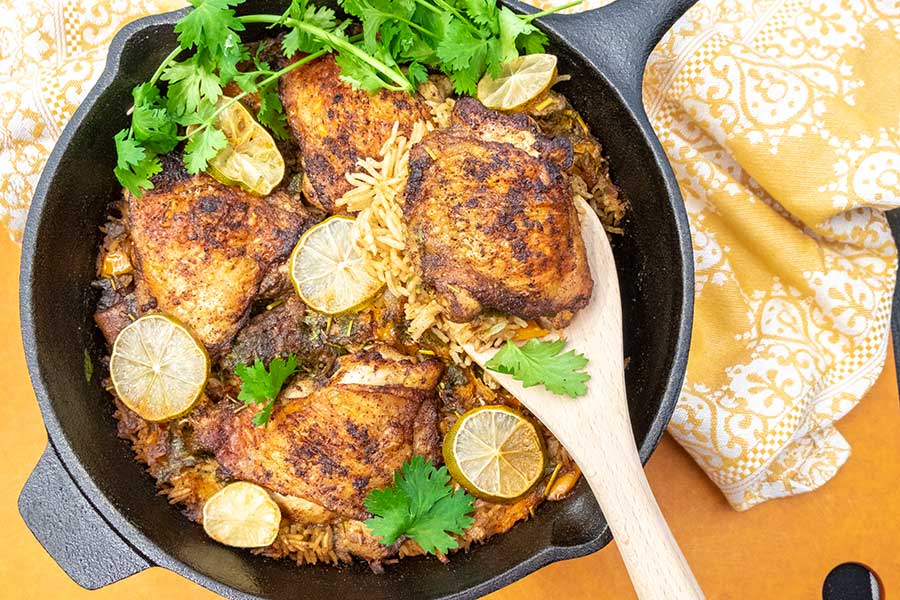 Using a blend of seven spices, raisins, and dried apricots gives this skillet chicken rice dinner the authentic Moroccan flavour. The chicken dinner is made simply in one skillet by searing the chicken coated in spices, then briefly sautéing the onions with garlic with spices. Once this is done, mix the rice with vegetables, chicken broth and add the seared chicken.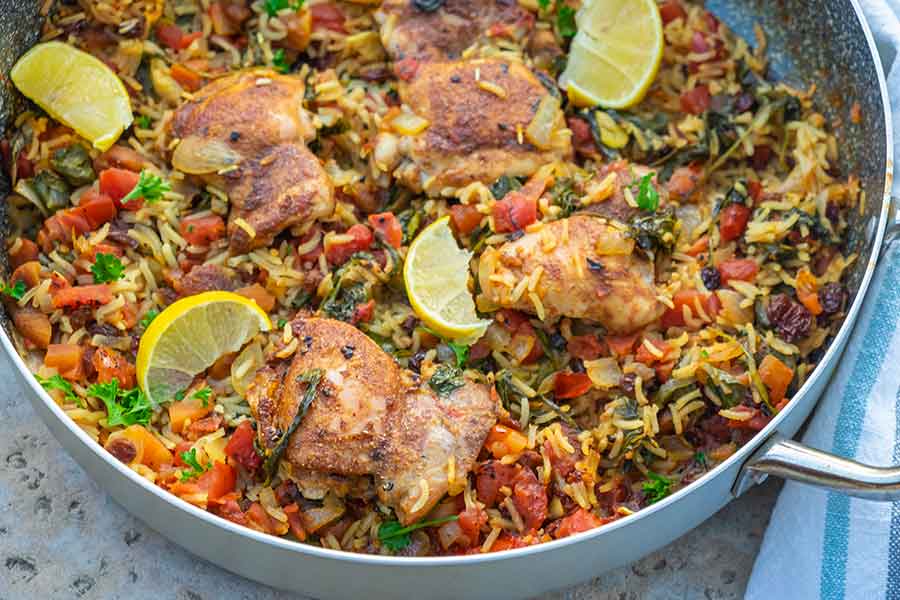 The chicken is infused with herb butter from inside and out and roasted with buttery, lemony potatoes and shallots. Between the juicy chicken, herbs, baby potatoes, shallots and fresh lemon juice, it's a winner! With very little work, this delicious skillet chicken dinner can be on the table in just over an hour.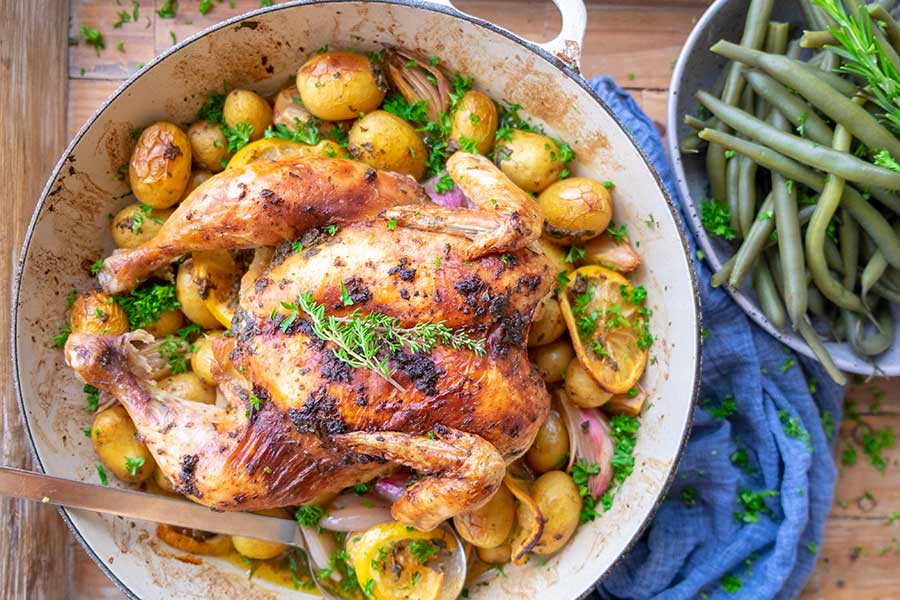 This gluten-free, vegetarian burrito has all the delicious ingredients of a burrito but without the tortilla. This Mexican skillet dinner is made with black beans, tomatoes, bell peppers, rice, cheese, and plenty of cilantro. For the spices, I used the traditional chili powder, cumin and garlic. I promise you, if you love burritos, you will enjoy this healthier vegetarian version.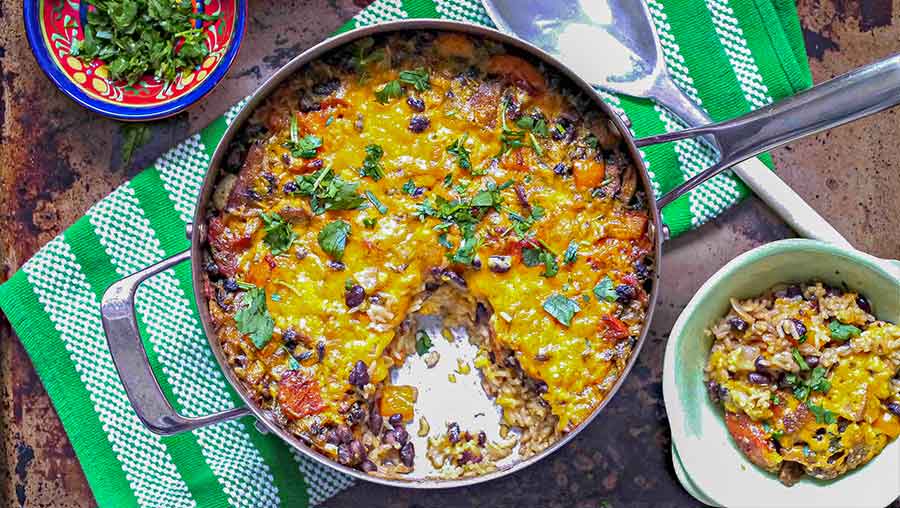 Easy gluten-free skillet pasta dinner made under 30 minutes. The tomato sauce is creamy, with sundried tomatoes and flavoured with oregano, basil, garlic, and a pinch of cayenne pepper, making it slightly spicy. To make the sauce extra creamy, I added Gruyere and cream cheese. Then, I tossed the pasta with the sauce. To get that special goey cheese topping, I topped the pasta with mozzarella cheese and placed it under the broiler for a couple of minutes.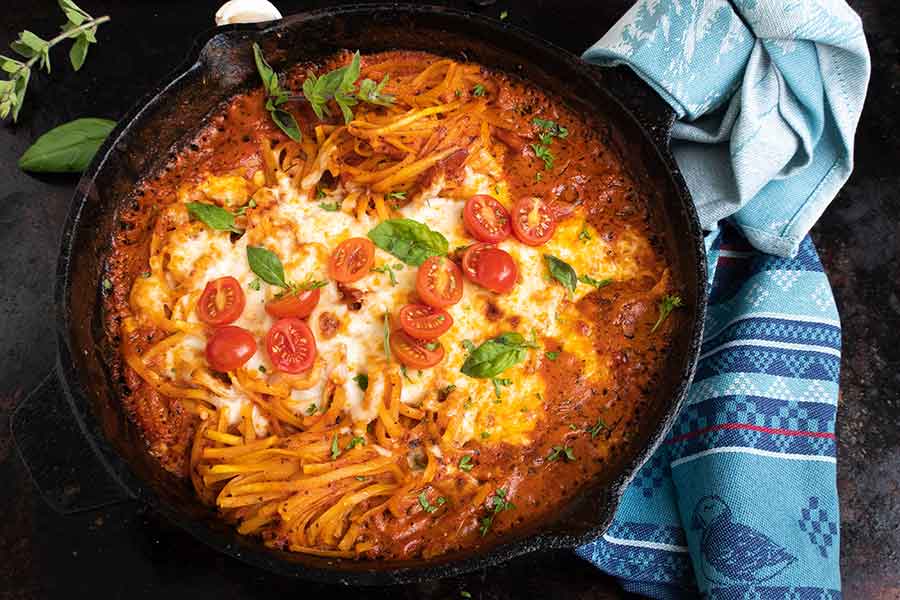 Keep it simple tonight with this easy Santa Fe Skillet Chicken Dinner. The incredibly good chicken dinner is beautifully flavoured with Mexican spices and combined with beans, corn, tomatoes and topped with melted cheese. This gluten-free chicken dinner is ideal for a lazy night in the kitchen or last-minute guests.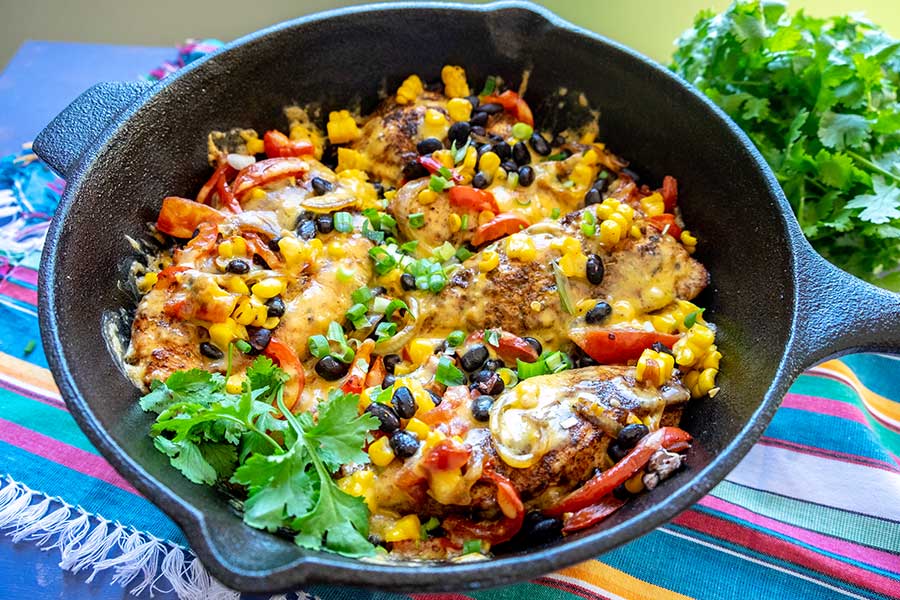 Chicken paprikash is a classic Hungarian dish. Traditionally the chicken is cooked in a delicious sauce with a variety of Hungarian spices such as sweet paprika, thyme, marjoram, and sometimes cayenne pepper. When chicken paprikash is served, it is topped with sour cream adding a rich and creamy flavour. This one skillet wonder takes only 25 minutes to cook, making this an easy gluten-free weeknight meal that even the pickiest eater will love!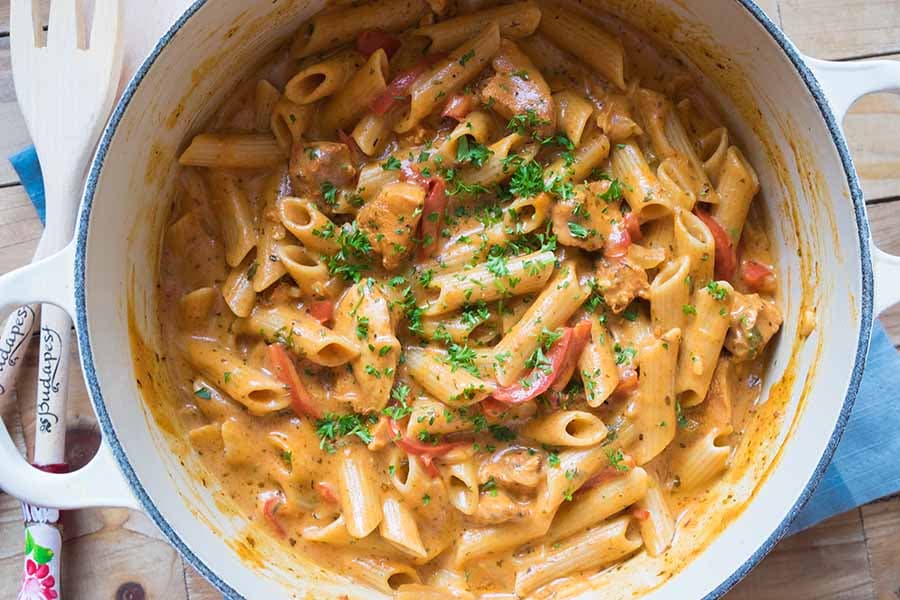 Easiest Gluten-Free One-Skillet Chicken Penne with Fennel – Chicken, Fennel, Lemon, garlic, fresh tomatoes, penne pasta, gruyere cheese and plenty of fresh parsley. So delicious, yet so simple gluten-free penne pasta paired with healthy fennel and cherry tomatoes baked in a creamiest lemon garlic sauce finished with gruyere cheese and fresh parsley.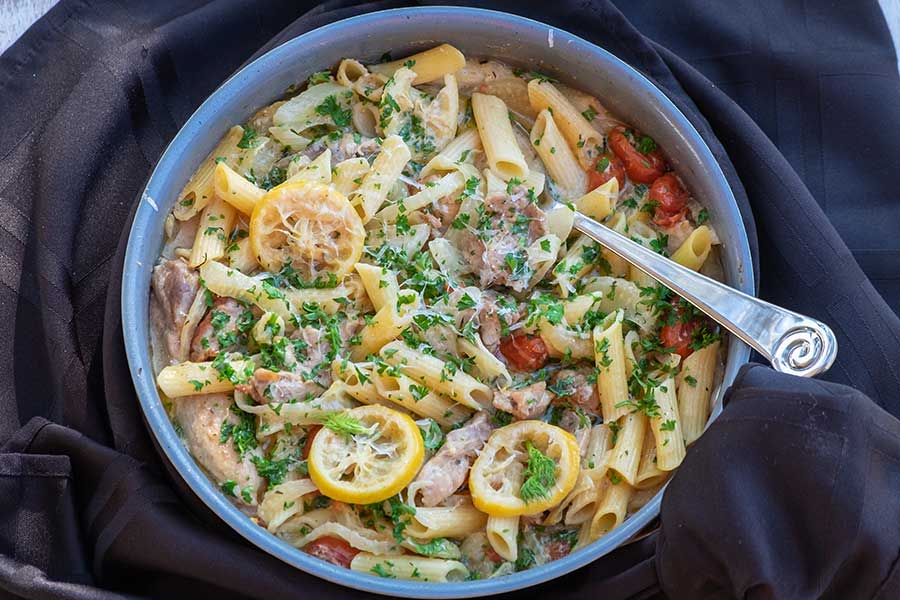 Garlicky, gingery and a little sweet and spicy pan-seared chicken baked with creamy coconut rice. For added flavours and textures, some green beans and fresh corn. This easy skillet dinner is perfect for busy weeknights when you are looking for something quick, flavourful and a little more special than a simple chicken dinner. This chicken dish has a mix of Thai flavours, the rice has a lovely coconut flavour, and all the ingredients are naturally gluten-free.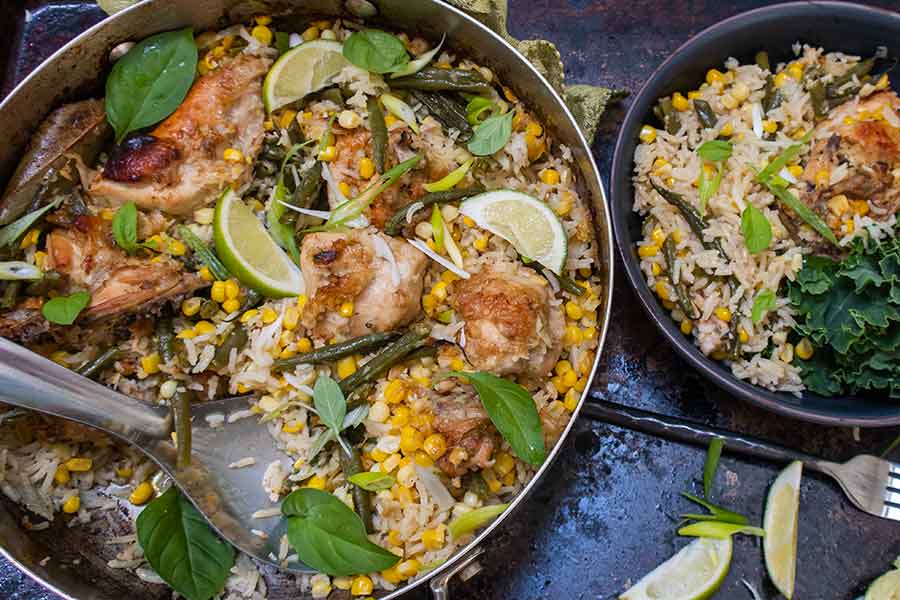 I had to add this low-carb skillet dinner for those that follow a restricted carb diet. What's better than a creamy tomato cheese fettuccine dish that you don't feel guilty about eating? Just imagine, a low carb pasta smothered in the most flavourful Italian tomato cheese sauce. The sauce is flavoured with oregano, basil and bay leaves, and for some texture, I added grated zucchini. It is a filling meal, even without the additional protein.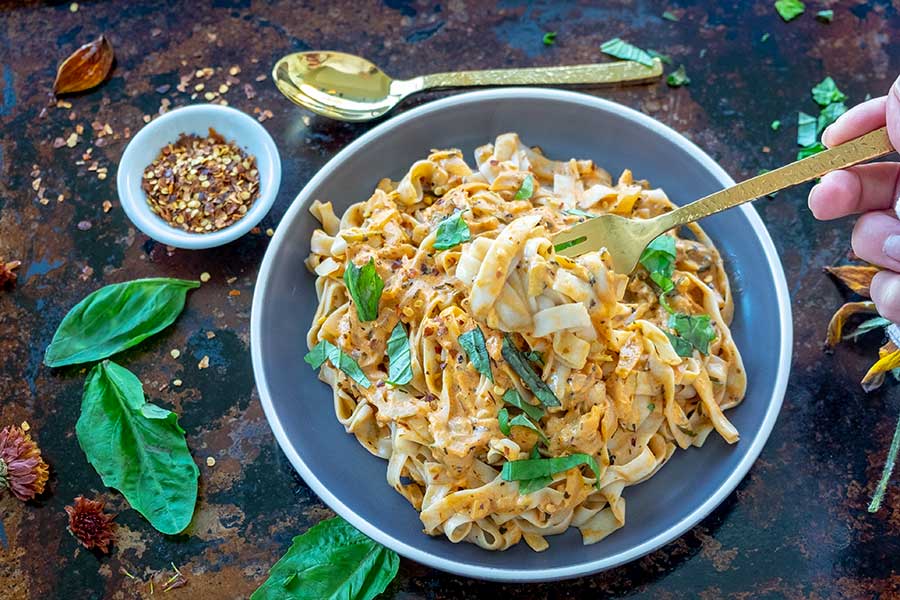 I hope you enjoy these easy gluten-free skillet dinners, I promise, you will not be disappointed. Skillet dinners are always popular when you have unexpected guests because they are hearty and quick to put together, leaving you time for socializing with your guests!
Affiliate Disclosure: Only Gluten-Free Recipes is a participant in the Amazon Services LLC Associates Program, an affiliate advertising program designed to provide a means for sites to earn advertising fees by advertising and linking to amazon.com. Please check out my sponsorship and disclosure policy page for more details.