Healthy Gluten-Free Thanksgiving Recipes!
It's finally November, and that means US Thanksgiving is quickly approaching!
Celiac disease is on the rise, and many have not been diagnosed and are living with uncomforting pains in the digestive area or worse. Getting a proper diagnosis from a doctor is your first step to this. Then, plan out your gluten-free diet.
But just because you are following a gluten-free diet does not mean skipping out on your favorite dishes, especially during one of the biggest holidays, Thanksgiving.
Some examples of the deliciousness that comes with Thanksgiving are turkey (of course), ham, stuffing, mashed potatoes, garlic bread, dinner rolls, soups, cranberry sauce, green bean casseroles, gravy, and the list can go on and on!
And, of course, pumpkin dessert. Not being able to chow down on your favorite meals is just suffering. Eating gluten-free means adjusting some of your ingredients. It's that simple.
Another important thing that some of us forget is to thoroughly wash cutting boards and cutlery to avoid gluten cross-contamination.Well, for those on the prowl for the best and tastiest gluten-free recipes I have selected 3 must-haves for the 2018 Thanksgiving dinner menu.
One of the most popular recipes during festive holidays is our gluten-free Pull-Apart Soft Rolls with Rosemary. The soft rolls are excellent with soups, dunk them in gravy or make tasty turkey or ham sandwiches the next day. They may not be the main attraction as is the turkey or ham, but without them,
Thanksgiving dinner is not complete. Typically, gluten-free rolls can be complicated to make, all the kneading required and waiting for them to rise. This recipe eliminates all the complications, and with simple, easy steps, the rolls take only minutes to prepare.
Okay, so now that we've got the carbs lined up, let's bring on some healthy veggies with a twist! A traditional side-dish that adds a splash of color and a light-fresh taste that truly flatters any main dish, whether it be turkey or ham is Brussel sprouts.
Don't let the name fool you and I know some of you aren't that crazy about them, but these Thanksgiving Brussel sprouts are outstanding. But if this recipe isn't your thing, try the Brussel Sprouts with Fresh Figs or Roasted Brussel Sprouts with Fennel and Leeks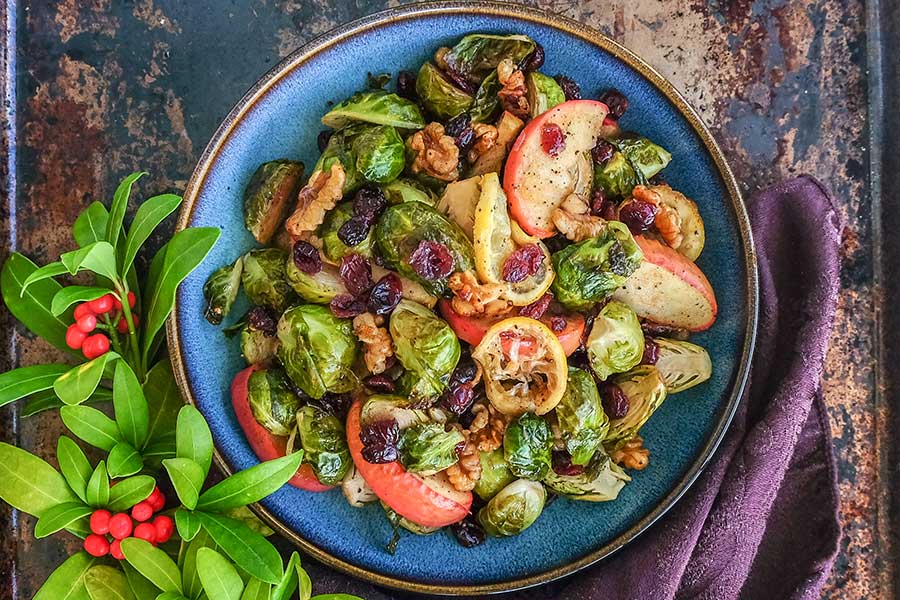 When it comes to Thanksgiving, you can never have too much dessert. And this is where our gluten-free Chai Pumpkin Cake with Spiced Buttercream Frosting becomes the spotlight of the 2018 Thanksgiving dinner menu. This is a double-layer gluten-free chai pumpkin cake with spiced buttercream frosting.
The cake is nothing short of deliciousness! I am very excited about how this cake turned out, it's truly a Thanksgiving dessert. I know traditionally it is pumpkin pie or pecan pie, but this year I wanted to go all out, so I created this heavenly gluten-free chai pumpkin cake with spiced buttercream frosting.
Do I have your attention now?
The two layers are moist, light, and infused with chai spices. Then I generously frosted the cake with spiced buttercream frosting, making this dessert outstanding! I must admit the spiced buttercream frosting is what makes this cake.
The best part, there is nothing complicated about this cake. To make this dessert more festive add some berries or edible flowers. Believe me, your family will be impressed, it is that delicious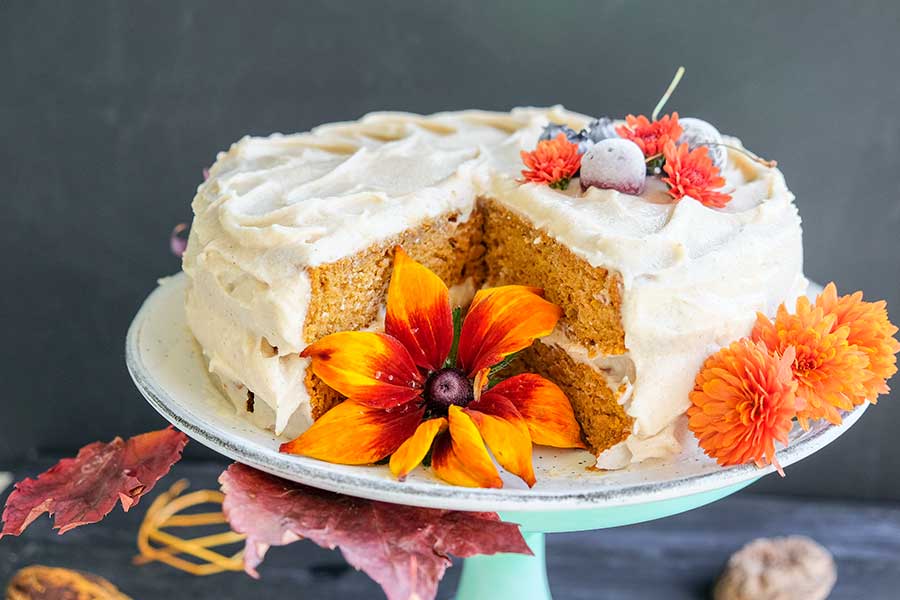 When you're looking for healthier alternatives to some good ol' classics, without compromising taste, it can be an uphill battle. At onlyglutenfreerecipes.com you're sure to find simple-to-make healthy and gluten-free recipes, I promise.
Some examples of our mouthwatering gluten-free recipes include:
Moroccan baked coconut rice pudding
Baked pears with walnuts and chocolate
Gluten-free pumpkin muffins with maple walnut glaze
Pumpkin Pie With Cinnamon Apple Swirl Yogurt Bowl
Smashed Crispy Potatoes with Garlic Herb Lemon Butter & Parmesan Cheese
Green Beans and Carrots in Miso Dressing
Easy Paleo Chocolate Pecan Pie
These recipes are enough to make anyone hungry! Only Gluten-Free Recipes has a variety of dessert ideas, dinner ideas, snacks, appetizers, vegan, recipes for paleo, keto, egg-free diet, and so much more!
I hope you all find some inspiration on Only Gluten-Free Recipes. Happy Turkey Day planning!
Eat healthy, eat rich tastes and eat gluten-free!
Kristina xx
Affiliate Disclosure: Only Gluten-Free Recipes is a participant in the Amazon Services LLC Associates Program, an affiliate advertising program designed to provide a means for sites to earn advertising fees by advertising and linking to amazon.com.