Chai Pumpkin Cake with Spiced Buttercream Frosting (Gluten-Free)
Published on Oct 27, 2018
by
Kristina Stosek
Prep Time:

20 minutes
Cook Time:

30 minutes
Serves:

6-8
​This post may contain affiliate links, please see our
privacy policy
for details
This is a double layer gluten-free chai pumpkin cake with spiced buttercream frosting. The cake is nothing short of deliciousness! I am very excited how this cake turned out, it's truly a Thanksgiving dessert.
I know traditionally it is pumpkin pie or pecan pie, but this year I wanted to go all out, so I created this heavenly gluten-free chai pumpkin cake with spiced buttercream frosting. Do I have your attention now?
The two layers are moist, light and infused with chai spices. Then I generously frosted the cake with spiced buttercream frosting, making this dessert outstanding! I must admit the spiced buttercream frosting is what makes this cake.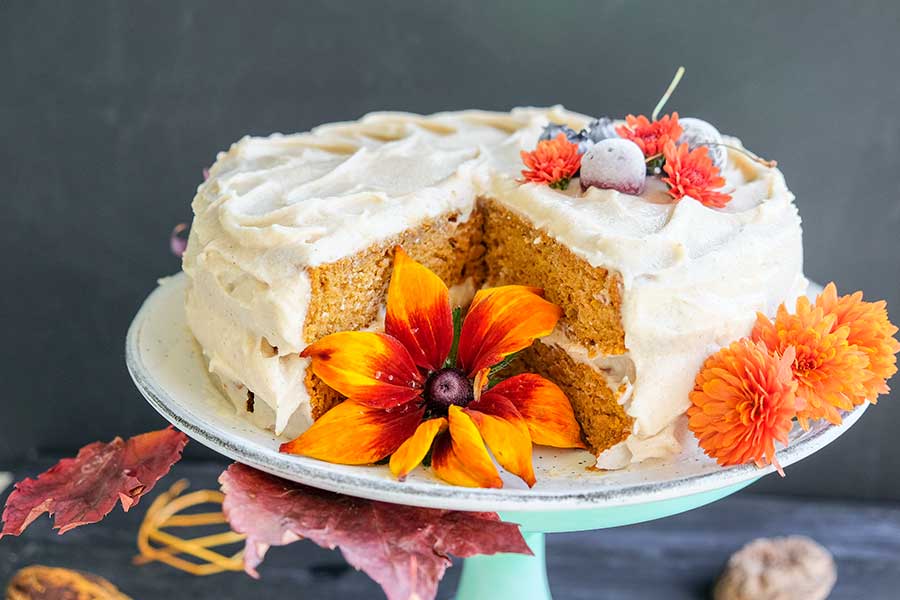 By using pumpkin in this recipe I was able to cut back on fat. Pumpkin is also known for its many health benefits, so it is a win-win in this dessert recipe.
Best part, there is nothing complicated about this cake. To make this dessert more festive add some berries or edible flowers. Believe me, your family will be impressed, it is that delicious 🙂
If you are looking for savoury and sweet pumpkin recipes check out these gluten-free recipes
Chai Pumpkin Cake with Spiced Buttercream Frosting (Gluten-Free)
Published on Oct 27, 2018
by
Kristina Stosek
Instructions
1.

2.

In a large bowl, mix together the flour, baking powder, baking soda, cinnamon, nutmeg, cardamom, cloves and salt

3.

In the bowl of a stand mixer (or use a hand held mixer) beat together the olive oil, eggs, sugar, ginger and vanilla until smooth. Beat in the milk and pumpkin puree. Slowly add the dry ingredients to the wet ingredients with the mixer on low until combined 

4.

Pour the batter among the 2 cake pans and bake 30 minutes. Remove and let cool five minutes, then run a knife around the edges of the pan and turn the cakes out onto a cooling rack. Cover and let the cakes cool completely before assembling

5.

To make the frosting, add the cream cheese and butter to a large mixing bowl. Using an electric mixer beat until the mixture is light and fluffy, about 2 minutes. Add balance of ingredients. Beat another 2-4 minutes or until the frosting is light and fluffy 

6.

Place one cake layer on a serving plate or cake stand. Spread about 1/3 of the frosting over top. Top with the other cake layer. Frost the cake
Leave a Comment
Kristina
Hi Amirah, I would substitute finely grated apples for the pumpkin. I have not tried it with apples, but it should work. If you do make it please let us know how the cake turned out. thank you :-)
How can I make this without the pumpkin flavor?