10 Best Gluten-Free Pizza Dough Recipes
Today we are sharing our Best Gluten-Free Pizza Dough Recipes. Giving up gluten doesn't mean you have to give up your favourite comfort food. When we think of comfort food, we think of warming soups, hearty casseroles, freshly baked pizza, southern fried chicken, and chocolate chip cookies.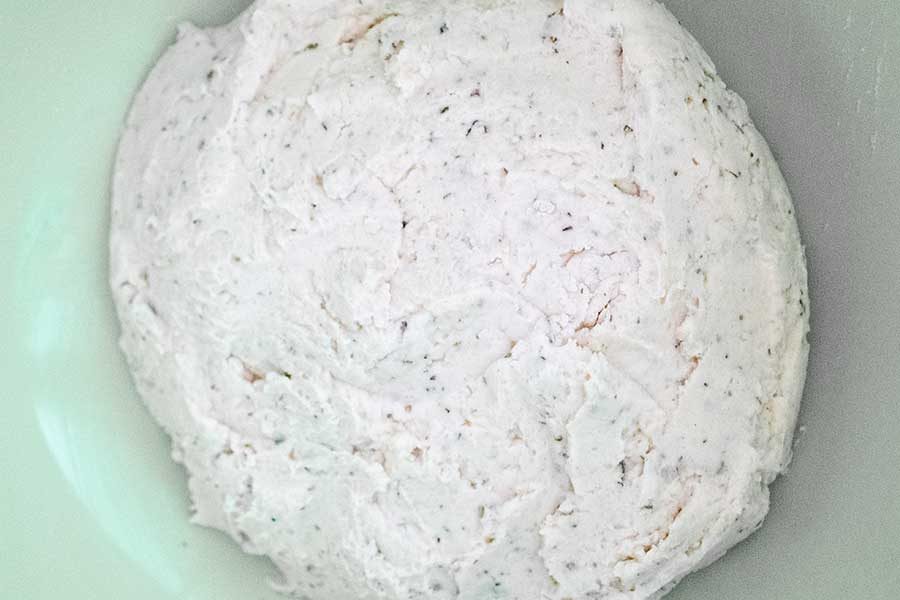 10 Best Gluten-Free Pizza Dough Recipes
In the past, cooking seemed simpler because you didn't have to think about multiple food sensitivities. With the right ingredients and guidance, you can bring back those foods that give us comfort.
Today I will share with you our favourite gluten-free pizza dough recipes from the classic New York Style Pizza to a healthy Cauliflower Pizza Crust. Pizza dough doesn't have to be complicated to be delicious.
These Gluten-Free Pizza dough recipes are made simply with exceptional results.
When it comes to toppings, I will leave that up to you because we all love different things. The important thing to remember is not to overdo the toppings, or all the flavours will blend, and the pizza will become heavy and not that appetizing.
The rule of thumb is the sauce, cheese and two to three toppings, and the pizza will turn out irresistibly delicious.
freshly made gluten-free pizza sauce,
With today's gluten-free pizza dough recipes, I wanted to add my freshly made Gluten-Free Pizza Sauce. The best part about this pizza sauce, it takes minutes to whip up, keeping the pizza sauce fresh and packed with flavour. Here is the recipe:
5 MINUTE GLUTEN-FREE PIZZA SAUCE RECIPE (makes 1 2/3 cups)
1 Tbsp. Extra virgin olive oil
1 garlic clove, minced or grated
1 tsp. GF basil
1/2 tsp. GF oregano
1/4 tsp. GF thyme
Red pepper flakes to taste (optional)
398 ml. (13.5 oz.) canned pure tomato sauce
1 tsp. Sweetener (honey, maple syrup or sugar)
Sea salt to taste
Using a small saucepan, heat olive oil over medium heat. Add garlic, basil, oregano and thyme and stir to combine. Add tomato sauce and sweetener and cook over medium heat for 4 minutes, stirring as needed. Season with salt and cool
So, whether you are under a lockdown or don't want to risk ordering take out, you will find a Gluten-Free Pizza dough recipe here that even a novice cook can make. All the pizza recipes have been triple tested to make sure not to disappoint you!
We all love pizza as it is just a kind of stress buster food that fills you with "Happy Hormones," and today we are sharing our favourites. You will find at least one or more Gluten-Free Pizza Dough recipe here that will surely suit your dietary needs.
This gluten-free crazy crust pizza is one of our easiest pizza recipes. Soft, crispy bottom crust topped with our favourite toppings, such as ground beef, pepperoni, mushrooms, bell peppers, onions, garlic, tomato sauce, and lots of cheese!!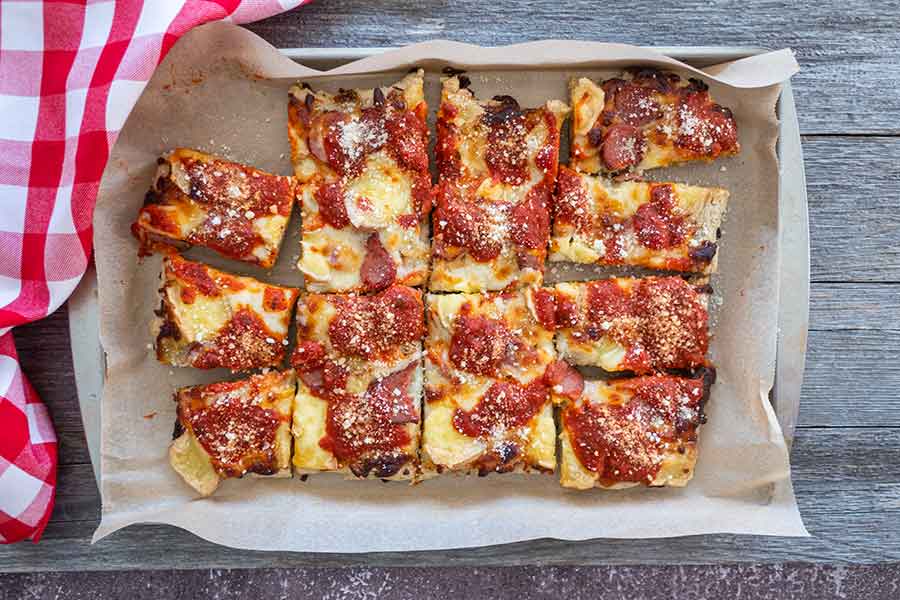 Detroit-style pizza is about the fried-like bottom, crispy sides, a lot of cheese spread out to the edges, and finished with pizza sauce. Ideally, the cheese should be fatty and creamy and will melt easily, such as the Wisconsin Brick Cheese.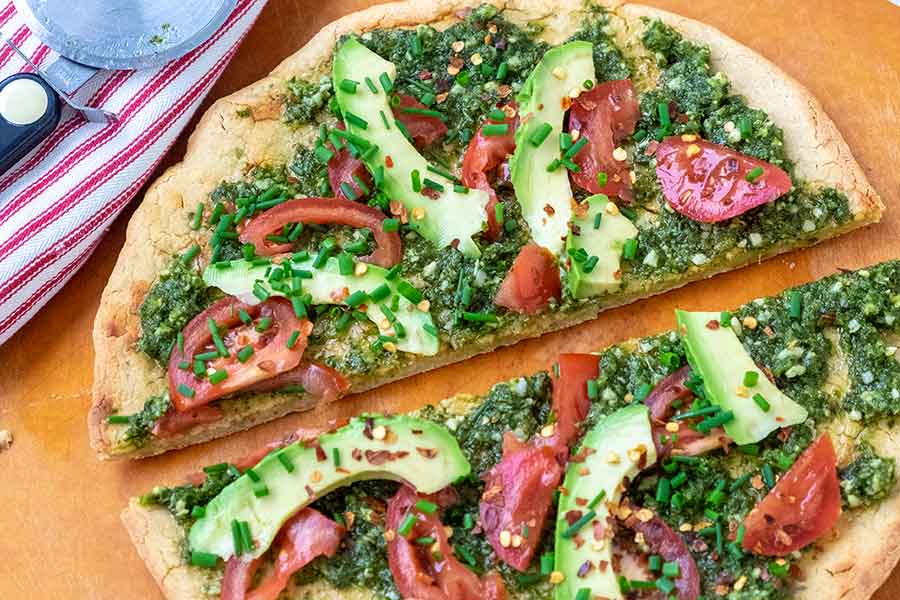 5 minutes of prep time, yes only 5 minutes. The gluten-free pizza crust has just the right amount of crispness and will hold several toppings without being soggy. And yes, it is made with healthy quinoa flour.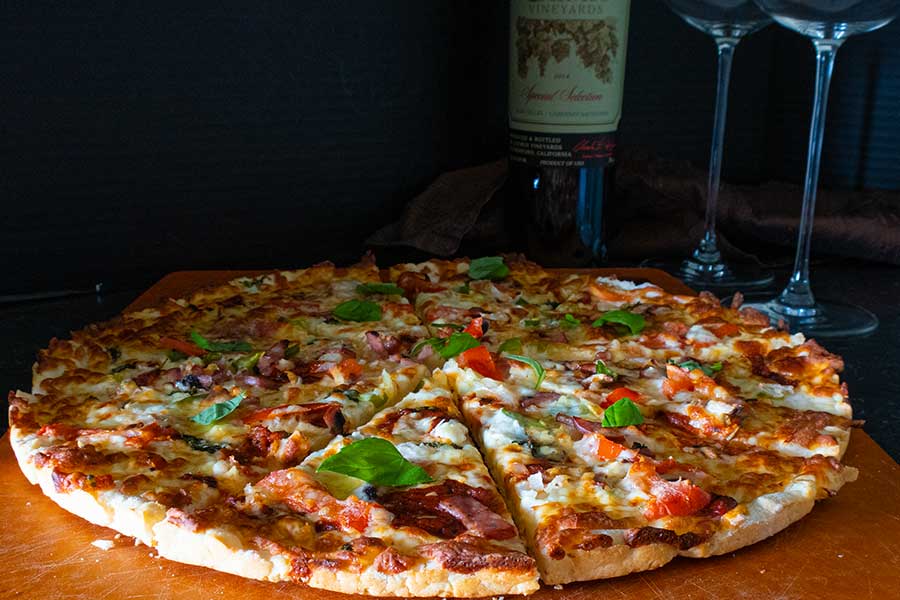 The pizza crust is crispy and soft on the inside, just like a delicious pizza from an Italian bakery. The crust is thin and firm enough to hold plenty of toppings…you will love it!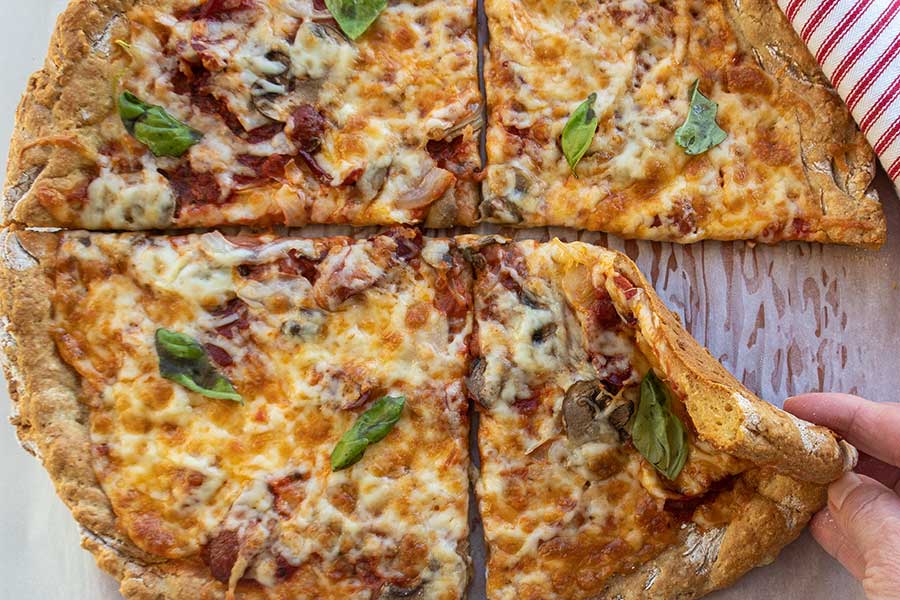 The famous New York-Style Gllutten-Free Pizza is a thin crispy crust pizza that is foldable, cut into large pieces, and the toppings are pizza sauce, grated mozzarella cheese, and then your favourite toppings.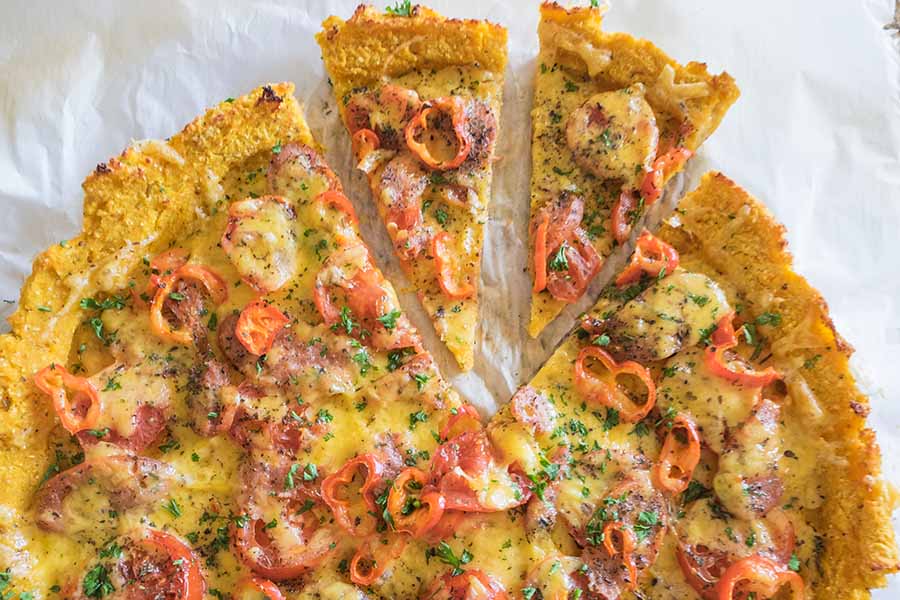 A pizza crust doesn't have to be made only with grains. In today's world, a healthy approach to making pizza is adding vegetables to the crust. In this recipe, I used butternut squash, adding valuable nutrients and extra fibre.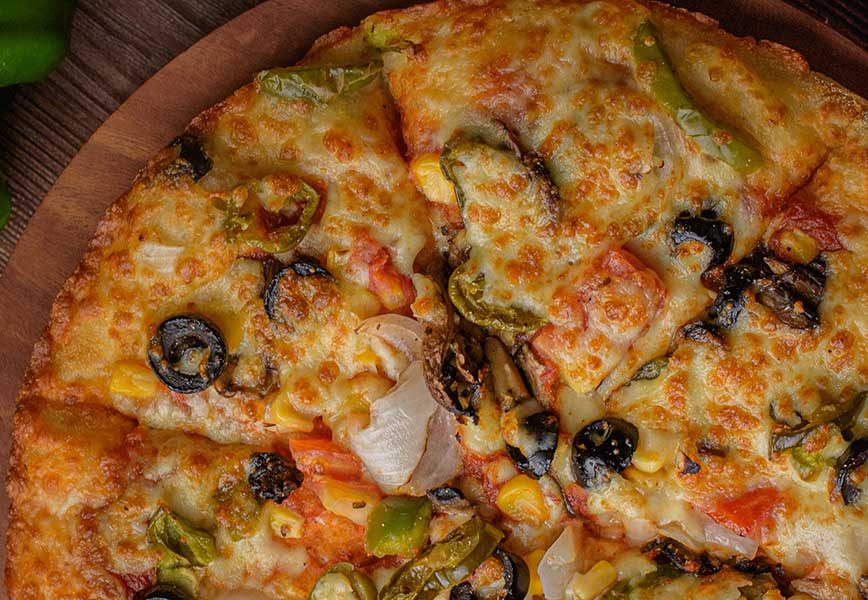 Keto Mediterranean Pizza you will love! We love pizza, but often we want to stay away from the extra carbs, especially when following the keto diet. In this low-carb Mediterranean pizza recipe, the crust is made with cauliflower.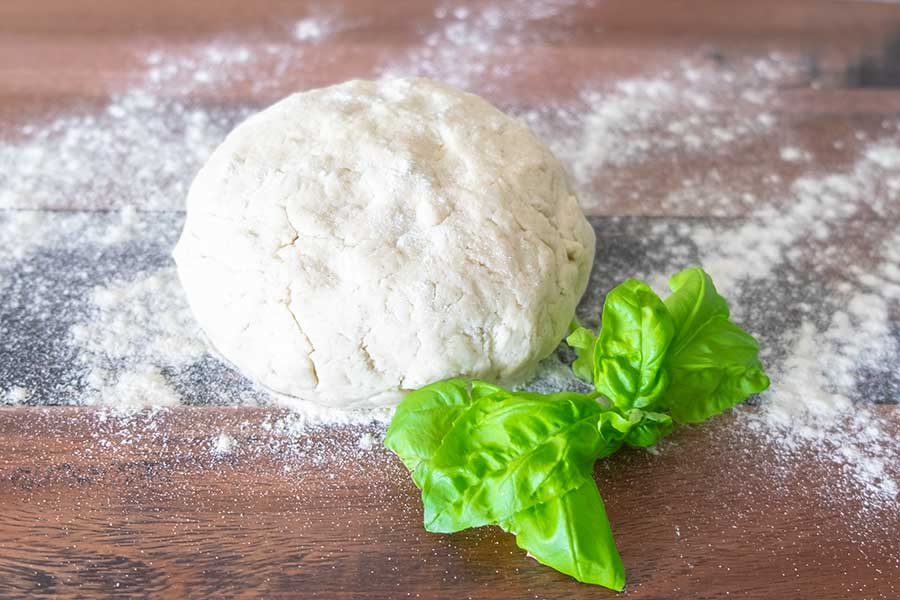 Short on time? Not a problem, just imagine a gluten-free pizza dough ready to go in the oven in 15 minutes. That's right, no waiting for the pizza dough to rise because there is no added yeast and no endless kneading. This is a great gluten-free pizza dough when ever you are short on time.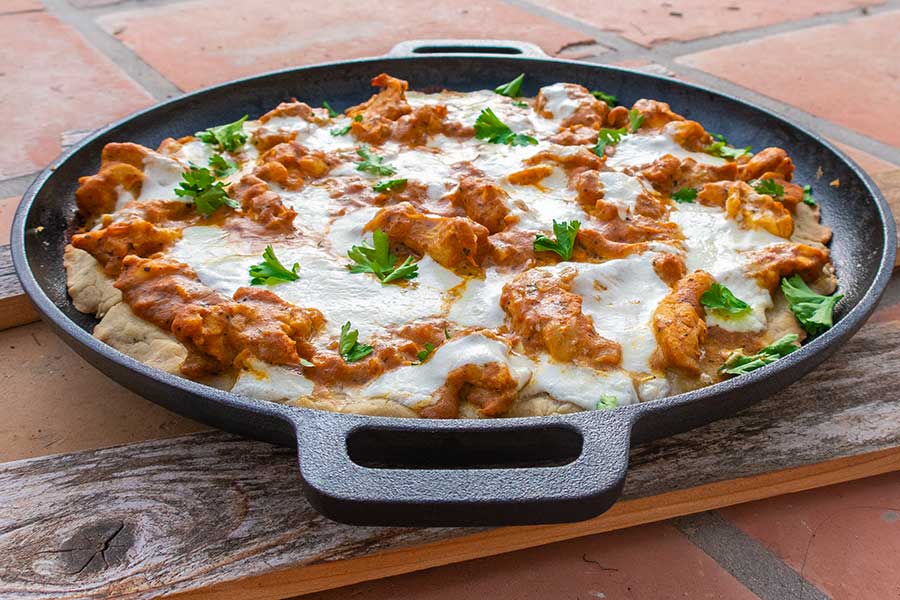 This cast iron pizza with butter chicken has the crispiest, crunchiest crust, just as if you made it in a pizza oven. And, the topping is made with the creamiest butter chicken and buffalo mozzarella cheese.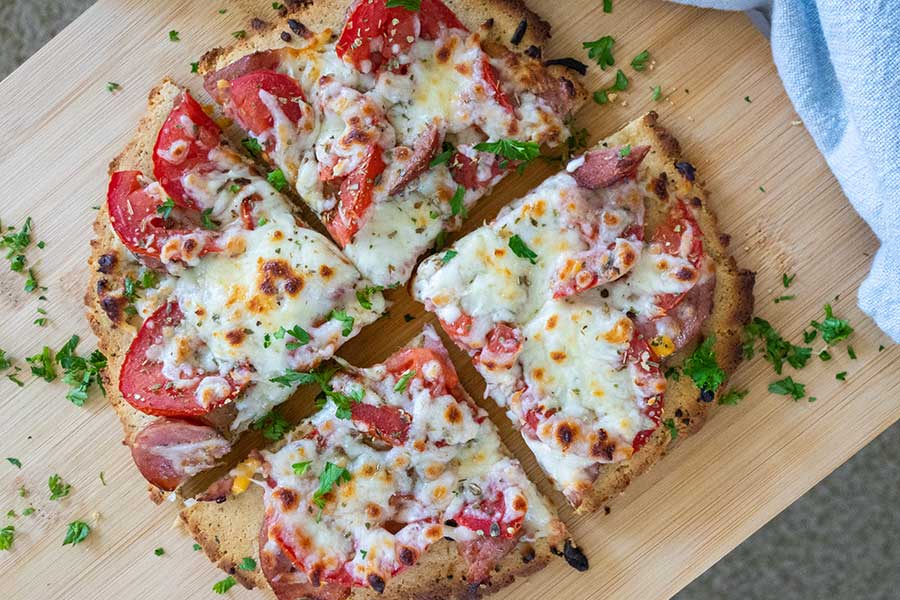 Seriously, every last bite of this grain-free pizza is so good. It will leave you wanting more.
Let's Connect!
Be sure to FOLLOW US on FACEBOOK and PINTEREST. And don't forget to sign up for our newsletter, the form is at the bottom of this page. We always have something new and exciting for you!
Many thanks!
Kristina xx
Affiliate Disclosure: Only Gluten-Free Recipes is a participant in the Amazon Services LLC Associates Program, an affiliate advertising program designed to provide a means for sites to earn advertising fees by advertising and linking to amazon.com. Please check out my sponsorship and disclosure policy page for more details.