African Beef Stew
Prep Time
15 Minutes
Difficulty
Easy
Cook Time
140 Minutes
Serves
4 - 6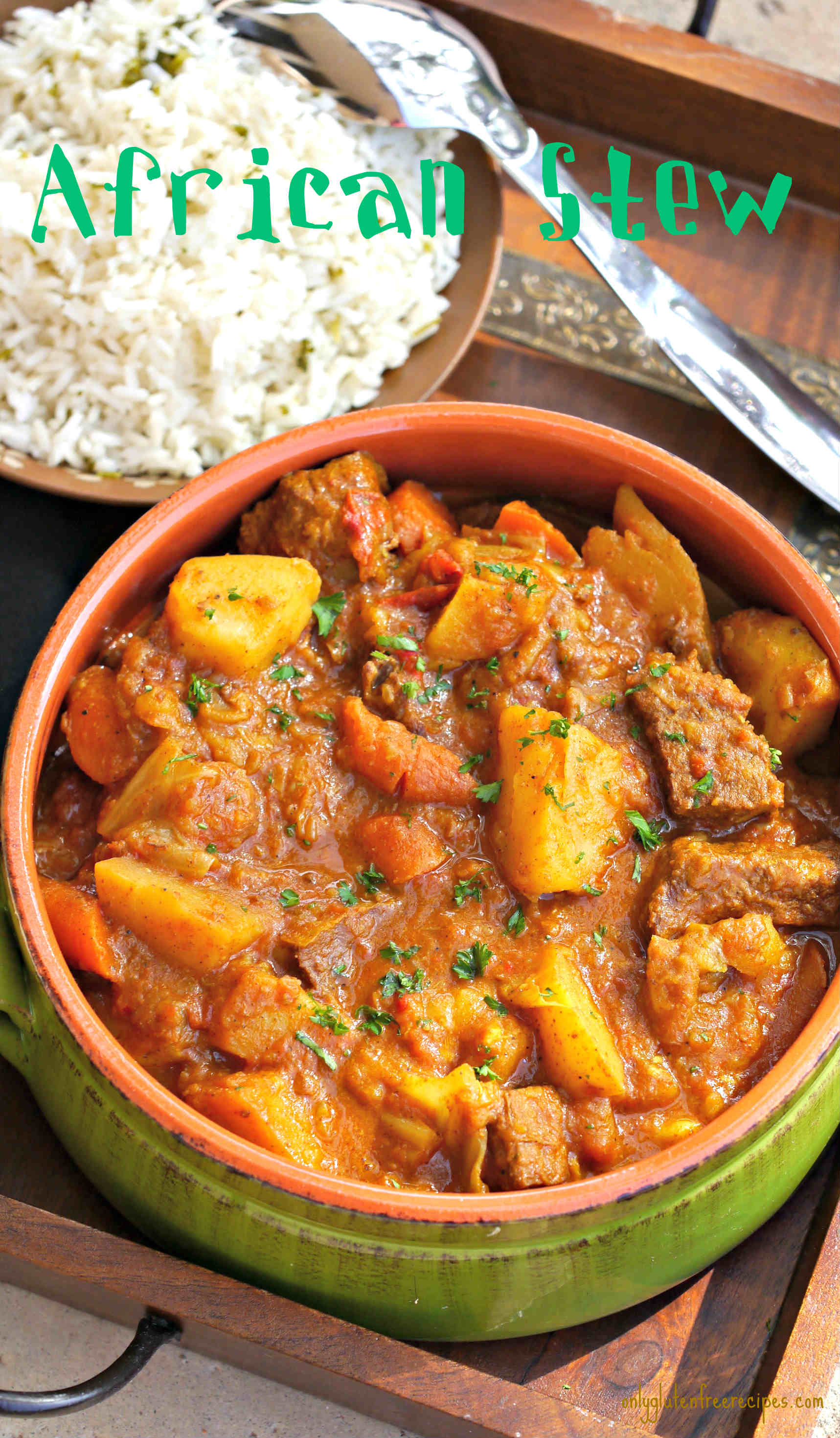 This African beef stew recipe is slow-cooked to develop an unbeatable flavour and meltingly tender texture. The combination of spices used in this hearty stew is what creates a unique taste setting this stew apart from most. Serve as is or with rice
Ingredients
2 Tbsp. coconut oil
2 lb. stewing beef
2 Tbsp. curry powder
1 Tbsp. paprika
1 tsp. ground black pepper
½ tsp. ground cinnamon
1 large yellow onion, chopped
4 garlic cloves, crushed
2 Tbsp. minced ginger, about 2-inches
1 yellow or orange bell pepper cut into large bite size pieces
2 large tomatoes, cut into large bite size pieces
1 cup coconut milk
4 carrots, cut into large bite size pieces
4 medium size potatoes, cut into large bite size pieces
2 cups sliced green cabbage (the slices should be about 1-inch thick)
3 Tbsp. pure tomato paste
Sea salt to taste
Note: spices must be gluten free
Instructions
Preheat oil in large pan over medium heat.
Season beef with spices and add to preheated pan. Sauté the beef until brown, about 3 – 5 minutes
Add the onions, garlic and ginger to the meat, reduce the heat to low and continue to sauté until onions are translucent, about 5 minutes
Add the tomatoes and continue to stir until mixture begins to simmer
Pour the coconut milk into the meat mixture, cover and simmer on low heat for 1-½ hours, stirring occasionally
Add Carrots, potatoes, cabbage and season with salt to taste. Cover and cook 45 more minutes or until the beef easily flakes with a fork. If the stew becomes too thick add a little more coconut milk
Similar Recipes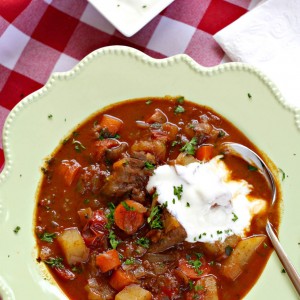 Authentic Hungarian Goulash
Hungarian goulash can be served as a stew or as soup, depending how much water you add to the goulash. The traditional Hungarian spices are what give this Goulash authentic and robust flavour. When serving the goulash as a stew traditionally you would add pasta, in this case, gluten free pasta. Enjoy! Read More
Prep Time
15 Minutes
Difficulty
Easy
Cook Time
120 Minutes
Serves
6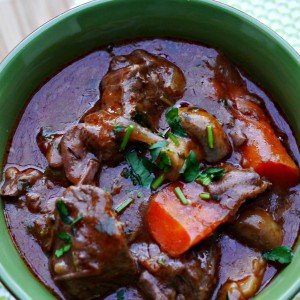 Beef Bourguignonne ~ Naturally Gluten Free
Beef bourguignonne is a hearty French beef stew in rich red wine sauce. Serve it with boiled potatoes or over gluten free pasta. Read More
Prep Time
15 Minutes
Difficulty
Easy
Cook Time
240 Minutes
Serves
6
Feijoada ~ Black Beans Meat Stew
Feijoada is a typical Portuguese dish but in Brazil, feijoada is considered their national dish. It is a slowly simmered stew made with black beans and pork or beef, but there are many versions of this stew, depending on the region. This dish is hearty and is mostly served with rice and greens, but adding […] Read More
Prep Time
15 Minutes
Difficulty
Easy
Cook Time
300 Minutes
Serves
6 - 8
© Copyright 2017 Only Gluten Free Recipes. All Rights Reserved.