Gluten-Free Sesame Pizza With Shaved Asparagus & Caramelized Onions
Published on Jul 12, 2019
by
Kristina Stosek
Prep Time:

20 minutes
Cook Time:

20 minutes
Serves:

8 slices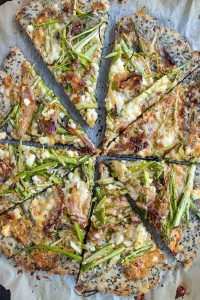 ​This post may contain affiliate links, please see our
privacy policy
for details
This Gluten-Free Sesame Pizza With Shaved Asparagus and Caramelized Onions is vegetarian with a thin crust.The gluten-free pizza is made with a basil and garlic cream sauce, shaved asparagus, caramelized onions, feta and Parmesan cheese.
the best part about this gluten-free sesame pizza…
The crust is made with sesame seeds, making this pizza extra special. Doesn't this sound delicious? You may be surprised, but this pizza recipe is made without mozzarella cheese. And yet, you will taste plenty of delicious cheese throughout.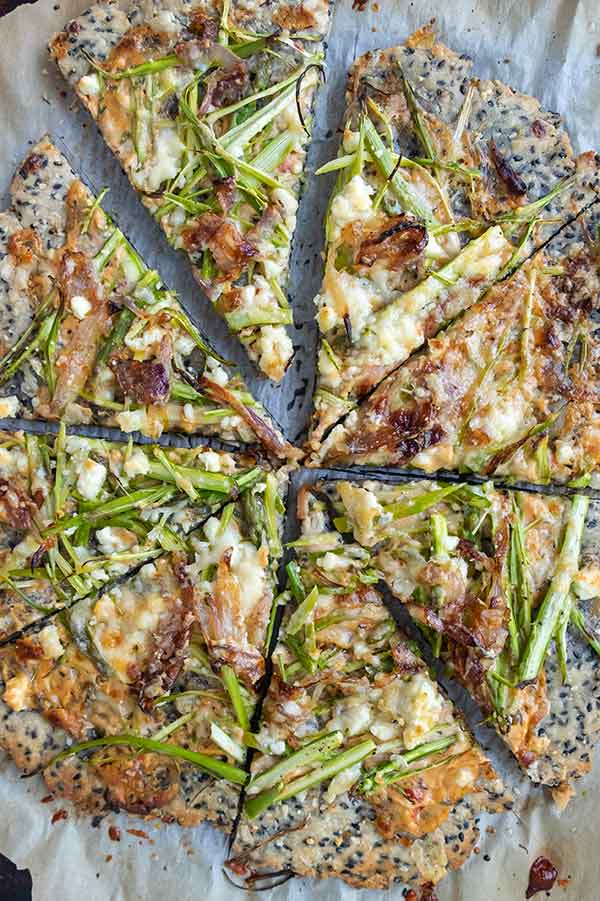 an easy gluten-free pizza recipe…
The recipe may look complicated, but it is super easy. For the pizza dough, all you do is mix everything and roll it out. For the toppings, the cream sauce takes virtually three minutes to whip up, and the onions are quickly sautéed.
Then all you do is layer everything over the crust. What I especially love about this gluten-free sesame pizza, it makes for a stunning appetizer. Instead of rolling the crust into a circle, shape it into a rectangle. Then slice the pizza into bite-size pieces, and that's it! For more gluten-free pizza recipes click here->
Gluten-Free Sesame Pizza With Shaved Asparagus & Caramelized Onions
Published on Jul 12, 2019
by
Kristina Stosek
Instructions
1.

For the sesame crust; using a large bowl, whisk together flours, sesame seeds, instant yeast, salt and xanthan gum

2.

Mix warm water, 2 tablespoons of olive oil and maple syrup. Add to the flour mix and mix to combine. Using your hands create a pizza ball. Place the ball onto a large piece of parchment paper and roll out into a circle or desired shape about 1/3-inch thick. Brush the dough with olive oil and lightly cover with plastic wrap. Let the dough rise for 45 minutes in a draft-free place

3.

While the dough is rising, make your toppings. Melt the cream cheese over medium-low heat, about 3 minutes. Add milk, basil and garlic, stir to combine. Set aside

4.

Sauté onions over medium heat until golden, about 3 - 4 minutes. Set aside

5.

Using a vegetable peeler shave the asparagus into long shaving or the asparagus can be julienned or cut into thin strips

6.

For the pizza; remove the plastic wrap and bake the crust in a preheated oven at 475 F for 10 minutes

7.

After 10 minutes of baking, spread the white sauce over the crust, layer with asparagus shaving, season with black pepper, scatter with feta cheese, top with onions including the olive oil and finish with parmesan cheese. Bake for 10 - 12 minutes until the crust is golden