Farmers Market Soup (Vegan, Gluten-Free)
Prep Time
20 Minutes
Difficulty
Easy
Cook Time
60 Minutes
Serves
6 - 8
Average Rating: 4.5 | Rated By: 4 users
When it comes to a hearty gluten-free vegetarian soup, this farmers market soup is on top of the list. A combination of lentils, leeks, cabbage, tomatoes, squash and kale with earthy spices makes for a hearty soup jam-packed with healthy nutrients. To complete this one-pot meal add crusty gluten-free savoury bread.
Ingredients
2 Tbsp. extra virgin olive oil
1 medium size organic leek; white part only, thinly sliced
1 Tbsp. GF smoked paprika or you can use sweet paprika
1 Tbsp. GF chili powder
1 tsp. GF ground cumin
2 GF bay leaves
3 large tomatoes, cut into bite size pieces
3 cups green cabbage, roughly chopped
1 acorn squash, peel, remove seeds and cut into small chunks
1 bunch baby kale, remove stems and cut into bite size pieces
¼ cup apple cider vinegar
1 Tbsp. agave nectar
2 garlic cloves, minced
Sea salt to taste
*As an Amazon Associate and member of other affiliate programs, I earn from qualifying purchases. Please check out my sponsorship and disclosure policy page for more details
Instructions
Soak lentils in water for 4 hours or overnight. Drain and rinse
In a large soup pot sauté leeks for 5 minutes. Add paprika, chili powder, cumin and bay leaves and stir to combine
Add stock, lentils, tomatoes, cabbage, squash, kale and salt. Bring to boil, reduce heat to low and cover. Cook for 1 hour or until lentils are tender
Add apple cider vinegar, agave, garlic and adjust seasoning if needed. Enjoy!
Similar Recipes
Classic Vegetarian Lentil Soup
Healthy, cozy and warming soup packed with nutrients and earthly flavours. Lentils are rich in folate and fiber so you can have healthy without giving up flavour of a comforting hearty soup. Serve with a slice of gluten-free herb and garlic bread Read More
Prep Time
20 Minutes
Difficulty
Easy
Cook Time
65 Minutes
Serves
4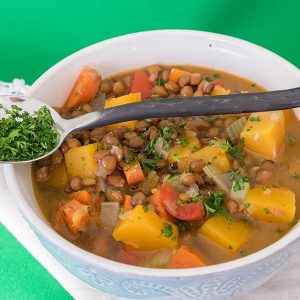 Vegan Lentil Butternut Squash Soup
This is a simple, healthy lentil butternut squash soup with a lot of flavours. The earthy lentils combined with the sweetness of butternut squash make a super tasty hearty soup. Lentils are high in protein and other essential nutrients. Butternut squash is also a vegetable not to be ignored. The tasty squash contains highest levels […] Read More
Prep Time
15 Minutes
Difficulty
Beginner
Cook Time
50 Minutes
Serves
4-6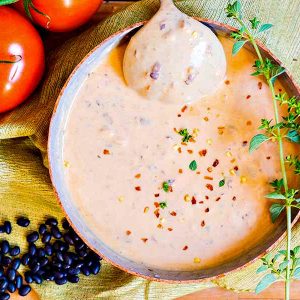 Creamy Creole Black Bean Soup
Don't be fooled by the simplicity of this Creamy Creole Black Bean Soup. Slightly spicy and creamy, this soup will wake up almost any palate. Be sure to make more than you need, for this soup tends to disappear quite quickly. Read More
Prep Time
15 Minutes
Difficulty
Easy
Cook Time
20 Minutes
Serves
4 - 6