Cream of Broccoli, Leek & Parmesan Soup
Prep Time
10 Minutes
Difficulty
Easy
Cook Time
30 Minutes
Serves
6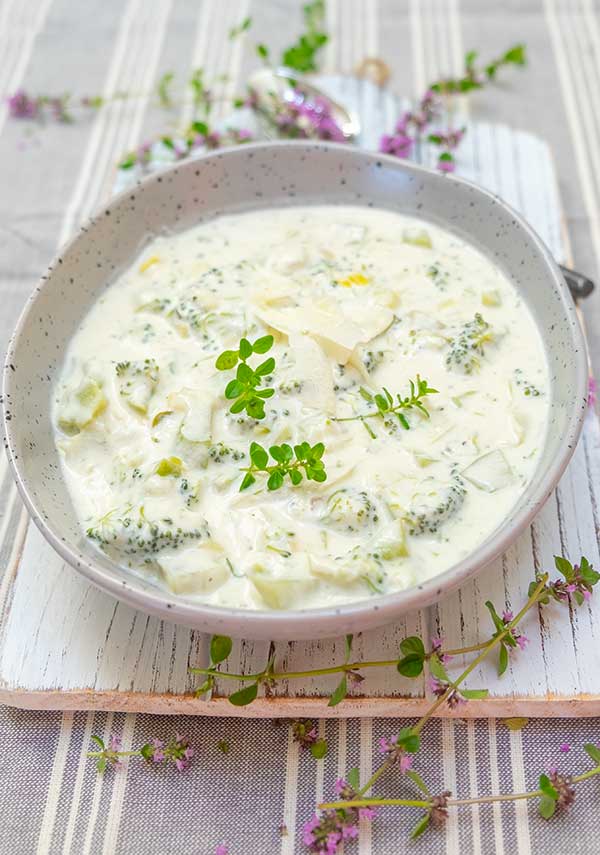 Be the first to rate this recipe.
If you love creamy soups, I promise you this recipe will become a new favourite. Caramelized leeks, fresh thyme, plenty of broccoli, Parmesan cheese, cooked in a broth perfectly balanced with cream. This most delicious thick and creamy soup is quick and easy, made with simple healthy ingredients. The caramelized leeks and Parmesan add so much flavour to a simple cream of broccoli soup. I always serve my creamy soups with either gluten-free chia soda bread or my famous gluten-free artisan bread. This packed with goodness soup is a meal on its own, but it makes a stunning starter to any meal, especially when the company is coming! Enjoy 🙂
Whether you are looking for a vegan creamy soup or a hearty meat and potato chowder you will find the soup recipes here->
Ingredients
2 Tbsp. Butter
1 large leek, trimmed and thinly sliced
1 Parmesan rind
4 sprigs of fresh thyme plus some for serving
2 lb. broccoli, with stems, roughly chopped
2 cups half and half cream
1 cup grated Parmesan cheese, plus some for serving
Himalayan salt and GF ground black pepper to taste
Instructions
Heat olive oil in a large pot over medium heat. Add leeks and cook for 5 minutes until golden
Add chicken broth, Parmesan rind and thyme. Bring to boil, cover and reduce heat to low. Cook for 15 minutes. Add broccoli and cook for 5 more minutes. Remove Parmesan rind
Whisk together cream with arrowroot starch and Parmesan and add to the soup. While stirring, cook over medium-high heat until the soup starts to thicken, about 3 minutes. Season with salt and pepper to taste. If the soup is too thick add a little more cream or broth.
Similar Recipes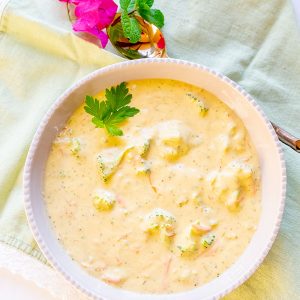 Vegan Cheesy Cream Of Broccoli Soup (Paleo, Gluten-Free, Whole30)
January is a month for hearty, satisfying soups. Just like this vegan cheesy cream of broccoli soup. Because I am keeping everything on the healthier side this month, this soup is no exception. It is a lighter version of classic cream of broccoli cheese soup without the dairy. If you love creamy soups, I bet […] Read More
Prep Time
10 Minutes
Difficulty
Easy
Cook Time
15 Minutes
Serves
4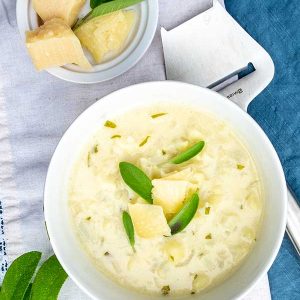 Cauliflower Sage And Asiago Soup
Don't be fooled by the simplicity of this cauliflower soup, remember that it doesn't have to be difficult to be magnificent. The three combined flavours such as cauliflower, sage and Asiago, are proof of that. If you like cream of cauliflower soup, you must try this version. Not only does this soup taste great, but […] Read More
Prep Time
15 Minutes
Difficulty
Easy
Cook Time
20 Minutes
Serves
4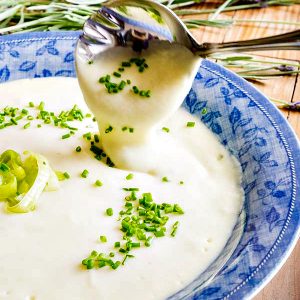 Vegan Vichyssoise Soup Recipe
Most of us hanker for authentic food experiences. This inspiration comes from France, the epicenter of culinary elegance. Vichyssoise soup is a chilled creamy soup made with leeks and potatoes. I have converted classic vichyssoise soup to a delicious vegan version. Potatoes are packed with energy-giving complex carbohydrates and are a good source of iron, folate […] Read More
Prep Time
15 Minutes
Difficulty
Easy
Cook Time
20 Minutes
Serves
4