Best African Beef Stew Recipe
Prep Time
15 Minutes
Difficulty
Easy
Cook Time
140 Minutes
Serves
4 - 6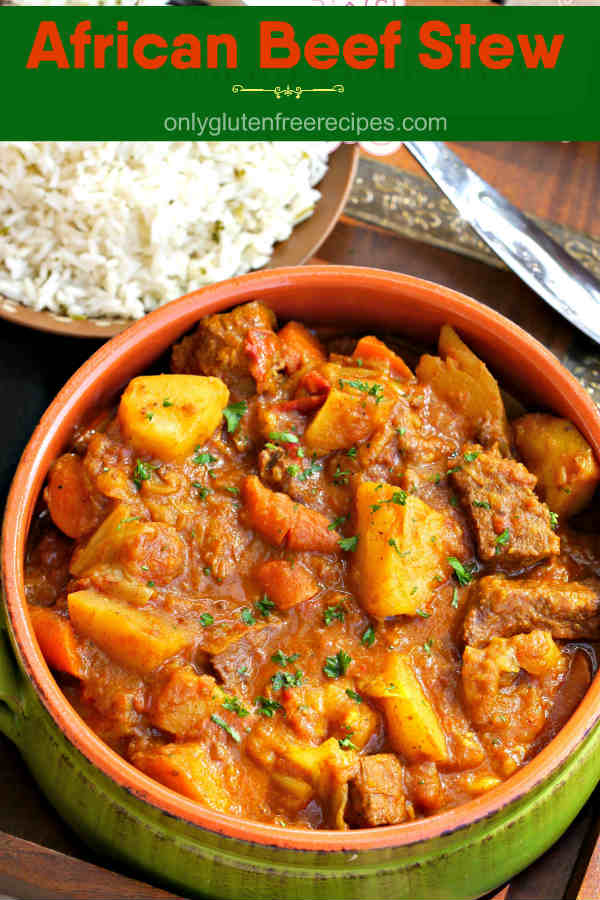 Average Rating: 5 | Rated By: 20 users
Most delicious African Beef Stew slow-cooked in a coconut sauce flavoured with African spices. Cooking with ethnic spices adds diversity and uniqueness to our food, such as in this recipe. 
In this beef stew, the collection of spices and plenty of fresh veggies create the most delicious stew. The beef is tender, and the vegetables cooked to perfection. I can't describe how delicious the sauce is. The spices such as ginger, paprika, curry and cinnamon combined with coconut milk, enhance the tender beef and veggies. 
I like to serve this stew with the poplar gluten-free pull-apart soft rolls or the delicious gluten-free artisan crusty rolls. Enjoy!
Ingredients
2 Tbsp. coconut oil
2 lb. stewing beef
1 Tbsp. GF paprika
1 tsp. GF ground black pepper
½ tsp. GF ground cinnamon
1 large yellow onion, chopped
4 garlic cloves, crushed
2 Tbsp. minced ginger, about 2-inches
1 yellow or orange bell pepper cut into large bite size pieces
2 large tomatoes, cut into large bite size pieces
1 cup coconut milk
4 carrots, cut into large bite size pieces
4 medium size potatoes, peel and cut into large bite size pieces
2 cups sliced green cabbage (the slices should be about 1-inch wide)
3 Tbsp. pure tomato paste
Sea salt to taste
Instructions
Preheat oil in large saucepan over medium heat
Season beef with spices and add to preheated pan. Sauté the beef until brown, about 3 – 5 minutes
Add onions, garlic, ginger and bell pepper to the meat, reduce heat to low and continue to sauté until onions are translucent about 5 minutes
Add tomatoes and continue to stir until mixture begins to simmer
Add coconut milk and tomato paste and season with salt. Cover and simmer over low heat for 1 ½ hours, stirring occasionally
Add Carrots, potatoes, and cabbage and cook covered for 45 more minutes or until the beef easily flakes with a fork. If the stew becomes too thick add a little more coconut milk or water
Similar Recipes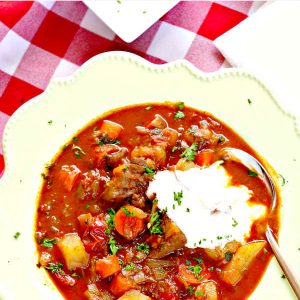 Authentic Hungarian Goulash (Gluten-Free)
This is truly an Authentic Hungarian Goulash dish → slowly simmered beef with vegetables, lightly flavoured delicious tomato broth and a little spiciness. This is comfort food at it's best! ♥ Where did I get the best authentic Hungarian Goulash recipe? Growing up in eastern Europe, in our home Hungarian goulash was a weekly meal. Whether […] Read More
Prep Time
15 Minutes
Difficulty
Easy
Cook Time
120 Minutes
Serves
6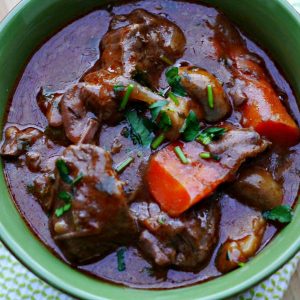 Beef Bourguignonne ~ Naturally Gluten Free
Beef bourguignonne is a hearty French beef stew cooked in rich red wine sauce. This French stew is slowly cooked for a few hours which is what makes the sauce incredibly tasty. Serve this delicious beef dish with boiled potatoes or over gluten free pasta. Read More
Prep Time
15 Minutes
Difficulty
Easy
Cook Time
240 Minutes
Serves
6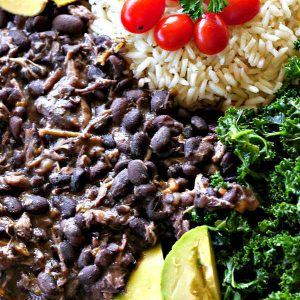 Feijoada ~ Black Bean Meat Stew
Feijoada is a slowly simmered stew made with black beans, beef and or pork. It is a typical dish made in Portugal and Brazil and is considered their national dish. There are many versions of this stew, depending on the region, but this version of feijoada is my favourite. ♥ Feijoada takes time to make, […] Read More
Prep Time
15 Minutes
Difficulty
Easy
Cook Time
300 Minutes
Serves
6 - 8