Gluten Free Amaranth Cheese Rosemary Crackers
Prep Time
20 Minutes
Difficulty
Intermediate
Cook Time
17 Minutes
Experimenting with different flours is challenging, and amaranth flour has always been on my list to try. Amaranth is a seed, not a grain and has super nutrients such as calcium, iron, lysine, magnesium, fiber and is a complete protein. This flour is lower in carbs than any other grain making it a good choice for those that follow a low carb diet. These delicious crackers are easy to make and are ideal to use with appetizers.
Ingredients
2 cups amaranth flour
1 tsp. organic GF garlic powder
½ tsp. organic GF cumin
1 tsp. fresh organic rosemary chopped or ½ tsp. organic GF dried
¼ tsp. coarsely ground organic GF black pepper
1 tsp. GF aluminum free baking powder

1 cup freshly grated Parmesan cheese
1 tsp. sea salt

1/3 cup + 3 tbsp. water + 2 tbsp. extra virgin olive oil and stir
Instructions
Preheat oven to 350°F.
Add all ingredients except water and olive oil into a food processor. Pulse few times until all ingredients are well mixed.
Add water and oil gradually until a dough is formed. The dough should not be too sticky.
Place dough between two sheets of parchment paper. Roll dough into desired thickness but should be fairly thin. Cut to desired size and place on a baking sheet lined with parchment paper. Prick crackers with a fork and brush with water. Bake 15 - 17 minutes or until slightly golden. Cool completely and store in an airtight container at room temperature.
Similar Recipes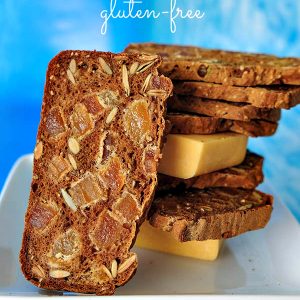 Gluten Free Apricot Pumpkin Seed Crackers
These gluten free apricot pumpkin seed crackers are a tasty, healthy snack. Serve as is or top with cheese, jam, nut butter or anything you desire. This is an easy recipe that anyone can make. These crackers or also known as crisps make an excellent hostess gift Research suggests that dried fruits such as apricots […] Read More
Prep Time
10 Minutes
Difficulty
Easy
Cook Time
70 Minutes
Gluten-Free Christmas Crackers
These crackers are perfect for appetizers, just add your favourite topping, serve with a dip or just as is. I usually make two batches, because once you start eating them it is very hard to stop. Kids especially love these tasty crackers. Read More
Difficulty
Easy
Cook Time
120 Minutes
Parmesan Chips
If you love cheese you will enjoy these tasty Parmesan chips. They are easy to make and you can use them instead of crackers, just add your favourite topping and you will have a delightful appetizer in just minutes. Read More
Prep Time
5 Minutes
Difficulty
Beginner
Cook Time
3 Minutes
© Copyright 2017 Only Gluten Free Recipes. All Rights Reserved.