Gluten-Free Beef Chili Cups With Avocado Aioli
Published on Feb 06, 2022
by
Kristina Stosek
Prep Time:

20 minutes
Cook Time:

40 minutes
Serves:

16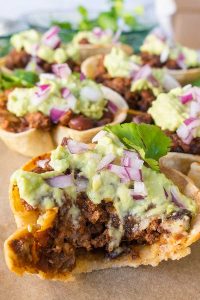 ​This post may contain affiliate links, please see our
privacy policy
for details
Gluten-free beef chili cups with avocado aioli are perfect finger food for parties or sports events like the Super Bowl.
The gluten-free cups are crispy tortillas made in a muffin pan, filled with a thick beefy chilli made with black beans and topped with delicious avocado aioli. These hearty small-bites are packed with flavour and deliciousness beyond belief.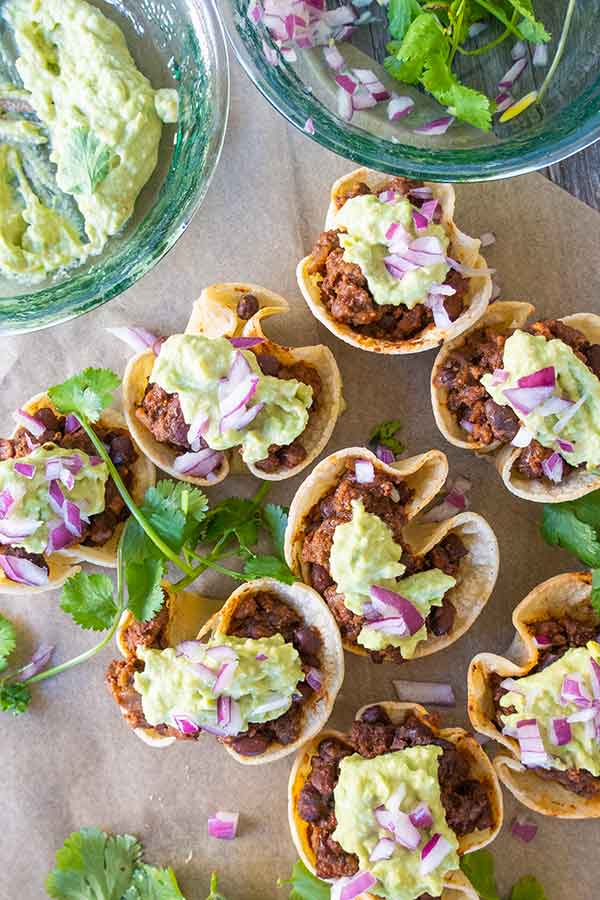 Chili is often served during sports events, especially Super Bowl. So why not make the chili into gluten-free appetizers served on a napkin or small plates with all the favourite toppings. Or, add a salad and make the beef chili cups into a main dish.
The easiest way to make gluten-free beef chili cups!
You want to keep things as simple as possible whenever you are feeding a crowd. This is where the gluten-free beef chili cups come in.
To keep things simple, like these beef chili cups appetizer, I make the chili a day in advance. Besides, chili always tastes better the next day and becomes thicker and more flavourful.
Just before I am ready to serve the chili cups, I reheat the chili until it is super hot. Meanwhile, I make the avocado aioli topping.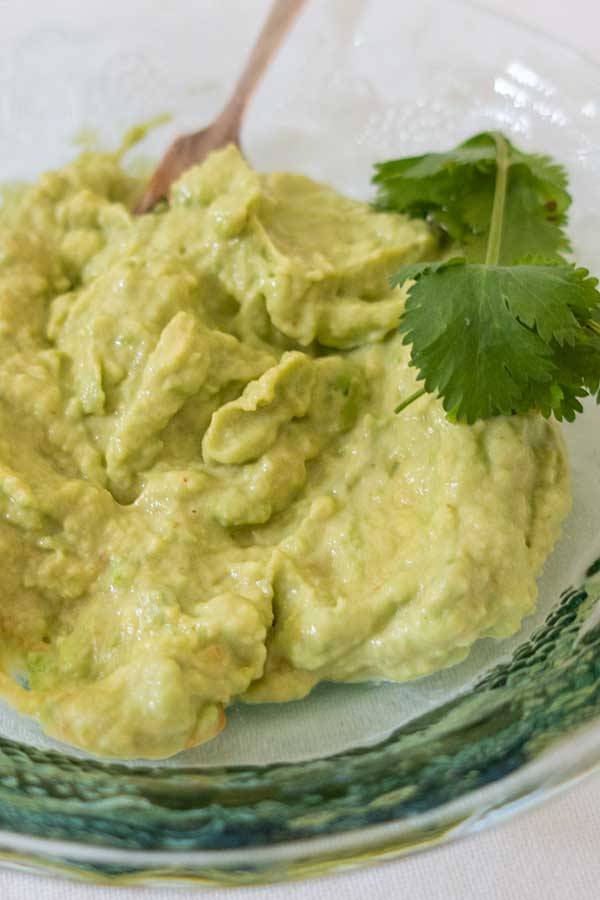 To make the healthy topping, mash a ripe avocado and mix it with sour cream, lime juice, fresh garlic and salt. Simple, fresh-tasting and sooo good!
Next, prepare the tortillas. Place the tortillas in a microwave for about 15 seconds. They will soften up, making them easy to work with. Then, brush one side with garlic olive oil and press them into a muffin pan forming small cups. These gluten-free cups are perfect for beef chili.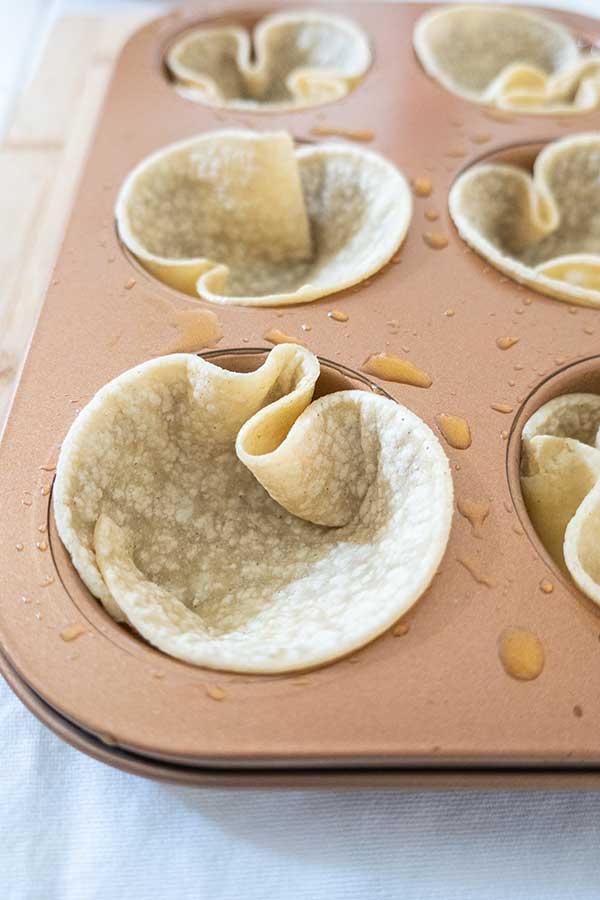 Before baking the cups, spoon some of the chili in the cups. Then bake for about five minutes. So the actual hands-on time the day of is about 10 minutes. Finger food doesn't get much easier than this.
Best way to serve beef chili cups.
This is where you can be creative and can serve these hearty appetizers simply or go that extra step and add delicious toppings.
I find the chili is very flavourful, so it doesn't need much. Although I know some people love various toppings.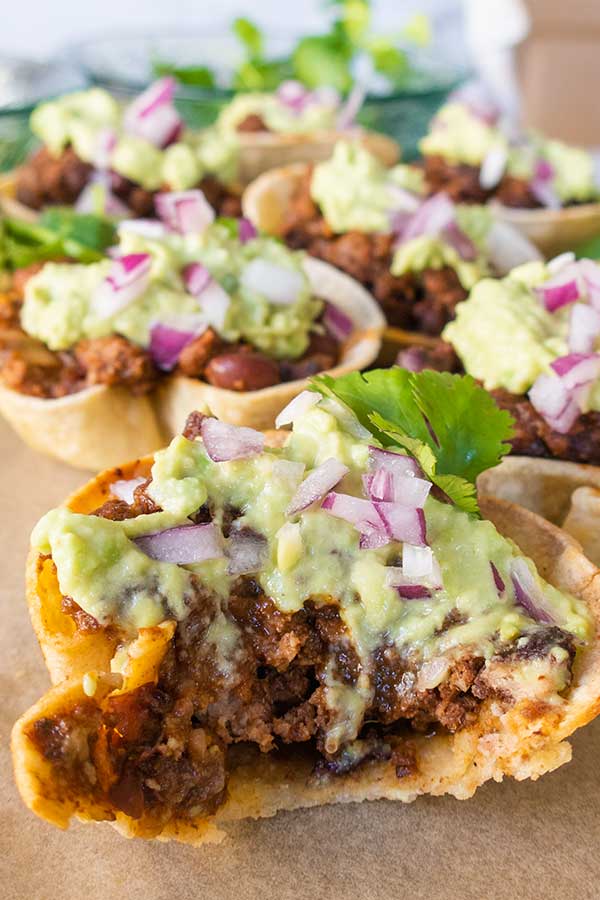 Once the chili cups are ready, place them on a cutting board or a large serving tray with small bowls of your favourite toppings. This will give everyone a choice to add their favourites.
Beef chili toppings!
Some toppings for these beef chili cups that come to mind are shredded cheese, chopped red onions, sliced jalapenos, cilantro, chopped tomatoes and lime wedges.
Can I use other fillings in tortilla cups?
Absolutely! First, you can use your favourite chili, some chili's you may enjoy is the Western Vegetarian Chili, Classic Chili, or my favourite Spicy Cincinnati Chili. Or, you can fill the cups with fresh salsa or a delicious Spicy Dominican Beef Stew. The options for these gluten-free tortilla cups are endless.
One thing to note, when using these gluten-free tortilla cups for chili or stew, make the sauce thicker.
And yes, don't forget plenty of napkins or small plates. I promise you these hearty gluten-free beef chili cups with avocado aioli will be a big hit every time. Especially during the Super Bowl party!
Gluten-Free Beef Chili Cups With Avocado Aioli
Published on Feb 06, 2022
by
Kristina Stosek
Instructions
1.

2.

Heat olive oil over medium-high heat. Add the onion and cook until translucent, about 3 minutes. Stirring as needed 

3.

 Add the ground beef and break it apart with a wooden spoon. Cook for about 7 minutes, until the meat is browned

4.

 Add the garlic, chili powder, cumin, sweetener, tomato paste, salt, pepper, and cayenne if using. Stir until well combined. 

5.

 Stir in water, crushed tomatoes, and drained beans

6.

Bring to a boil, then reduce to simmer and cook uncovered for 20-25 minutes, stirring occasionally. The chili should be thick. 

7.

Rest for 15 minutes before filling the cups. Or chill overnight and reheat just before serving. 

8.

9.

10.

Before you start using the tortillas, they need to be softened. To do this is simple. Heat the tortillas in the microwave for about 15 seconds

11.

Next, mix olive oil with minced garlic and brush one side of the tortilla with the oil. Shape the tortillas into cups in a muffin pan with the olive oil side facing down. Spoon about 2 tablespoons of hot chili into the cups, and bake for about 5 minutes. The tortilla edges should be golden-brown colour. 

12.

13.

Mash the avocados and mix with sour cream, lime juice, garlic, and season with salt. Top each chili cup with about 1 - 2 teaspoons of avocado aioli and toppings of choice.

14.

Tip: you can prepare the chili a day in advance. Just before serving, heat the chili. The tortilla cups should be baked just before serving