Gluten-Free Baked Spinach Ricotta Dip
Published on Feb 22, 2015
by
Kristina Stosek
Prep Time:

10 minutes
Cook Time:

15 minutes
Serves:

6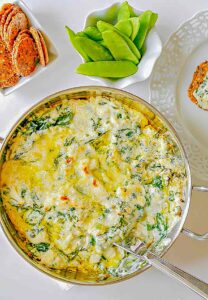 ​This post may contain affiliate links, please see our
privacy policy
for details
This Baked Spinach Ricotta Dip is a modern version of the classic hot spinach dip. The creamy hot dip is made with fresh spinach, ricotta cheese, lemon juice, green onions, garlic, spices and Parmesan cheese.
What we love about this spinach ricotta dip is the creaminess without the extra calories.
Most dips are made with mayonnaise, cream and rich cheeses. However, I believe that you can get the same results with ricotta cheese and the right seasoning. This low-carb hot dip is undoubtedly better for the waistline!
spinach ricotta dip appetizer
If you have company coming and you are busy preparing a delicious meal, setting the table and making sure everything is perfect, you have less time for appetizers. And let us be honest, typically, hot appetizers take almost as much time as the main course.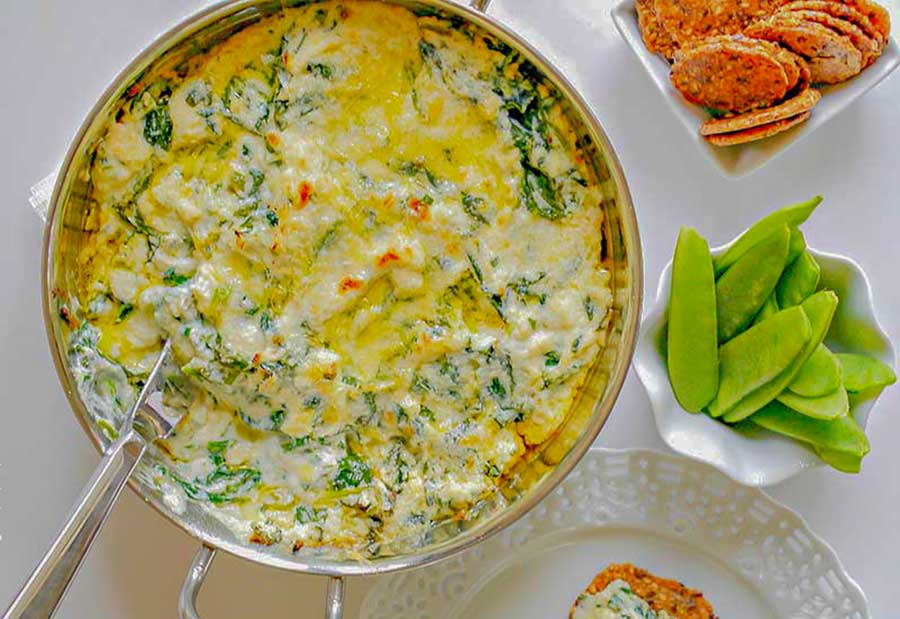 10-minute hot spinach ricotta dip recipe
For this hot dip you will need only ten minutes hands on, and you can make the dip in advance. Once your guests arrive, just pop it in the oven for 15 minutes or so. What takes most of the time is preparing the fresh spinach.
Another hot pizza dip you may enjoy is our delicious keto hot pizza dip.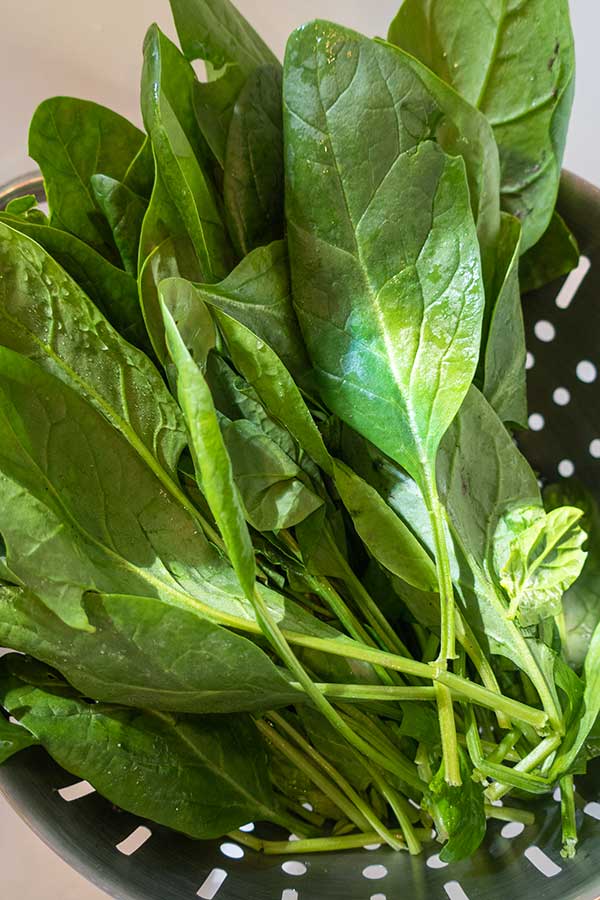 Spinach is a nutritionally packed leafy green plant. Spinach is rich in iron, vitamin C and E, potassium, magnesium and fiber. One cup of cooked spinach contains 4 grams of fiber. And the best part, 1 cup of spinach contains only 41 calories.
fresh spinach is best for hot dips
You will need about five minutes to get the fresh spinach ready. Fresh spinach, not frozen, makes all the difference in flavour. I find frozen spinach has watery and tasteless.
So, back to the recipe. First, you have to wilt the spinach and then roughly chop it. Once this is done, mix everything and place it in an oven-proof serving dish. At this point, you can refrigerate the dip.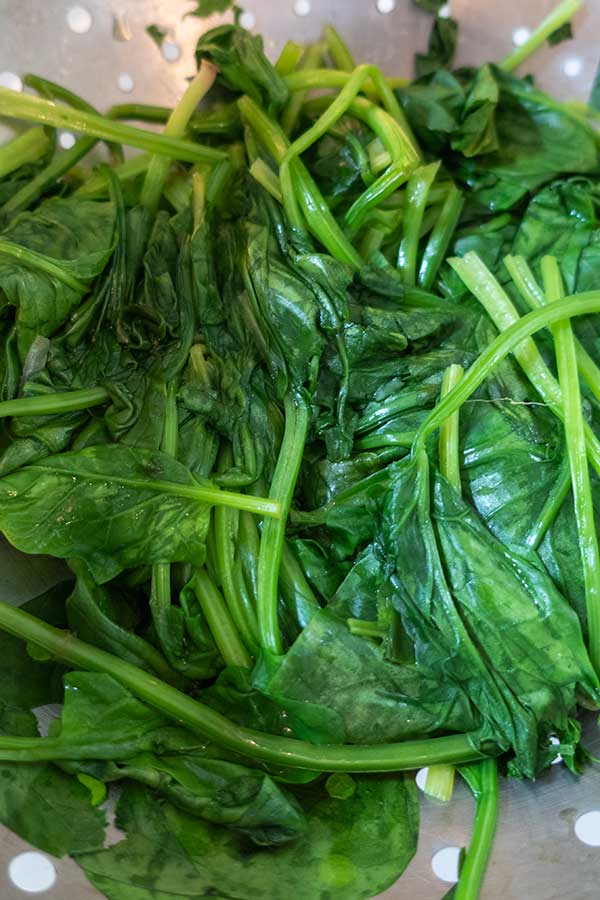 When ready, bake the dip until hot and bubbling. Keep in mind, if you prepare the dip in advance and refrigerate it, allow extra time for cooking
That is it! The one thing I must stress is using a good quality ricotta cheese for the best results. If you are adventurous, make homemade ricotta. Done!
serving suggestions
Serve the dip hot with gluten-free crackers, corn chips or fresh veggies. I enjoy the ricotta dip as is. All I need is a big spoon because it's that good! Or, I spread it over a gluten free toasted Multi-Seed Oat Bread and enjoy as a light meal.
Gluten-Free Baked Spinach Ricotta Dip
Published on Feb 22, 2015
by
Kristina Stosek
Instructions
1.

2.

Using a large non-stick pan, heat olive oil over medium heat. Add spinach and cook briefly until just wilted. About 1 minute. Cool slightly and roughly chop

3.

Using a large bowl, combine ricotta, spinach, lemon juice, green onions, garlic, salt, black pepper, nutmeg and half the Parmesan cheese

4.

Transfer mixture into a baking dish, drizzle with olive oil and sprinkle with remaining Parmesan cheese. Bake for 15 minutes or until bubbly
Leave a Comment
Kristina
I bought an unsliced pumpernickel bread...now I know what I'm putting with it. YUM
That was so easy and delicious!! Thank you for sharing this and so many GF recipes
love it, light and flavourful, and yet creamy spinach dip.
Kristina
I brought this to a 4th of July party & EVERYONE loved it! It was a huge hit & so easy to make!! I'm adding this to my party dishes!!
Kristina