Spicy Cincinnati Black Bean Chili
Prep Time
15 Minutes
Difficulty
Easy
Cook Time
75 Minutes
Serves
6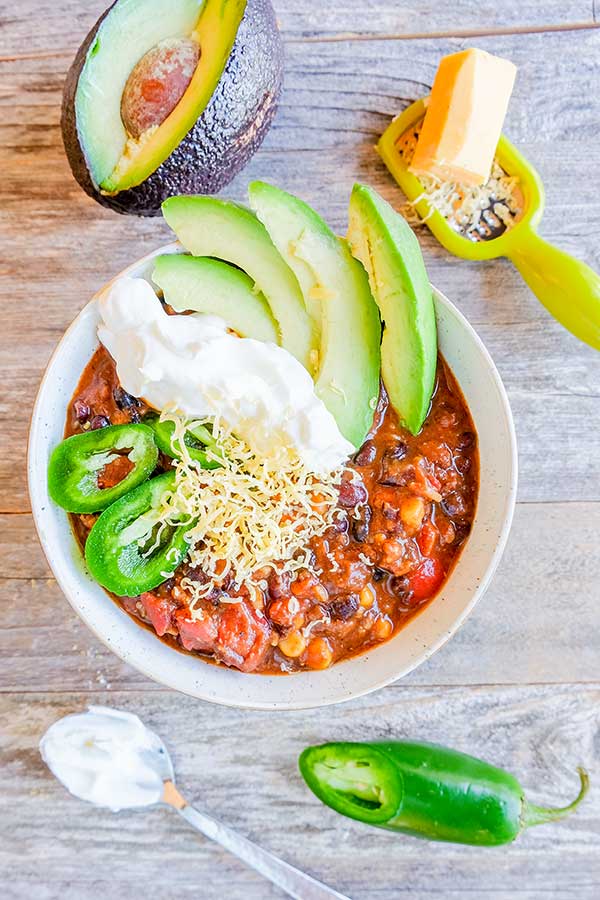 Be the first to rate this recipe.
This is chili with a Cincinnati twist. Cincinnati Chili is made with ground meat, tomato sauce and an unusual blend of spices, but it also includes cocoa, coffee and chocolate. You may be surprised, but the cocoa and coffee boost the meaty flavour to another level without being overpowering, and the chocolate adds a little sweetness making this chili just perfect. I have also added my personal flair to this amazing chili which includes bacon for that smokey flavour and black beans with corn. Chili is such a versatile dish, don't you agree? You can serve it in a bowl just as is with your favourite toppings, or my favourite way to serve the chili is in a baked sweet potato, squash or over mashed potatoes. It's cozy, comforting food that goes with just about anything, even over pasta. And let's not forget, the chili is always better the next day or the day after. Nothing beats a slowly simmered chili in November.
Ingredients
4 slices GF bacon, chopped
1 large onion, chopped
1 lb. lean ground beef
1 red bell pepper seeded and diced

4 garlic cloves, chopped
4 Tbsp. GF chili powder
1 Tbsp. GF cumin
1 Tbsp. Pure cocoa powder
2 tsp. pure salt
1/4 tsp. GF ground cinnamon

1/2 tsp. GF ground black pepper
1 - 2 hot chili peppers, seeded and chopped

1 cup pure tomato sauce
1 cup black coffee
4 cups GF beef broth

2 cups corn, fresh or frozen
2 limes juiced
1 oz. GF dark chocolate (optional)
Serve with; grated cheddar cheese, diced avocado, sliced jalapeno peppers, plain greek yogurt or sour cream, gluten-free cornbread
Instructions
Heat a large heavy bottom soup pot over medium heat. Add the bacon and cook for 3 minutes. Reduce heat to medium-low and add the onions and cook for about 5 minutes until softened
Stir in ground beef and cook until no longer pink. About 5 minutes. Add bell pepper, garlic, chili powder, cumin, cocoa powder, salt cinnamon, black pepper, and hot chili pepper. Stir to combine
Add tomato sauce, coffee, beef broth and black beans, stir well and bring to a boil. Reduce the heat and simmer partially covered, stirring occasionally for 1 hour. Add the corn and lime juice and cook for 5 more minutes. Stir in the chocolate until melted. Enjoy!
Note; if the chili gets too thick add a little water
Similar Recipes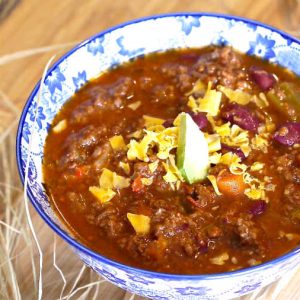 Gluten Free Classic Chili Recipe
A chili is only as good as the spices. This chili can be made with lamb or beef depending on your preference they both make a delicious chili.  In this recipe the flavour is created from classic good old fashioned chili spices. To serve top with cheddar cheese, chopped red onions, avocado or sour cream Read More
Prep Time
20 Minutes
Difficulty
Easy
Cook Time
120 Minutes
Serves
6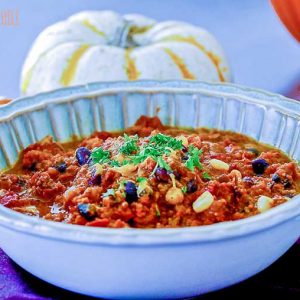 Gluten Free Skinny Turkey Pumpkin Chili
This gluten free chili recipe has the flavours of classic chili but is on the lighter side. The mild sweetness of pumpkin balances the exotic chili spices with a nice velvety texture. This recipe is packed with healthy nutrients Read More
Prep Time
10 Minutes
Difficulty
Easy
Cook Time
90 Minutes
Serves
6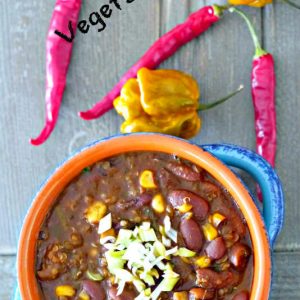 Gluten-Free Skinny Vegetarian Chili
This gluten-free vegetarian chili is made with a unique blend of herbs and spices. In this gluten-free vegetarian recipe, I have included quinoa, adding interesting texture and healthy nutrients. This hearty chili is low fat and has approximately 270 calories per serving. This healthy gluten-free vegetarian dish is a winner all the way! Read More
Prep Time
10 Minutes
Difficulty
Beginner
Cook Time
150 Minutes
Serves
6