Spicy Cincinnati Black Bean Chili
Published on Nov 15, 2018
by
Kristina Stosek
Prep Time:

15 minutes
Cook Time:

75 minutes
Serves:

6
​This post may contain affiliate links, please see our
privacy policy
for details
This Spicy Cincinnati Black Bean Chili is not to be missed. This stunning chili is made with so many delicious things – it's like no other. It's a great make-ahead chili for casual entertaining. I promise you, some ingredients in this recipe may surprise you.
Why does Cincinnati Black Bean Chili taste so good!
First, let me make it very clear, this chili is very different. Of course, you already know that the chili is made with black beans and other basic ingredients like ground beef and tomato sauce. But the seasoning is what separates this chili recipe from others.
To flavour the thick meaty sauce, I used chili powder, cumin, cocoa powder and cinnamon. But the secret to this spectacular Cincinnati chili is a unique flavour of coffee and chocolate.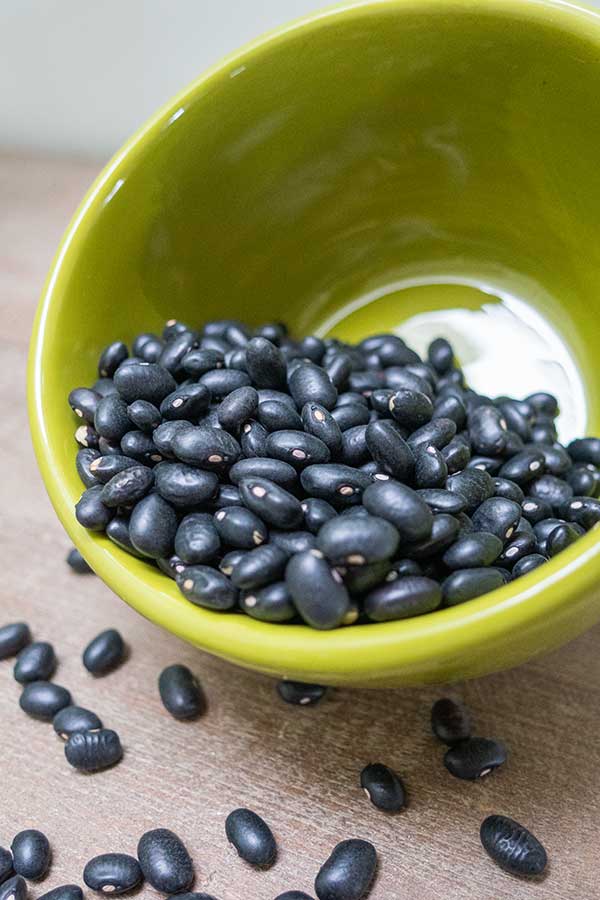 You may be surprised, but the cocoa and coffee boost the meaty flavour to another level without being overpowering. The chocolate adds a little sweetness making this chili super flavourful. I have also added my flair to this comforting dish, smokey bacon and corn.
And to give the chili some zest, I added plenty of fresh lime juice. If you are a chili connoisseur, you will be pleasantly surprised at how delicious this Cincinnati black bean chili is.
the best toppings for Cincinnati black bean chilli…
You can serve the hearty black bean chili in a bowl just as is or with delicious toppings. The best toppings to go along with this chili are grated cheddar cheese, diced avocado, sliced jalapeno peppers, plain greek yogurt or sour cream. My preference is in a baked sweet potato, squash or over mashed potatoes.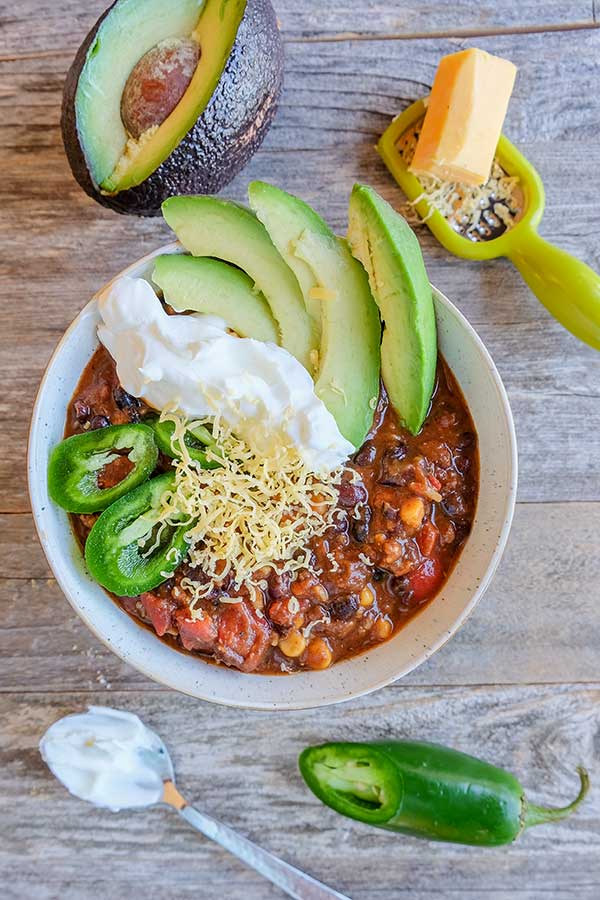 And let's not forget, the chili is always better the next day or the day after. Nothing beats a slowly simmered chili any day of the week!
If today is the day, you want something soothing and comforting, check out our 3 most viewed hearty stew recipes!
Spicy Cincinnati Black Bean Chili
Published on Nov 15, 2018
by
Kristina Stosek
Instructions
1.

Heat a large heavy bottom soup pot over medium heat. Add the bacon and cook for 3 minutes. Reduce heat to medium-low and add the onions and cook for about 5 minutes until softened

2.

Stir in ground beef and cook until no longer pink. About 5 minutes. Add bell pepper, garlic, chili powder, cumin, cocoa powder, salt cinnamon, black pepper, and hot chili pepper. Stir to combine

3.

Add tomato sauce, coffee, beef broth and black beans, stir well and bring to a boil. Reduce the heat and simmer partially covered, stirring occasionally for 1 hour. Add the corn and lime juice and cook for 5 more minutes. Stir in the chocolate until melted. Enjoy!

4.

Note; if the chili gets too thick add a little water