Country-Style Chicken Stew With Gluten-Free Dumplings
Published on Apr 07, 2022
by
Kristina Stosek
Prep Time:

15 minutes
Cook Time:

60 minutes
Serves:

4-6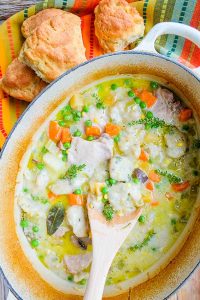 ​This post may contain affiliate links, please see our
privacy policy
for details
Country-Style Chicken Stew With Gluten-Free Dumplings is warm, comforting and a hearty dish. The thick, rich, flavourful sauce with tender chicken and healthy vegetables, topped with gluten-free fluffy dumplings made with chives. The flavours smouldering in your mouth are unforgettable.
This creamy chicken stew and gluten-free dumplings recipe is made entirely from scratch. Yes, including the gluten-free dumplings smothered in the rich sauce filled with healthy veggies and chicken.
Let's start with the chicken stew.
This recipe is the classic old-fashioned creamy chicken stew. And the entire stew is made from scratch—no need to add store-bought chicken stock. I promise!
When grandma made country-style chicken stew, there was never store-bought chicken broth back in the day. Well, not a gluten-free one. And yet the chicken stew was super tasty.
Today I will show you how to make an old-fashioned country-style creamy chicken stew that is rich and flavourful and made entirely from scratch.
the veggies,
First, the veggies. This chicken stew is healthy because it is loaded with rainbow veggies. You will need onions, carrots, celery, turnip or rutabaga, corn, mushrooms and peas. Yes, a good selection of veggies.
the herbs,
The flavour comes not only from the veggies and chicken, but more importantly, it comes from herbs. Herbs are a vital ingredient in an old-fashioned chicken stew. I used the same herbs as the old-fashioned chicken stew my grandma made. Bay leaves, thyme and rosemary.
the liquids,
For the wet ingredients, you will need a splash of olive oil, although back in grandma's time, they used butter. So you can use butter in this recipe if you like. I often use butter, which gives the chicken stew a creamier taste. And you will need water and cream, that's it!
the chicken,
The last thing is the chicken. The chicken should have bones. I like to use bone-in skinless chicken thighs.
They always used the chicken with skin back in the day, but I feel there is no need to add extra animal fat. The skin is where most of the fat is.
The secret to extra flavourful chicken stew is the chicken bones. Without the bones, you might as well add store-bought gluten-free chicken broth.
the recipe details,
You will need a large Dutch oven.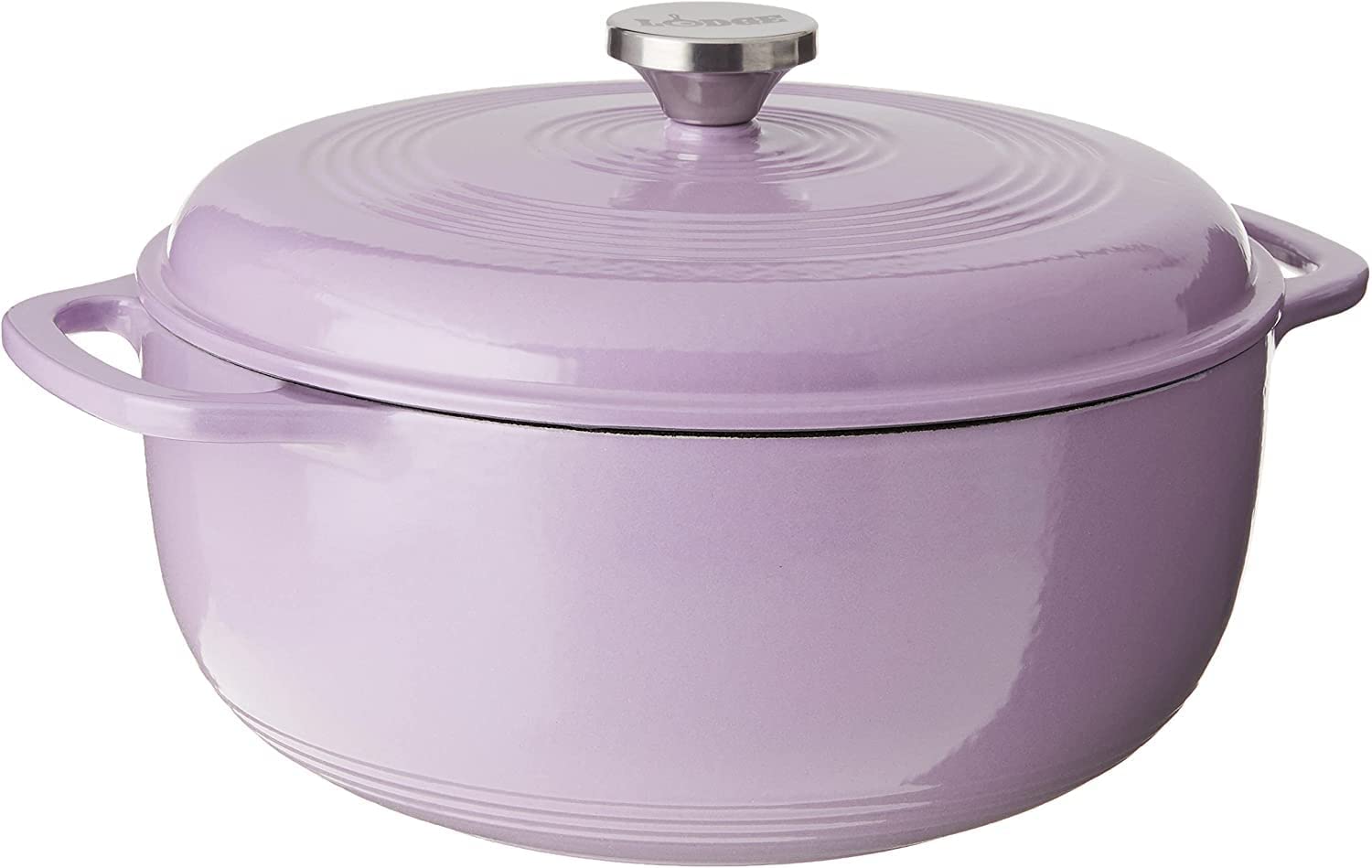 What is a Dutch oven?
A Dutch oven is an enamelled cast-iron heavy-duty pot with a lid designed for browning meat and veggies and then simmering on the stovetop or braising in the oven.
The Dutch oven is ideal for this country-style chicken stew with dumplings recipe because it. helps with heat retention and distribution, creating the perfect temperature for the fluffiest gluten-free dumplings.
Start with sauteing the onions with carrots and celery. The onions need to start to caramelize, which adds to the flavour. Next, throw in the herbs and give it a good stir.
Add remaining ingredients except for the cream and tapioca starch—season with salt and pepper as needed. Bring everything to a boil and then place the Dutch oven in the oven and braise the stew for 30 minutes.
The stew simmers very slowly when using the Dutch oven, keeping all the veggies intact and the sauce intensifying in flavour.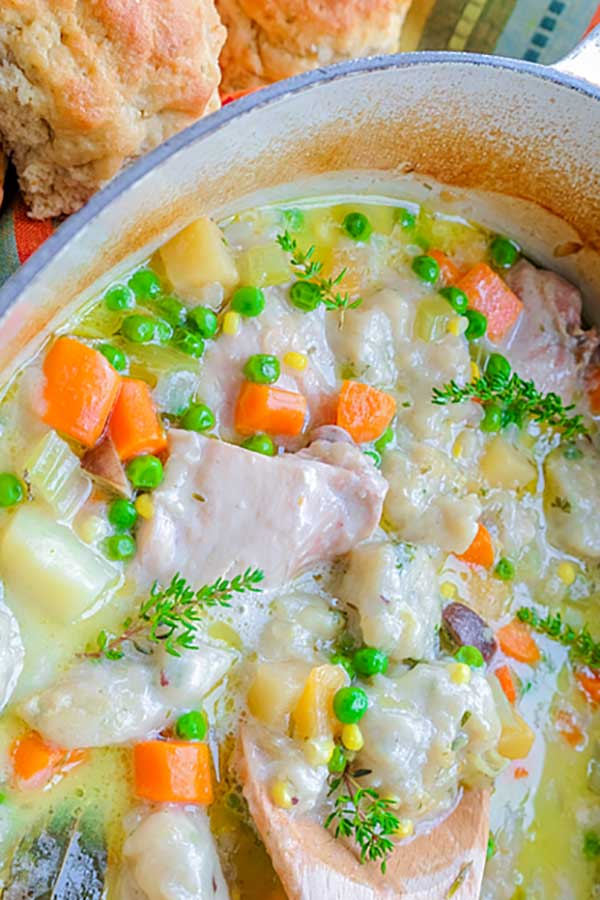 chicken stew gluten-free dumpling recipe,
While the stew is cooking, make the dough for the dumplings.
These gluten-free dumplings are the best!! The two ingredients that kick them up a notch are chives and butter.
The dumplings are buttery and fluffy, just like grandma made, and flavoured with chives. If you don't have chives, you can use a sprinkle of thyme or thinly sliced green onions.
The butter is grated right into the dry ingredients, making it very simple to make the batter.
And to simplify the batter, even more, I used only a gluten-free all purpose flour blend. The only other ingredients are water, baking powder and an egg—nothing to it.
Once the stew is done cooking for 30 minutes, drop the dumpling batter with a large spoon or a cookie scoop in the stew. I brush my spoon on both sides with olive oil; that way, the batter will not stick to the spoon. Cover and continue baking for 15 more minutes.
In the end, whisk tapioca starch with cream and gently stir it between the dumplings into the chicken stew. Cover and bake for 5 more minutes. Done!
A stew like chicken, African beef stew, or Irish lamb stew, always tastes better the next day. This is because the sauce thickens, and the flavour intensifies. If the sauce is too thick, add a splash of water or cream.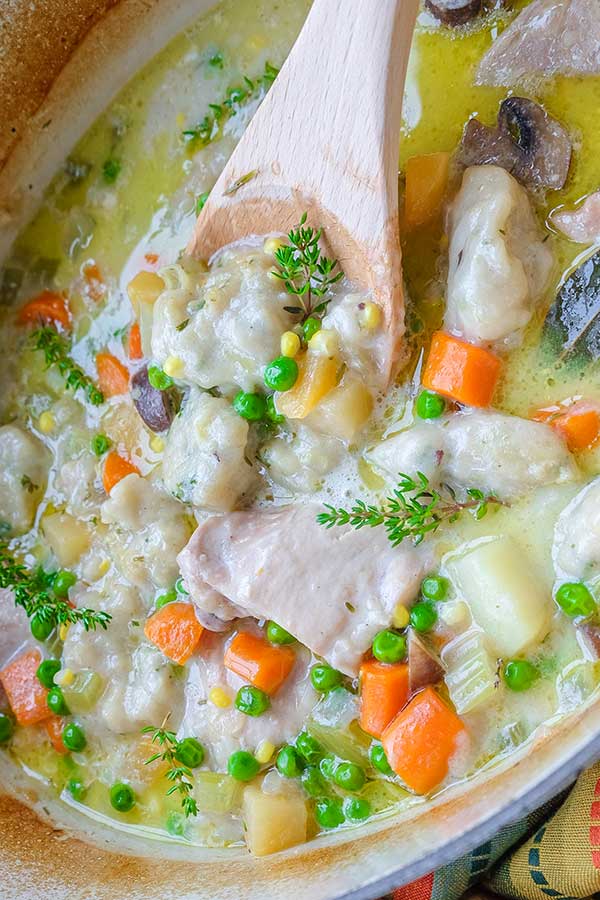 If you feel nostalgic, or need light comfort food, try this Country-Style Creamy Chicken Stew with Gluten-Free Dumplings. I promise you, the memories of grandma's cooking will be there.
After a busy day, there is nothing more comforting than coming home to a delicious bowl of hot chicken stew with dumplings. What a great way to end a busy day!
And not to be missed when serving a family-style meal is our favourite delicious gluten-free pull-apart soft rolls recipe. Enjoy!
Country-Style Chicken Stew With Gluten-Free Dumplings
Published on Apr 07, 2022
by
Kristina Stosek
Instructions
1.

2.

In a large Dutch oven over medium heat, sauté onions, carrots and celery in olive oil or butter, until the onions start to caramelize

3.

Stir in thyme, bay leaves and rosemary. Add chicken, corn, potatoes, turnip, mushrooms and water/broth. Season with salt and pepper. Bring to a boil, remove from the heat and cover. Place in the oven and bake for 30 minutes

4.

DUMPLINGS: In a bowl, whisk together flour, baking powder, salt and chives. Coarsely grate in the butter and rub together until it resembles breadcrumbs. Add water and egg and mix until it becomes a ball of dough.

5.

Drop tablespoonfuls of batter in the hot stew, leaving space around each dumpling. Cover and continue baking for 15 more minutes

6.

Whisk together cream and tapioca and carefully stir into to the stew with peas.

7.

Cover and bake 5 more minutes. Taste and adjust for seasoning if needed. Enjoy!

8.

Note: the stew thickens over time and will keep up to 3 days when refrigerated. If the stew becomes too thick add a little chicken broth or water 

Leave a Comment
Kristina
Sommer, you can use King Arthur Measure for Measure blend, here is the link https://amzn.to/3TlV87d
What brand of GF flour did you use? All the ones we have tried fall apart!
this chicken stew tastes like my omas, and the dumplings are soooo good and light, thank you
very tasty with a perfect consistency