Gluten Free Vegan Sweet Cornbread
Published on Nov 18, 2022
by
Kristina Stosek
Prep Time:

10 minutes
Cook Time:

20 minutes
Serves:

8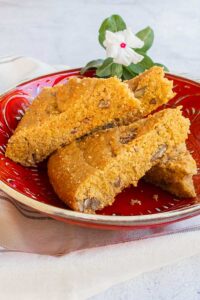 ​This post may contain affiliate links, please see our
privacy policy
for details
This gluten free Southern-inspired vegan sweet cornbread will knock your socks off. Yes, this is the classic cornbread version, except it's vegan and gluten free and has added pecans.
Cornbread is considered a staple in most Southern homes. Regardless of your dietary restrictions, this easy cornbread recipe can be enjoyed by most.
When it comes to vegan cornbread, the most important thing we look for is it moist with a tender crumb. Conversely, there is nothing worst than a dry, crumbly cornbread that falls apart.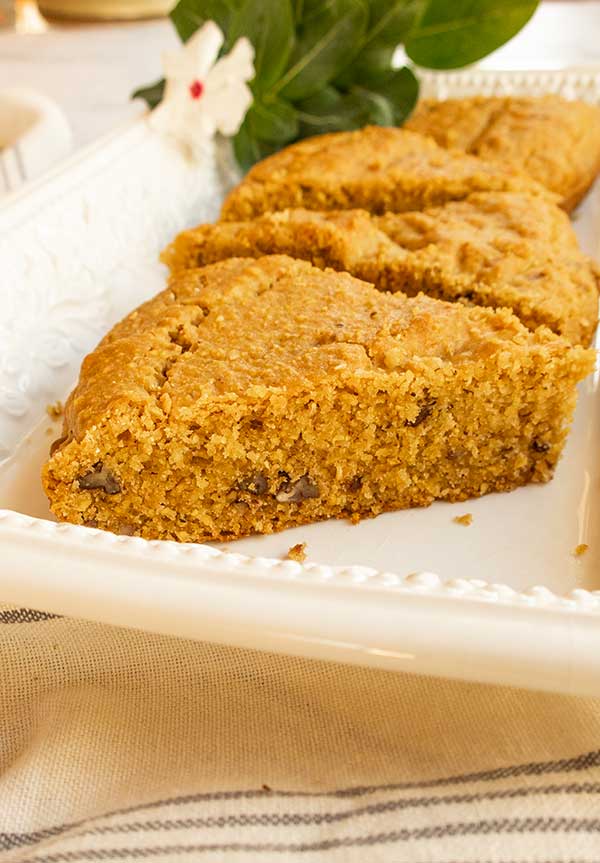 There are a few factors to consider when making gluten free vegan cornbread to keep it moist.
For example, the texture of cornmeal, which gluten free flour to use, the type of fats, the best replacement for eggs, the sweetener and the baking time.
best cornmeal for gluten free vegan sweet cornbread
There are a few things to consider when choosing the best cornmeal for gluten free sweet cornbread. First, you want to find fine ground cornmeal that doesn't have any added ingredients like wheat flour or other grains.
Bob's Red Mill makes medium-ground cornmeal, which I used in this recipe. Another good option is Arrowhead Mills Gluten Free Yellow Cornmeal. Whichever brand you choose, make sure it is labelled gluten free.
If you can't find fine-ground cornmeal, use a blender or food processor to create a finer texture of cornmeal. I like medium ground because it gives me the authentic Southern cornbread texture. Fine ground cornmeal will produce more of a cake texture which some people prefer.
Why add mayonnaise to vegan cornbread?
Mayo adds moisture to the cornbread, making it moister. It helps to bind the ingredients together, ensuring that the cornbread holds together, making it a suitable replacement for eggs. And the fat in vegan mayo gives the cornbread a richer flavor and texture.
Why is millet flour good in gluten free vegan cornbread recipe?
There are many reasons to use millet flour in gluten free cornbread recipes, some of which are. It is a nutritious option for those with gluten sensitivities or who are celiac.
It has a mild corn flavor that adds to the deliciousness of the cornbread. It also helps to create a moist and fluffy texture and is a good source of fiber, calcium, iron, protein and antioxidants.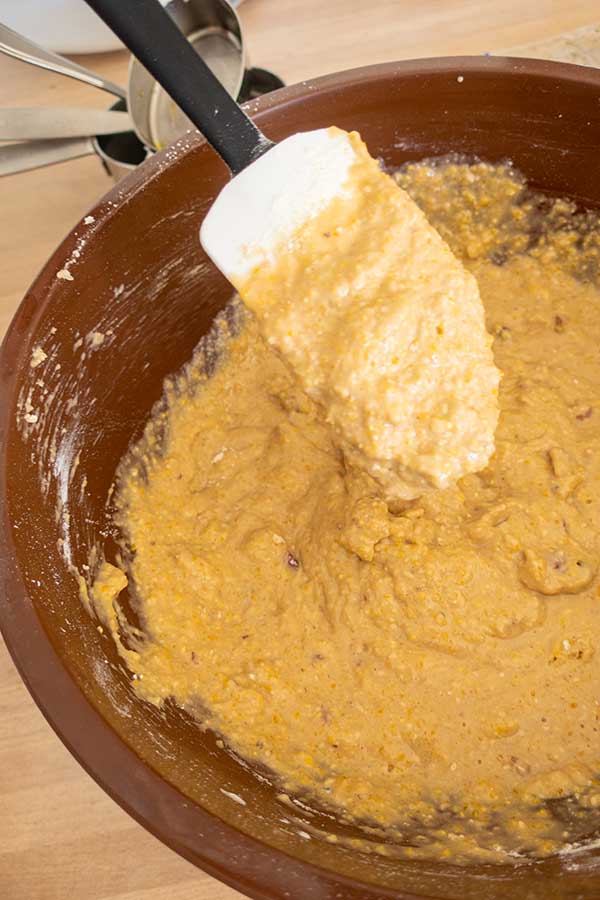 What should be the consistency of batter for gluten free cornbread?
The consistency of the batter for this gluten free cornbread recipe should be thick but easily spreadable. If it's too thick, the texture will be dry and crumbly.
What does xanthan gum do in gluten free cornbread recipe?
Xanthan gum is a common ingredient in gluten free baking. It helps to bind the ingredients together and gives the final product a more bread-like texture. In this recipe, it helps to create a moist cornbread that is still firm enough to slice.
substitutions
millet flour – certified gluten free oat flour, all-purpose gluten free flour blend. (the millet flour will give the best flavor and texture)
extra virgin olive oil – melted coconut oil, avocado oil
coconut sugar – granulated sugar, brown sugar, pure maple syrup
arrowroot starch – tapioca starch, corn starch
cast iron skillet – 9-inch round baking pan, 8 x 8 inch square baking pan. Baking time varies based on the bakeware you use
Pecans – use 1/2 cup of your favorite mix-ins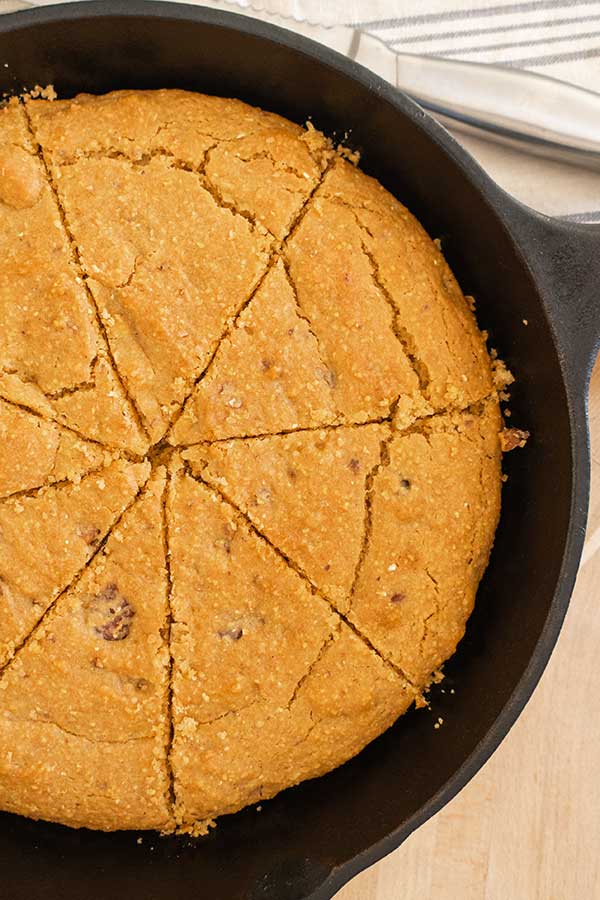 Why shouldn't you overbake cornbread?
Overbaking is one of the most common mistakes people make when baking gluten free cornbread. It will make it dry, crumbly, and dense.
Lastly, once you take the cornbread out of the oven, cover it with a clean towel until it cools to trap moisture. By doing this, you will achieve a moist and delicious vegan cornbread!
Is cornbread healthier than white bread?
There are many different types of bread, and it can be hard to know which is the healthiest for you. When it comes to cornbread vs white bread, it depends on what your goals are.
This cornbread is the better option if you're looking for something higher in fiber and nutrients.
Cornbread is also generally made with whole grains, which are healthier for you than refined grains that you would find in white bread.
So, cornbread is the way to go if health is your main concern.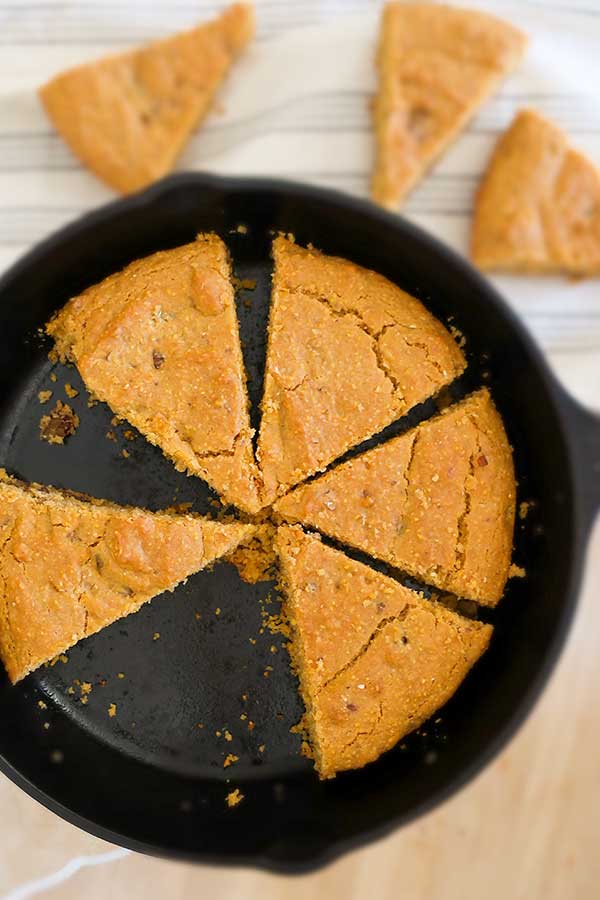 Why use a cast-iron skillet for baking cornbread?
Cast-iron skillet is the perfect vessel for baking cornbread because it retains heat well. This means that your cornbread will cook evenly and won't stick to the skillet. Additionally, using a cast-iron skillet will give your cornbread a beautiful crispy crust.
Mix-ins for gluten free vegan cornbread recipe
There are many delicious mix-ins that you can add to this gluten free vegan cornbread recipe to make it your own. Here are a few ideas:
Diced green chilies and cheddar cheese
Sautéed onions and garlic
Crumbled bacon or sausage
Chopped jalapeños
Shredded carrots or zucchini
Dried cranberries or raisins
Chopped nuts, such as pecans or walnuts
Fresh corn
Grated apple and honey
Blueberry and lemon
Experiment and have fun with these mix-ins to create a cornbread that is perfect for your taste buds. I recommend using about half a cup of mix-ins per recipe.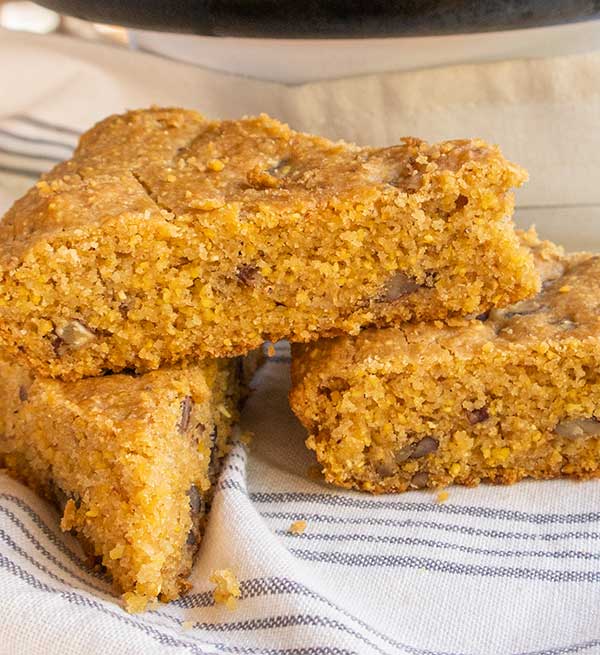 storing vegan sweet cornbread
As soon as your cornbread comes out of the oven, cover it with a clean towel. Then when it cools, wrap it with cling wrap or foil paper and keep it at room temperature for up to two days.
For leftovers, store them in the refrigerator. The bread will keep moist for up to five days.
To reheat, wrap the cornbread in a damp paper towel and place it on a plate. Microwave for 20-40 seconds or until heated through. Or wrap it in foil paper and reheat it in the oven.
what to serve with sweet cornbread
When it comes to what to serve with sweet cornbread, the options are endless! Pair it with a simple green salad and roasted vegetables for a light meal, or enjoy it as a side dish alongside your favorite soup or stew.
For a heartier option, top your cornbread with vegan chili or Tempeh Bacon for a savory twist, or our favorite, as a side to Cream of Butternut Squash Apple Soup.
I hope you will give this sweet and delicious cornbread recipe a try. It makes a great addition to your festive table or a delicious side to your everyday meals. Enjoy!
Let's Connect!
Be sure to FOLLOW US on FACEBOOK and PINTEREST.
Many thanks!
Kristina xx
Gluten Free Vegan Sweet Cornbread
Published on Nov 18, 2022
by
Kristina Stosek
Instructions
1.

2.

Mix milk, olive oil, mayonnaise, cornmeal, and coconut sugar in a large bowl and set aside for 10 minutes

3.

In a separate bowl, whisk together the millet flour, pecans, arrowroot starch, baking powder, xanthan gum and salt

4.

Pour wet mixture into dry ingredients and briefly combine. Do not overmix the batter

5.

Carefully remove the hot cast iron skillet from the oven and brush it with olive oil. Pour the batter into the hot skillet and bake for 20 - 22 minutes. Until a toothpick inserted in the middle comes out clean

6.

Remove from the oven and cover with a clean towel until the cornbread has cooled