Instant Pot Vegan Chickpea Chili
Prep Time
15 Minutes
Difficulty
Easy
Cook Time
75 Minutes
Serves
8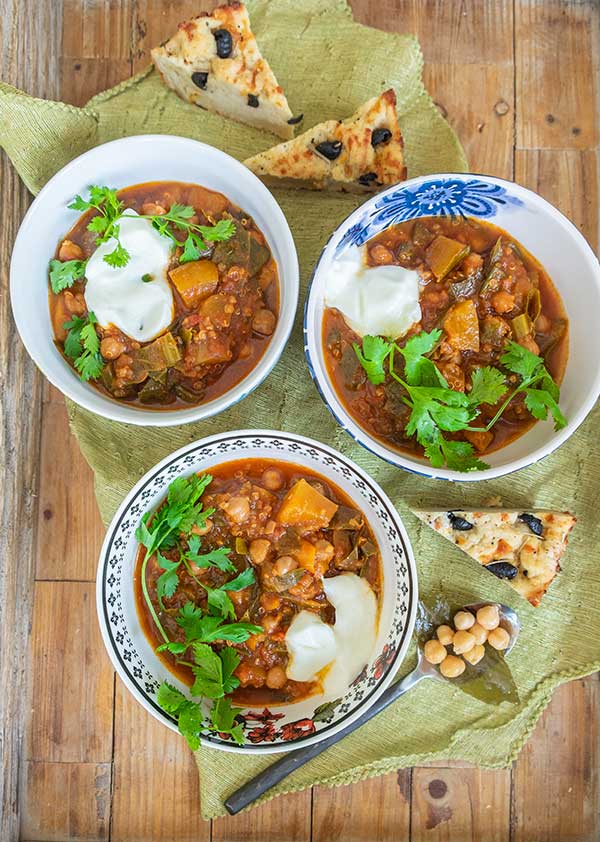 Be the first to rate this recipe.
Instant pot vegan chickpea chili is light enough for summer days and hearty for when you crave comfort food. This plant-based chili is filled with smoky bold flavours and is made with dry chickpeas. When you use dry chickpeas, the texture is better, and they add so much more flavour to the chili, you also control the salt. To make this instant pot vegan chili stand out from most, I added butternut squash, collards and quinoa. This makes the chili nutritionally well balanced, the textures are interesting, and the flavour is outstanding! To serve, you can add various toppings like cilantro, chopped red onion, avocado, lime wedges, plant-based yogurt or shredded cheese. Enjoy!
Ingredients
2 Tbsp. Extra virgin olive oil
1 large onion, diced
6 garlic cloves, crushed
4 Tbsp. GF chili powder
1 Tbsp. GF cumin powder
1 Tbsp. GF dried oregano
1/2 tsp. GF cayenne pepper (or to taste)
2 GF bay leaves
3 cups cubed butternut squash, skin on (about 1/2 medium-size squash) the skin becomes tender when cooked
1 large yellow or red bell pepper, diced
2 (13 oz.) canned pure crushed tomatoes
1 1/2 Tbsp. Himalayan salt
1 bunch collard greens, roughly chopped including the stem
Water
Instructions
Set 6 quart Instant Pot to sauté. Add olive oil, once heated add onions and garlic. Cook for 3 - 5 minutes until onions are translucent. Stir in chili pepper, cumin, oregano, cayenne pepper and bay leaves, then turn the instant pot off
Drain and rinse the chickpeas and add to the pot. Add squash, bell pepper, tomatoes, liquid smoke, salt and fill with water one inch above the chickpeas. Cover, select the manual setting and cook on high pressure for 1 hour
Once done cooking, use the quick release function and release the steam. Stir in quinoa and collards, cover and cook on high pressure for 10 more minutes. Enjoy!
Note; Chili is always best the next day or the day after. I always make mine the night before.
Similar Recipes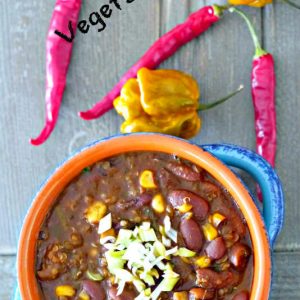 Gluten-Free Skinny Vegetarian Chili
This gluten-free vegetarian chili is made with a unique blend of herbs and spices. In this gluten-free vegetarian recipe, I have included quinoa, adding interesting texture and healthy nutrients. This hearty chili is low fat and has approximately 270 calories per serving. This healthy gluten-free vegetarian dish is a winner all the way! Read More
Prep Time
10 Minutes
Difficulty
Beginner
Cook Time
150 Minutes
Serves
6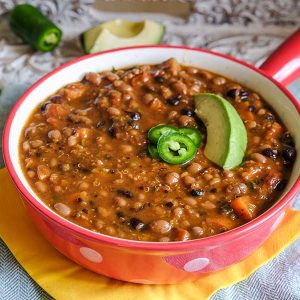 Western Vegetarian Chili Recipe
This vegetarian chili recipe draws on the flavours of beans and vegetables with western spices, but with distinctly North American tradition. This is a novel way to cook classic chili because it imparts two types of beans, vegetables and quinoa. The key with vegetarian chili is not to overcook the vegetables. With slow cooking and […] Read More
Prep Time
15 Minutes
Difficulty
Easy
Cook Time
240 Minutes
Serves
8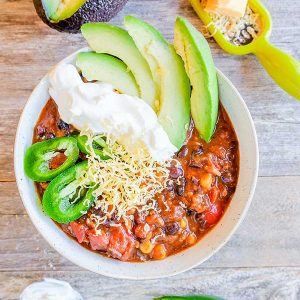 Spicy Cincinnati Black Bean Chili
This is chili with a Cincinnati twist. Cincinnati Chili is made with ground meat, tomato sauce and an unusual blend of spices, but it also includes cocoa, coffee and chocolate. You may be surprised, but the cocoa and coffee boost the meaty flavour to another level without being overpowering, and the chocolate adds a little […] Read More
Prep Time
15 Minutes
Difficulty
Easy
Cook Time
75 Minutes
Serves
6