Stuffed Kabocha With Hot Dip
Published on Dec 28, 2022
by
Kristina Stosek
Prep Time:

15 minutes
Cook Time:

40 minutes
Serves:

8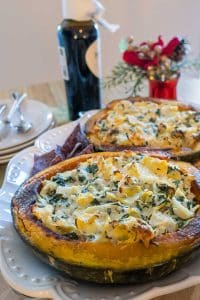 ​This post may contain affiliate links, please see our
privacy policy
for details
This stuffed kabocha with hot dip makes an impressive centerpiece at any party. The healthy roasted squash is filled with a hot cheesy dip made with artichokes, hearts of palm and fresh spinach.
This beautiful vegetarian dish is gluten free, healthy, but most importantly addictively delicious. Another gluten free appetizer you may enjoy is the Hot Salmon Dip With Smoked Cheese And Spinach, or the Baked Tuna Melt Jalapeño Poppers.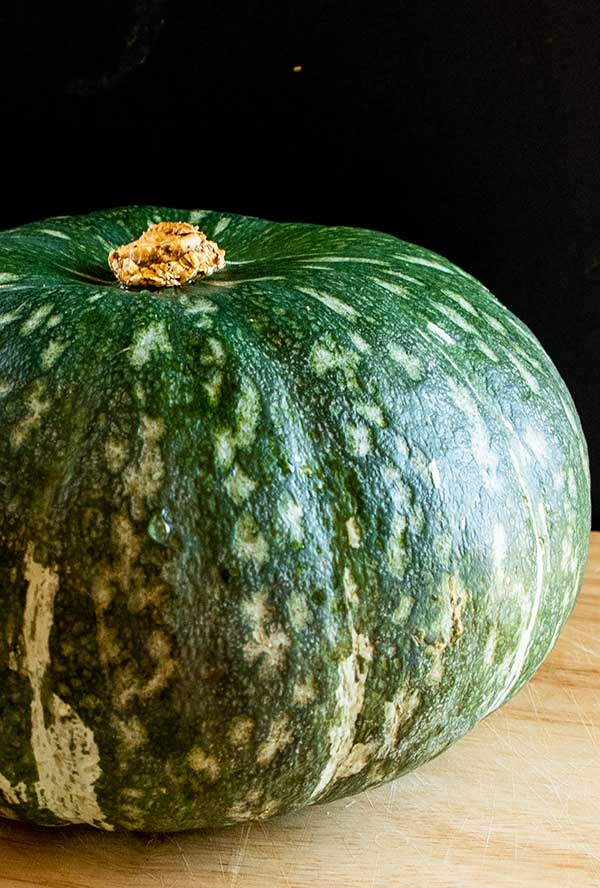 FAQs about kabocha
1. What is kabocha?
Kabocha is a type of winter squash that is popular in Japan. It has tough green skin, a sweet nutty flavor and is considered a fruit. When kabocha is cooked, the skin becomes soft and can be eaten as well as the flesh.
2. How do you cook kabocha?
You can cook kabocha with or without the skin in many different ways. Add it to soups and stews, slice it into wedges, roast it, or steam it and puree it with butter and a hint of nutmeg. You can even grate it raw into salads.
How to cut kabocha?
This winter squash has tough skin and is difficult to cut. To soften the skin so it's easier to cut, microwave the whole kabocha for 3 – 5 minutes, depending on the size.
Next, cut the kabocha in half and scoop out the seeds. Once the kabocha is halved, you can slice it into quarters, wedges or cubes.
Since kabocha's skin is edible, you can leave the skin on. The skin becomes tender once it's cooked. However, if you are going to puree it, I recommend removing the skin.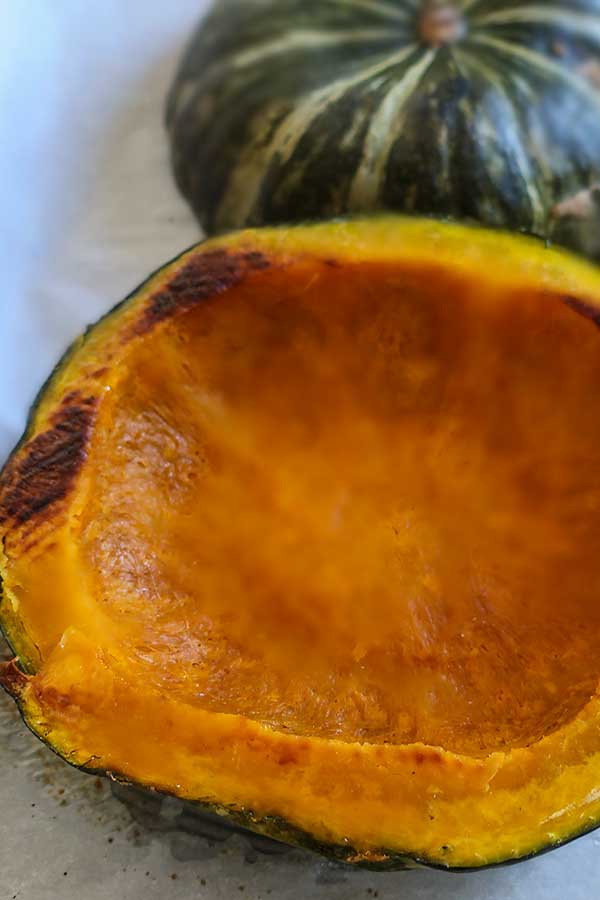 Roasting squash
When roasting the squash, it becomes caramelized, bringing out the natural sweetness and adding flavor to the kabocha.
To roast the halved squash, brush the cut side with melted butter or extra virgin olive oil and season it with salt, pepper, and if you like, nutmeg.
Place the squash on a baking tray lined with parchment paper, cut side facing down, and roast at 400 Fahrenheit for 20 – 30 minutes until the squash is fork tender.
What's in the hot dip?
This gluten free hot dip is the perfect appetizer for your next party! It's easy to make and packed with healthy ingredients such as artichokes, hearts of palm and spinach.
The creaminess comes from sour cream, mozzarella cheese and parmesan cheese. And to make the hot dip extra flavorful, a splash of fresh lemon juice, shallots and basil.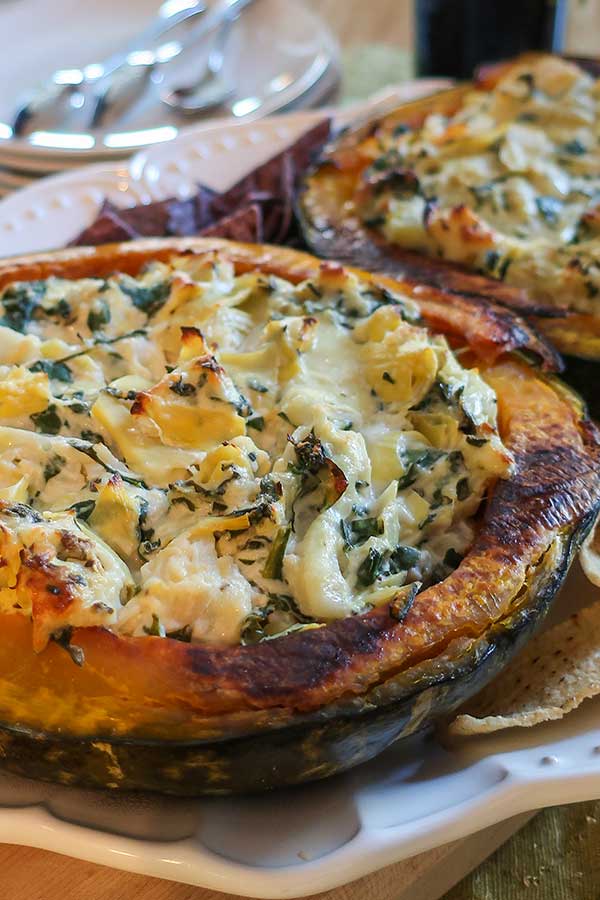 How to make stuffed kabocha with hot dip
The key to making this dish successful is first to roast the squash.
Steam the spinach and drain the artichokes and hearts of palm.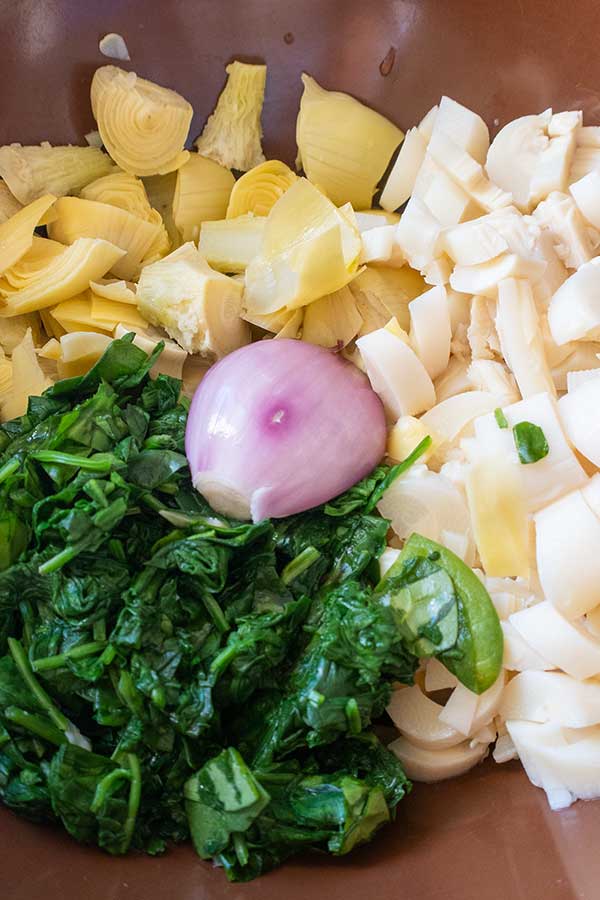 Combine all the ingredients in a bowl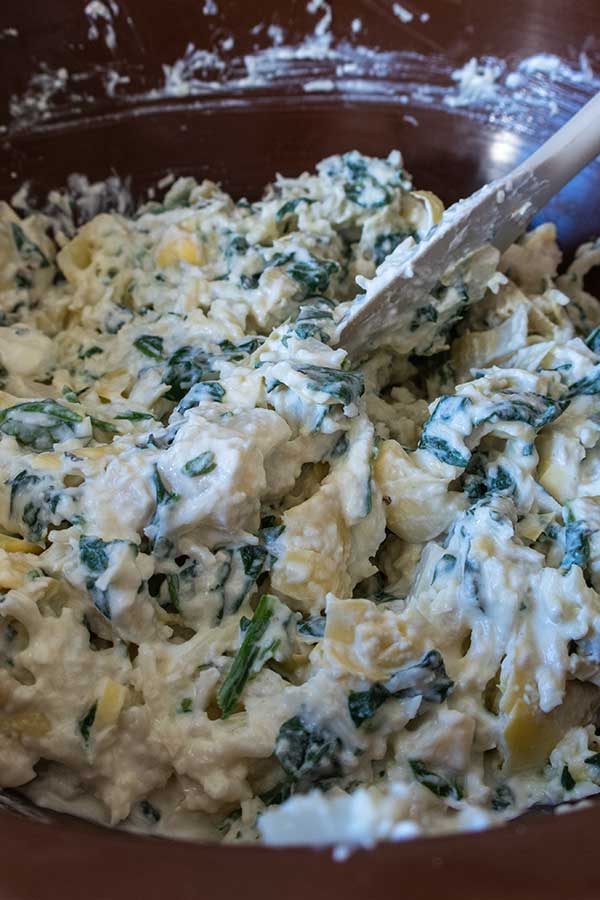 Fill the squash halves and bake. If you don't want to use the squash, bake the dip in an oven-proof dish until bubbly.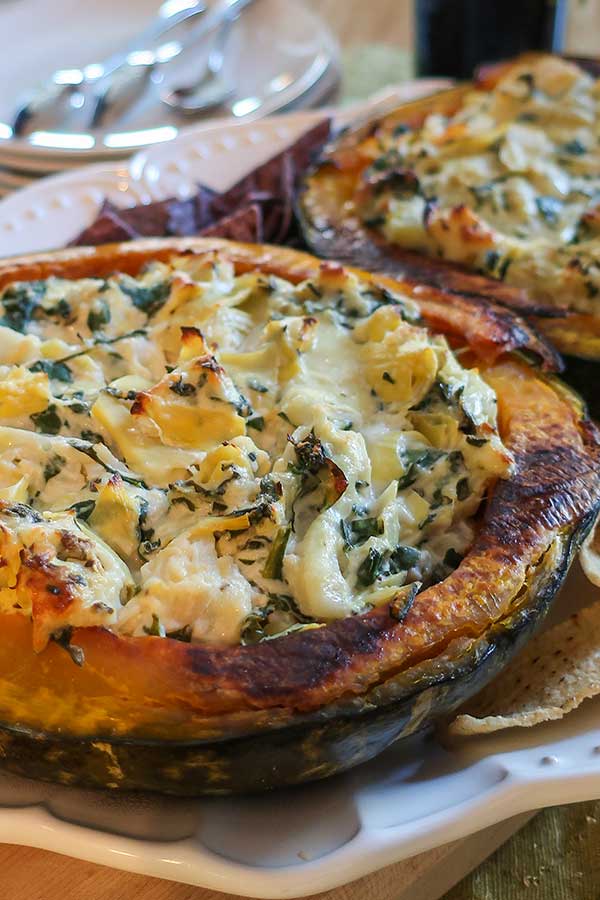 What are hearts of palm?
The hearts of palm comes from the inner core of certain palm trees. This low-calorie vegetable is highly nutritious, fiber rich, and is a good source of iron, zinc, vitamin A, B vitamins and potassium.
The heart of palm tastes similar to artichokes, and you can purchase it packed in water or brine.
tools you will need to make stuffed kabocha
large bowl
measuring cups and spoons
spatula
rimmed baking sheet
ingredient substitutions
kabocha squash – butternut squash or hubbard squash
mozzarella – cheddar, smoked gouda, havarti, fontina, provolone
sour cream – mayonnaise
parmesan – asiago, romano, manchego
shallots – garlic or thinly sliced green onions
hearts of palm – asparagus packed in water or brine or more artichokes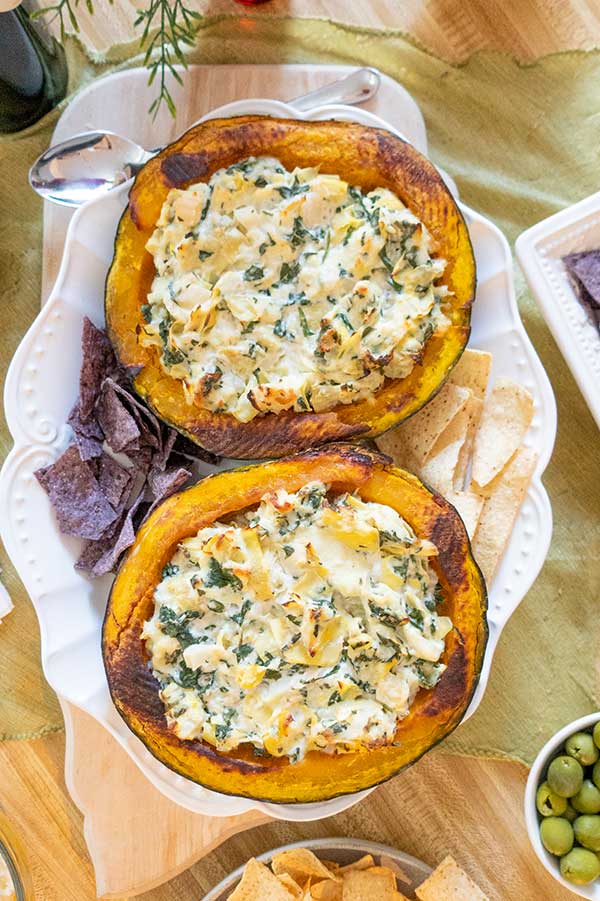 Can I make stuffed kabocha in advance?
Yes, the wonderful thing about this gluten free appetizer recipe is that you can prepare it a day before your party.
To do this, follow the recipe until you fill the squash with the dip. Once the squash has cooled, loosely cover it with plastic wrap and refrigerate until the next day. When ready, bring the stuffed kabocha to room temperature, then bake as per the recipe.
Please give this stuffed kabocha with hot dip recipe a try. This gluten free vegetarian appetizer will not disappoint. Serve with gluten free corn chips or toasted Gluten Free French Baguette or a delicious Gluten-Free Homemade Italian Bread.
Stuffed Kabocha With Hot Dip
Published on Dec 28, 2022
by
Kristina Stosek
Instructions
1.

Preheat oven to 400 F and line a large baking tray with parchment paper

2.

Microwave whole kabocha for five minutes (this softens the skin, making it easier to cut)

3.

Cut the kabocha in half and scoop out the seeds. Brush the cut side with olive oil and season with salt and pepper. Place the squash cut side facing down on the prepared baking tray and bake for 25 minutes

4.

Meanwhile, roughly chop the steamed spinach, artichokes and hearts of palms. Place them in a large bowl with the remaining ingredients and mix to combine

5.

Fill the cavities of the squash with the dip and bake for 15 - 20 minutes until golden and bubbly