Hot Salmon Dip With Smoked Cheese And Spinach
Published on Nov 24, 2021
by
Kristina Stosek
Prep Time:

15 minutes
Cook Time:

25 minutes
Serves:

4 cups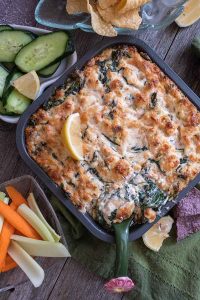 ​This post may contain affiliate links, please see our
privacy policy
for details
This Hot Salmon Dip with Smoked Cheese makes for a stunning appetizer. Creamiest hot dip with chunks of salmon, spinach, green onions, garlic, a hint of fresh lemon and infused with the smokiness from the gouda cheese is sure to be a big hit for any occasion.
It's appetizer season, and make-ahead hot dips are a must for Holidays. The hot salmon dip is great served with corn chips, toasted gluten-free French bread, gluten-free crackers and for the diet savvy fresh veggies.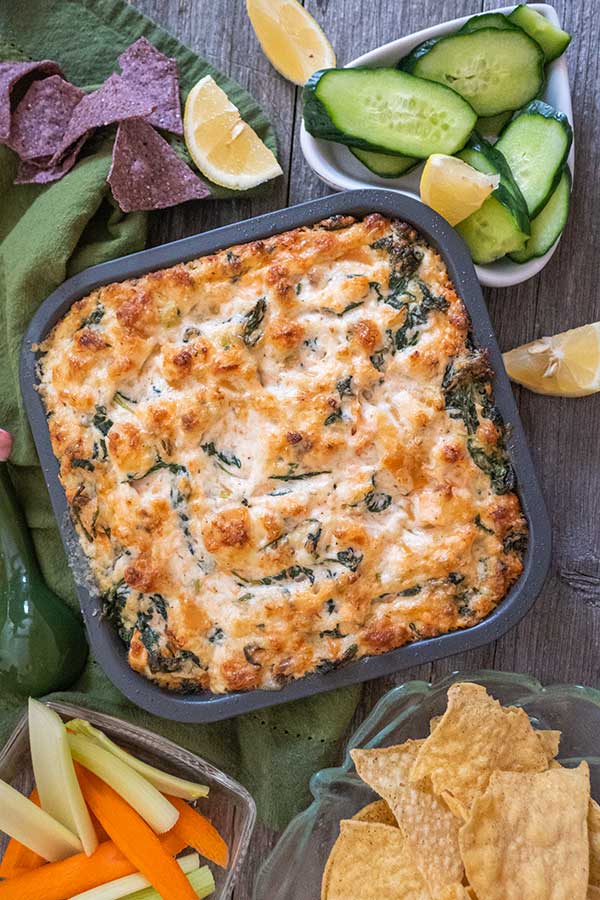 Two flavours that go exceptionally well together in hot dips are spinach and cheese. Add salmon to the mix and a smokey gouda, and you know it will be a winner.
Say hello to the best hot salmon dip with smoked cheese and spinach!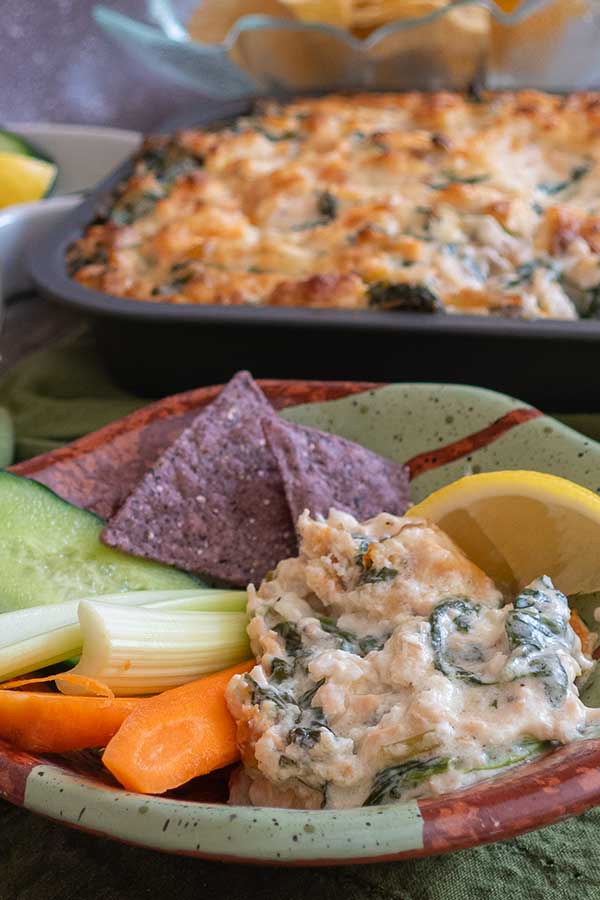 The secret to this salmon dip is the smoked gouda cheese and a splash of fresh lemon juice. The cheese adds complex flavour, and the lemon adds freshness.
Not sure if you had a chance to try my Hot Camembert Dip, it has always been very popular during holiday parties.
a hot salmon dip you can prepare in advance
I love the idea that you can prepare the salmon dip in advance and keep it in the fridge until the guests arrive. Then, when ready, bake it up! It makes entertaining much easier, and nothing beats a hot-dip straight out of the oven.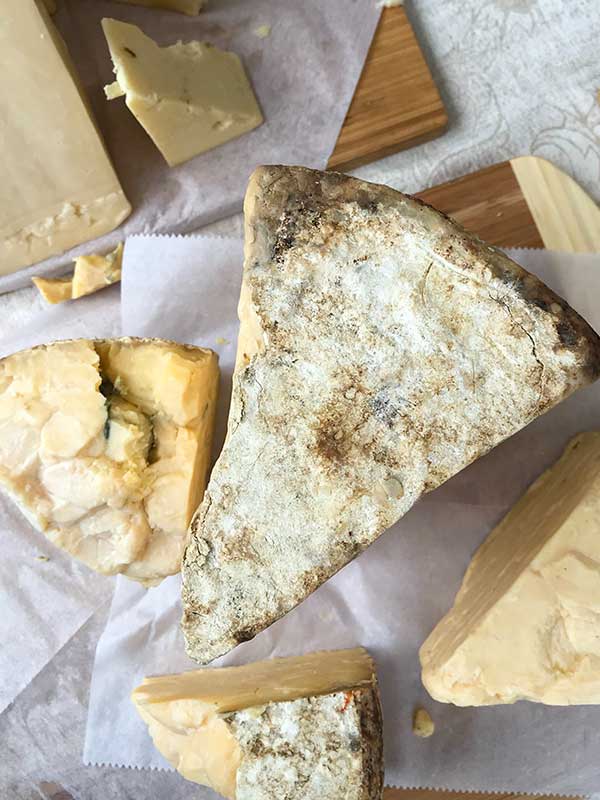 What are the best melting cheeses for hot dips?
A good melting cheese should have a higher fat content of at least 25% and high moisture. These are the best choices; Havarti, Swiss, Smoked Gouda, Provolone, Muenster, Fontina, Aged Cheddar and Blue Cheese.
Why shouldn't we use mozzarella cheese in hot dips?
You may be surprised that I omitted mozzarella cheese in the list of good melting cheeses. Mozzarella is a stretched-curd cheese that is not designed to melt into a creamy mixture.
However, low-moisture mozzarella will melt and get soft, making it an excellent cheese for gluten-free pizza or burgers. But it won't make a hot-dip smooth and creamy.
Another cheese I added to this hot salmon dip is Parmesan cheese. Parmesan cheese has little moisture in it and will not melt all the way down. But it is a good cheese to add to hot dips because Parmesan adds texture, nutty flavour and saltiness.
Is cheese gluten-free?
To avoid gluten, buy natural varieties without added flavours. Smoked gouda is an exception. The cheese is naturally enriched with natural smoke using real wood while maintaining the cheese flavour. My favourite smoked gouda cheese is Smoky Park Smoked Gouda.
Is gouda cheese healthy?
This cheese is typically made from cow's milk and is coated with red wax. The wax keeps it from drying out. Gouda cheese is an excellent source of vitamin K2. This vitamin is considered a miracle vitamin and is believed to help some diseases.
Hot salmon dip—recipe details
Wash and dry the spinach and green onions
Sautee the spinach in olive oil. – 1 minute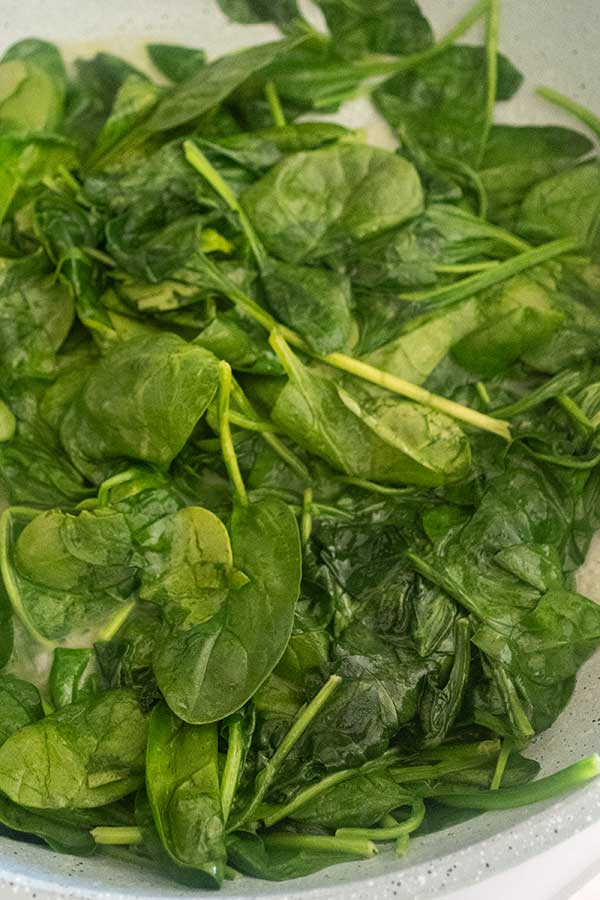 To the same pan, saute the green onions with garlic – 3 minutes.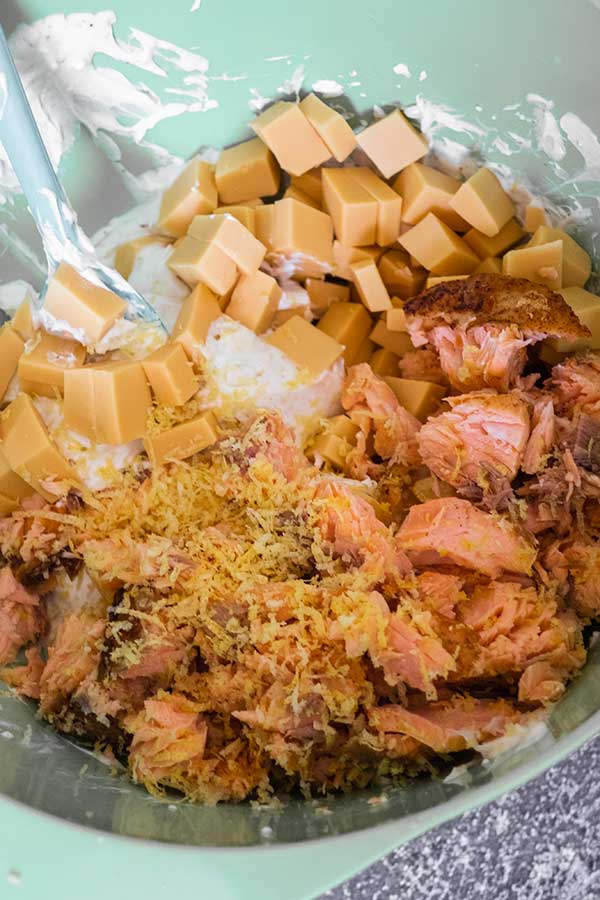 Beat the cream cheese with sour cream, mayo, lemon juice, lemon zest, and black pepper. Then add gouda cheese and salmon and mix to combine.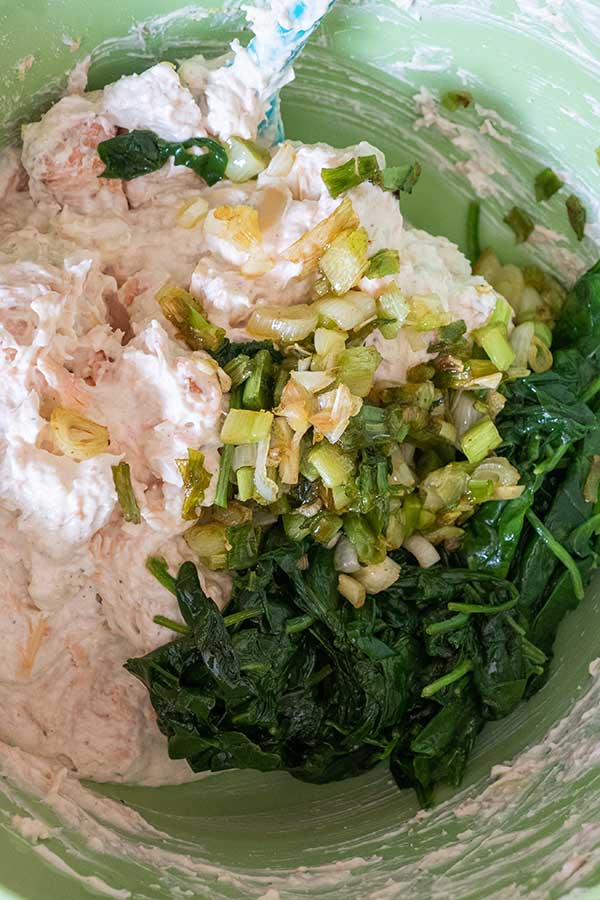 To finish, stir in spinach and green onions. This gluten-free hot dip recipe is a great way to use up leftover cooked salmon.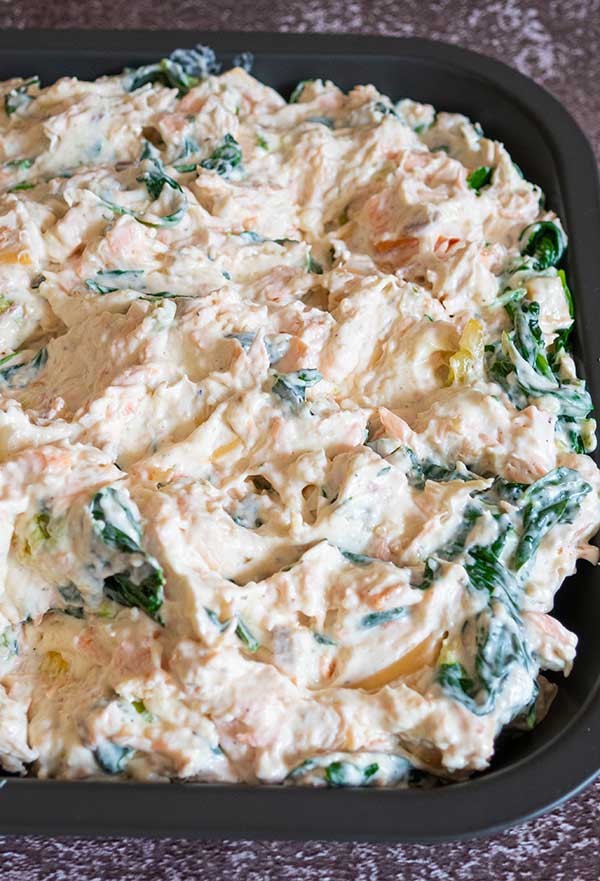 Transfer the mixture to a baking pan. At this point, you can refrigerate the dip until you are ready to bake it up.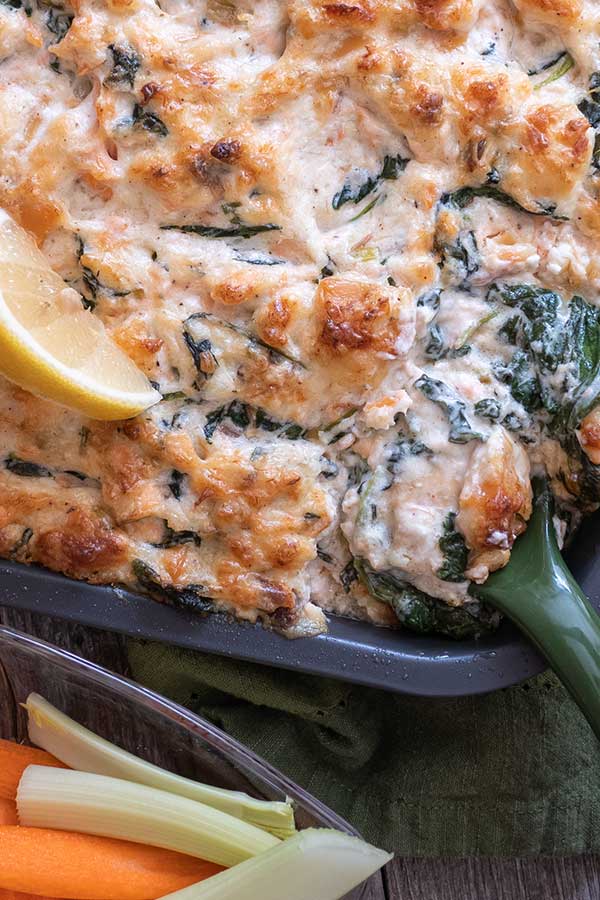 And lastly, seeing as this hot salmon dip is made with spinach and salmon, I think it's safe to say this appetizer is on the healthier side and is considered a keto-friendly and gluten-free appetizer.
Hot Salmon Dip With Smoked Cheese And Spinach
Published on Nov 24, 2021
by
Kristina Stosek
Instructions
1.

2.

Heat 1 tablespoon of olive oil in a large skillet over medium-high heat. Add spinach and cook until it starts to wilt. About 1 minute, turning frequently. Place spinach in a colander to drain.

3.

To the same skillet, add the remaining 1 tablespoon of olive oil, green onions and garlic. Cook over medium-low heat until the onions start to soften. About 3 minutes. Set aside

4.

In a mixing bowl with an electric mixer, beat cream cheese until smooth. Add sour cream, mayonnaise, lemon juice, lemon zest, nutmeg, and black pepper and mix until combined. Stir in gouda cheese and salmon

5.

To finish, squeeze the spinach to remove excess water. Roughly chop and add to cheese mixture with green onions and Parmesan. Using a spatula mix to combine

6.

Transfer mixture into a baking pan or cast-iron skillet and bake for 20 - 25 minutes until the dip is bubbling and the top is golden brown. 

7.

Enjoy hot or at room temperature.

8.

Refrigerate leftovers and reheat before serving