Vegan Skinny Cream of Asparagus Soup {Paleo, Gluten-Free, Whole30 )
Published on Jan 21, 2019
by
Kristina Stosek
Prep Time:

15 minutes
Cook Time:

15 minutes
Serves:

4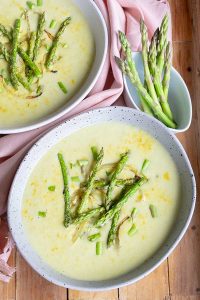 ​This post may contain affiliate links, please see our
privacy policy
for details
Today I will show you how to make the most delicious, satisfying Skinny Cream of Asparagus Soup. Not only is this soup good for your waistline, but it is also acceptable for diets such as paleo, vegan, whole30 and gluten-free.
To add extra flavour and heartiness to this soup, I added fresh zucchini. Once the soup is blended, you can't even tell that the soup has zucchini.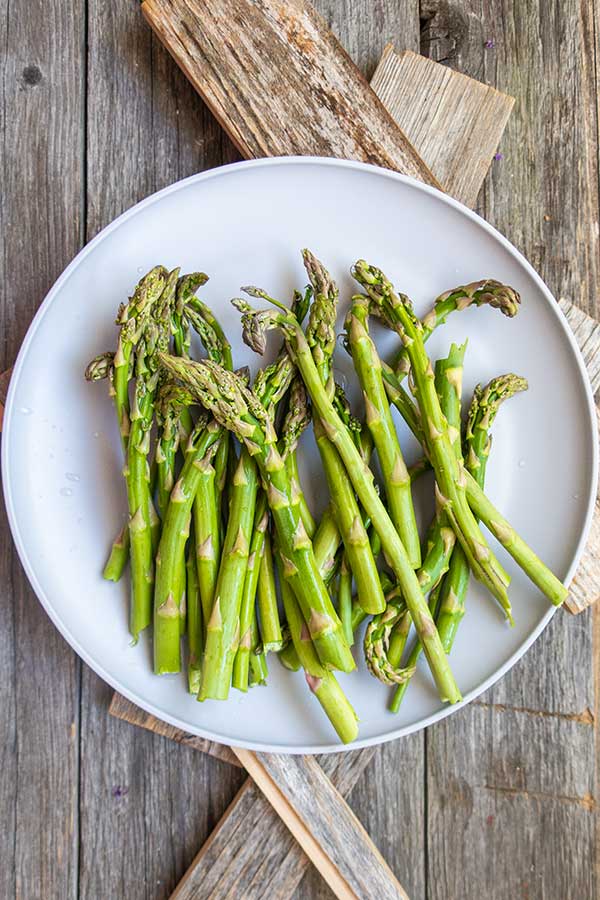 ♥ Simple steps to make cream of asparagus soup.
First, as with most soups, you saute the onions in avocado or olive oil until translucent. Then add in herbs, zucchini, some of the asparagus, coconut milk and nutritional yeast. Simmer for a few minutes, then using an immersion blender or a blender blend the soup until you reach desired consistency.
Transfer soup back to the pot and add remaining asparagus with fresh lemon juice. Cook just long enough until the asparagus gets heated through. This will leave the asparagus tender but not overcooked. To add extra flavour and texture to the soup, I created a simple topping.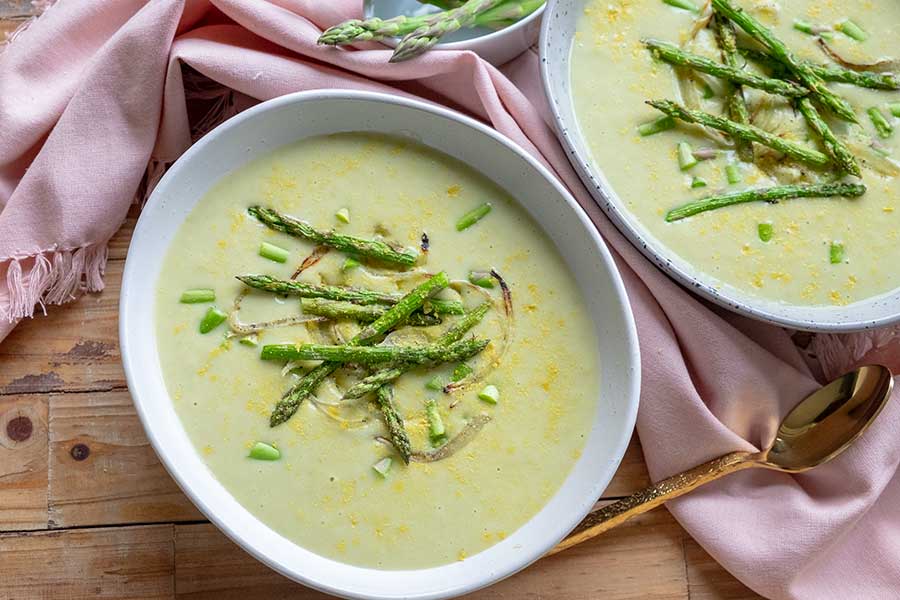 The topping is made with thinly sliced onions and asparagus drizzled with avocado or olive oil, then broiled until lightly charred. This will add a delicious flavour to the soup. When ready to serve, top each bowl of hot soup with the charred asparagus with onions.
That is all it takes to make this gourmet cream of asparagus soup. Because asparagus and zucchini cook so quickly the total cooking time is only about 15 minutes
Sure we love creamy soups, but sometimes we want to avoid the rich butter and cream that are used in typical cream soups. This cream of asparagus is thick and creamy without using butter or cream.
Since I have not used butter in this asparagus soup, you can serve the soup chilled — making this soup refreshing during warmer weather. Enjoy! If you enjoy asparagus check out this Gluten-Free Asparagus Tomato and Cheese Flatbread…it is soooo good!
Vegan Skinny Cream of Asparagus Soup {Paleo, Gluten-Free, Whole30 )
Published on Jan 21, 2019
by
Kristina Stosek
Instructions
1.

In a large pot heat oil over medium-low heat. Add onions and cook until translucent, about 5 minutes.

2.

Stir in garlic, thyme, zucchini, about 2/3 of the asparagus and parsley until coated with the onions. Add broth, coconut milk, nutritional yeast and season with salt and pepper. Cook over medium heat for 5 minutes

3.

Transfer soup into a blender and blend until smooth and creamy. You may have to do this in batches. You can also use an immersion blender to do this, it is easier, and less clean up

4.

Return soup to the pot, add remaining 1/3 of asparagus pieces and lemon juice. Cook until the asparagus is heated through, about 3 minutes

5.

To make the topping, scatter onions and asparagus over a baking pan lined with foil. Drizzle with oil and sprinkle with salt and pepper. Broil for 2 - 3 minutes until lightly charred

6.

Ladle soup into bowls and top with charred asparagus and onions. I also lightly sprinkle the soup with nutritional yeast