Vegan Skinny Cream of Asparagus Soup {Paleo, Gluten-Free, Whole30 )
Prep Time
15 Minutes
Difficulty
Easy
Cook Time
15 Minutes
Serves
4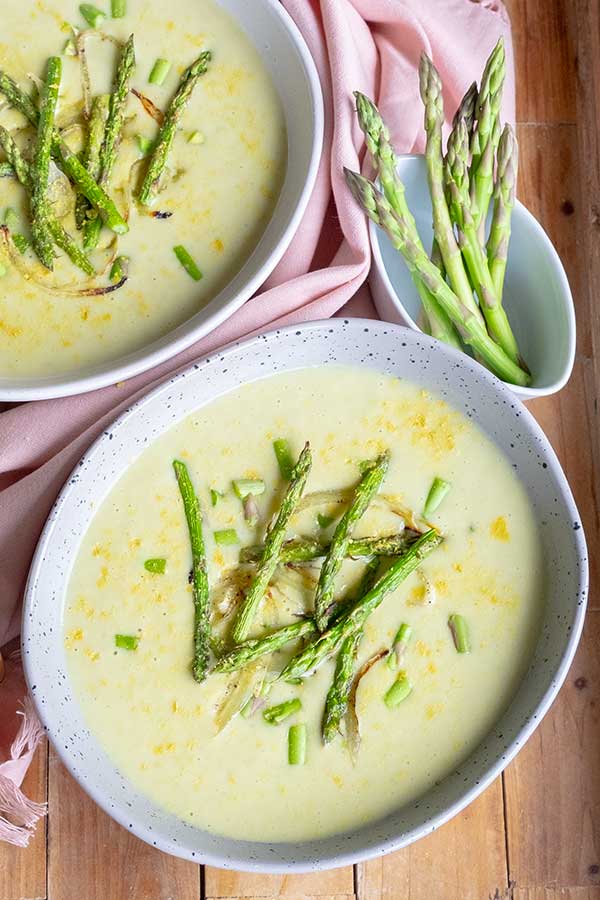 Be the first to rate this recipe.
Happy Monday, I hope everyone had a wonderful relaxing weekend. This week I am going to start with one of my favourite asparagus soup recipes. There are many versions of asparagus soups, but in January I try to keep the recipes clean and light whenever possible. Sure I love creamy soups, but you don't always have to use cream and butter to have a thick and creamy satisfying soup. To make this vegan asparagus soup exceptionally tasty, I added a topping of lightly charred onions and asparagus tips. To charr the veggies takes only 3 minutes, and they add so much flavour to the soup. The best part about this soup is, asparagus cooks very quickly so you can have this soup on the table under 30 minutes :-). This soup can also be served chilled
Ingredients
2 Tbsp. Avocado or extra virgin olive oil
1 small onion, finely chopped
3 garlic cloves, chopped
1/2 tsp. GF dried thyme
1 medium zucchini, diced
2 lb. asparagus, ends trimmed and cut into 1-inch pieces, divided (young asparagus is best)
1 medium zucchini, diced (this adds thickness and flavour)
1/4 cup chopped fresh parsley
Himalayan salt and GF ground black pepper, to taste
1 Tbsp. Fresh lemon juice or to taste
TOPPING
1/2 small onion, thinly sliced
Asparagus tips, as many as you like for 4 servings
2 tsp. Avocado or extra virgin olive oil
Instructions
In a large pot heat oil over medium-low heat. Add onions and cook until translucent, about 5 minutes.
Stir in garlic, thyme, zucchini, about 2/3 of the asparagus and parsley until coated with the onions. Add broth, coconut milk, nutritional yeast and season with salt and pepper. Cook over medium heat for 5 minutes
Transfer soup into a blender and blend until smooth and creamy. You may have to do this in batches. You can also use an immersion blender to do this, it is easier, and less clean up
Return soup to the pot, add remaining 1/3 of asparagus pieces and lemon juice. Cook until the asparagus is heated through, about 3 minutes
To make the topping, scatter onions and asparagus over a baking pan lined with foil. Drizzle with oil and sprinkle with salt and pepper. Broil for 2 - 3 minutes until lightly charred
Ladle soup into bowls and top with charred asparagus and onions. I also lightly sprinkle the soup with nutritional yeast
Similar Recipes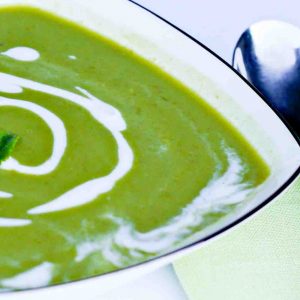 Asparagus Soup With Mint
Did you know that asparagus is loaded with nutrients such as folate, vitamins A, C, E and K, protein and has an abundance of fiber? Asparagus soup is one of the easiest soups to make because this healthy vegetable cooks in minutes. This tasty soup can be served hot or chilled and is also diet […] Read More
Prep Time
15 Minutes
Difficulty
Easy
Cook Time
15 Minutes
Serves
4