30 Minute Healthy Chicken Stew (Paleo, Gluten-Free, Whole30)
Published on Jan 08, 2019
by
Kristina Stosek
Prep Time:

10 minutes
Cook Time:

20 minutes
Serves:

4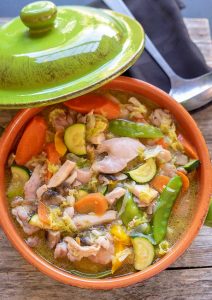 ​This post may contain affiliate links, please see our
privacy policy
for details
30 Minute Healthy Chicken Stew for any day of the week. As we are keeping everything clean and healthy this month I am adding one of my favourite chicken recipes.
Loads of veggies and tender chicken cooked in a deliciously spiced sauce. This recipe is undoubtedly my all-time favourite when following a clean diet.
The stew is warm and cozy and super easy, only 30 minutes to make including prep time.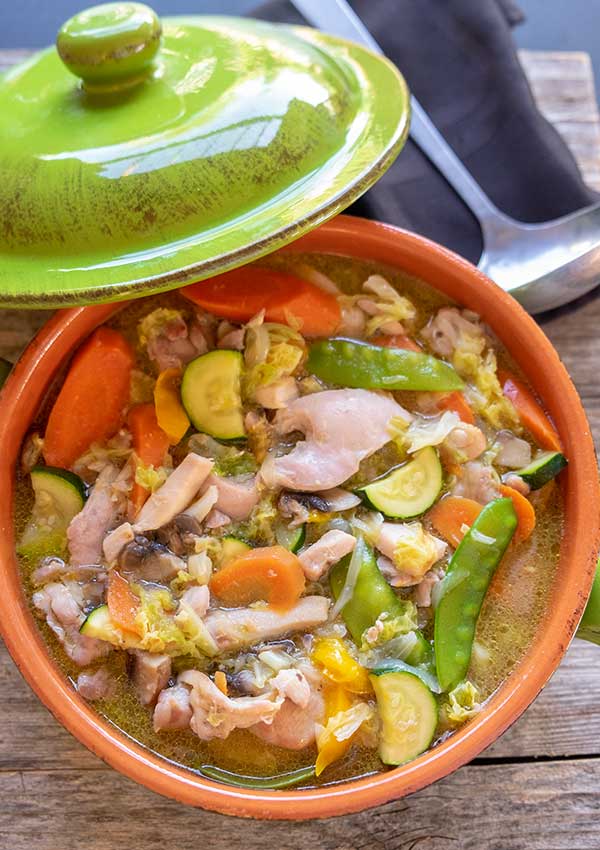 In this chicken stew recipe, the veggies are cooked al-dente keeping most of the nutrients and yes the veggies are a little different from the typical chicken stew, but who isn't ready for a little change in flavour I know I am.
I used veggies like Napa cabbage, bell peppers, carrots, zucchini and snow peas all of which cook very quickly. For seasoning, I added thyme and bay leaf making this healthy chicken stew explosively delicious.
Serve as is or with our delicious. gluten-free quinoa garlic cheese flatbread
30 Minute Healthy Chicken Stew (Paleo, Gluten-Free, Whole30)
Published on Jan 08, 2019
by
Kristina Stosek
Instructions
1.

In a large soup pot sauté onions, bell pepper and garlic in olive oil until soft. About 5 minutes

2.

Increase the heat to medium-high, stir in the thyme and brown the chicken. About 3 minutes

3.

Add 4 cups of cold water, carrots, cabbage, bay leaf and season with salt and pepper. Bring the stew to boil, reduce heat to low and cover. Cook for 10 minutes

4.

Whisk together 1 cup of cold water with tapioca/arrowroot starch and add to the stew with zucchini and snow peas. Increase heat to medium-high and cook until the stew starts to thicken. About two minutes. Remove from the heat and enjoy!