Gluten-Free Flatbread With Asparagus Tomato And Cheese
Published on Apr 22, 2018
by
Kristina Stosek
Prep Time:

15 minutes
Cook Time:

30 minutes
Serves:

1 large flatbread
​This post may contain affiliate links, please see our
privacy policy
for details
A spring inspired soft and light Gluten-Free Asparagus, Tomato And Cheese Flatbread recipe that is easy enough for novice bakers. This gluten-free flatbread recipe is yeast-free and xanthan gum-free with added sesame seeds. It is topped with fresh asparagus, fresh tomatoes and three kinds of cheese – creamy mascarpone, cheddar and parmesan cheese. To add some flavour, I used garlic and fresh sage. YUM!
what is flatbread…
Flatbread and traditional pizza dough are very similar as far as texture. Pizza dough can be made thin or thick, and the flatbread dough is typically rolled thinner. And, when it comes to flatbreads, the toppings are lighter than on a pizza.
The good thing is the shape doesn't matter. I like mine to be oval because it was super easy to make. To conclude, flatbread is a lighter version of pizza, and for me, an easier recipe for baking.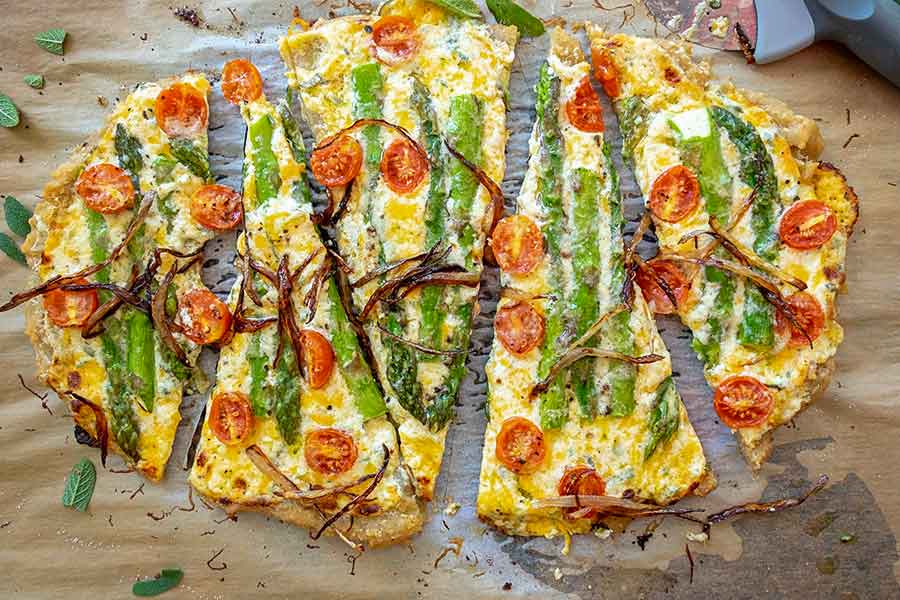 how to make gluten-free flatbread…
This may be one of my most simple recipes this spring. First, mix the dry ingredients, then add water and olive oil. Set aside the dough for a few minutes to set and thicken.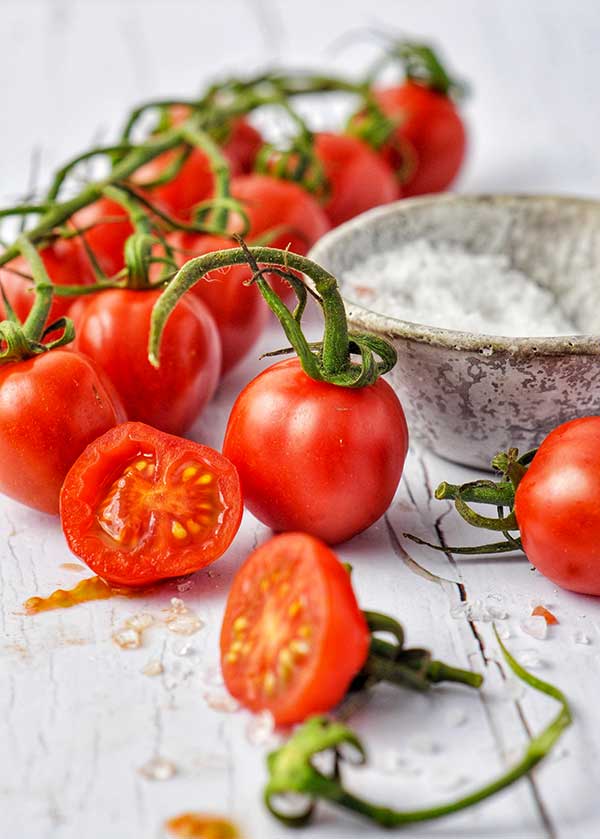 Spread or roll the dough out into an oval or rectangle shape and par-bake until it becomes a thin crust Top the crust with the creamy cheese sauce made with fresh sage and garlic, fresh asparagus and tomatoes and sprinkle with parmesan cheese. Bake until golden brown, and you are done!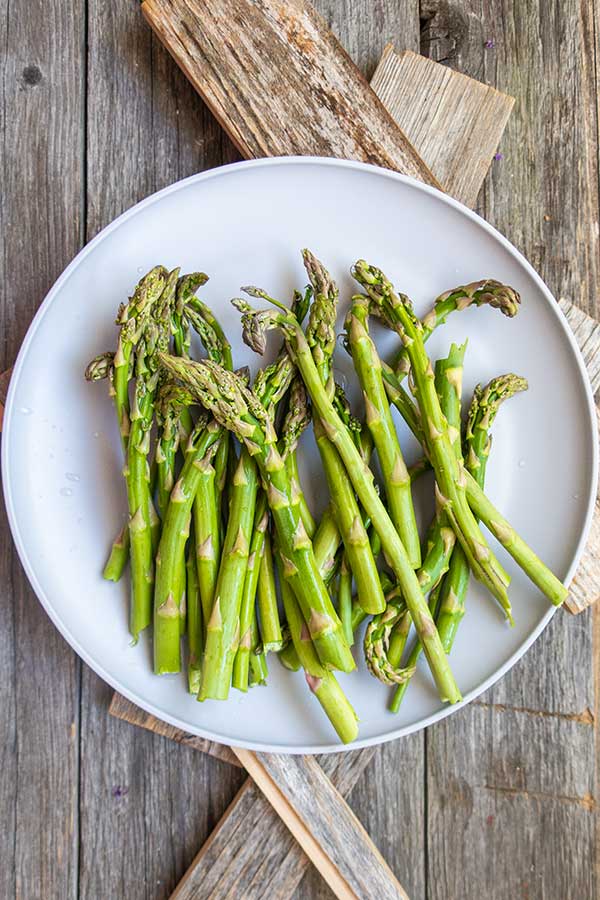 the toppings…
In this flatbread recipe, I used creamy mascarpone cheese. I added some cheddar, fresh herbs, olive oil and garlic to it and made it into a cheese sauce. The mascarpone made the difference and set this flatbread apart from most.
Some other toppings you can use are gouda cheese, provolone cheese, fresh thinly cut veggies such as zucchini, kale, arugula, mushrooms, fennel, bell peppers… Whatever your preference is. But keep the veggies thinly sliced.
Maybe fried onions?
If you like, you can top the flatbread with fried onions at the end. My family loves fried onions, so it made this gluten-free asparagus, tomato and cheese flatbread even more delicious. The fried onions are super easy to make and are optional.
Next time you crave a pizza and are short on time, try something lighter for dinner like this gluten-free flatbread. The recipe is super easy, and you can use anything you have on hand to top the flatbread. And the best part, it is quick and easy and pretty enough for any special occasion. Enjoy!
If you are looking for something heartier check out our gluten-free pizza recipes. One of our most popular pizzas is the gluten-free crazy crust pizza.
Gluten-Free Flatbread With Asparagus Tomato And Cheese
Published on Apr 22, 2018
by
Kristina Stosek
Instructions
1.

Preheat oven to 450 F and line a large baking tray with parchment paper

2.

In a medium bowl combine first 6 ingredients. Add water and olive oil and mix forming a wet dough. Set aside for 5 minutes the dough will thicken

3.

Spread and roll the dough to an oval shape about 1/2-inch in thickness. Bake for 15 minutes

4.

While the bread is baking, in a small bowl mix mascarpone and cheddar cheese, garlic, olive oil and sage

5.

After 15 minutes of baking the bread, spread the cheese mixture evenly over top

6.

Top with asparagus and tomatoes and generously season with salt and pepper. Sprinkle with parmesan cheese. Return to the oven for 12 - 15 more minutes until the cheese is bubbling. Top with fried onions if you wish

7.

Note: to make fried onions; fry thinly sliced onions in 1/4 inch of oil over medium-high heat for 3 minutes, turning frequently
Leave a Comment
very easy recipe and so good!