Vegan Cheesy Cream Of Broccoli Soup (Paleo, Gluten-Free, Whole30)
Published on Jan 04, 2019
by
Kristina Stosek
Prep Time:

10 minutes
Cook Time:

15 minutes
Serves:

4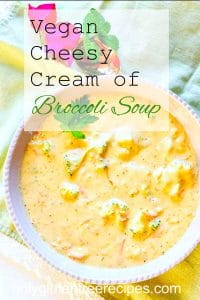 ​This post may contain affiliate links, please see our
privacy policy
for details
This satisfying Vegan Cheesy Cream Of Broccoli Soup is super creamy with just a hint of thyme. Not only that this wholesome soup tastes incredibly delicious, but broccoli is a calcium-rich vegetable and is one of only four vegetables that contain vitamin E.
So a lot of goodness in one bowl of this cheesy cream of broccoli soup.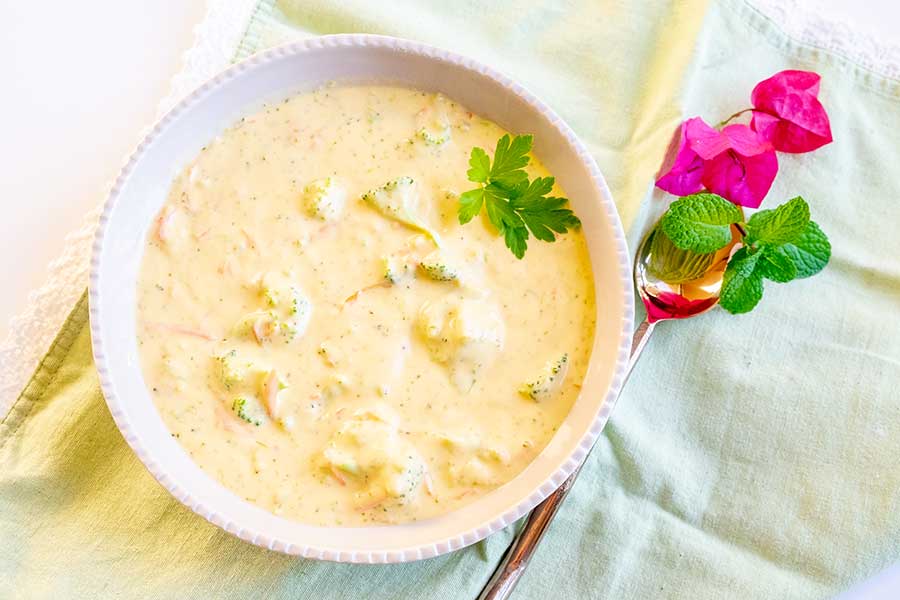 How to make cheesy cream of broccoli soup without dairy?
To start, this vegan broccoli soup is made by sauteeing the onions with garlic in coconut oil and seasoned with just a teaspoon of thyme.
Then, the broccoli, carrots and gluten-free vegetable broth are added and cooked briefly until the veggies are tender but firm to bite.
While the veggies were cooking, I made the creamy, cheesy flavourful sauce, which is added to the soup.
To make the dairy-free sauce, you will need raw cashews, coconut milk, nutritional yeast, tapioca starch, turmeric and mustard powder. All this goodness is blended in a high-speed blender until creamy.
Then this thick and creamy sauce is added to the soup and cooked until the soup thickens.
This vegan cream of broccoli soup recipe includes most of the ingredients in the classic broccoli cheddar soup. However, I added grated carrots giving the soup a little more texture and flavour.
But it is the cashews that make the soup creamy and silky without adding the cream.
This broccoli soup recipe is gluten-free, Whole30 and paleo-friendly.
Whenever I serve a hearty soup, I always add tasty bread. Two of my favourite bread that will go exceptionally well with this soup are gluten-free artisan bread and the healthy gluten-free flax bread 🙂
Vegan Cheesy Cream Of Broccoli Soup (Paleo, Gluten-Free, Whole30)
Published on Jan 04, 2019
by
Kristina Stosek
Instructions
1.

In a medium soup pot over medium-low heat, heat coconut oil. Add onions and sauté until soft. About 5 minutes. Stir in garlic and thyme until fragrant, about 30 second

2.

Add broth, broccoli, and carrots and cover. Cook over medium-low heat for 5 minutes or until broccoli is al dente (cooked but firm)

3.

While the vegetables are cooking, using a high-speed blender or Vitamix, blend cashews, coconut milk, nutritional yeast, tapioca starch, turmeric, and mustard powder until smooth

4.

Pour mixture into the pot, generously season with salt and pepper, and cook over medium heat until the soup starts to thicken. About 5 minutes

5.
Leave a Comment
Kristina
Sarah, you can try 4 oz. of vegan cheese
I have a food allergy to yeast. I know nutritional yeast is what gives it the "cheesy" flavor, but wondering if you have any substitutions for the nutritional yeast?