Moroccan Vegetable Stew
Published on Dec 10, 2018
by
Kristina Stosek
Prep Time:

10 minutes
Cook Time:

25 minutes
Serves:

4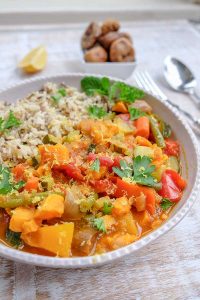 ​This post may contain affiliate links, please see our
privacy policy
for details
This Moroccan Vegetable Stew is all about healthy and delicious. This most beautiful recipe brings together all the flavours of fresh rainbow vegetables and exotic Moroccan spices.
The vegetable stew is cooked under 30 minutes using a variety of fresh vegetables. You will love it! In Morocco tagine, a circular clay dish with a wide shallow bottom with a rounded cone is an essential part of their cuisine. Tagine is used for cooking main meals using meat and vegetables and very little liquid.
In this vegetarian recipe, I substituted a large skillet for the tagine, added a bit more broth, some dates for sweetness and kept the exotic spices such as coriander, turmeric, cinnamon, ginger and cardamom to give the vegetable stew a Moroccan flair.
I also added hot chilli peppers for some heat, but it's optional, so feel free to skip this ingredient if you wish.
Moroccan dishes often use chickpeas, I wanted to keep this dish on a lighter note, so I substituted them for green beans, but feel free to add them if you wish.
Other vegetables widely used in Moroccan cooking are artichokes, parsnips, eggplant and Moroccan gourd. In this vegetarian stew, anything goes, so choose your favourite vegetables.
Because I wanted to keep the texture of the vegetables al-dente, I cooked them very briefly. But if you prefer them more tender, cook the stew a bit longer. The spices and the sweet dates give out all of their flavours in this Moroccan dish.
I promise you the stew is undeniably delicious, using fresh vegetables and turning them into exotic Moroccan stew.
This vegetable stew goes beautifully with rice and fresh herbs such as mint or parsley. Or, serve the stew with soft gluten-free bread to soak up the delicious juices just like they do in Morocco. You'll definitely want to dip your bread into the tasty sauce. Enjoy!
Moroccan Vegetable Stew
Published on Dec 10, 2018
by
Kristina Stosek
Instructions
1.

In a large skillet or a large pot sauté onions in olive oil until soft. About 5 minutes

2.

Stir in garlic, ginger, coriander, cumin, turmeric, cinnamon and cardamom. Cook over low heat for 1 minute

3.

Stir in tomatoes and dates until combined. Add broth, carrots, sweet potato, green beans and chili pepper. Season with salt and pepper, cover and simmer over medium-low heat for 10 minutes

4.

Stir in butternut squash and zucchini. Cover and cook until butternut squash is tender but not mushy, about 7 minutes. Taste and adjust seasoning if needed.

5.

Serve with fresh herbs such as parsley, mint or cilantro and lemon zest

6.

Note; if you like your vegetables softer cook the stew a little longer