Gluten-Free Veggie Cakes
Published on Apr 22, 2020
by
Kristina Stosek
Prep Time:

15 minutes
Cook Time:

30 minutes
Serves:

8 - 16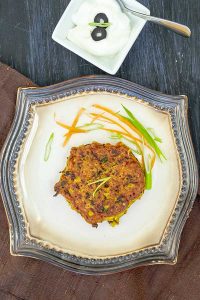 ​This post may contain affiliate links, please see our
privacy policy
for details
Crispy and healthy Gluten-Free Veggie Cakes made with grated vegetables – zucchini, carrots, broccoli and green onions. The veggie cakes are lightly spiced with cumin and curry powder giving them a middle eastern flare.
Veggie cakes are easy, affordable and delicious. Great for light lunches, breakfast on the go, or a snack. I often serve them with various dips or plain Greek yogurt.
These veggie cakes are also an excellent substitute for bread when serving soups or stews. Veggie cakes are a good way to add extra vegetables to your diet.
How to make gluten-free veggie cakes?
To start, you must drain the zucchini. Zucchini is very watery, and if not drained, the veggie cakes will turn out soggy. There are two ways you can do this.
The simple way is to sprinkle a bit of salt over grated zucchini, mix and let it sit for about 15 minutes. Then squeeze excess water from the zucchini.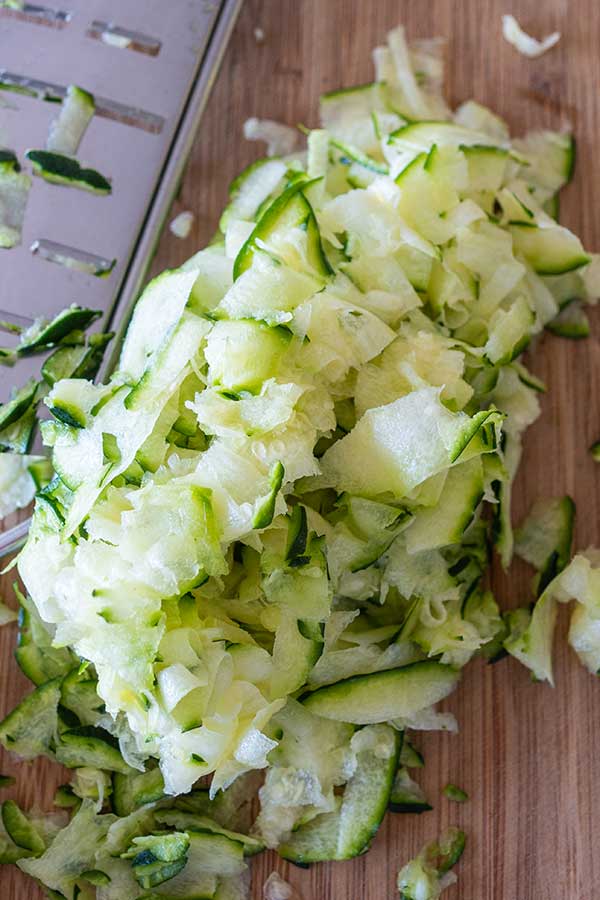 Or, you can place grated zucchini in a colander and place something heavy on top. Like a bowl of water allowing the zucchini to drain
To grate the vegetables, you can use a food processor, which is the quickest way. Or, if you don't have one, use a box grater.
Once the veggies are ready, add the eggs and spices and thoroughly mix. Then add the chickpea (gram) flour and parmesan cheese. You can make the veggie mixture in advance for up to eight hours, and store in the refrigerator.
When ready to cook the veggie cakes, heat the oil over medium-high heat. You want to crisp the outside of the cakes. This takes about 2 minutes per side. Now place the cakes on a baking tray and bake for about 12 minutes.
best size for veggie cakes,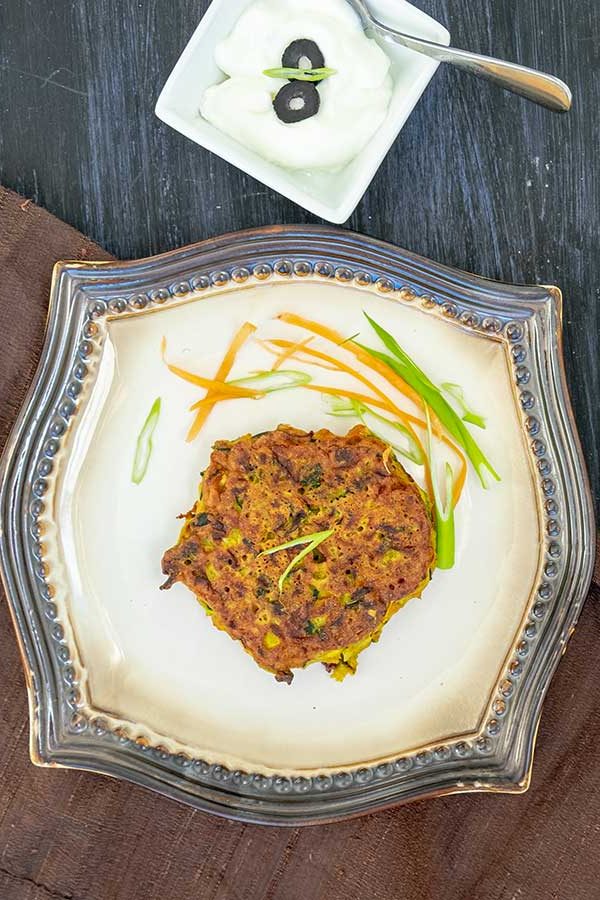 The size depends on how you want to use them. If you are serving the cakes for lunch with a light salad or breakfast with an egg over the top, then I would recommend making them about 3 inches in diameter.
For snacks or appetizers, they are better smaller. The 12 minute cooking time is based on the larger size, for smaller cakes cut the cooking time to about 8 minutes
Can you freeze veggie patties?
Yes absolutely! Place cooked patties between pieces of parchment paper and store in small freezer bags. When ready to serve them, allow them to thaw in the refrigerator overnight, then pop them in a hot oven for about 3 minutes.
You can also serve them at room temperature.
Some of my favourite dips to serve with the gluten-free veggie cakes are Low-Carb Eggplant Dip or Baked Spinach Ricotta Dip.
Let's Connect!
Be sure to FOLLOW US on FACEBOOK and PINTEREST.
Many thanks!
Kristina xx
Gluten-Free Veggie Cakes
Published on Apr 22, 2020
by
Kristina Stosek
Instructions
1.

2.

Sprinkle the zucchini with a little salt. After about 15 minutes, squeeze any excess water from the zucchini. Zucchini is very watery and needs to be drained. Otherwise, the cakes end up soggy

3.

In a large bowl combine zucchini, carrots, green onions, garlic, eggs, salt, cumin, curry powder and cayenne pepper. Add flour and parmesan cheese and thoroughly mix

4.

Heat a large skillet over medium-high heat. Add olive oil.

5.

Using a scoop or a large spoon drop mixture into the skillet, flatten slightly to form a patty. Do not crowd the pan. I did four patties at a time using a large skillet. Cook for about 2 minutes per side. Then place on a baking tray. This gives the patties a crispy coating. Repeat until all mixture is gone

6.

Place the tray in the oven and bake for 12 minutes, until the patties are golden brown. The cooking time depends on the size of the patties.