Double Chocolate Soft Cookies – Gluten Free
Published on Nov 13, 2020
by
Kristina Stosek
Prep Time:

15 + minutes
Cook Time:

12 minutes
Serves:

20 cookies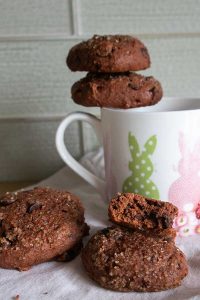 ​This post may contain affiliate links, please see our
privacy policy
for details
The very best Gluten-Free Double Chocolate Soft Cookies. Cookies made with chocolate are everyone's favourite, especially when they are double chocolate soft cookies. These gluten-free cookies are soft with chocolate chips throughout. The cookie dough is made with cocoa making these soft cookies incredibly delicious.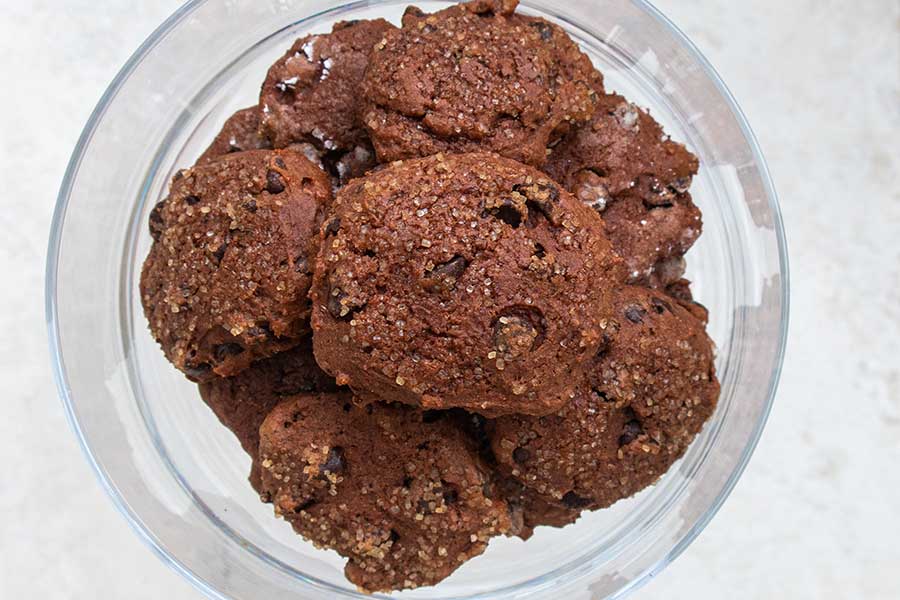 What is different about these Gluten-Free Double Chocolate Soft Cookies?
These double chocolate soft cookies are healthier than most. A classic chocolate chip cookie is typically made with butter, refined sugar and flour. In this cookie recipe, there is no added refined sugar. The only sweetener used is healthy honey.
Also, this gluten-free cookie recipe has only half the butter, and to add to the goodness, these double chocolate soft cookies are made with healthy unsweetened cocoa powder. The best part, you can't tell that these delicious cookies are gluten-free.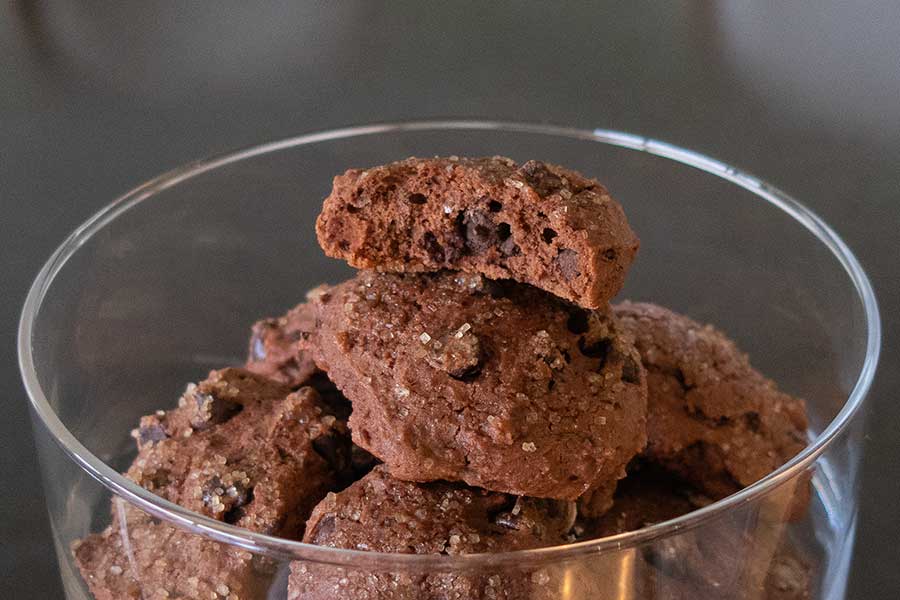 Cookies make a great hostess gift!
Bringing a freshly baked gluten-free box of cookies as a hostess gift is always a big hit. You can also add other cookies to the box like the Grain-Free Crescent Cookies and Gluten-Free Thumbprint Cookies, both of these gluten-free cookies are very popular during the holiday season.
I believe you can never have enough delicious, freshly baked cookies at any time of the year. All you need is a festive cookie box to put them in.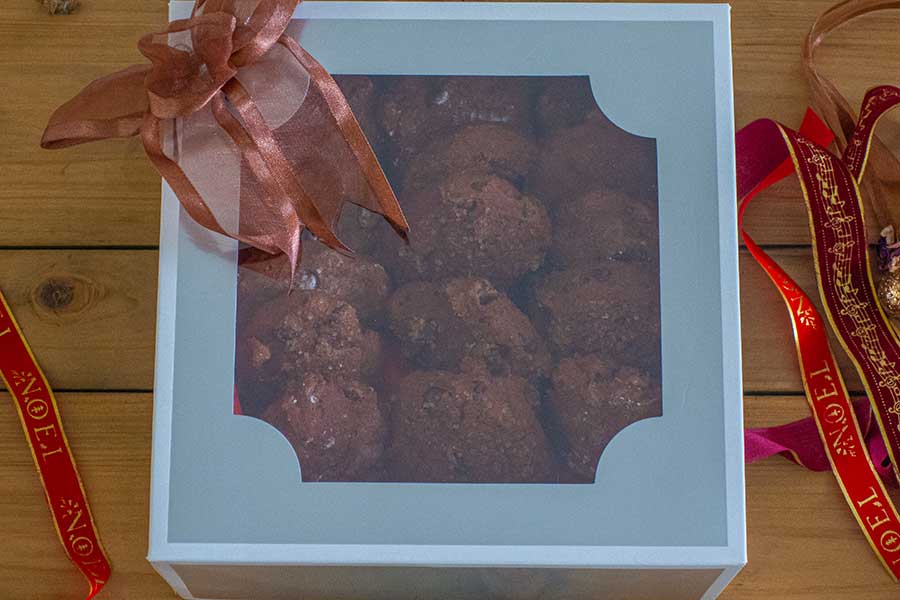 When it comes to cookies, no one can resist soft double chocolate cookies. We all have our favourite cookie recipes, but chocolate always prevails, especially with kids and me 🙂 In our home, chocolate chip cookies are especially popular. So I couldn't just stop at one gluten-free chocolate cookie recipe.
I have created several gluten-free chocolate chip cookies and the One Bowl Gluten-Free Chocolate Chip Cookies and the Grain-Free Almond Butter Chocolate Chip Cookies have been most popular. I have even made Keto Chocolate Chip Pecan Cookies which are suitable for those that are following a low carb diet.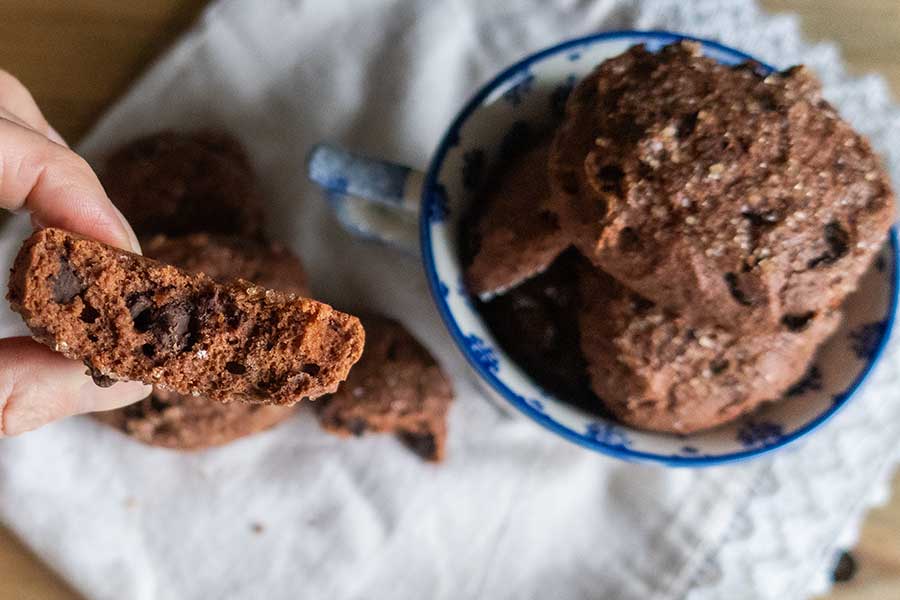 Double Chocolate Soft Cookies are amazing when the cookies are still slightly warm and freshly baked because the chocolate is still melting, making these cookies irresistible.
Because I wanted these cookies to look festive, I added sparkle to them. This is optional, and I would not do this for an everyday cookie treat. I rolled them in raw turbinado sugar just before they go in the oven to add the sparkle. You can also roll them in powdered sugar.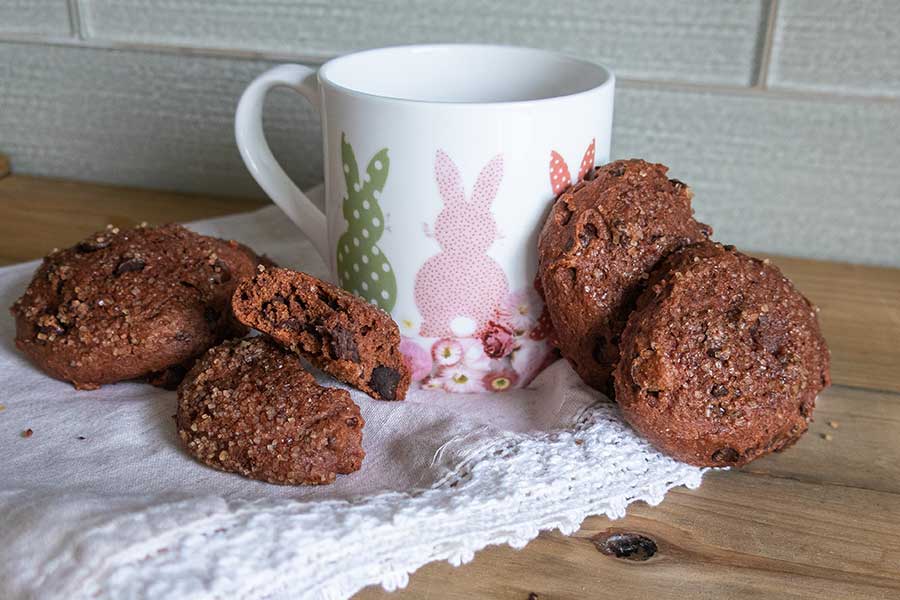 This is the month when it really starts to sink in that winter with full blown cold weather is here. One of the best ways to get through the chilliest, darkest season is with delicious, comforting double chocolate soft cookies. Enjoy!
For the latest recipes and tips, please like us on Facebook or follow us on Pinterest and Instagram.
Double Chocolate Soft Cookies – Gluten Free
Published on Nov 13, 2020
by
Kristina Stosek
Instructions
1.

Using a medium bowl, whisk together flour, cocoa powder, tapioca powder and baking soda

2.

In the bowl of a stand mixer, add the honey, butter and egg. Beat on medium-high speed until blended and creamy. Add milk and vanilla and beat until combined

3.

Gradually fold in flour mixture with chocolate chips until blended. Cover dough tightly with plastic wrap and chill for at least 1 hour and up to 24 hours. The dough must be chilled

4.

Once you are ready to bake the cookies, preheat the oven to 350 F and line a large baking sheet with parchment paper

5.

Form the dough into 20 balls, about 1 1/2 tablespoons of dough in each ball. If using sugar coating, roll each ball in the sugar and place 2 inches apart on the prepared baking tray

6.

Using the back of a spoon or a spatula, slightly flatten the balls—Bake for 12 minutes. The cookies will be soft when you remove them from the oven.

7.

Slightly cool on the baking tray before carefully transferring onto a cooling rack to cool