Best Keto Chocolate Chip Pecan Cookies
Published on Apr 06, 2022
by
Kristina Stosek
Prep Time:

15 minutes
Cook Time:

15 minutes
Serves:

24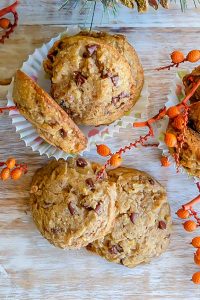 ​This post may contain affiliate links, please see our
privacy policy
for details
A keto cookie studded with mini chocolate chips and healthy pecans that will melt in your mouth. This chocolate chip cookie is that perfect keto cookie recipe that we all need in our recipe box. The best part is they are undeniably the best keto chocolate chip cookies and only about 1 net carb per cookie!
This keto chocolate chip cookie is one of those sweet treats you can't tell it is grain-free and sugar-free. However, the pecans add to the healthiness and bring the cookie to a 10 in flavour.
The fats in this keto cookie come from almond flour, pecans and butter. And the fiber comes from pecans, almond flour and coconut flour. The fats and fiber are hallmarks of a well-balanced keto diet.
What is the keto diet?
The Keto diet is a low-carb, high-fat diet. Protein is not the focus of this diet. Instead, it is the healthy fats…notice I said healthy? Yes, it is not about eating a massive amount of bacon, pork roasts and fried food.
The Keto diet is about healthy fats such as avocado, heart-healthy good quality olive oil, nuts, seeds, and organic grass-fed butter.
As per Ohio state university Wexner medical center, healthy fat is essential for proper brain function. We need to get enough omega 3-fatty acids because they are the essential building blocks of our brain and are important for learning and memory.
How does fiber affect the keto diet?
Most fiber-rich foods are also heavy on carbs. Therefore, it is vital to add low-carb high-fiber foods while following the keto diet. Some foods that are low in carbs and high in dietary fiber to consider are nuts and seeds, such as pecans, almonds, chia, and flaxseed.
Although fiber is technically a carb, your body doesn't have the enzymes to break it down. So, it passes through your digestive system unchanged. This means on the keto diet, fiber has zero carbs and zero calories.
Carbs and Net Carbs, what's the difference?
As per medical news today, the key difference between total carbs and net carbs is that total carbs include starches, dietary fiber, and sugars. The net carbs only include carbs that the body can fully digest into glucose. Our bodies can't digest fiber.
So, for example, if an apple has 14 grams of total carbs and 3 grams of dietary fiber, the net carbs for the apple are 11 grams. On the keto diet, you count only the net carbs.
How many net carbs should you consume on the keto diet?
Most ketogenic guidelines recommend between 15 – 30g of net carbs per day.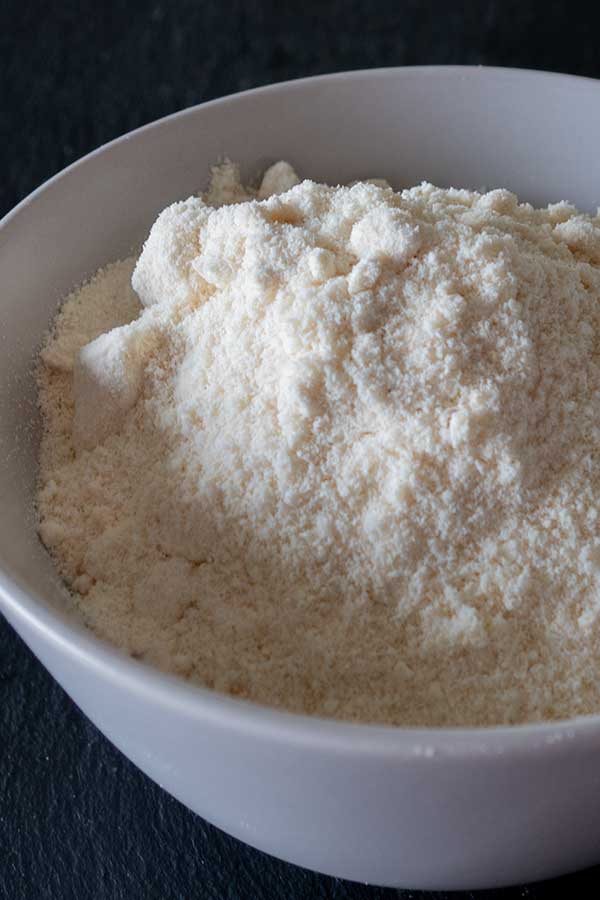 Why is coconut flour suitable for the keto diet?
Coconut flour is a high fiber, low-carb, grain-free and gluten-free flour. This makes it an excellent flour for baking when following a keto and gluten-free diet. Coconut flour is made from dried coconut meat ground into powder.
Some of our gluten-free recipes made with coconut flour you will love are the Coconut Flour Banana Bread with Chocolate Chips or the 4 Ingredient Coconut Cookies.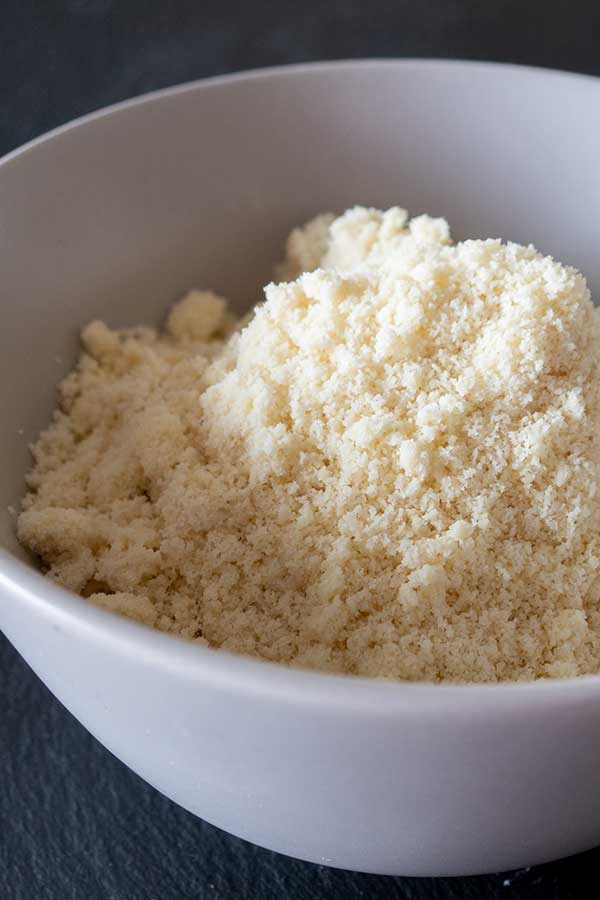 Why is almond flour used in keto recipes?
Almond flour is probably the number one flour used in keto baking. It's very low in carbs and high in healthy fats. According to Harvard University, about 80% of it is heart-healthy monounsaturated fat.
Almond flour is made from ground, typically blanched almonds. The flour is made by removing the skins of the almonds by boiling them in water and then by grinding and sifting the almonds into a fine flour-like consistency.
Almond flour is also used in grain-free and gluten-free recipes. In addition, the flour adds moisture and healthiness to baked goods. You may enjoy our almond flour recipes such as the Grain-Free Cinnamon Apple Lemon Muffins, or the Gluten-Free Blueberry Streusel Coffee Cake.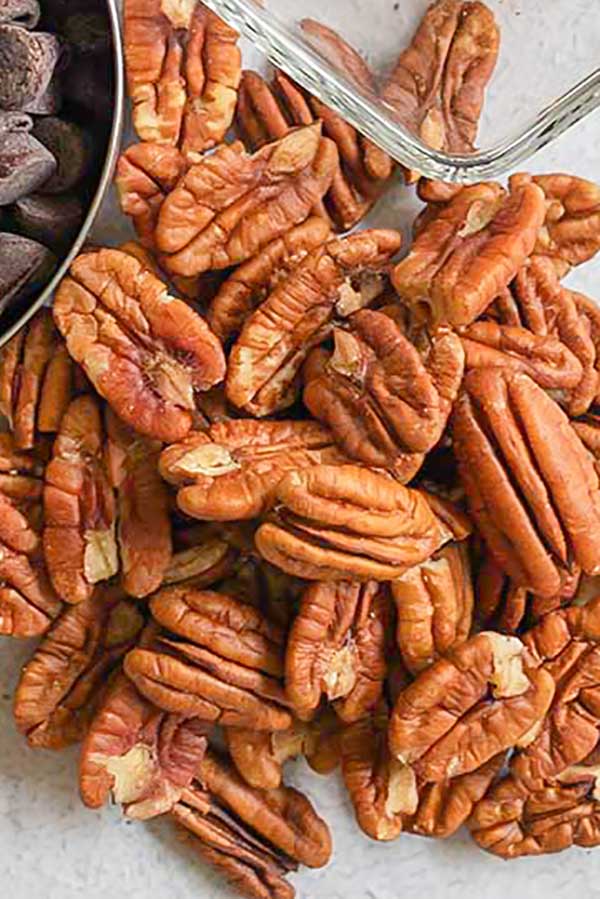 Why are pecans so good on a keto diet?
Pecans are nuts high in fat, fiber and protein content, and they're also an excellent source of magnesium, which helps support your immune system and bone health, and reduces inflammation. The only other nut that has fewer carbs are macadamia nuts.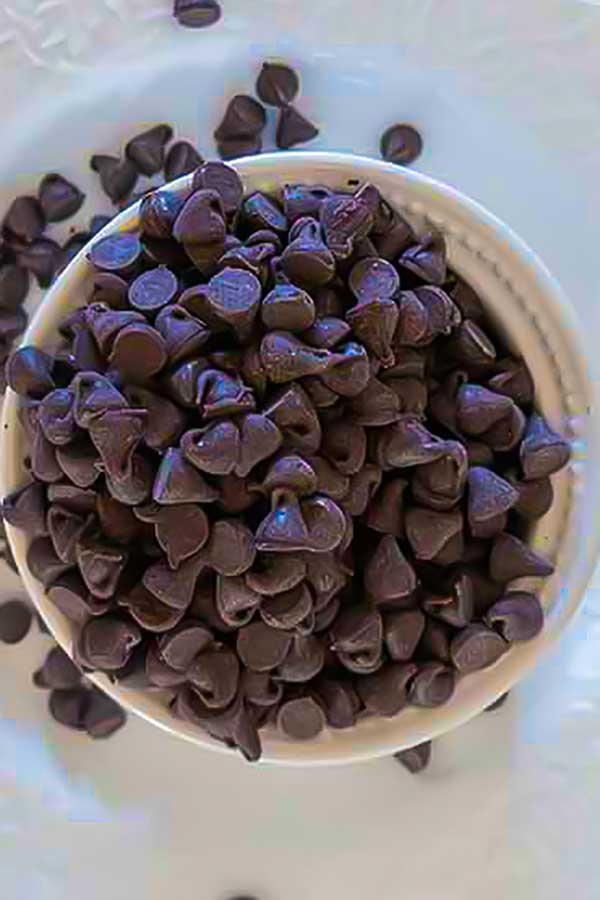 What are keto chocolate chips sweetened with?
Most sugar-free chocolate chips are sweetened with the natural sweetener, Stevia. Stevia is a sugar substitute made from the leaves of the stevia plant. It's about 100 to 300 times sweeter than granulated sugar and has zero carbs.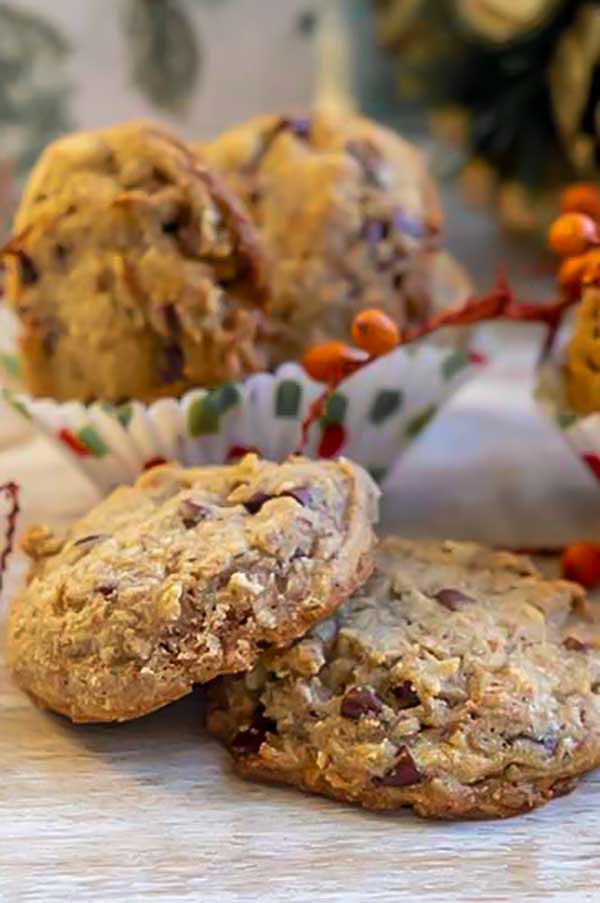 3 steps to best Keto Chocolate Chip Pecan Cookies
∼ Start with mixing the dry ingredients
∼ Next, cream the butter, sweetener and vanilla. Add the egg and continue mixing until creamy. For easy mixing, have the butter and egg at room temperature.
∼ Add dry ingredients to the butter mixture and stir in chocolate chips and pecans. Chill the dough. Chilling the dough is a must, or the cookies will become flat as a sheet. The coconut flour also needs time to absorb the liquids.
This keto chocolate chip pecan cookie is a straightforward recipe that takes only minutes to whip up. Once the dough has chilled, I use a small cookie scoop and drop the cookies on a baking sheet. Then, lightly flatten the cookies with your hand or back of a spoon and bake.
It is important to cool the cookies fully on the baking sheet. At least for an hour. If you like the cookies crispy around the edges, let the cookies rest for at least a couple of hours. If you want more of a softer cookie, you can enjoy them once they are fully cooled.
I hope you enjoy this keto chocolate chip cookie with pecans as a sweet treat or as a healthy keto grab-and-go snack. This keto cookie will give you lasting energy and is an excellent addition to keto-friendly recipes.
Best Keto Chocolate Chip Pecan Cookies
Published on Apr 06, 2022
by
Kristina Stosek
Instructions
1.

In a large bowl whisk almond flour, coconut flour, baking soda and xanthan gum

2.

In a separate bowl using an electric mixer cream together butter, erythritol and vanilla. Add the egg and mix until light and creamy

3.

Add the dry ingredients half at a time into the butter mixture and mix until smooth

4.

Stir in chocolate chips and pecans and cover with a plastic wrap. Refrigerate for 2 hours

5.

Preheat oven to 350 F and line a large baking sheet with parchment paper

6.

Using a small ice cream scoop or a tablespoon, divide dough into 24 cookies. Using your hands or back of a spoon slightly flatten the cookies

7.

Bake for 12 - 15 minutes until the edges start to golden. Remove from the oven and cool on the baking sheet

8.

Please note, these cookies take few hours to crisp up. I like to keep the cookies in the refrigerator once cooled