Gluten Free Cowboy Cookies
Published on Mar 19, 2023
by
Kristina Stosek
Prep Time:

10 minutes
Cook Time:

12 minutes
Serves:

20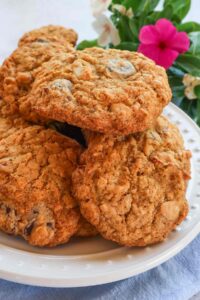 ​This post may contain affiliate links, please see our
privacy policy
for details
If you're tired of missing out on the delicious taste of homemade cookies because of your dietary restrictions, try these Gluten-Free Cowboy Cookies. These hearty cookies are packed with oats, nuts, coconut and chocolate chips and will satisfy your sweet tooth every time.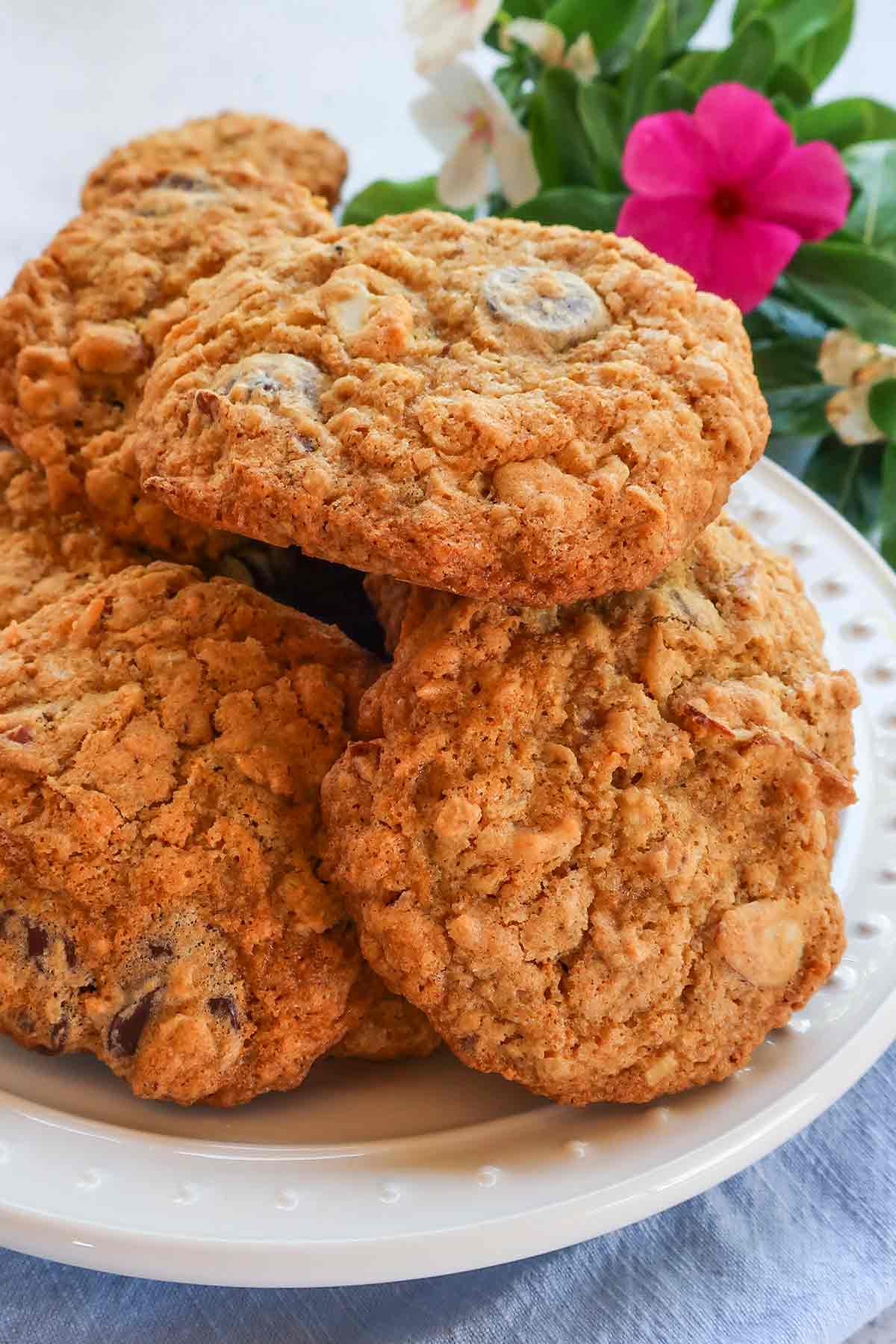 What does a gluten free cowboy cookie taste like?
Think of a collision of 4 cookies. Oatmeal cookie, chocolate chip cookie, our 4 ingredient coconut cookie and a cookie with nuts. As far as cookies go, this iconic cookie is on top of our list or cookie recipes.
What is a cowboy cookie?
A cowboy cookie is a type of cookie that is made with oats, coconut, chocolate chips, and pecans. It is a chewy cookie that takes minutes to whip up with basic cookie ingredients and mix-ins.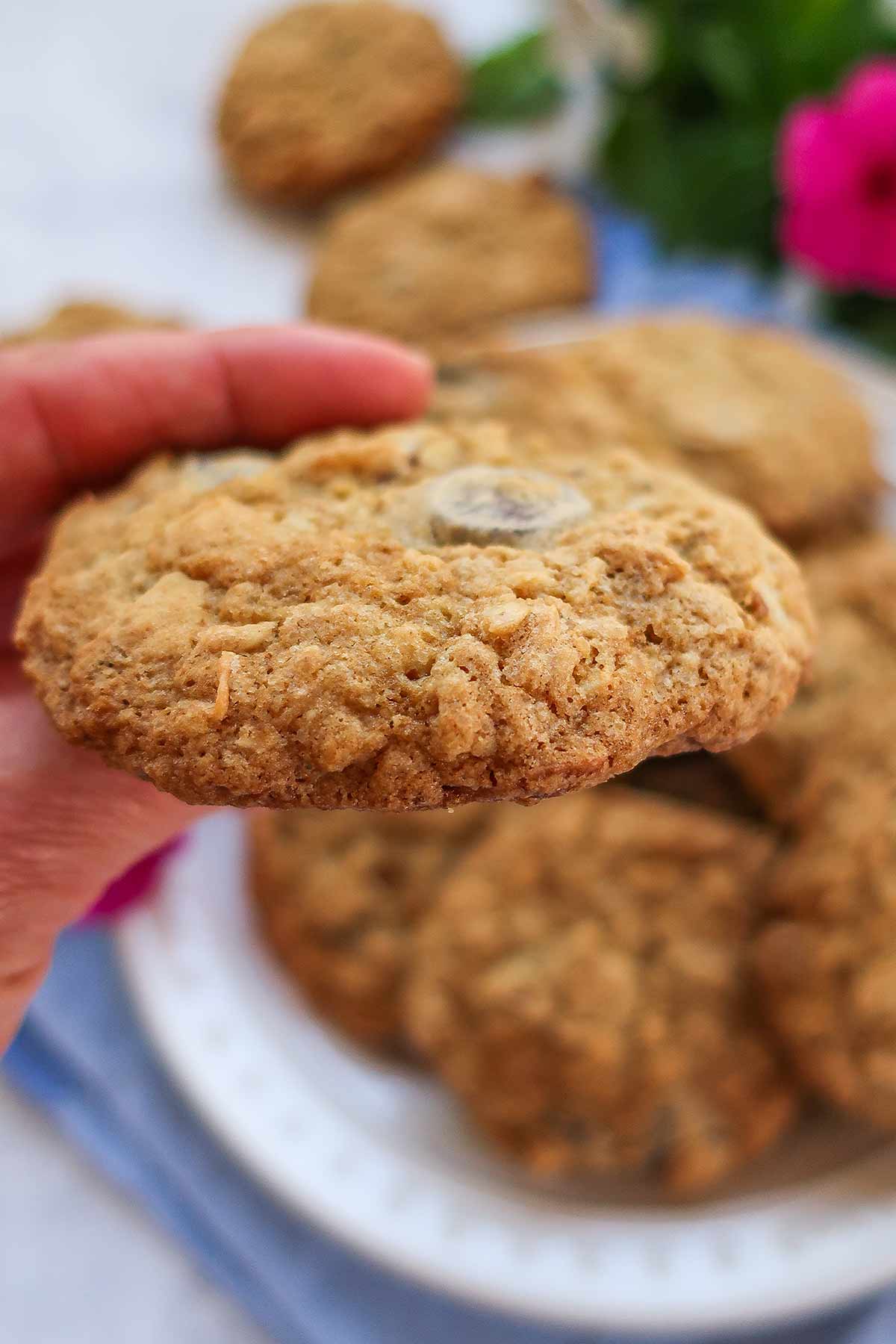 Is gluten free cowboy cookie healthy?
This gluten-free cowboy cookie is a delicious and healthier alternative to traditional gluten free sugar cookie. Here is why?
This gluten free cowboy cookie is made with certified gluten free oats. Oats have more protein than most gluten free grains. In addition, oats contain antioxidants, vitamins, minerals and soluble fiber.
Pecans are often used in this cookie recipe. As per Royalty Pecan Farms, pecans are a powerhouse of nutrients because they contain more than 19 vitamins and minerals – including vitamins A, E, folic acid, calcium, magnesium, phosphorus, potassium, several B vitamins and zinc.
If you prefer other tree nuts, you can use almonds or walnuts. As per the Harward School of Public Health, tree nuts, including almonds eaten twice or more weekly, were associated with a 13% lower risk of total cardiovascular disease and a 15% lower risk of coronary heart disease.
Unsweetened coconut is another healthy ingredient in these gluten free cowboy cookies. Coconut contains a good amount of fiber, potassium and iron. In addition, as per Healthline, coconut has powerful antibacterial properties and may support better blood sugar control.
And lastly, chocolate chips. Yes, there are some health benefits to chocolate chips. Harward Health says chocolate chips can be rich in antioxidant compounds linked to several health benefits for your heart, like lower cholesterol and blood pressure because cocoa reduces inflammation associated with heart disease.
So, is a gluten-free cowboy cookie healthy? The answer is yes. It is more nutritious than most classic cookies.
Gluten Free Cowboy Cookies Recipe Details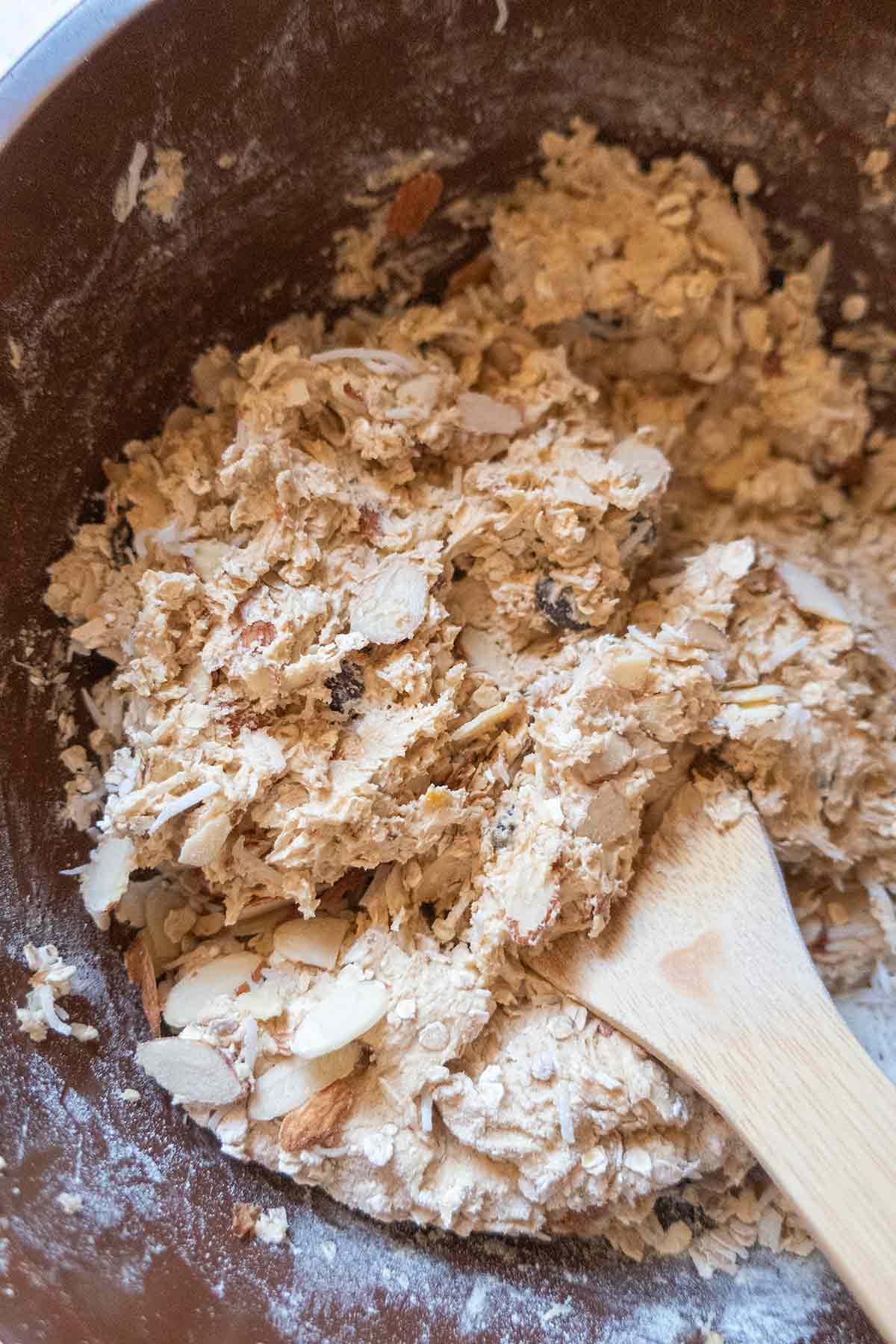 Cowboy cookie dough is made the same way as most cookie recipes. First, cream the butter with sugar, then add egg and vanilla. Next, stir in flour with baking soda and salt. These are basic steps for most gluten free cookie recipes.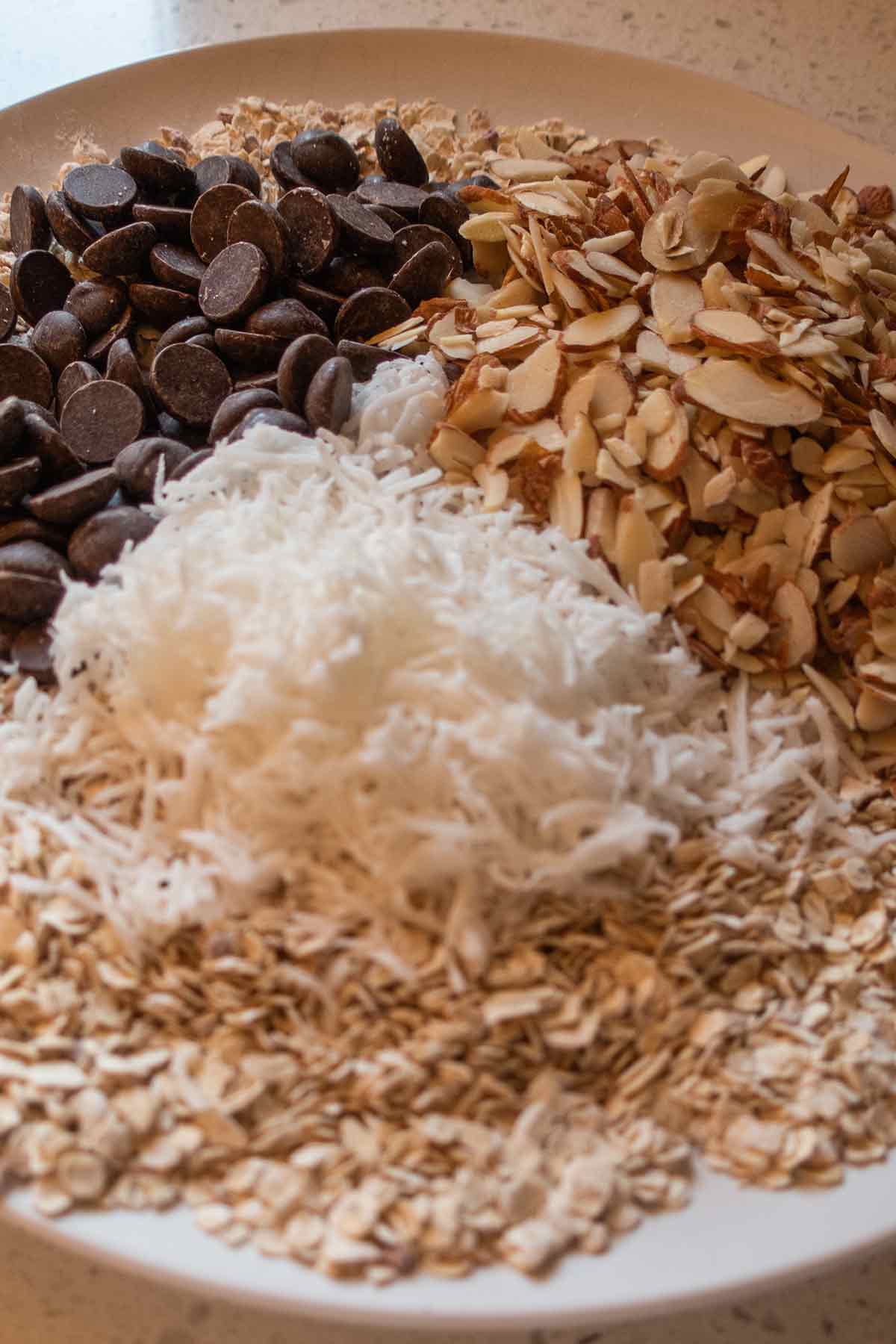 What sets this cowboy cookie apart from most is the addition of the mix-ins. Once you measure the oats, nuts, coconut and chocolate chips, fold them in the cookie dough. Done!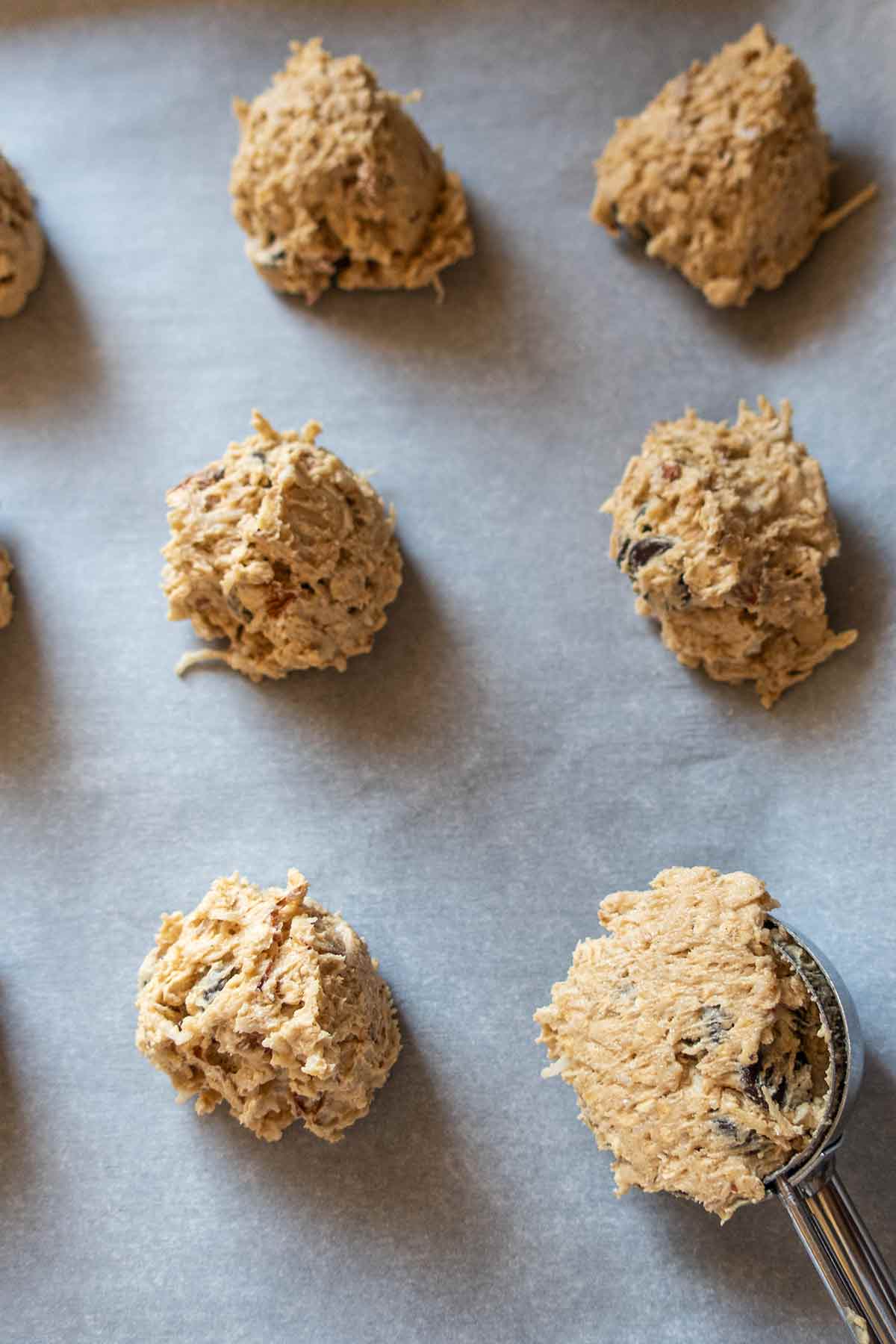 The next step is shaping the cookies. The easiest way to do this is by using a large cookie scoop. Drop the cookie dough on a large baking sheet lined with parchment paper 2 inches apart. The cookies will spread, so you need some space in between the cookies.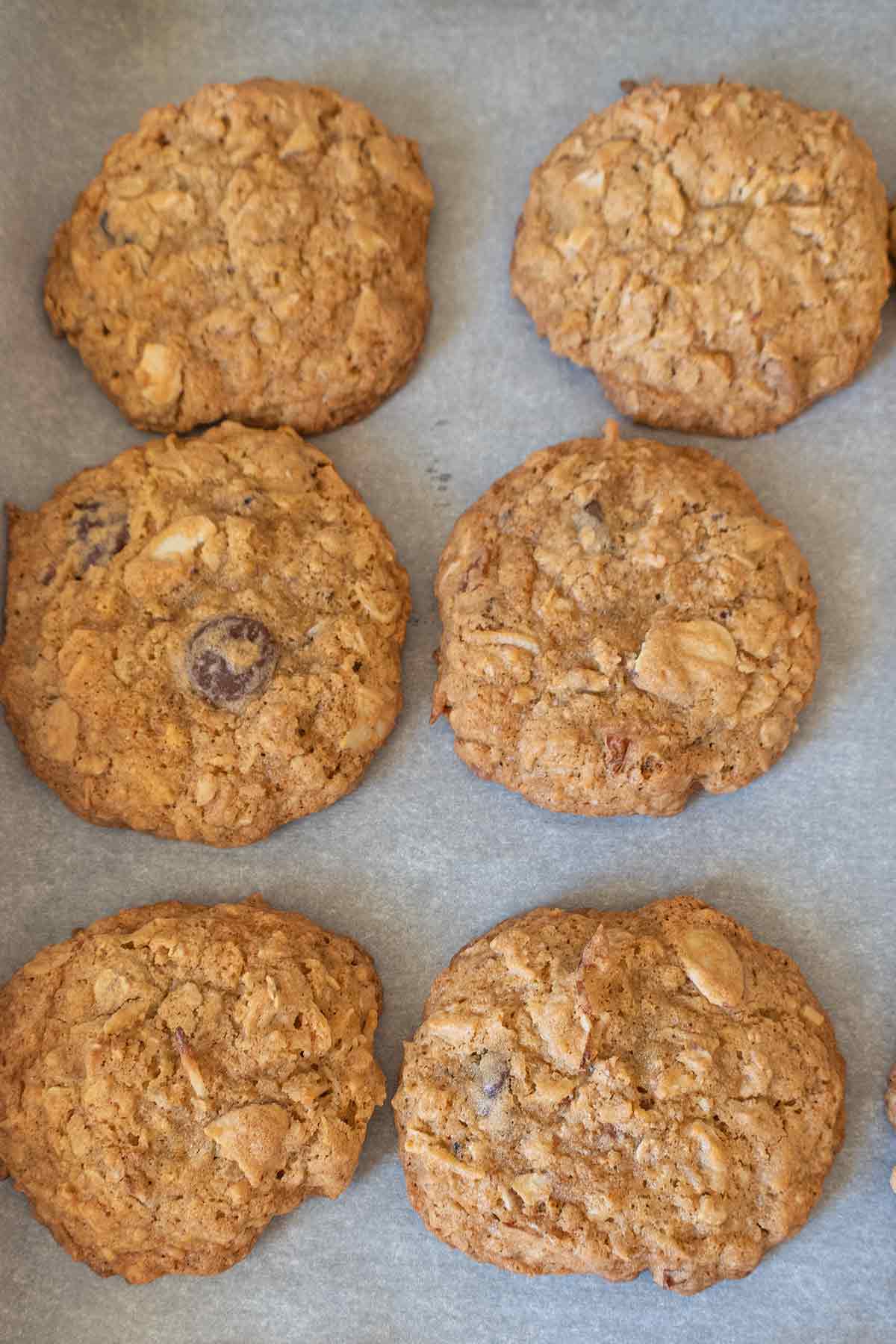 Do you need to chill gluten free cowboy cookies once they are shaped?
That is an excellent question! Here are 3 choices.
If you do not chill the cookies before baking, they will be flat and crispier.
If you chill them in the fridge for 15 minutes, the cookies won't spread as much.
Or, place them in the freezer for 15 minutes, and the cookies will be thicker and chewier. The cookies you see in this post were placed in the freezer. The freezer version has the best texture. They're crispy on the outside and chewy on the inside.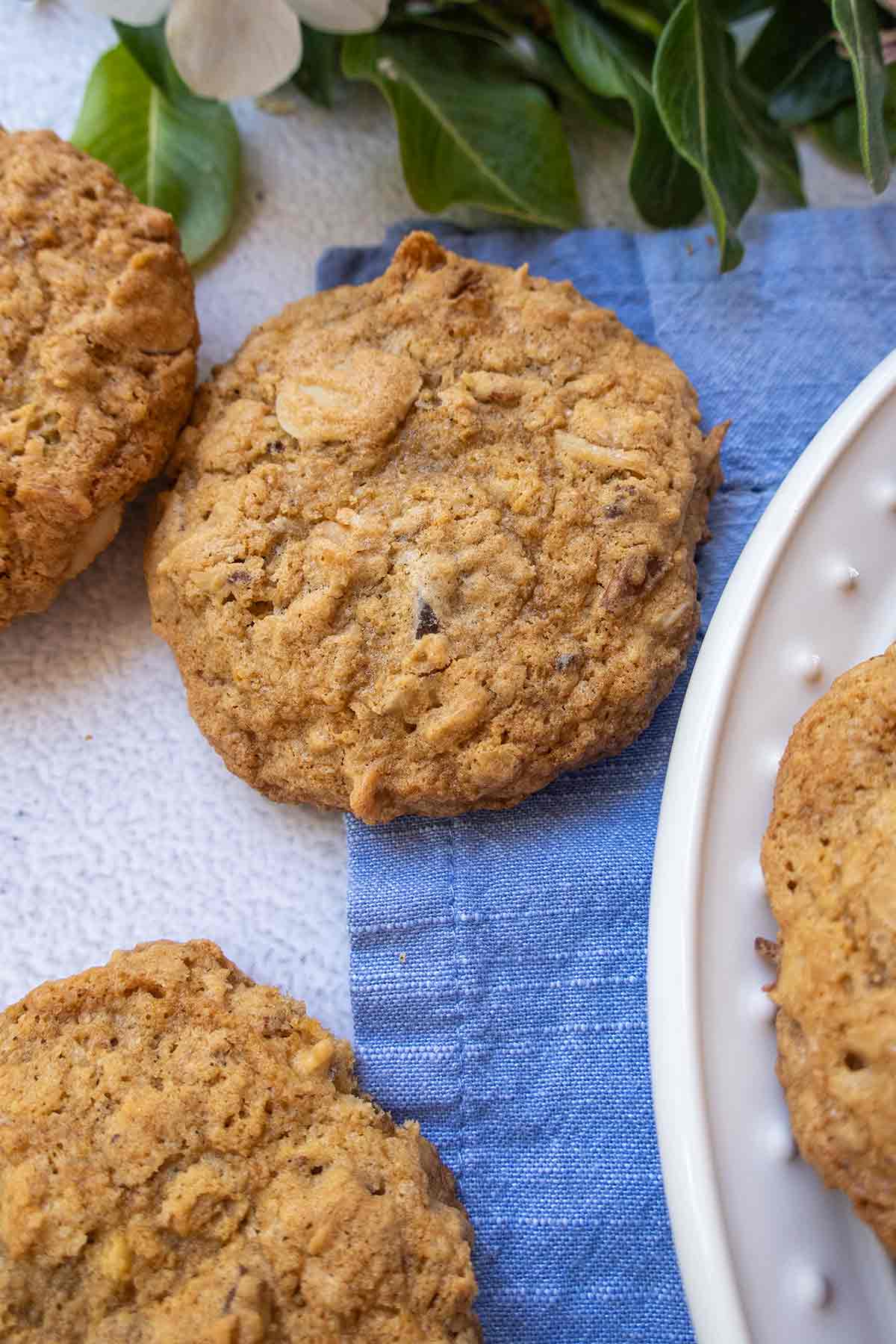 Equipment needed to make cowboy cookies.
Stand mixer or hand-held electric mixer
2 bowls
Measuring cups and spoons
Spatula and wooden spoon
Large cookie scoop or a tablespoon
Baking sheet
Parchment paper
storing and freezing
Here are a few tips if you're looking for an easy way to store and freeze your gluten free cowboy cookies. First, store your cookies at room temperature in a closed container, such as a cookie jar. This will help to keep them fresh and prevent them from drying out.
Or, you can freeze your cookies using a freezer bag for up to 3 months. Just be sure to thaw them overnight before serving.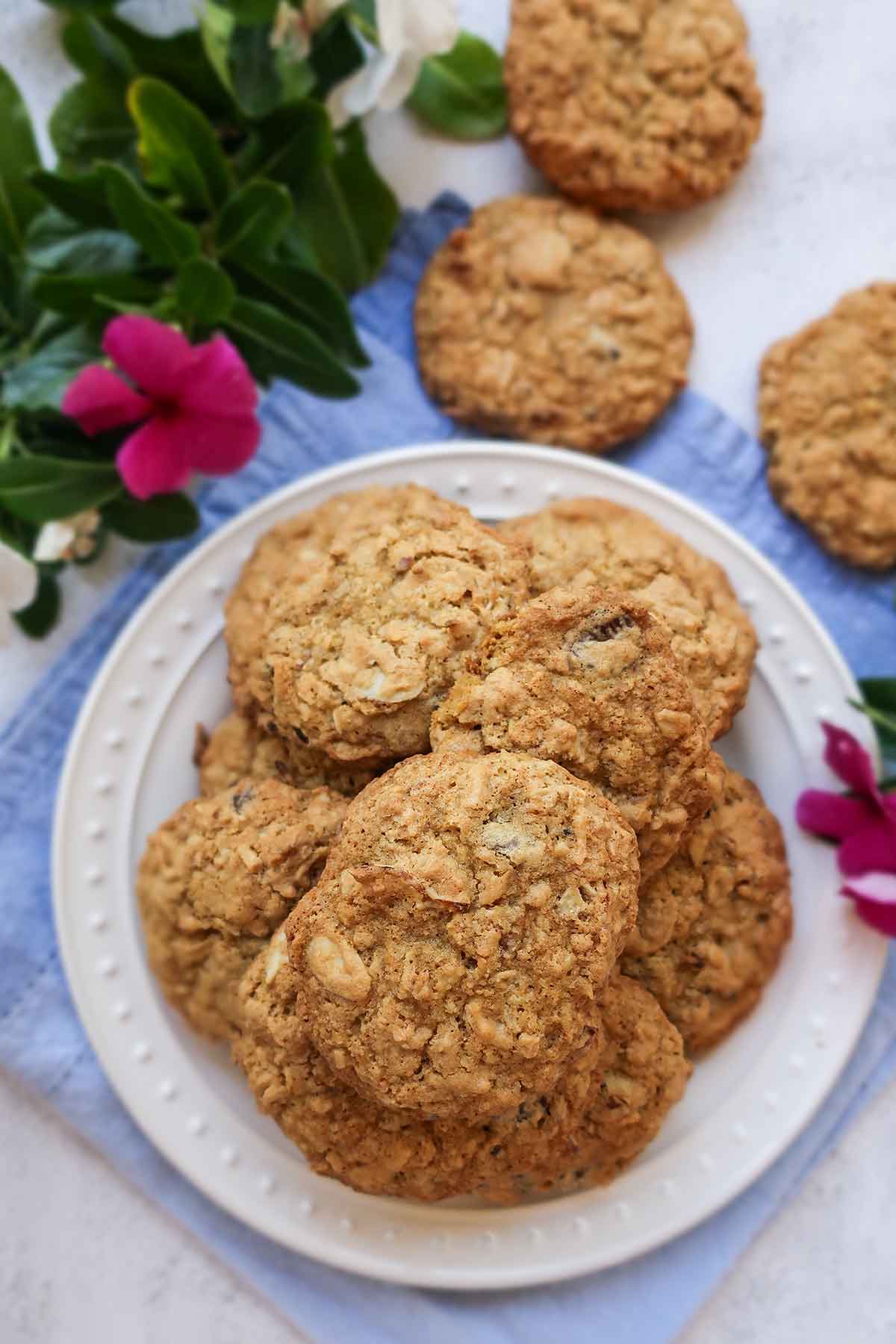 Summary
Finding a gluten free cookie recipe like the cowboy cookies is a treat. Add them to your kid's lunch box, or enjoy them with coffee or afternoon tea.
And if you are thinking of a power bar, this cookie is an excellent substitution. This gluten free cookie is one of those sweet treats you don't have to feel guilty about eating because you know you are getting some health benefits.
Gluten Free Cowboy Cookies
Published on Mar 19, 2023
by
Kristina Stosek
Instructions
1.

In a small bowl, whisk flour, baking soda and salt

2.

Cream butter and coconut sugar in a large bowl using an electric mixer. Add vanilla and egg and mix to combine

3.

Gradually add the flour mixture and mix until combined

4.

Using a wooden spoon, fold in oats, chocolate chips, pecans/almonds and shredded coconut

5.

Using a cookie scoop, drop cookie dough onto a large baking sheet lined with parchment paper about 2 inches apart. Place the baking sheet in the freezer for 15 minutes.

6.

Bake cookies in a preheated oven at 375 F for 12 - 15 minutes or until golden brown around the edges

7.

Cool cookies on the baking sheet for 5 minutes, then transfer them to a cooling rack to cool completely.
Leave a Comment
Delicious! Can't tell they are GF at all. I added nutmeg and cinnamon. Delicious! Would add more nuts next time, maybe almonds and walnuts. Will make these again for sure.