Grain-Free Walnut Coconut Chocolate Cookies
Published on Apr 07, 2014
by
Kristina Stosek
Prep Time:

15 minutes
Cook Time:

18 minutes
Serves:

12 cookies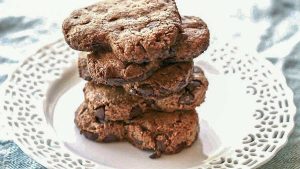 ​This post may contain affiliate links, please see our
privacy policy
for details
Sometimes I find a recipe that will forever change the way we look at food. Well, this Grain-Free Walnut Coconut Chocolate Cookie is one of those recipes. The first time I made them, I could not stop eating them. It was all about the texture, crunch from walnuts, softness from coconut, and richness from the chocolate that made these grain-free cookies outstanding!
The best part? You can eat them guilt-free because the ingredient list is healthy, naturally gluten-free, and the cookies are pretty simple to make!
grain-free, great tasting cookies…
This healthier cookie recipe has only seven ingredients. Walnuts, buckwheat flour, pure maple syrup, unsweetened shredded coconut, chocolate chips, pure vanilla extract and a pinch of sea salt. A very simple list of ingredients.
These grain-free cookies are a bit chewy with a slight crunch! The addition of pure maple syrup gives the cookie a subtle sweetness that balances out the chocolate and coconut. And, as if all that goodness weren't enough, this recipe doesn't contain added grains or fat (unless you count the healthy fat from the nuts and seeds)!
The perfect blend of ingredients with no butter, oil, or grains proves that cookies don't have to be unhealthy. This grain-free cookie recipe doesn't rely on any special ingredients, just the natural goodness of nuts, seeds, and shredded coconut. And the recipe is super easy to make.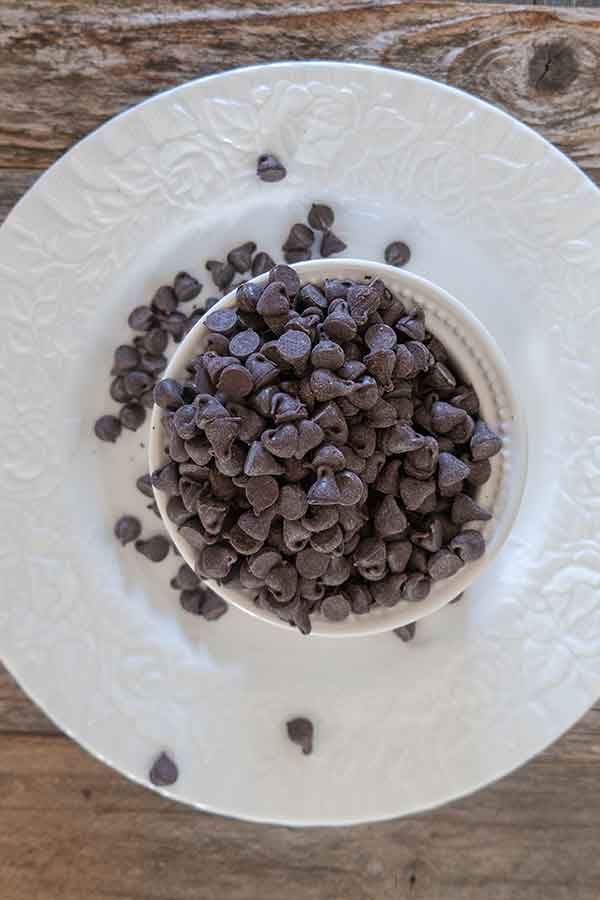 delicious, easy to make and rich in nutrients…
Let's face it. We all enjoy a treat occasionally. If you currently follow a grain-free diet, you are probably eating healthier than most people. Sometimes, it is hard to fight off the temptation of sweet butter cookies because they are satisfying, comforting and often include chocolate!
This naturally gluten-free cookie recipe is grain-free with no added fats and will give you the burst of energy you need before or after a workout. One of the ingredients is buckwheat flour. Buckwheat, a superfood, is not a grain. It is a seed rich in vitamins and minerals.
I like this recipe not only because it is grain-free, but these nutrient-dense cookies are also guilt-free. They taste like a sweet treat without saturated fats and refined sugars! And, since the cookies are full of wholesome ingredients, you can feel good about eating them because they include walnuts, buckwheat, coconut and dark chocolate.
This delicious treat is a good source of protein and energy. The gluten-free cookies are super yummy and will get you going in the morning or anytime you crave something sweet and energizing. However if you are ready to indulge in classic chocolate chip cookies, check out our best gluten-free chocolate chip cookie recipe.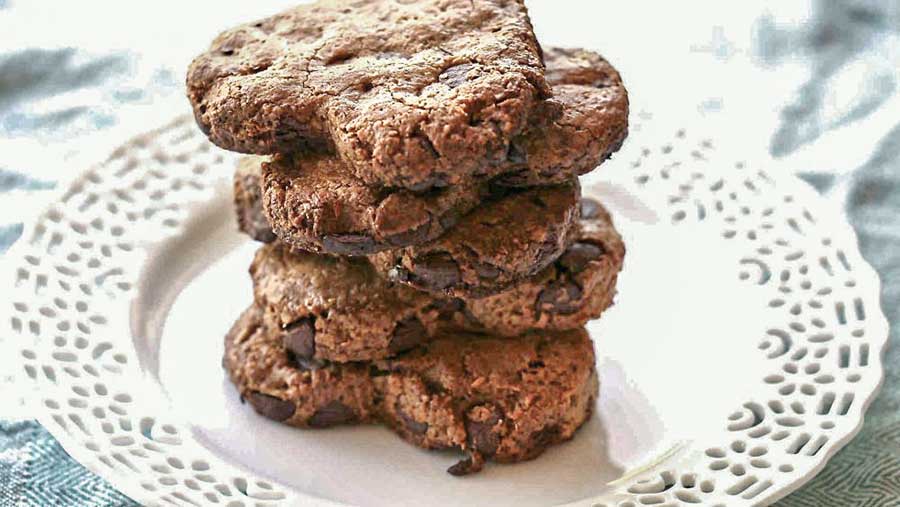 naturally gluten-free…
As the name suggests, these cookies don't have any grains at all! So, they're naturally gluten-free. Chewy, delicious, naturally-gluten-free, healthy cookies – what could be better? Yes, you read that right!
Gluten-free cookies are possible without all the added refined flour and sugar. These Grain-Free Walnut Coconut Chocolate Cookies will satisfy anyone's sweet cravings without sending their blood sugar on a roller coaster ride.
This mouthwatering healthy gluten-free recipe for walnut coconut chocolate cookies is full of heart-healthy fats and other nutrients that are known to promote good health. With ingredients like walnuts and dark chocolate, you can feel good about indulging in this guilt-free cookie. Your friends and family are going to love them so make plenty.
Grain-Free Walnut Coconut Chocolate Cookies
Published on Apr 07, 2014
by
Kristina Stosek
Instructions
1.

2.

Add walnuts, buckwheat and salt into food processor and process until grainy. Add in maple syrup and vanilla and pulse for one more minute

3.

Transfer mix into a bowl, add chocolate chips and coconut. Mix until a dough forms. Place dough in-between two sheets of parchment paper and roll into about 3/4-inch thickness

4.

Cut out with your favourite cookie cutter and place on a baking sheet lined with parchment paper. Bake for 15 -18 minutes. Cool on a cooling rack