Baked Stuffed Chard Rolls
Published on Jan 27, 2020
by
Kristina Stosek
Prep Time:

20 minutes
Cook Time:

75 minutes
Serves:

4 - 6
​This post may contain affiliate links, please see our
privacy policy
for details
Meet your ultimate beautifully green Baked Stuffed Chard Rolls. I am super excited about these healthy chard rolls. The filling is made with lean ground beef, potatoes, onions, plenty of seasoning and green peas.
What is chard?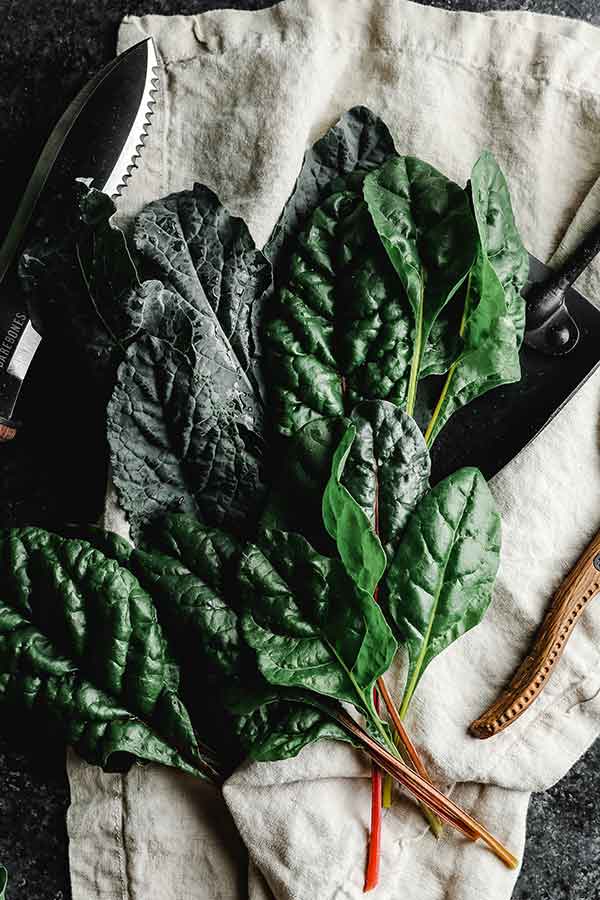 Chard or sometimes called Swiss chard is a dark green leafy vegetable. The dark green leaves of chard are wider and flatter, making them an excellent choice for rolls.
The filling used in the rolls is moist, flavourful, grain-free, egg-free, and made with half the meat you traditionally use in Authentic Hungarian Cabbage Rolls.
The naturally gluten-free chard rolls paired with a light broth allow you to enjoy the tasty chard and the spiced filling. In this recipe, there is no heavy tomato sauce as not to overpower the flavours of the deliciously flavoured rolls.
The fresh ingredients added so much goodness to these rolls.
Is chard healthy?
First, let me start with, chard a simple word for Swiss chard, a nutritional powerhouse! Just one cup provides over three times the recommended daily allowance of vitamin K. Vitamin K plays a vital role in coagulation, better known as blood clotting.
Chard is a native to regions in the Mediterranean, where it's still a very popular vegetable today. This nutrient-dense vegetable is packed with antioxidants and phytonutrients, which fight free radical damage, inflammation and disease development.
Based on these facts, including Swiss chard in our diet is very beneficial for our body.
Are stuffed chard rolls hard to make?
You know, I used to think that anything stuffed, especially in green leaves, is way too much work. But on the contrary, these beautiful rolls are super easy to make.
You don't have to boil the leaves first to soften them, and you don't have to sauté the onions and garlic before mixing it with the filling.
Even the potatoes don't have to be cooked first. For the chard to be able to roll the leaves, they have to be softened. To do this is simple. Bring a pot of water to boil, then remove the water from the heat and immerse the leaves for 15 minutes.
That is it – no blanching, no cooling, just leave them in the water. Now that the leaves are softened, you make the filling. Again, simple, straightforward. Just mix the filling ingredients.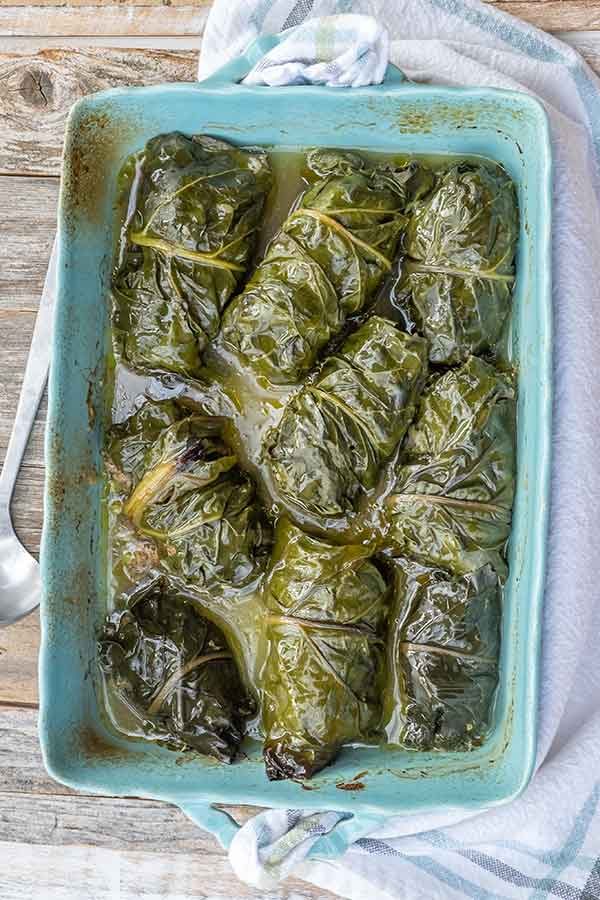 assembling the chard rolls
To make the rolls, place a scoop of filling in the center of the leaf, then fold the sides over the filling and roll. That is it 🙂
Place the rolls in a deep baking dish and drizzle with a chicken or beef broth mixed with a scoop of tapioca flour. Cover and bake and eat!
Now, the question that comes to mind is, what do you serve these amazing stuffed chard rolls with? For me, I like to add a scoop of yogurt because that is all they need.
My family likes to add rice, mashed potatoes, or just a slice of delicious gluten-free crusty French baguette. I love this healthy gluten-free dinner recipe because you can make it in advance and reheat it when you are ready. And, they taste even better the next day!
Let's Connect!
Be sure to FOLLOW US on FACEBOOK and PINTEREST.
Many thanks!
Kristina xx
Baked Stuffed Chard Rolls
Published on Jan 27, 2020
by
Kristina Stosek
Instructions
1.

Bring a large pot of water to a boil. Remove from the heat and immerse the chard leaves in the water. Cover and set aside for 15 minutes. After 15 minutes, remove leaves from the water and place them on a dry towel. Now the leaves are soft enough so that you can roll them

2.

Using a large blade on a box grater, grate the potatoes and the onion. (Ultimately you can use a food processor and process until diced into small pieces)

3.

In a large bowl, mix potatoes, onions, garlic, ground beef and spices. Add peas and gently stir to combine

4.

Cut off the thick stems of chard leaves and lay the leaves on a flat surface. Place 2 tablespoons of filling in the center of each leaf, fold the sides over the filling and roll them. Place rolls in a large deep baking dish with the seam side down and continue with remaining leaves.

5.

Whisk together broth with tapioca flour and pour over the rolls. Cover the pan with foil and bake in a preheated oven at 375 F for 75 minutes. Enjoy
Leave a Comment
Kristina
I used chorizo sausage meat, it turned out unbelievably delicious. Thank you for this recipe, you made my life so much better since I started using your recipes!
Kristina
yes Teresa, you can use either.
Do you think chicken or turkey could be used?