Palak Paneer Recipe | Indian Cheese & Spinach Curry
RECIPE BY ANDREIA MACHADO
It is my pleasure to introduce professional chef Andreia Machado as our guest blogger. Her career includes working at the Bulgari Hotel in Milan and the Gordon Ramsay Group in London.
Palak paneer recipe, an Indian curry with soft cubes of cheese simmered in a mildly spiced spinach gravy. All of the spinach benefits in an easy to make and absolutely delicious Indian curry.
It is one of my favourite Indian dishes, I've tried many alternatives some with cashew nuts or even with coconut milk but this is my favourite recipe. This is a gluten-free recipe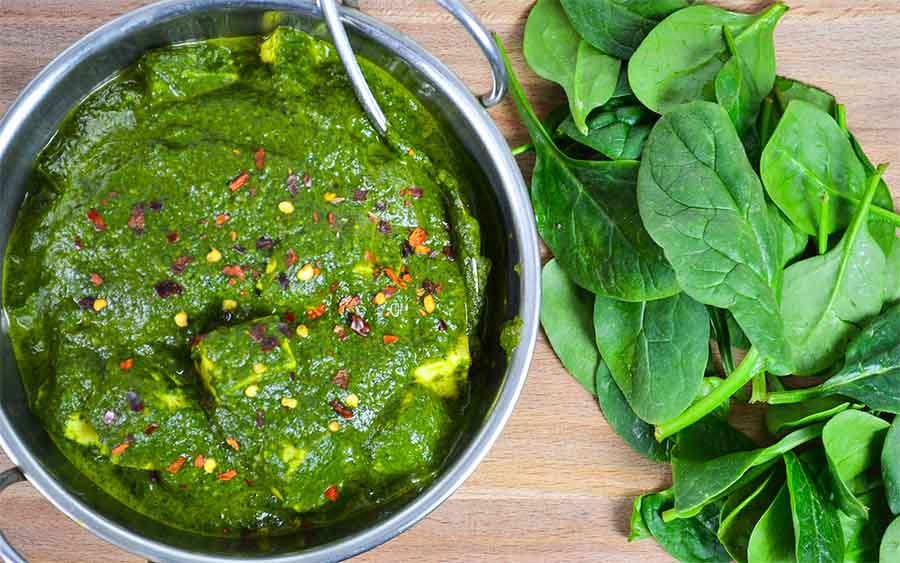 Palak Paneer Recipe | Indian Cheese & Spinach Curry
YIELDS
2 Servings | Prep time: 10 mins | Cook Time: 40 mins | Total time: 50 mins
Ingredients:
250 g Spinach leaves
220 g Paneer in cubes
2 Tomatoes diced
1 Onion chopped
3 Garlic cloves chopped
1 Green chillies chopped
½ Inch Ginger
20 ml Fresh cream
2 tbsp Rapeseed oil
1 tsp Cumin seeds
¼ tsp Turmeric Powder
½ tsp Red chilli powder
1 tsp Cumin Powder
1 tsp Coriander Powder
½ tsp Garam masala powder
Chilli flakes to garnish
Salt to taste
Directions:
Bring a saucepan with water to boil and blanch the spinach for 1 minute, drain and cool down in ice water. This will keep the bright green colour on the spinach.
Heat up 1tbsp of oil in a pan, when hot add the cumin seeds they should sizzle immediately, add the onion, garlic, ginger and chillies, cook on medium flame until onion gets golden brown. Add the chopped tomatoes and cook until soft, turn off the flame and let it cool down.
Blend this mixture together with the blanched spinach, you can add a touch of water if required to get a thick and smooth paste.
Heat up 1 tbsp of oil in a pan, add the turmeric, red chilli powder, cumin and coriander and fry for some seconds until spices release their aroma, add the spinach paste cook for 2 minutes on medium-high flame, then add water and cook for 5 minutes more.
Add the paneer to the gravy, mix well to coat the cheese cook for 5 minutes, then add the garam masala and the fresh cream, stir and cook on low flame for 2 minutes, then garnish it with chilli flakes and serve with hot naan or roti.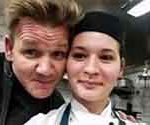 About Andreia Machado
My name is Andreia Machado author of DONTASK4SALT blog, I am a professional chef working in London. I developed my career working at the Bulgari Hotel in Milan and the Gordon Ramsay Group in London.
I am passionate about vegetarian Indian cuisine that I've learned from scratch and all of my favourite recipes will be displayed on this food blog.
I will also post about my quest to find good vegetarian food in the London restaurants and write reviews with my personal opinion of the restaurants who deserve a comment.