Gluten-Free Baked Yam Falafel
Prep Time
15 Minutes
Difficulty
Easy
Cook Time
20 + Minutes
Serves
16 balls
Average Rating: 5 | Rated By: 8 users
Middle Eastern Gluten-Free Baked Yam Falafel packed with flavour and warm spices. This is a protein-packed vegan falafel made with yams, chickpeas, plenty of herbs and spices, lemon juice and sesame seeds.
Traditionally falafel is made from uncooked ground chickpeas or fava beans and then deep fried. To keep this falafel recipe healthier, this delicious gluten-free vegan snack is baked, cutting back on unwanted fats. In this recipe, I added yams and sesame seeds, keeping the falafel light and nutritious.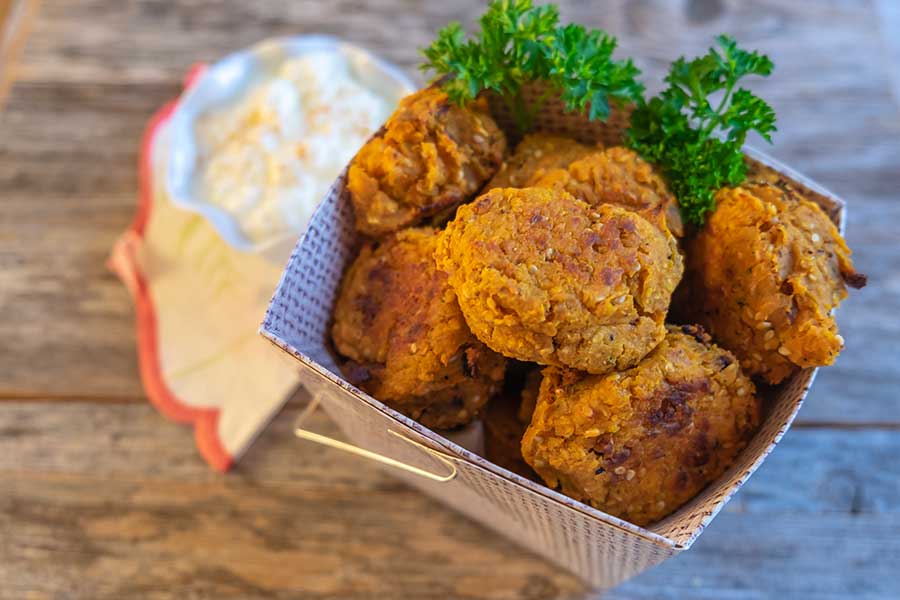 With so many little flavour nuances and the comfort of chickpeas and yams, these falafels are super flavourful! 
Are falafels healthy?
In this recipe, I used chickpeas, adding fiber and protein. Chickpeas are also a good source of essential vitamins and minerals.
For the yams, they are packed with vitamin C, potassium, B complex vitamins and betacarotene. And sesame seeds will add iron to the mix.  All in all, this is a nutritionally packed snack.
I like to serve falafel as a healthy snack with yogurt because they are super filling and keep you energized for hours.
If you are following a gluten-free, plant-based diet, freshly made falafel is an excellent choice for a savoury gluten-free snack.
What is falafel, and is it gluten-free?
Falafel is usually a deep fried ball, or sometimes a patty made with chickpeas, also called garbanzo beans, sometimes fava beans or a combination of both.
The use of chickpeas is mostly used in Middle Eastern countries, such as Syria and Jordan.
The combination of chickpeas and fava beans or just fava beans is believed to originate from Egypt. Falafel is the ultimate Israeli street food, served in warm pitta shells with various toppings, like tomatoes, tahini sauce, pickled turnip, chopped peppers, cucumber or humus.
For the question, is falafel gluten-free? The answer is, not always. The reason is that falafel is often made with wheat flour. So be cautious when eating falafels in restaurants or from street vendors.
Ingredients
I cup cooked mashed yam, (about 1 medium yam)
1 (14 oz.) can chickpeas, rinsed and drained well
3 garlic cloves, grated or minced
3 Tbsp. Fresh lemon juice
2 Tbsp. Chopped fresh cilantro
1 Tbsp. Extra virgin olive oil plus some for brushing
1 1/2 tsp. GF ground coriander
1 tsp. GF ground cumin
Pinch of GF cayenne pepper (optional)
1 tsp. Himalayan fine salt
2 Tbsp. Gluten-free all-purpose flour blend
1 tsp. GF aluminum-free baking powder
2 Tbsp. Sesame seeds
*As an Amazon Associate and member of other affiliate programs, I earn from qualifying purchases. Please check out my sponsorship and disclosure policy page for more details
Instructions
To cook the yam, line a baking pan with foil. Wash and pierce the yam. Bake at 400 F for approximately 1 hour or until tender. Cool, peel and mash with a fork
Add chickpeas, garlic, lemon juice, cilantro, olive oil, spices and salt to a food processor. Pulse until mashed but not pureed
Transfer mixture into a bowl. Add mashed yam, flour and baking powder. Stir to combine. Cover the bowl and refrigerate for a minimum of 2 hours or overnight
Remove from the refrigerator and stir in sesame seeds. Using a cookie scoop or a tablespoon form into small balls about the size of walnuts, and place on a lightly oiled baking sheet. Lightly brush falafels with olive oil and bake at 375 F for 20 minutes turning halfway through
Similar Recipes
Broccoli and Chickpea Quinoa Salad
This broccoli and chickpea quinoa salad is a healthy and filling meal that is perfect for any time of day. It is packed with nutrients and flavor, leaving you feeling satisfied and energized. This quinoa salad is also plant-based and gluten-free, making it a great option for those with dietary restrictions. Why add quinoa to […] Read More
Prep Time
15 Minutes
Difficulty
Easy
Cook Time
10 Minutes
Serves
4
Baked Buffalo Cauliflower Tidbits – Gluten Free
Buffalo Cauliflower Tidbits coated in a light batter, baked and then tossed in spicy buffalo sauce. This gluten-free healthy cauliflower snack makes a tasty appetizer and is always a big hit at sports events. buffalo cauliflower tidbits made with only 7 ingredients… I love this vegan, gluten-free snack. There is no need for frying, no […] Read More
Prep Time
20 Minutes
Difficulty
Easy
Cook Time
35 Minutes
Serves
6
Baked Yams Stuffed with Roasted Spiced Veggies
Baked Yams Stuffed with Roasted Spiced veggies is a vegetarian forward recipe with blended flavours, nutritionally packed and super easy to make. Keep it simple tonight with this hearty vegan baked yam dish. baked stuffed yams – the details… The delicious yams are first baked, then the yams are filled with roasted veggies such as […] Read More
Prep Time
15 Minutes
Difficulty
Easy
Cook Time
60 Minutes
Serves
2 - 4