Gluten-Free Baked Yam Falafel
Published on Jan 17, 2020
by
Kristina Stosek
Prep Time:

15 minutes
Cook Time:

20+ minutes
Serves:

16 balls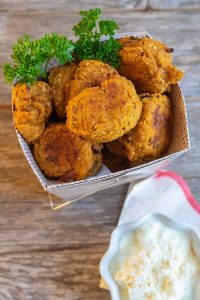 ​This post may contain affiliate links, please see our
privacy policy
for details
Middle Eastern Gluten-Free Baked Yam Falafel packed with flavour and warm spices. This is a protein-packed vegan falafel made with yams, chickpeas, plenty of herbs and spices, lemon juice and sesame seeds.
Traditionally falafel is made from uncooked ground chickpeas or fava beans and then deep fried. To keep this falafel recipe healthier, this delicious gluten-free vegan snack is baked, cutting back on unwanted fats. In this recipe, I added yams and sesame seeds, keeping the falafel light and nutritious.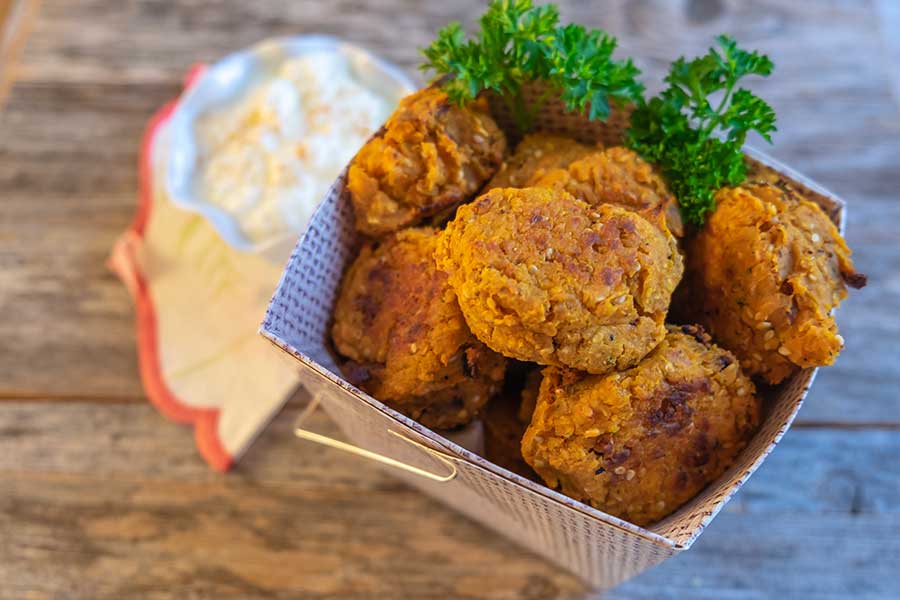 With so many little flavour nuances and the comfort of chickpeas and yams, these falafels are super flavourful!
Are falafels healthy?
In this recipe, I used chickpeas, adding fiber and protein. Chickpeas are also a good source of essential vitamins and minerals.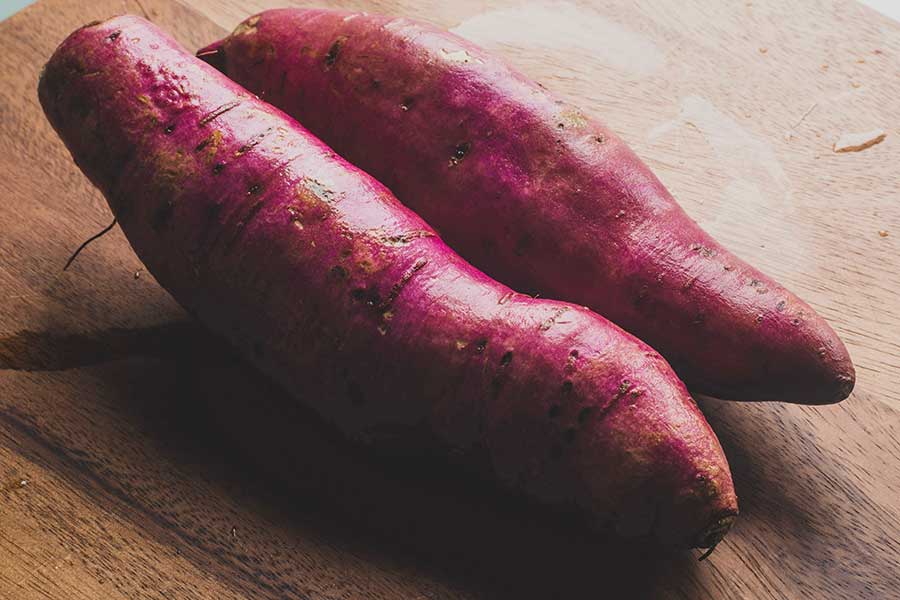 For the yams, they are packed with vitamin C, potassium, B complex vitamins and betacarotene. And sesame seeds will add iron to the mix. All in all, this is a nutritionally packed snack.
I like to serve falafel as a healthy snack with yogurt because they are super filling and keep you energized for hours.
If you are following a gluten-free, plant-based diet, freshly made falafel is an excellent choice for a savoury gluten-free snack. Or, you can try our very best gluten free vegetable pakora.
What is falafel, and is it gluten-free?
Falafel is usually a deep fried ball, or sometimes a patty made with chickpeas, also called garbanzo beans, sometimes fava beans or a combination of both.
The use of chickpeas is mostly used in Middle Eastern countries, such as Syria and Jordan.
The combination of chickpeas and fava beans or just fava beans is believed to originate from Egypt. Falafel is the ultimate Israeli street food, served in warm pitta shells with various toppings, like tomatoes, tahini sauce, pickled turnip, chopped peppers, cucumber or humus.
For the question, is falafel gluten-free? The answer is, not always. The reason is that falafel is often made with wheat flour. So be cautious when eating falafels in restaurants or from street vendors.
Gluten-Free Baked Yam Falafel
Published on Jan 17, 2020
by
Kristina Stosek
Instructions
1.

To cook the yam, line a baking pan with foil. Wash and pierce the yam. Bake at 400 F for approximately 1 hour or until tender. Cool, peel and mash with a fork

2.

Add chickpeas, garlic, lemon juice, cilantro, olive oil, spices and salt to a food processor. Pulse until mashed but not pureed

3.

Transfer mixture into a bowl. Add mashed yam, flour and baking powder. Stir to combine. Cover the bowl and refrigerate for a minimum of 2 hours or overnight

4.

Remove from the refrigerator and stir in sesame seeds. Using a cookie scoop or a tablespoon form into small balls about the size of walnuts, and place on a lightly oiled baking sheet. Lightly brush falafels with olive oil and bake at 375 F for 20 minutes turning halfway through
Leave a Comment
this is probably the best falafel I have ever made!