Instant Pot Beef And Lentil Soup
Published on Nov 19, 2020
by
Kristina Stosek
Prep Time:

10 minutes
Cook Time:

20 minutes
Serves:

6 - 8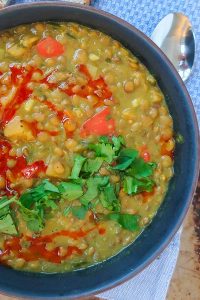 ​This post may contain affiliate links, please see our
privacy policy
for details
Mildly spiced Beef And Lentil Soup, with rich beef flavour and veggies such as carrots, celery, turnip and bell peppers. The thick and creamy soup is curry flavoured, with a hint of cinnamon and creaminess from coconut milk.
I like to serve this beef and lentil soup drizzled with hot chilli oil and a sprinkle of fresh herbs— this is an ideal hearty dish for rainy nights at home.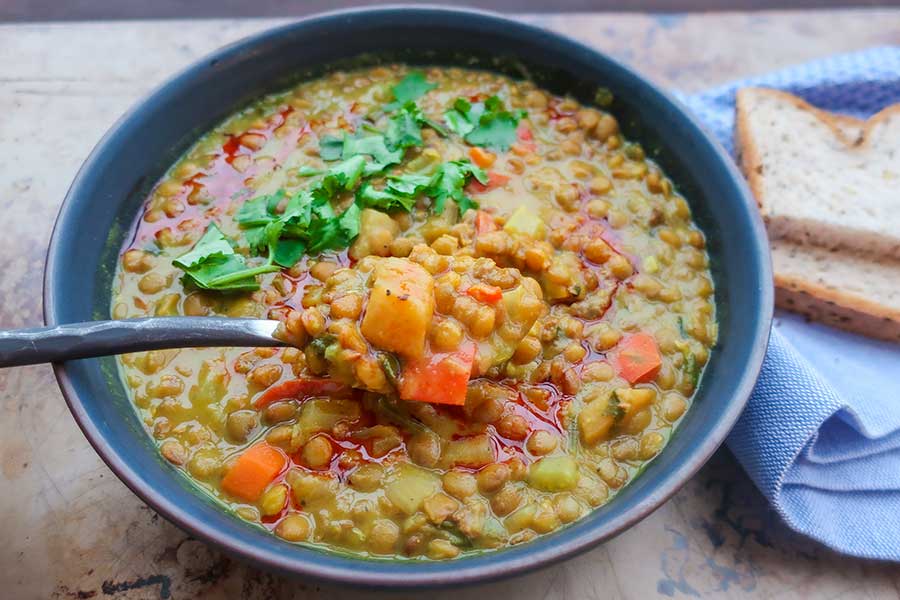 Beef And Lentil Soup under 30 minutes
Beef and lentil soup for nights when you crave comfort food and have very little time or energy to make a homemade warm, hearty meal.
This soup is probably one of the easiest Instant Pot meals because it requires very little work. You will need thirty minutes from start to finish for the most flavourful full of healthy nutrients, Beefy Lentil Soup.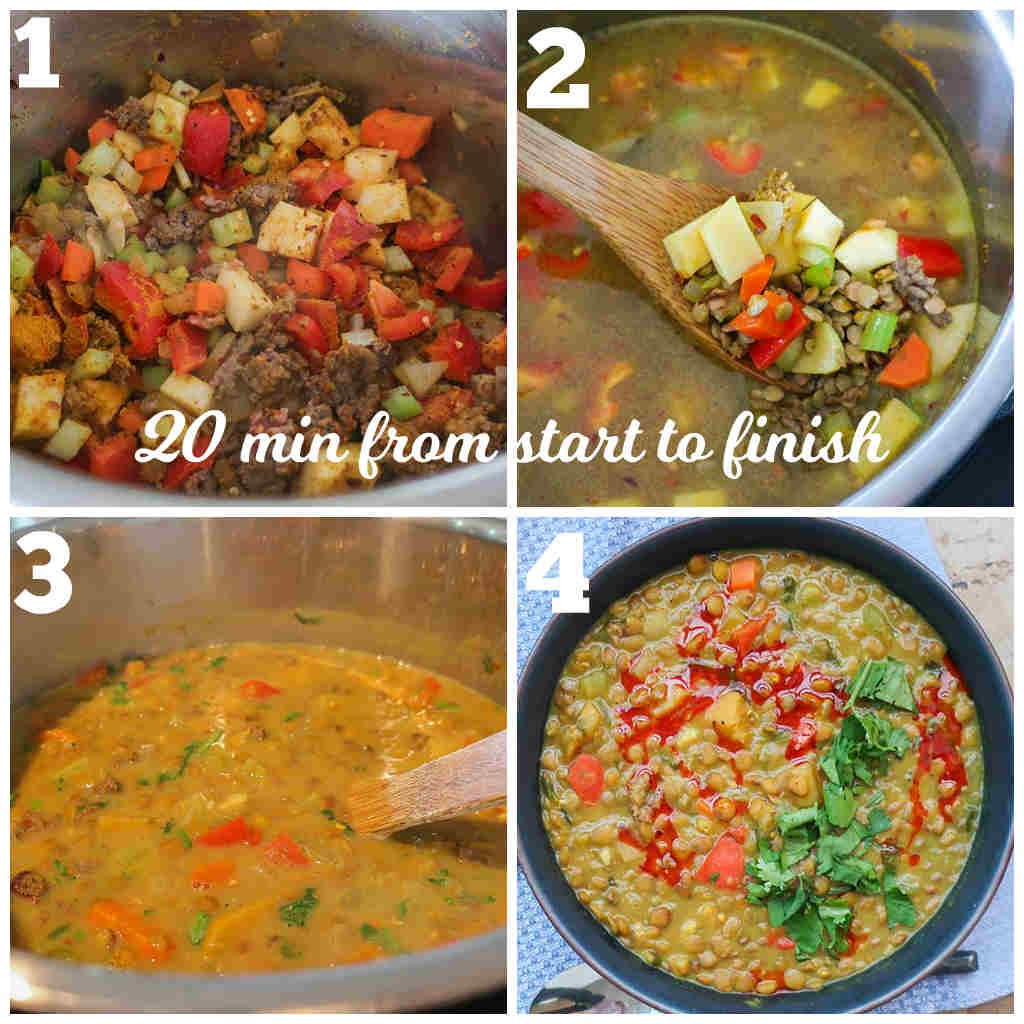 health benefits of lentils
Lentils come in various colours, green, brown, black and red. They look like a tiny bean and grow in pods. Lentils are a good source of protein, fiber, folic acid, potassium and iron.
This legume is also low in calories, only about 116 calories per 100 grams of cooked lentils.
In addition, lentils are low in net carbs, only about 13 grams of net carbs per 100 grams of cooked lentils. By cooking lentils in an Instant Pot, the high-pressure cooking destroys lectins, a protein found in lentils and other beans that some people have trouble digesting.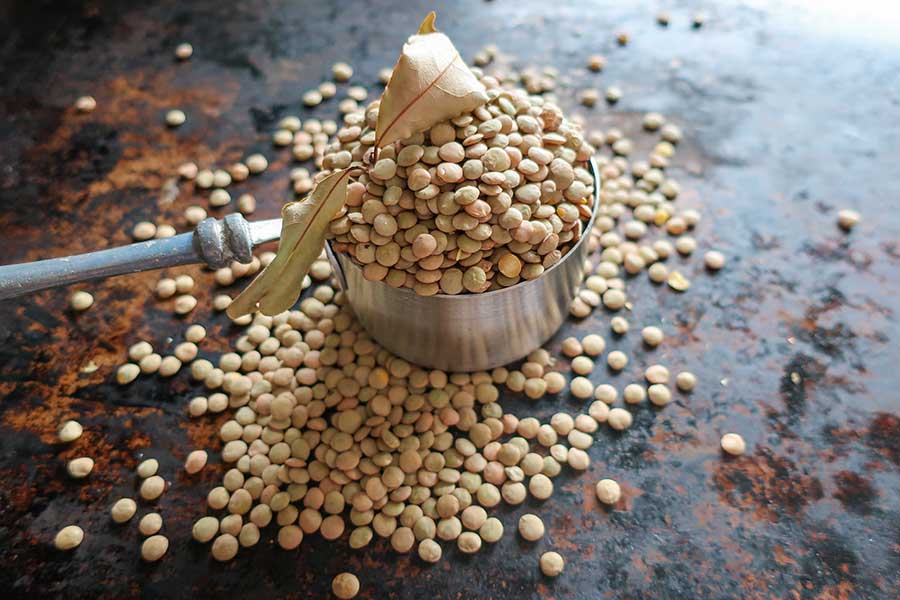 summary
This Beef And Lentil Soup is hearty enough to serve as a meal and satisfy big appetites, is nutritionally packed, and is super healthy.
The best part, you can make this delicious soup any day of the week because it takes less than thirty minutes to make from start to the table.
When lentils are cooked in an Instant Pot, you don't have to soak them overnight before cooking, another reason to use an Instant Pot.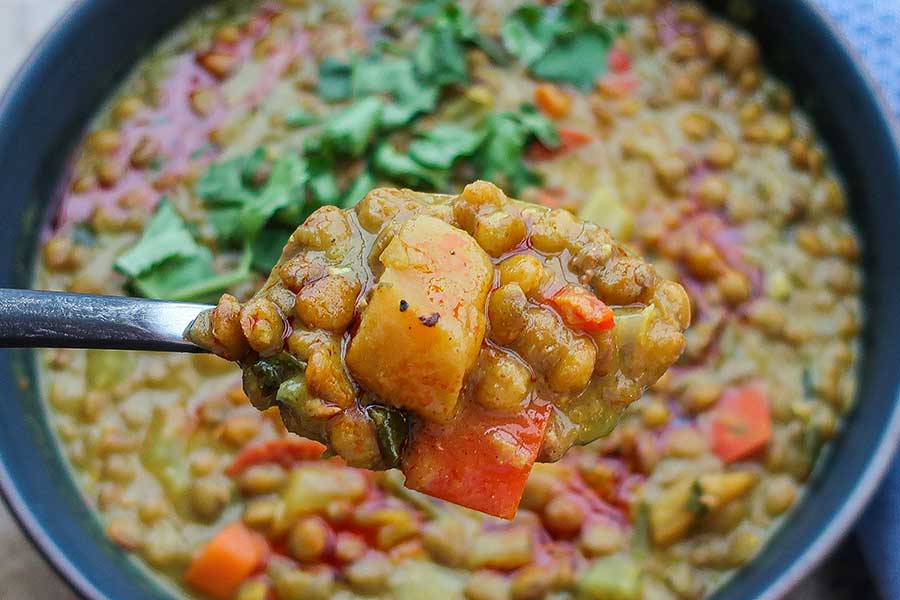 To serve, I like to top the Beef and Lentil soup with a drizzle of chilli oil and a sprinkle of herbs. Sometimes I add a dollop of sour cream or Greek yogurt.
You can also add a slice of Grain-Free Vegan Low Carb Bread or a Gluten-Free Butter Rolls for extra heartiness.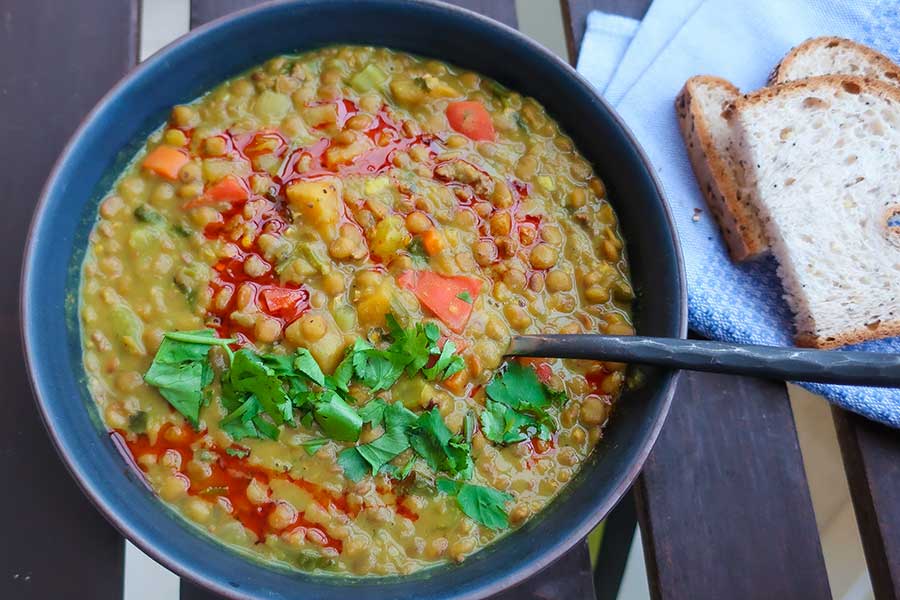 Let's Connect!
Be sure to FOLLOW US on FACEBOOK and PINTEREST.
Many thanks!
Kristina xx
Instant Pot Beef And Lentil Soup
Published on Nov 19, 2020
by
Kristina Stosek
Instructions
1.

Set Instant Pot to sauté. Add olive oil, once heated, add onions and garlic. Cook until the onions start to brown, about 2 - 3 minutes. There is very little oil, so the onions will start to brown quickly

2.

Add beef and cook until no longer pink and is starting to brown. Stir in carrots, celery, turnip, bell peppers, curry powder, cinnamon, bay leaves and if using hot chilli pepper flakes

3.

Add lentils, apple cider vinegar and water. Cover, select the manual setting and cook on high pressure for 15 minutes. (Do not add salt at this point, or the lentils will absorb the salt, and the broth will need additional salt)

4.

Once done cooking, use the quick release function and release the steam. Stir in coconut milk, cilantro and season with salt. Keep the instant pot on a warm setting for 15 minutes, or until ready to serve. 

5.

To serve, ladle soup into bowls and top with hot chilli oil and fresh herbs.