Gluten Free Dairy Free Recipes For Breakfast
Being dairy-free and gluten free doesn't mean you have to give up nutritious breakfast. With some creativity, you can still enjoy all your favorites. Some of the best breakfast options include smoothie bowls, overnight oats, chia pudding, healthy muffins and energy bars.
Today we will share our recipe ideas that are both nutritious and delicious for you to enjoy.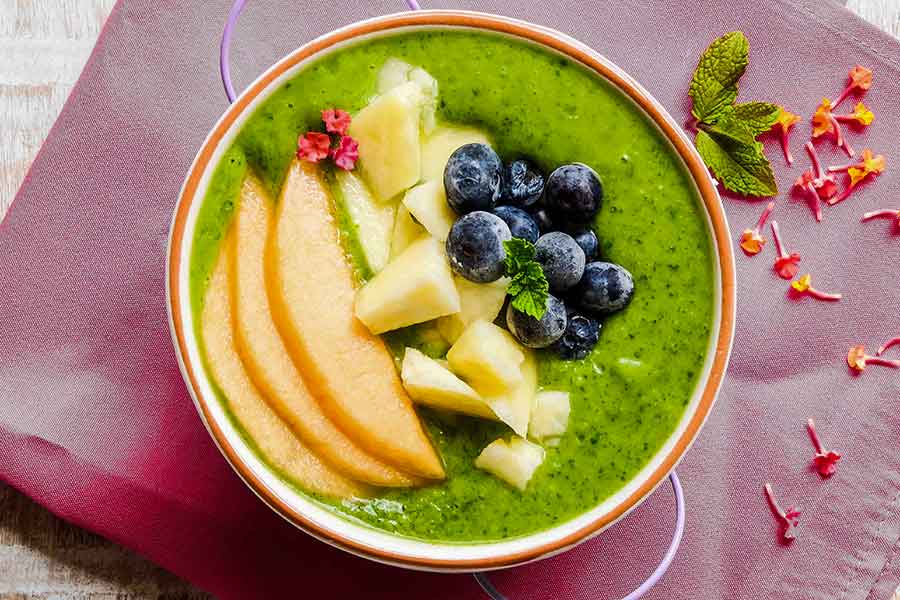 More About Gluten Free Dairy Free Recipes For Breakfast
Why is your first meal of the day the most important one?
Your first meal sets the tone for the rest of the day. It provides your body with the energy and nutrients it needs to function properly.
Without a healthy breakfast, you may feel tired and sluggish later in the day. A nutrient-rich breakfast can help improve your concentration and productivity throughout the day.
So the answer is that your first meal of the day, no matter what time you choose to eat, is the most important one.
What is intermittent fasting?
Intermittent fasting is a dietary pattern that alternates between periods of fasting and eating. One of Mattson's studies published in the New England Journal of Medicine revealed data about a range of health benefits associated with intermittent fasting. These include a longer life, a leaner body and a sharper mind.
There are many different ways to do intermittent fasting, but the most common is the 16/8 method. This involves fasting for 16 hours each day and eating all meals within an 8-hour window. For example, you may choose to eat between 10 am and 6 pm or 12 pm and 8 pm.
If you're new to intermittent fasting, starting slowly and gradually increasing the length of your fasts is important. It's also important to ensure you're getting enough nutrients by eating healthy, balanced meals during your eating window.
Which dairy-free milk is healthiest?
There are many choices available on the market these days. But which one is the healthiest?
The answer may surprise you. While there are many plant-based varieties of milk, hemp milk is the healthiest option.
Hemp milk is made by grinding up hemp seeds and mixing them with water. This dairy-free milk is a good source of omega-3 fatty acids, which are essential for our health. Hemp milk also contains all 20 amino acids, making it a complete protein source.
In addition to being healthy, hemp milk has a creamy texture and nutty taste, making it perfect for dairy-free and gluten-free overnight oats, chia pudding or muffins.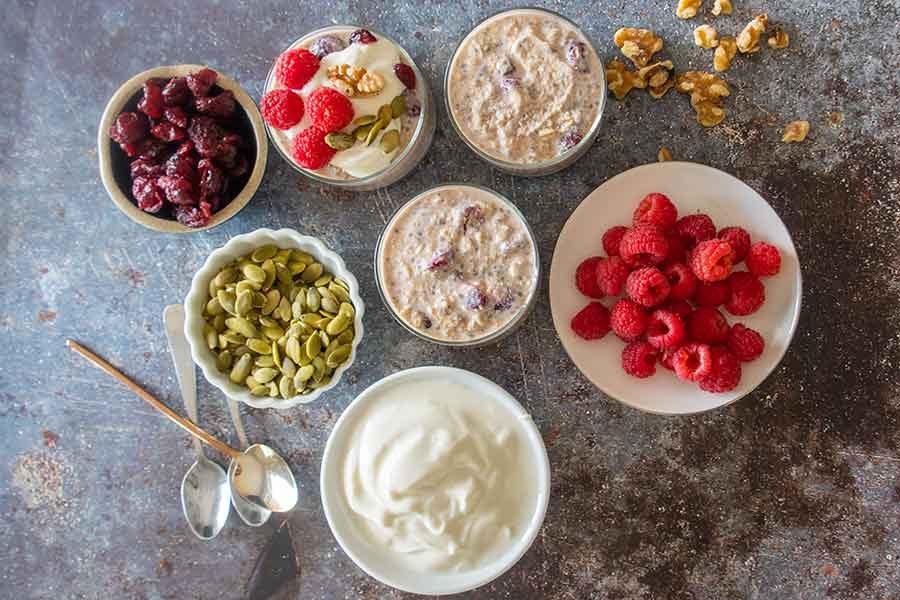 Best dairy free breakfast ideas for busy mornings
When you're short on time in the morning, it can be tempting to skip breakfast altogether. So if you're looking for some quick and easy breakfast recipes that are also dairy-free and gluten-free, we've got you covered.
Try one of these delicious recipes the next time you're in a hurry:
Overnight oats: Oats are a great source of fiber and protein, and they can be prepared the night before, so all you have to do in the morning is add your toppings and go.
Check out this recipe for Overnight Oats with Chia and Flax, or the Banana Almond Overnight Oats Recipe, or the Overnight Chocolate Coconut Oat Pudding.
Dairy Free Smoothie bowls: A smoothie is a great option when you're on the go. Just throw all of your ingredients into a blender and enjoy. Try this recipe for a Pineapple Blackberry Chia Smoothie Bowl with your favorite toppings. Or, Immune Boosting Pineapple Smoothie Bowl, and our favorite the Best Smoothie Power Bowl.
Dairy Free Chia pudding: Chia pudding is another great make-ahead option. Chia seeds are packed with nutrients and can be flavored any way you like. Check out our list of 9 Best Chia Pudding Recipes!
Healthy muffins are satisfying, easy to eat on the go and delicious. Such as the Dairy-Free Strawberry Pecan Muffins.
Energy bars are excellent to throw in your bag or lunch box when you don't have time to prepare breakfast. You may enjoy the Walnut And Fig Healthy Energy Bar or the Gluten Free Raw Energy Bar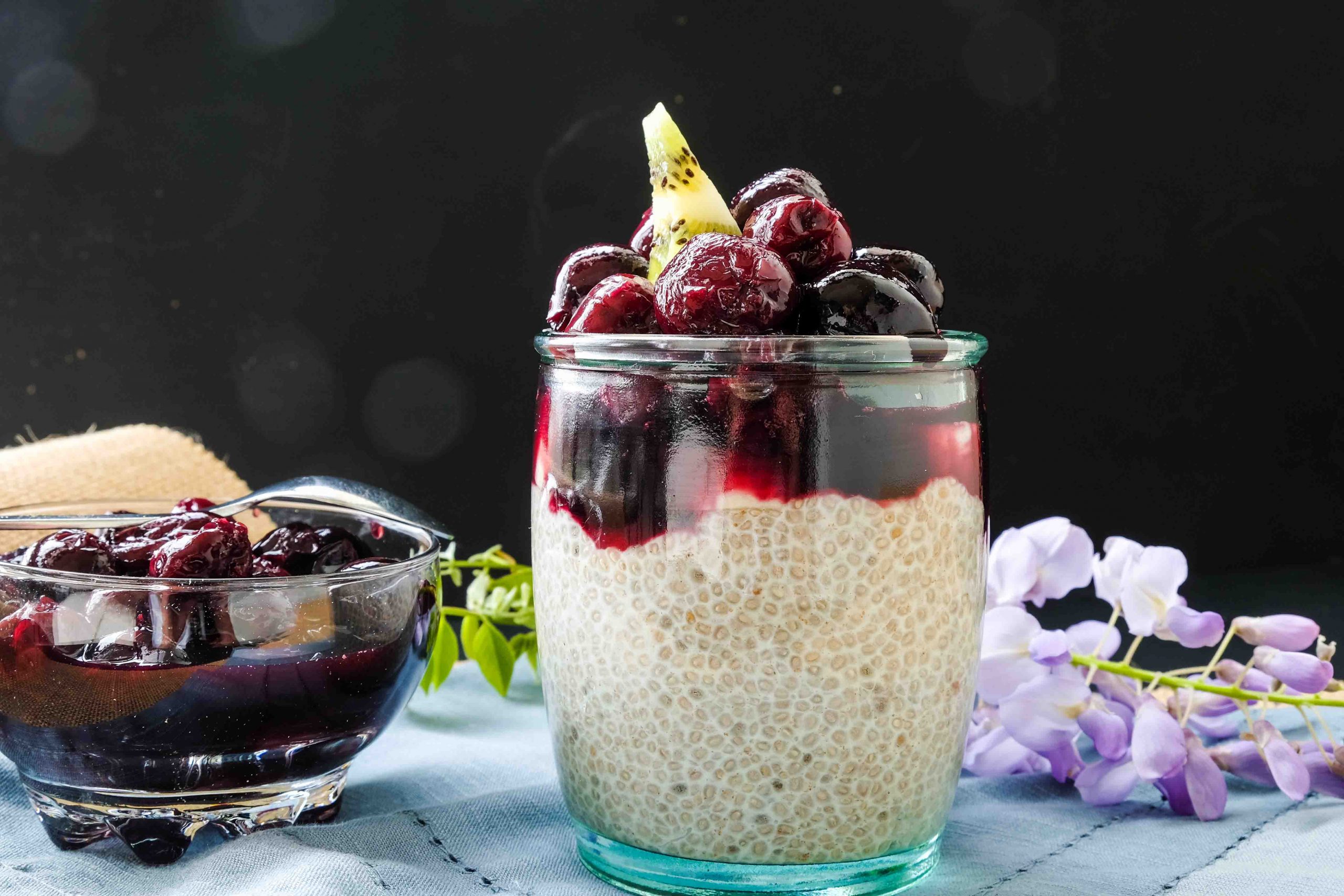 Why is chia pudding so popular for breakfast?
Chia pudding is becoming a popular breakfast dish for a few reasons. One, it's easy to make and can be made ahead of time.
It's a nutrient-rich breakfast that contains healthy fat, protein, and fiber. And chia pudding is easily made dairy-free and gluten free.
Banana Bread is one of the top breakfasts for people on the go.
Dairy and gluten free banana bread is a great way to start your day! This classic breakfast favorite is packed with vitamins and minerals, and it's also a great source of fiber. Plus, it's super easy to make and can be frozen for future breakfasts.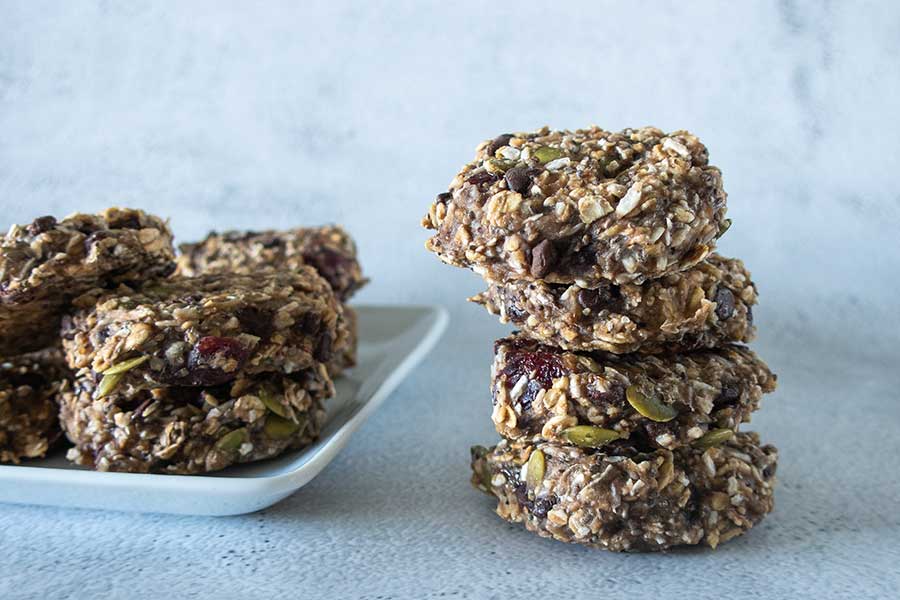 healthy, gluten free dairy free breakfast cookies
If you love sweets for breakfast, homemade dairy and gluten-free cookies can be a breakfast option.
Using healthy fats and unrefined sugars such as pure maple syrup or honey and replacing grains with coconut flour, almond flour, or buckwheat flour like the Buckwheat Chocolate Chip Cookies can make just about any cookie healthier and packed with protein. This Healthy Morning Cookie for breakfast is an excellent choice.
If you're looking for something more filling with fewer carbs, try eggs. Eggs are a great source of protein and can be cooked in many different ways. Serve with a slice of toasted Dairy Free Seeded Bread.
Whether you like scrambled, sunny-side up, or hard-boiled, eggs are a versatile food that can be part of a healthy breakfast.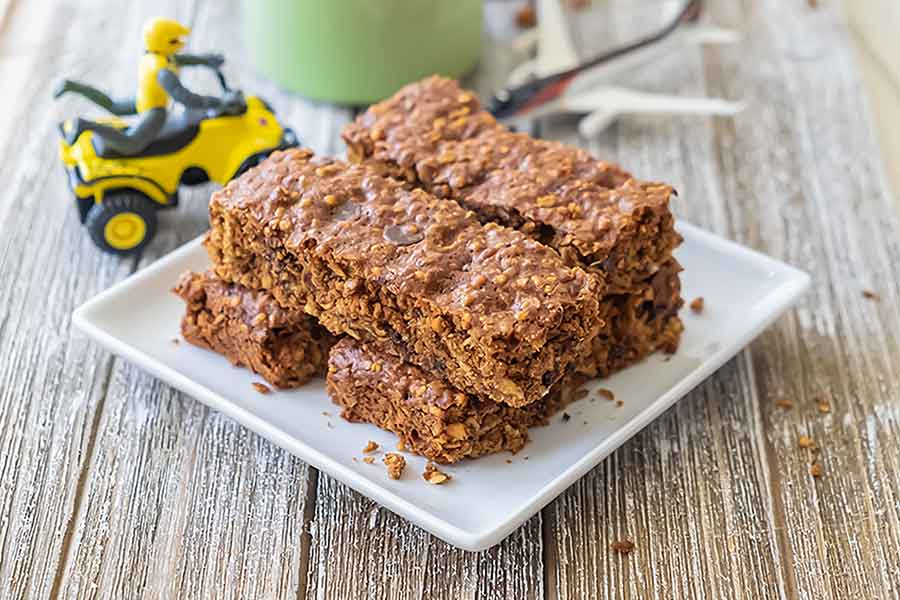 Shou
ld you have breakfast before a workout in the morning?
Before you hit the gym, play tennis or go for a run in the morning, you may wonder if you should have breakfast first. After all, it is the most important meal of the day.
While there are benefits to eating before working out, there are also some drawbacks.
On the plus side, having breakfast before a workout can give you energy and help you perform better. A bowl of oatmeal with fresh fruit or a banana with almond butter are both good options.
If you're looking for something more substantial, try scrambled eggs with a slice of Gluten Free Dairy Free Low Allergen Bread.
However, there are also some downsides to eating breakfast before exercising. For one thing, it can make your stomach feel uneasy.
It can be tough on your system if you're not used to eating first thing in the morning. Additionally, if you eat too close to your workout, you may feel sick or experience cramps.
Ultimately, whether or not you have breakfast before a workout is up to you and what makes you feel comfortable. If you're used to eating in the morning and it doesn't bother your stomach, go ahead and have something light like fresh fruit or gluten free toast with a smear of nut butter.
But if you don't usually eat breakfast or find that it makes you feel uncomfortable, then wait until shortly after your workout to eat something substantial like a high-protein dairy-free granola bar.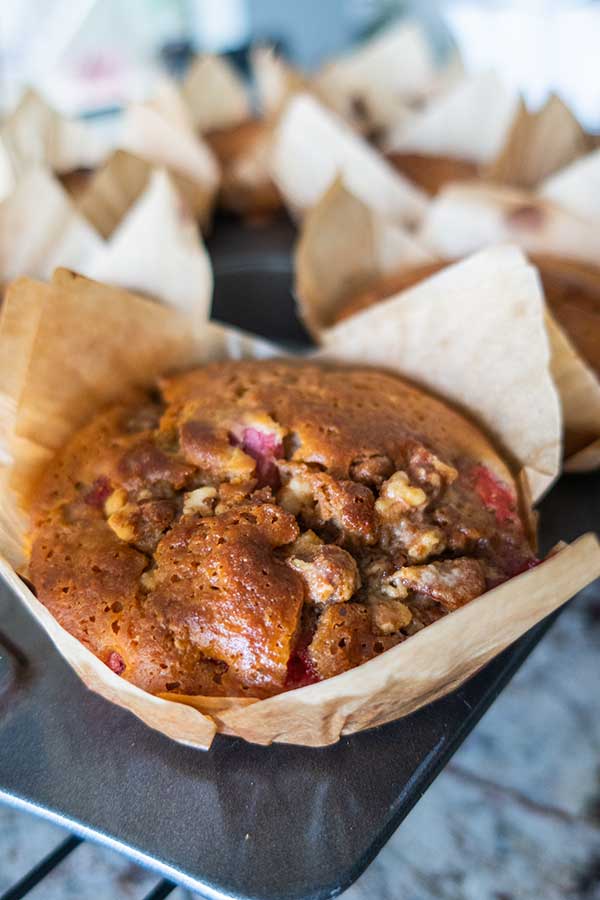 There are plenty of breakfast ideas that are gluten free and dairy free for you to try. So whether you eat your first meal when you first get up or a little later, be sure it is nutrient-rich, fiber and protein-packed and, even more importantly, delicious!
Check our complete list of gluten free a dairy free recipes to get you inspired.
Let's Connect!
Be sure to FOLLOW US on FACEBOOK or, check us out on PINTEREST. And don't forget to sign up for our newsletter. We always have something new and exciting for you!
Many thanks!
Kristina xx