Low Allergen Bread Recipe – Gluten Free
Published on Apr 30, 2022
by
Kristina Stosek
Prep Time:

5 minutes
Cook Time:

80 minutes
Serves:

1 loaf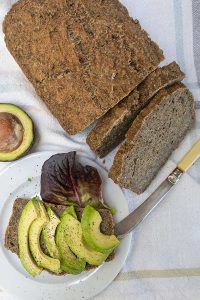 ​This post may contain affiliate links, please see our
privacy policy
for details
This Low Allergen Gluten-Free Bread is healthier than most and takes only five minutes to prepare for baking. The nutrient-dense ingredients are chia, buckwheat flour, chickpea flour, flaxseed, and psyllium husk.
Why is this a low allergen bread?
This bread is grain-free, nut-free, xanthan gum free, egg-free, dairy-free and yeast-free. All these ingredients are considered high allergen foods. Some other known high allergen foods are soy, shellfish, wheat and peanuts. These foods are responsible for 90 percent of all food allergies.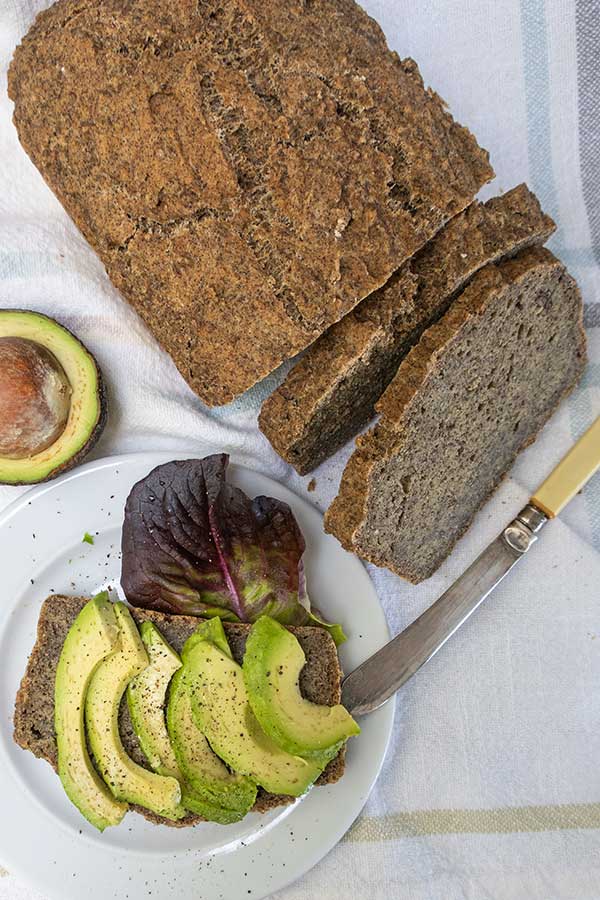 What does low allergen bread taste like?
The pictured bread is made with healthy dark buckwheat flour. So it has a more robust and nuttier flavour and darker colour. The bread is denser than some bread, moist and easy to slice. The texture is almost like German rye bread.
If you want the bread to be milder tasting, use the light buckwheat flour. The colour of the bread will be lighter and the flavour milder. However, the texture will remain the same.
What is chickpea (garbanzo flour)?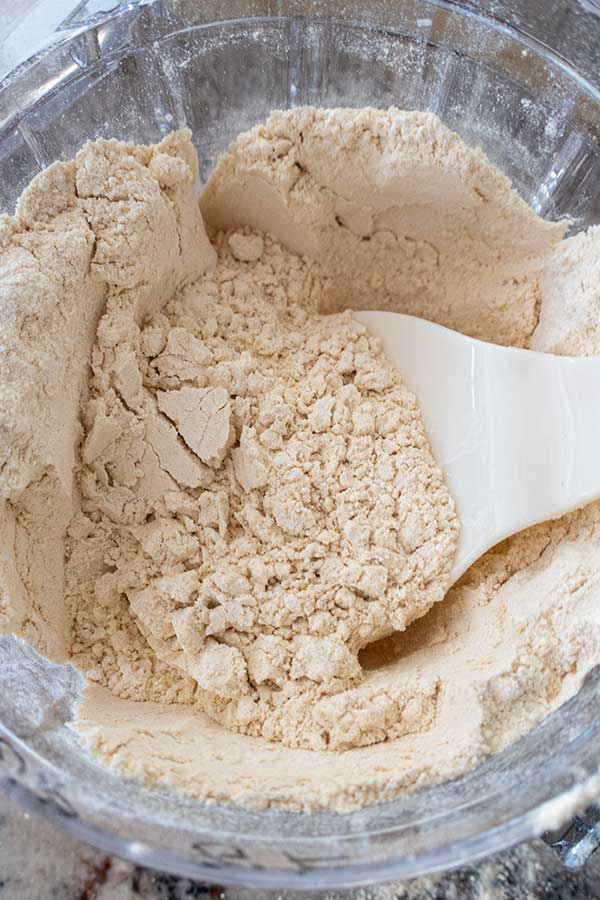 Chickpea flour comes from garbanzo beans (chickpeas). It is made first by soaking the garbanzo beans in water and then drying them at 100 C. Once dry, they are ground into a fine powder — the flour. Check out this Gluten-Free Chickpea Date Fudge Brownies Recipe!
Which is better, chickpea flour or almond flour?
Chickpea flour is lower in calories and fat than almond flour. The flour is less dense and is probably the closest flour to replacing almond flour in gluten-free baking.
Dark buckwheat flour vs light buckwheat flour.
Dark buckwheat flour is made from unhulled buckwheat and has dark specs throughout. It has a robust and nutty flavour. Light buckwheat flour is made from hulled buckwheat, has a milder taste and is a little less nutritious.
Is buckwheat a grain or a seed?
I know it may sound confusing. Buckwheat, is it wheat? No, officially, it is not even a grain. Buckwheat is a seed harvested from a flowering plant related to rhubarb. Check out this Gluten-Free Apple Cinnamon Buckwheat Pancake Recipe!
Why is this low allergen gluten free bread healthy?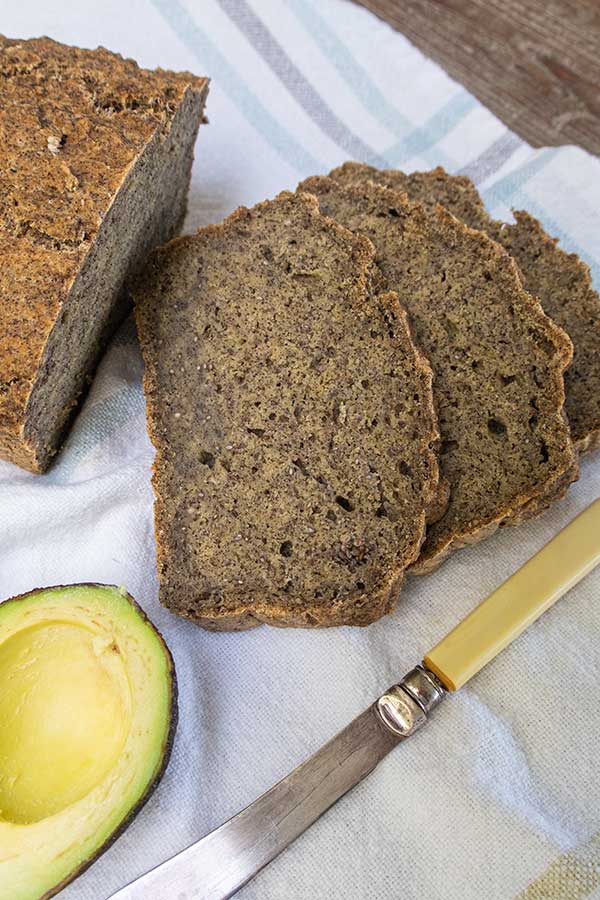 Here is why!
Chia: antioxidants, minerals, fiber, and omega-3 fatty
Buckwheat flour: protein, fiber, and may improve heart health, promote weight loss, and help manage diabetes
Chickpea flour: protein, fiber, iron, Thiamine, folate
Flaxseed meal: omega-3 fatty acids, fiber, magnesium, iron, vitamin B6
Psyllium husk powder: fiber (used to act as a binder to replace eggs, and it gives gluten-free bread dough the elasticity and flexibility)
Extra virgin olive oil: monounsaturated fats, good for heart health, vitamin E, vitamin K, and potent antioxidants.
Apple cider vinegar: Vitamin C, B-Vitamins, and polyphenols
To summarize, this low allergen bread is rich in fiber and protein, packed with antioxidants, vitamins, and minerals and is lower in carbs than most gluten-free bread recipes.
How to make this low-allergen bread?
This bread is the simplest gluten-free recipe ever!
Start with soaking the chia in hot water for 15 minutes. The reason chia is first soaked is to make them much easier to digest, but it also helps increase the amount of nutrients your body is able to absorb.
While the chia is soaking, get the ingredients ready.
First, mix the dry ingredients.
Whisk olive oil, apple cider vinegar and water with the chia mixture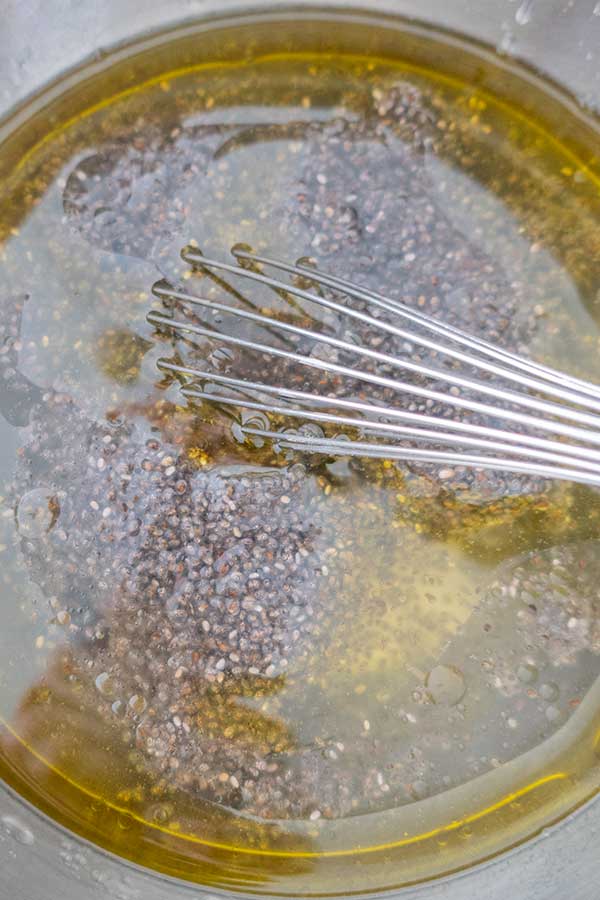 Add chia mixture to dry ingredients and briefly mix until the batter comes together. It will be sticky and soft.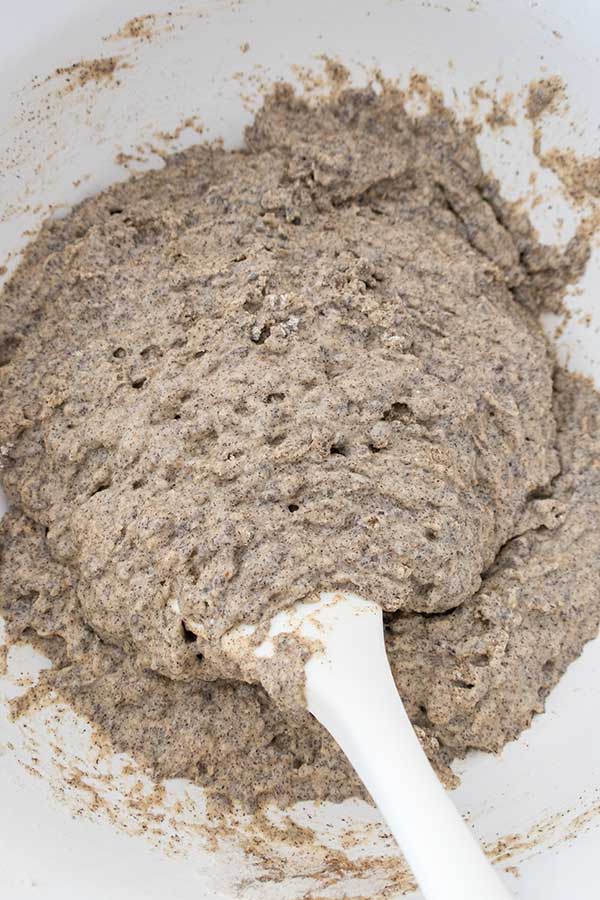 Pour the batter into the prepared loaf pan, shape the top, so it is round, and bake.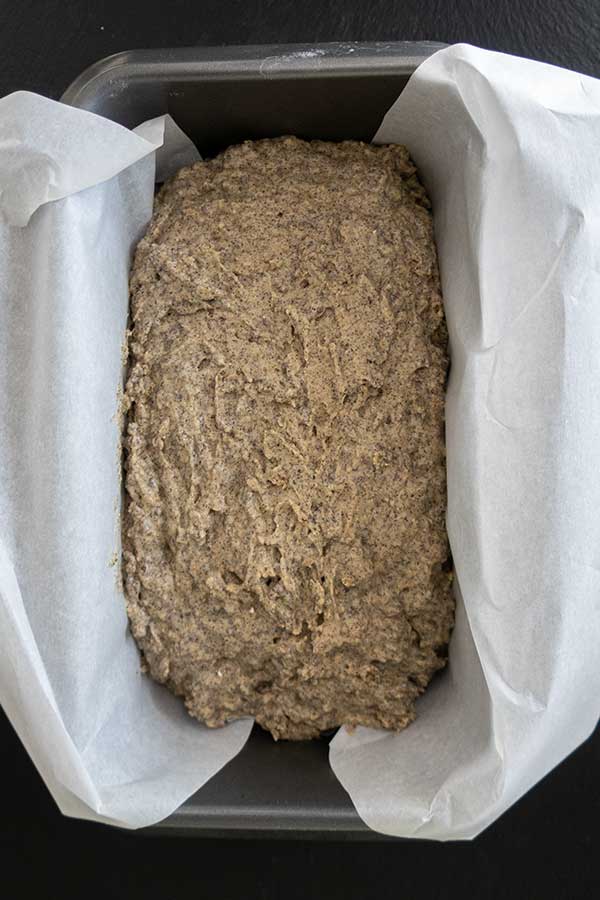 Cool the bread completely on a rack before slicing.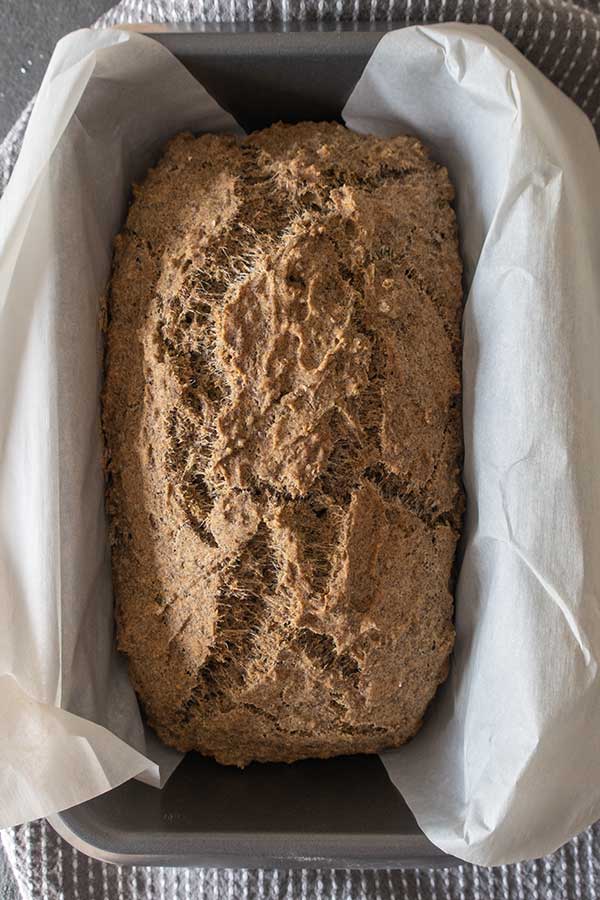 How to store the bread?
The bread should be in a plastic bag and refrigerated. It will keep up to 5 days when refrigerated.
Can you freeze the low allergen bread?
Yes, this bread freezes beautifully. Wrap the whole bread in foil paper and place it in a freezer bag. Freeze up to 3 months.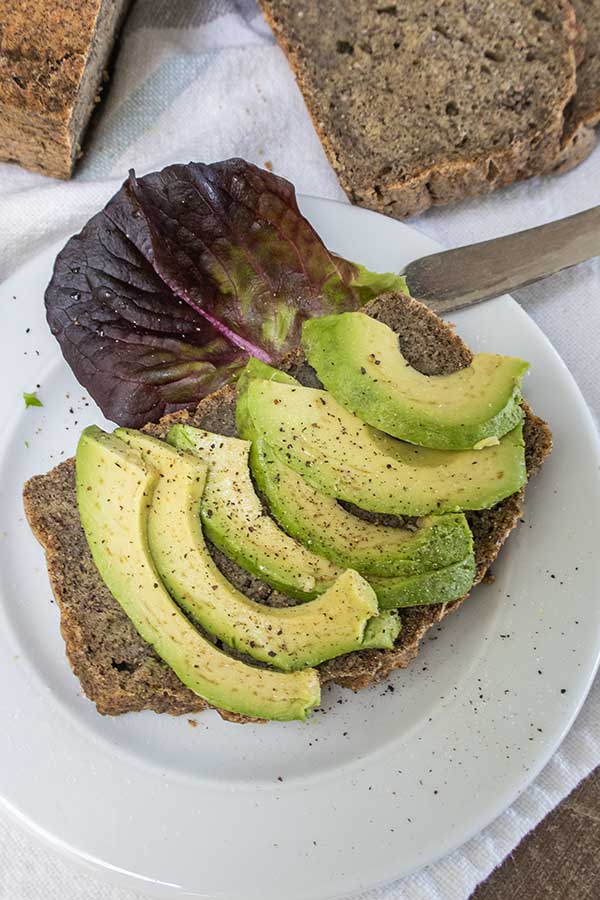 This low allergen gluten-free bread makes tasty, satisfying, savoury sandwiches. To make delicious sandwiches add your favourite fillings: creamed avocado, tuna or salmon spread, avocado egg salad or bacon, lettuce, tomato, and onion sandwich…the famous BLT, it's so good!
Low Allergen Bread Recipe – Gluten Free
Published on Apr 30, 2022
by
Kristina Stosek
Instructions
1.

Preheat the oven to 350 F and line a standard loaf pan 8-1/2 x 4-1/2 x 2-1/2 inches with parchment paper.

2.

In a medium bowl, mix chia seeds with 1 cup of hot water, and set aside for 15 minutes. This will become a jello-like texture.

3.

In a large bowl whisk together flours, flaxseed meal, psyllium husk powder, baking powder, and salt

4.

Add olive oil, apple cider vinegar and 1 1/2 cups of water to the chia mixture and whisk together. Add to dry ingredients, and using a spatula, mix just to combine. Do not overmix, or the bread will become heavy and hard. The batter will be sticky and soft

5.

Transfer batter into the prepared loaf pan and shape it into a round top—Bake for 80 minutes. The bread should pass the toothpick test.

6.

Using the parchment paper, lift the bread and transfer it onto a cooling rack to cool completely before slicing.
Leave a Comment
Kristina
Yes LM, you can use ( 120 g) blanched almond flour
Is there an alternative to using chickpeas? Some of us have allergies to it. Thanks.
Kristina
I haven't tried it yet but was wondering if i could use roasted buckwheat flour. Thanks, Marie