Seeded Quick Bread Recipe – Gluten Free
Published on Aug 10, 2022
by
Kristina Stosek
Prep Time:

5 + minutes
Cook Time:

70 minutes
Serves:

1 standard loaf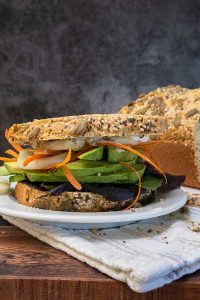 ​This post may contain affiliate links, please see our
privacy policy
for details
If you're looking for a delicious seeded quick bread recipe that is gluten-free and allergy-friendly, look no further! This recipe for healthy quick bread is incredibly easy and is perfect for breakfast or delicious sandwiches.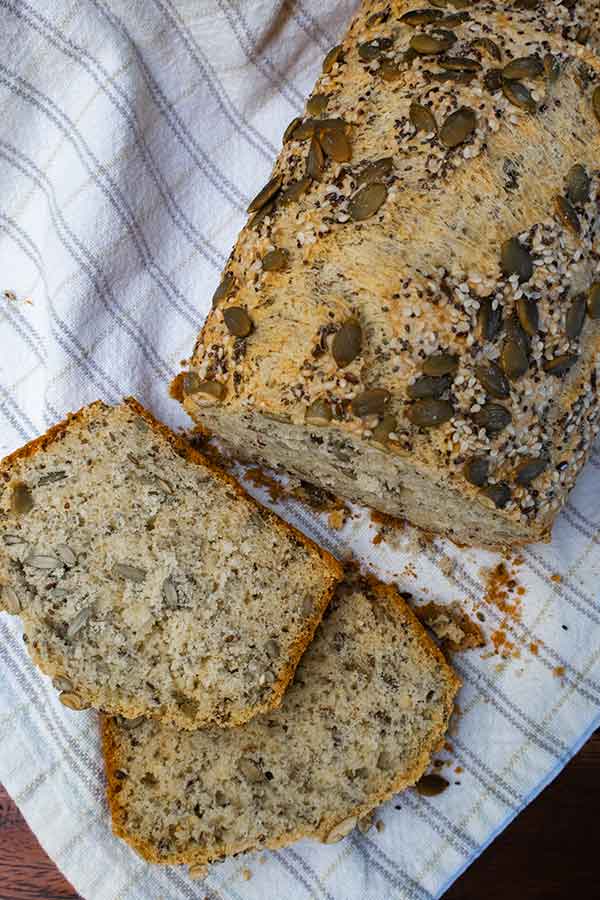 Why is seeded bread healthy?
There are a few reasons why seeded bread is often considered to be healthy. First, the seeds add extra fiber, nutrients, and healthy fats to the bread.
Second, many types of seeded bread are made with healthy grains packed with vitamins, minerals, and antioxidants.
And third, some types of seeded bread are often dairy-free and egg-free, making them allergy-friendly recipes.
Why is fiber so important to our health?
So why exactly is fiber good for you? Well, it helps keep you regular (which is important for maintaining a healthy digestive system), can help lower cholesterol levels, and even help you lose weight by keeping you full longer, thus avoiding extra calories.
Additionally, the nutrients and healthy fats in seeds can help improve heart health, cognitive function, and joint health. So if you're looking for a nutritious and delicious way to start your day, this gluten-free seeded quick bread is a good choice.
most common food allergies
Food allergies are common and are rising. As per Healthline, about 6% of adults and 8% of children have food allergies. The six most common food allergies are dairy, eggs, tree nuts, peanuts, shellfish, and soy.
This gluten-free seeded loaf is free of all six, keeping this recipe allergy-friendly. In addition, this is a plant-based bread for those who follow a vegan diet.
Two of our most downloaded healthy bread recipes you may enjoy are the Gluten-Free Multi-Seed Oat Flour Bread, and the Gluten-Free Healthy Millet Bread.
FAQs about seeds
Q: Why are seeds excellent for gluten free diet?
A: First, seeds are naturally gluten-free. When following a gluten-free diet, you must avoid grains that contain gluten like wheat, rye and barley. Seeds will replace most of the nutrients you are missing from grains containing gluten.
Q: Are seeds hard to digest?
A: As per the Cleveland Clinic, our bodies have a hard time digesting and absorbing the nutritional benefits of the actual seed. This is why soaking them in water or grinding them into a powder makes them easier to digest and help to absorb nutrients.
Q: What are the benefits of adding seeds to quick bread?
There are many benefits to adding seeds to quick bread. Seeds are a good source of fiber, protein, and healthy fats. They can also help to improve the texture and flavour of the bread. Additionally, seeds can add nutrition and help to make the bread more filling.
Q: Are seeds suitable for everyone?
A: If you have diverticulitis, you should avoid eating whole seeds. Seeds can get stuck in the polyps (small growths also known as diverticula) in your colon, which may create health issues.
How to toast seeds?
When you are using seeds in baking, they taste the best when the seeds are toasted. Here's how to toast the seeds for this recipe:
1. Preheat your oven to 350 degrees Fahrenheit.
2. Spread the seeds on a baking sheet and roast them for about 10 minutes until they're lightly browned and fragrant.
3. Remove the seeds from the oven and let them cool before adding them to the batter.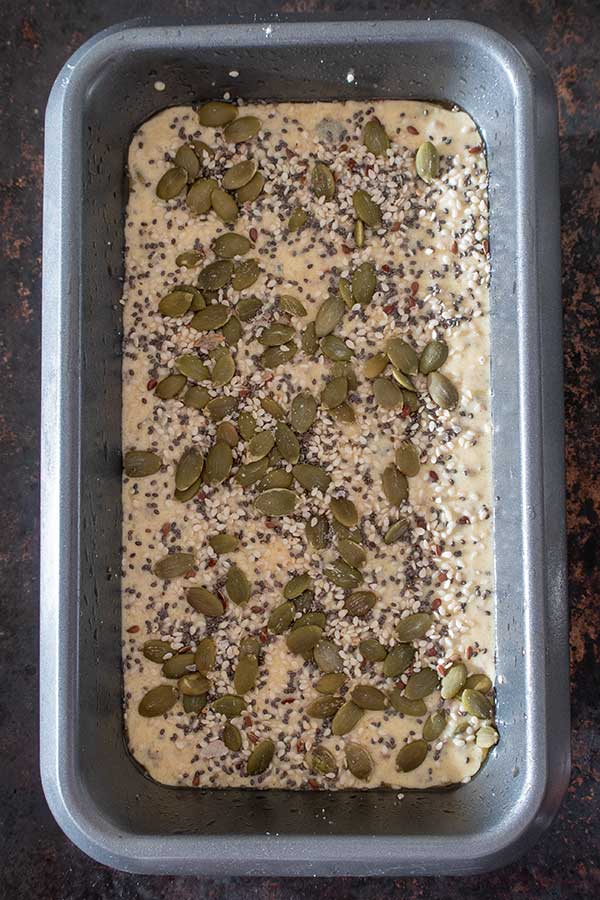 How does quick bread rise?
Baking gluten-free quick bread is a bit different than baking with yeast and wheat flour—however, a few key things to remember when baking gluten-free quick bread.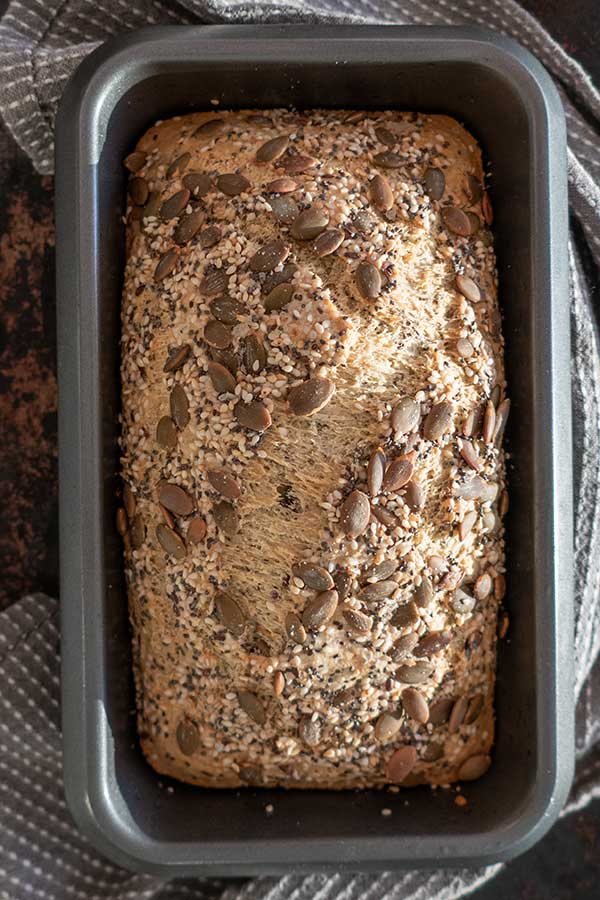 First, quick bread relies on baking powder and baking soda for leavening, so ensure your ingredients are fresh.
Second, because gluten-free flour can be dense, adding extra liquid to the batter is important for moisture. Finally, a quick bread batter should not have the consistency of dough, it should be like a muffin batter consistency.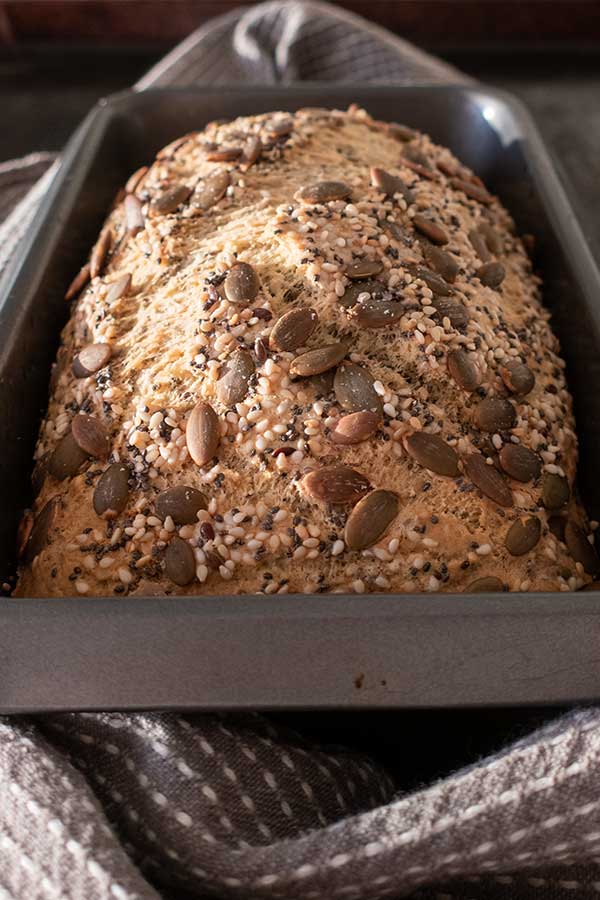 Finally, don't overmix the batter – mix just until the ingredients are combined.
With these tips in mind, you'll be able to bake delicious and healthy gluten-free quick bread that will rise and be moist every time.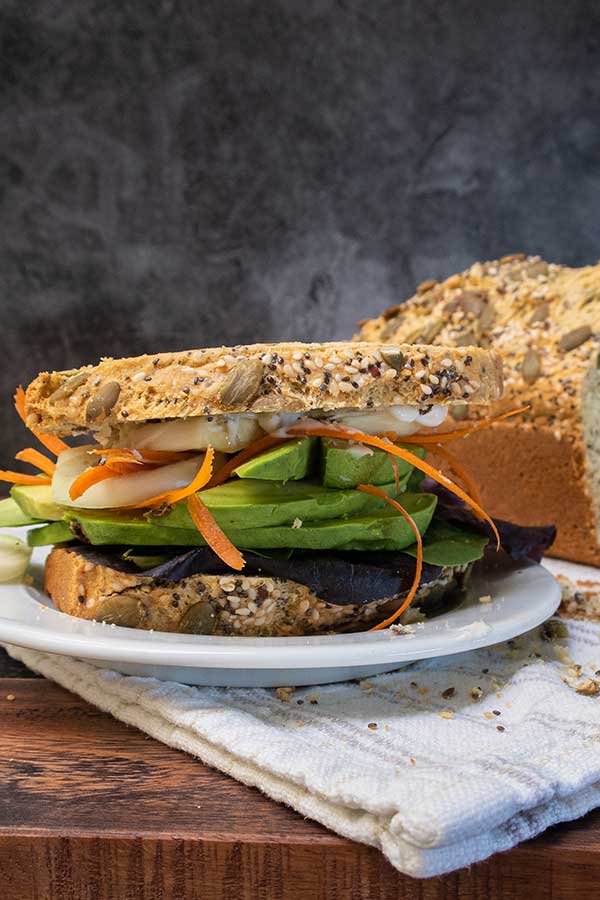 Which knife is best for slicing seeded bread?
When it comes to slicing seeded quick bread, there are a couple of different knife options that you can choose from.
A serrated knife will be your best bet for slicing through the crust and getting nice, even slices.
However, if you don't have a serrated knife on hand, a good sharp chef's knife will also do the trick. Just be sure to use a sawing motion rather than trying to chop through the bread.
substitutions
Here are some tips for substitutions to keep this seeded quick bread recipe gluten-free:
Millet flour: you can use sorghum flour or certified gluten-free oat flour
Rice flour: use almond flour, cassava flour or light buckwheat flour
Tapioca starch: corn starch or potato starch (not potato flour), arrowroot starch
Olive oil: melted coconut oil or avocado oil
Apple cider vinegar: regular vinegar
Seeds: Here are some other seeds you can use: sunflower, poppy, and hemp seeds. Use 1 cup of your favourite seeds per recipe
Psyllium husk powder: replace 1 tablespoon of husk powder with 3/4 teaspoon of xanthan gum
-Make sure your baking powder is gluten-free. Some brands add wheat starch to their baking powder, so check the label to be sure.
With so many sensitivities to foods, it is nice to have substitutions, so you can enjoy this healthy and delicious quick bread without worrying about gluten!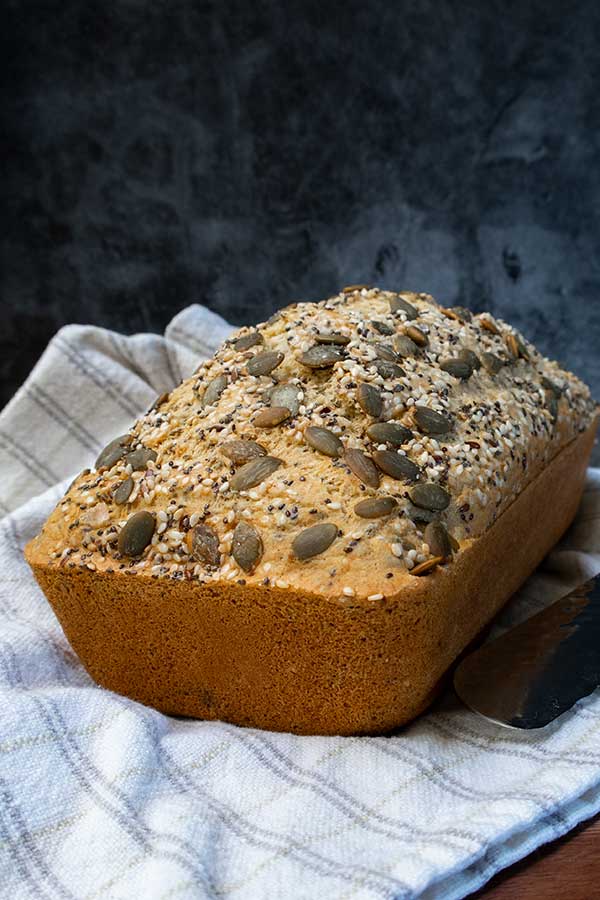 Why is millet flour so good in gluten-free baking?
I choose millet flour for this seeded quick bread recipe because it is similar to wheat flour. The flour is a good source of magnesium essential for healthy bones and teeth. It has a good amount of protein And, millet flour is also rich in antioxidants which can help to protect your cells from damage caused by free radicals.
storing and freezing
If you have any leftover quick bread, storing and freezing is a great way to extend its shelf life. You can store seeded quick bread in the fridge for up to a week or freeze it for up to three months.
To freeze quick bread, wrap it tightly in plastic or aluminum foil, then place it in a freezer-safe container or a freezer bag.
When ready to eat it, thaw the seeded bread in the fridge overnight.
Healthy sandwiches are excellent for school, work or a light lunch. This healthy seeded bread recipe is allergy friendly, packed with nutrients and super easy to make. Enjoy!
Seeded Quick Bread Recipe – Gluten Free
Published on Aug 10, 2022
by
Kristina Stosek
Instructions
1.

2.

Soak flax and chia seeds in 2 cups of water in a medium bowl for one hour. This will create an egg-like mixture.

3.

Add millet flour, rice flour, tapioca starch, psyllium husk, baking powder, baking soda, salt, pumpkin seeds and sesame seeds in a large bowl. Mix to combine

4.

Add olive oil and apple cider vinegar to the jelly-like seed mixture and combine. Pour the mixture into dry ingredients, and use a spatula to mix until you no longer see dry ingredients. Do not overmix

5.

Transfer batter into prepared loaf pan and sprinkle with extra seeds. Bake for 10 minutes at 400 F. Then reduce the oven temperature to 350 F and continue baking for 55 - 60 minutes. The top of the bread should be golden brown.

6.

Cool in the pan for 10 minutes, then transfer onto a cooling rack to fully cool before slicing.