Overnight Oats with Chia and Flax
Prep Time
5 Minutes
Difficulty
Easy
Serves
2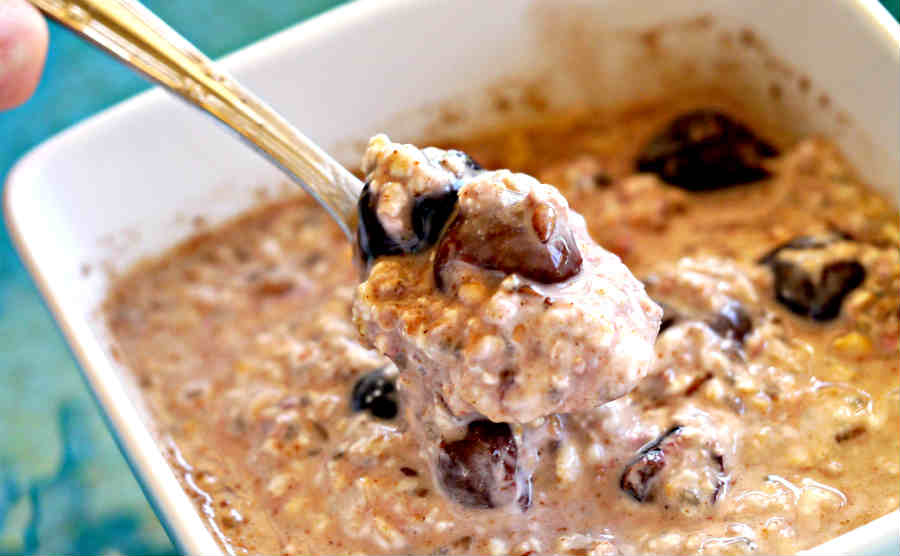 Average Rating: 5 | Rated By: 7 users
Overnight Oats with Chia and Flax is a healthy, delicious way to start your day. Morning is a busy time for most of us. Having a power-packed healthy gluten-free breakfast ready when you are, is always welcome. This creamy and delicious overnight oatmeal breakfast is packed with omega-3's, protein, iron, vitamin C, fiber and calcium.
Let me show you how easy it is to make this healthy overnight oats with chia and flax breakfast. First, you stir everything together except the fruit. Then, gently stir in the fruit, transfer into serving bowls, cover and refrigerate overnight. That's it, nothing complicated, no cooking and only five minutes of your time.
What do we know about chia seeds?
One of the ingredients in this recipe that excites me is chia. It is not often we use chia in recipes, and we should. This tiny seed is considered to be a superfood. Chia seeds are the richest plant source of omega-3 fatty acids. Also, chia seeds are a complete protein, containing all nine essential amino acids that cannot be made by the body, rich in antioxidants, iron, calcium and fiber. Chia is also low in carbs and calories. In conclusion, chia seeds should be included in a well-balanced diet. Another chia recipe that I love is Vegan Mocha Chia Pudding
Ingredients
1 cup full fat milk or your favourite dairy-free option such as coconut milk, almond milk or hemp milk (unsweetened)
2 tsp. pure maple syrup
2 tsp. chia seeds
1 tsp. ground flax seeds
½ tsp. pure vanilla extract
½ tsp. GF ground cinnamon
1 cup fresh or frozen berries, cherries or bananas
Toppings: full fat plain Greek yogurt, nuts, seeds or fresh fruit
*As an Amazon Associate and member of other affiliate programs, I earn from qualifying purchases. Please check out my sponsorship and disclosure policy page for more details
Instructions
In a medium jar or glass bowl mix everything together, except the fruit
Stir in fruit and transfer to serving bowls. Cover and refrigerate overnight or at least for 6 hours
Just before serving add your favourite topping
Similar Recipes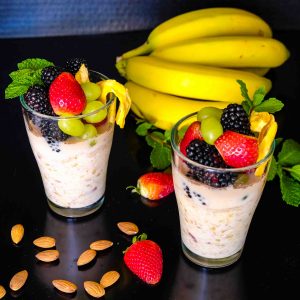 Banana Almond Overnight Oats Recipe
Here is an easy, delicious gluten free breakfast recipe for busy mornings. For those that follow raw food diet, this is an ideal breakfast. This banana almond overnight oats recipe is packed with healthy nutrients, protein and fiber. In the morning all you have to do is add your favourite toppings. This delicious breakfast will […] Read More
Prep Time
5 Minutes
Difficulty
Beginner
Serves
2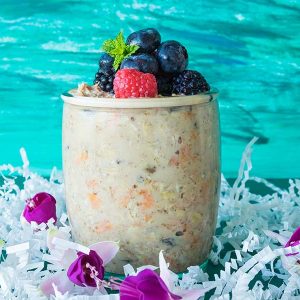 Carrot Cake Overnight Oats – Gluten Free
Kids of all ages love carrot cake. This recipe is like a traditional carrot cake, which is typically made using flour, oil, and white sugar, but with a few healthy adjustments. This gluten-free carrot cake overnight oats recipe is made with certified gluten free oats, flax, non-dairy milk, maple syrup, carrots, raisins and or walnuts. What a […] Read More
Prep Time
5 Minutes
Difficulty
Beginner
Cook Time
2 Minutes
Serves
2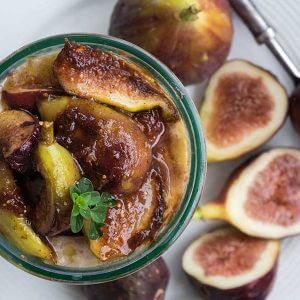 Overnight Oats with Caramelized Fresh Figs
Fresh figs are exotic and add a delicate earthy flavour to foods. Although I love berries in my oats, the fresh figs add something special that will warm your soul. In this simple gluten free overnight oats recipe, the figs are caramelized in a tasty syrup that is flavoured with a hint of cinnamon, maple […] Read More
Prep Time
5 Minutes
Difficulty
Beginner
Cook Time
2 Minutes
Serves
4