Overnight Oats with Chia and Flax
Published on Feb 12, 2016
by
Kristina Stosek
Prep Time:

5 minutes
Cook Time:

minutes
Serves:

2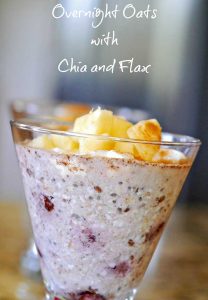 ​This post may contain affiliate links, please see our
privacy policy
for details
Starting with Overnight Oats with Chia and Flax is a healthy, delicious way to begin your day. Morning is a busy time for most of us. Having a power-packed healthy gluten-free breakfast ready when you are, is always welcome.
gluten free oatmeal breakfast
This is a creamy and delicious overnight oatmeal breakfast packed with omega-3's, protein, iron, vitamin C, fiber and calcium. The healthy gluten-free recipe is easy to whip up, having breakfast or a snack on had ready when you need it.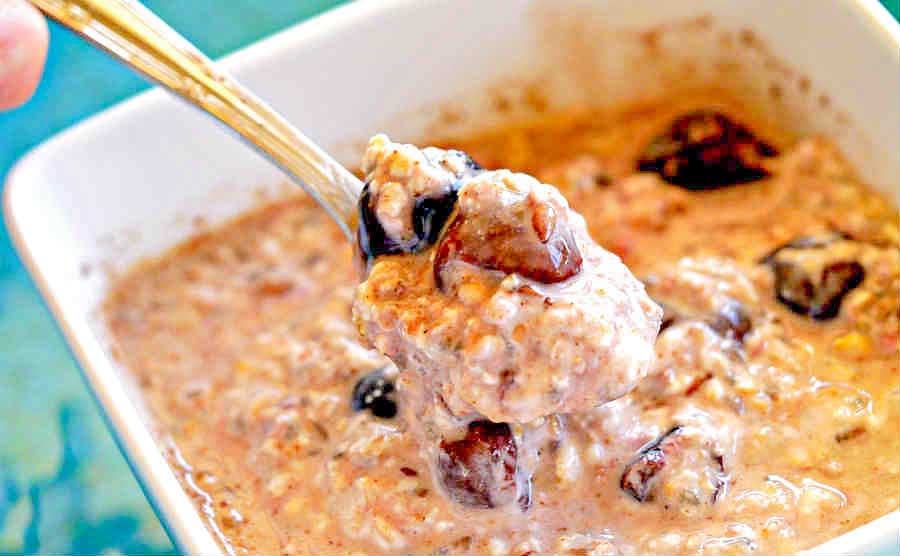 overnight oats with chia and flax – recipe details
Let me show you how easy it is to make these healthy overnight oats with a chia and flax breakfast recipe. Get a large bowl and place all the ingredients in the bowl except the fruit. Give it a good stir to mix everything.
Then, gently stir in the fresh or frozen fruit, and transfer the mixture into serving bowls. Cover the bowls with cling wrap and refrigerate overnight. That's it, nothing complicated, no cooking and only five minutes of your time.
healthy toppings for overnight oats
This gluten-free pudding…yes, I call it pudding because it is so yummy, doesn't need a topping. However, if you want to spruce it up, add a dollop of yogurt, nuts, seeds, a drizzle of maple syrup and fresh fruit.
A gluten-free breakfast or a snack has never been simpler to make. The best part, this satisfying breakfast is creamy, filled with fresh fruit and ready for any time of the day.
What do we know about chia seeds?
One of the ingredients in this recipe that excites me is chia seeds. It is not often we use chia in recipes, and we should. This tiny seed is considered to be a superfood. Chia seeds are the richest plant source of omega-3 fatty acids.
Also, chia seeds are a complete protein containing all nine essential amino acids that cannot be made by the body. When following a plant-based diet, including complete protein foods is vital for a well-balanced vegan diet.
In addition, this tiny seed is rich in antioxidants, iron, calcium and fiber. Chia is also low in carbs and calories, making it a good choice for someone following a keto or low-carb diet.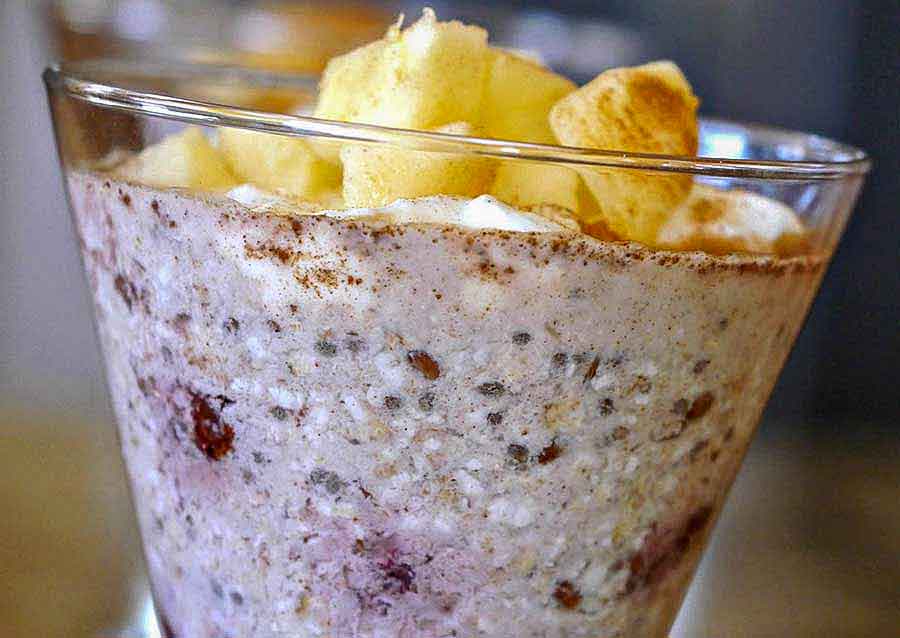 takeaway
In conclusion, following a well-balanced diet that includes chia seeds, whole-grain oats, and flax seeds, will promote a healthy body. One of my favourite chia seed recipes is this delicious chocolaty Vegan Mocha Chia Pudding.
Here is a list of our favourite gluten free overnight oats recipes for inspiration.
Let's Connect!
Be sure to FOLLOW US on FACEBOOK and PINTEREST.
Many thanks!
Kristina xx
Overnight Oats with Chia and Flax
Published on Feb 12, 2016
by
Kristina Stosek
Instructions
1.

In a medium jar or glass bowl mix everything together, except the fruit

2.

Stir in fruit and transfer to serving bowls. Cover and refrigerate overnight or at least for 6 hours

3.

Just before serving add your favourite topping
Leave a Comment
the vanilla and cinnamon are a nice touch, it gives the oats a pudding like flavour.