Gluten Free Raw Energy Bar Recipe
Published on May 16, 2014
by
Kristina Stosek
Prep Time:

15 minutes
Cook Time:

minutes
Serves:

10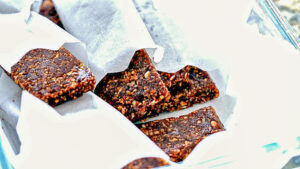 ​This post may contain affiliate links, please see our
privacy policy
for details
Are you on the hunt for a delicious, healthy gluten-free raw bar that will give you a boost of energy?
I love the combination of nuts and dates. In fact, I love to add dates to my recipes whenever possible as a sweetener. This is the only energy bar recipe that I have made three times in seven days. It is that good. My entire family loves it!
So if you need a quick fix for energy, want some delicious raw goodness in your life, or if you're trying to lose weight or get healthier, I'm telling you right now, this raw energy bar recipe is a great choice.
home made energy bar to keep on the go…
I am going to let you in on one of my little secrets. I love snacks. Healthy snacks that is. I spend a lot of time and energy making healthy gluten-free recipes, testing new ingredients, and making delicious tasting gluten-free treats. It is a passion of mine! So, part of my challenge was to make something healthy and super tasty, easy to make, and satisfying.
this gluten-free raw bar does all of the above…
A gluten-free recipe with the classic flavours of cocoa and nuts creates a hearty energy bar that's excellent for hiking, travelling, pre-workout, after a workout, or anytime you need a healthy energy boost. The recipe is simple and easy to prepare and only requires a little time to put together. You'll love the combination of flavours in this healthy gluten-free snack!
This raw power bar is not only delicious but has a chock full of healthy ingredients like nuts, seeds, coconut, ginger, flax seeds, lemon juice and cocoa. This healthy snack is a delight to the senses. The texture is chewy and moist, and the flavours are sweet and zesty. They are delicious as snacks or for a satisfying breakfast alongside some yogurt or fruit, or just as is.
nutrient-dense raw power bar…
I am a big believer in eating as much raw food as possible – for health, weight loss, and energy! One of my favourite easy treats to eat is this gluten-free, made from scratch raw energy bar or walnut and fig energy bar or this vegan no-bake pumpkin seed cranberry bar.
With more than 18 million Americans following a gluten-free diet – this recipe provides a better alternative to pricier store-bought gluten-free energy bars containing dairy, soy, and refined sugar. This healthy bar recipe has no added sweeteners! Instead, I used Medjool dates that are high in fiber, iron, and vitamin A to sweeten up the bars.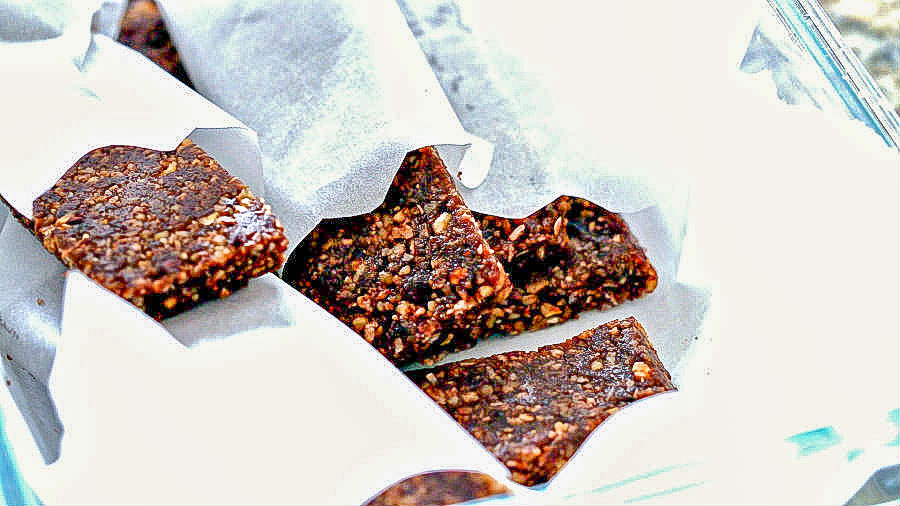 The most nutritious way to start the day is with a breakfast that is full of nutrients, protein, and fiber, giving you lasting energy throughout the morning. Since this bar recipe has no added sugar, it is a healthier choice. Many store-bought energy bars include extra sweeteners.
This raw energy bar is a plant-based protein bar that will boost your energy levels. It's also great for people following a raw food diet or looking for an alternative to whey protein powders.
Gluten Free Raw Energy Bar Recipe
Published on May 16, 2014
by
Kristina Stosek
Instructions
1.

Place all ingredients into a food processor and blend until almost smooth

2.

Place mix in between 2 sheets of parchment paper and roll out to ¼ inch thickens

3.

4.

Cut to desired size and refrigerate in a tight lid container. I usually double the recipe because the bars will last up to 3 weeks when refrigerated