Low Carb Cheesy Potato Pie
Prep Time
15 Minutes
Difficulty
Easy
Cook Time
85 Minutes
Serves
6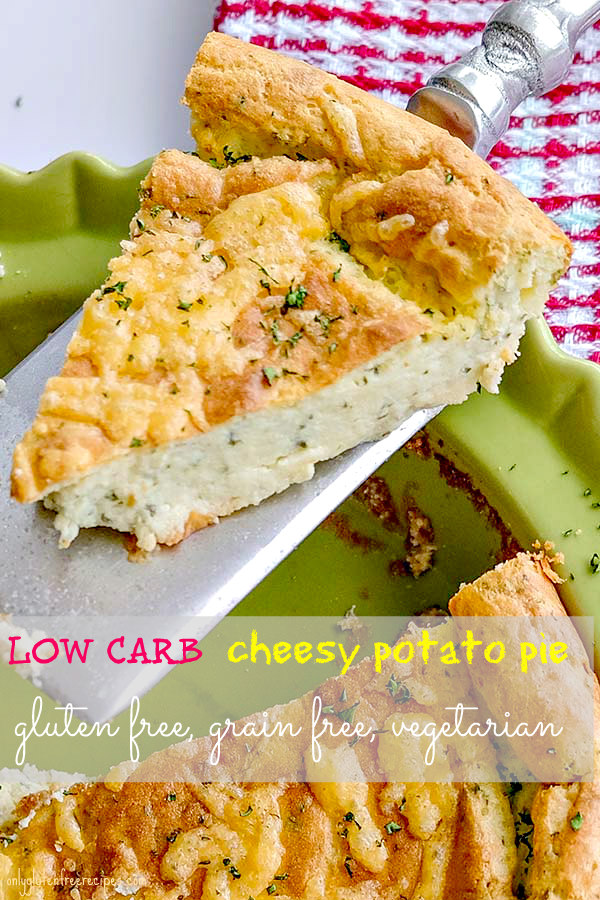 Looking for life changing potatoes? You will love this easy cheesy potato pie recipe that has only 23 carbs per serving. This savoury pie is gluten free, grain free, vegetarian and deliciously flavoured with two types of cheeses. Whether entertaining or having a family dinner, this pie will always be a hit.
Potatoes are considered comfort food, but when following a low carb diet, potatoes are usually off limits. Starchy vegetables such as potatoes offer ample nutrition and are a great addition to your diet. Enjoying potatoes without worrying about the extra carbs that most potato recipes have is a treat. Serve as a side with your favourite entree or with a deluxe green bean salad or Mediterranean salad making it a complete vegetarian meal. Enjoy!
Ingredients
1 large potato, russet or Yukon gold, quartered (should make 1 ¼ cups when mashed)
2 cups low fat ricotta cheese
1 Tbsp. arrowroot starch
3 eggs
¾ cup milk
½ tsp. sea salt
1 cup Gruyere or cheddar cheese, divided
2 garlic cloves, minced
¼ cup chopped parsley
Instructions
Preheat oven to 350 F. Generously oil a 2-quart casserole dish with cooking oil or non-stick cooking spray
Boil potatoes in salted water until tender. About 10 minutes, then drain
In a food processor add cooked potatoes, ricotta cheese, arrowroot starch and eggs. Process until creamy. Add milk, sea salt, ¾ cup cheese, garlic and parsley. Process just until all the ingredients are mixed
Transfer mixture into prepared casserole dish and bake for 1 hour. Top with remaining cheese and bake for 15 more minutes or until the cheese is bubbling
Rest for 15 minutes before serving
Note: if you do not have a food processor, mash the potatoes first, then using an electric mixer follow the recipe
Similar Recipes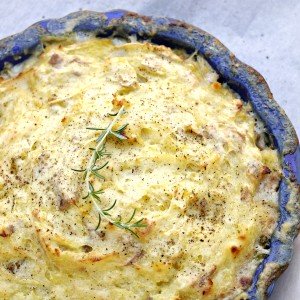 Gluten Free Chicken Pot Pie
Relish the flavours of tender chicken and vegetables immersed in rich gravy and topped with potato crust in this warming chicken pot pie Read More
Prep Time
20 Minutes
Difficulty
Easy
Cook Time
45 Minutes
Serves
4 - 6
Gluten Free Cottage Pie
Cottage pie also known as shepherd's pie, what is the difference? The difference is the meat. Shepherds pie is made with lamb and cottage pie is made with beef. This deliciously flavoured cottage pie has fluffy cheesy potato topping and can be made in less than an hour. In this gluten free recipe, I used […] Read More
Prep Time
15 Minutes
Difficulty
Easy
Cook Time
40 Minutes
Serves
4
Sweet Potato and Acorn Squash Mash
This is a healthy way to serve mashed potatoes, the combination of acorn squash and sweet potato makes this side a nice change to mashed potatoes. Dairy free option included. Read More
Prep Time
15 Minutes
Difficulty
Easy
Cook Time
60 Minutes
Serves
4
© Copyright 2017 Only Gluten Free Recipes. All Rights Reserved.