Yellow (Wax) Beans With Garlic and Tomatoes
Published on Mar 01, 2014
by
Kristina Stosek
Prep Time:

10 minutes
Cook Time:

15 minutes
Serves:

4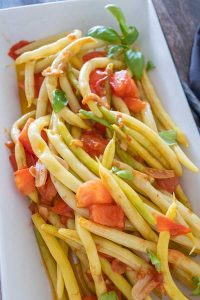 ​This post may contain affiliate links, please see our
privacy policy
for details
When visiting Greece, I picked up this amazing yellow bean recipe. The fresh beans are flavoured with olive oil, garlic and fresh tomatoes and cooked to perfection. There is nothing simple about the flavour of this vegan side dish except the recipe.
easiest yellow bean recipe
I love this Greek fresh bean dish. When yellow beans also known as wax beans are in season, they are so tasty, and I think they are more delicious than green beans.
Yellow beans have a milder flavour than green beans, and they are easily infused with herbs, spices and garlic. This makes them a good low-carb vegetable for this recipe.
Yellow beans are pale yellow and are a type of snap bean. When they are picked young, they cook very quickly. Their peak season is from late July to late September.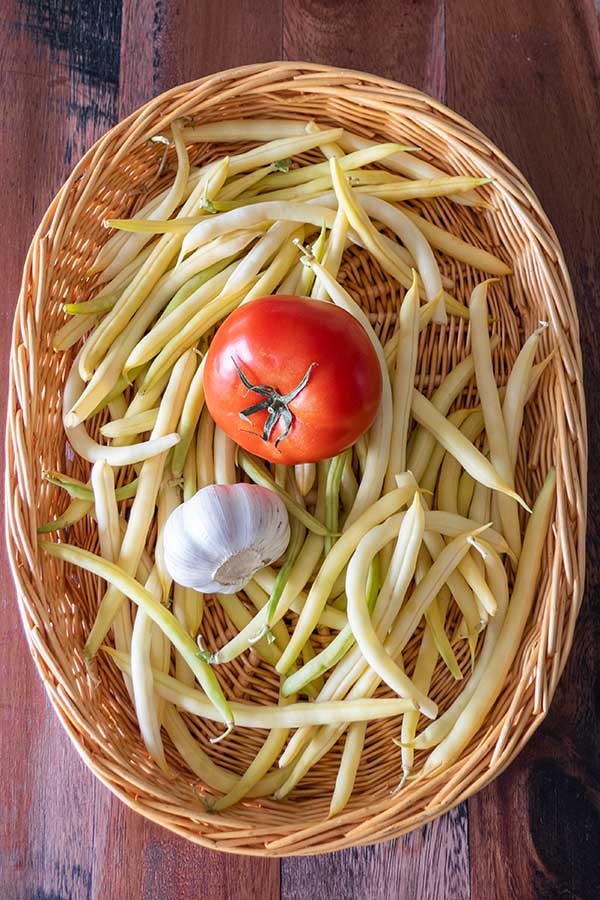 This healthy, most delicious Beans With Garlic and Tomatoes dish is best when using yellow beans. However, green beans will also work in this recipe. But, they may take a little longer to cook.
If wax beans aren't in season, you can substitute them for green beans, but the yellow beans truly make this a Greek recipe.
three easy steps for the most delicious wax bean dish
Whenever I make this dish, I always steam the beans. You can also cook them in lightly salted water, but I prefer them steamed. The texture is much better, and the beans keep more of their nutrients.
to start
Briefly steam the beans. If the beans are young, they will take about five minutes to steam. If they are more mature, check for doneness, you may need to steam them a little longer.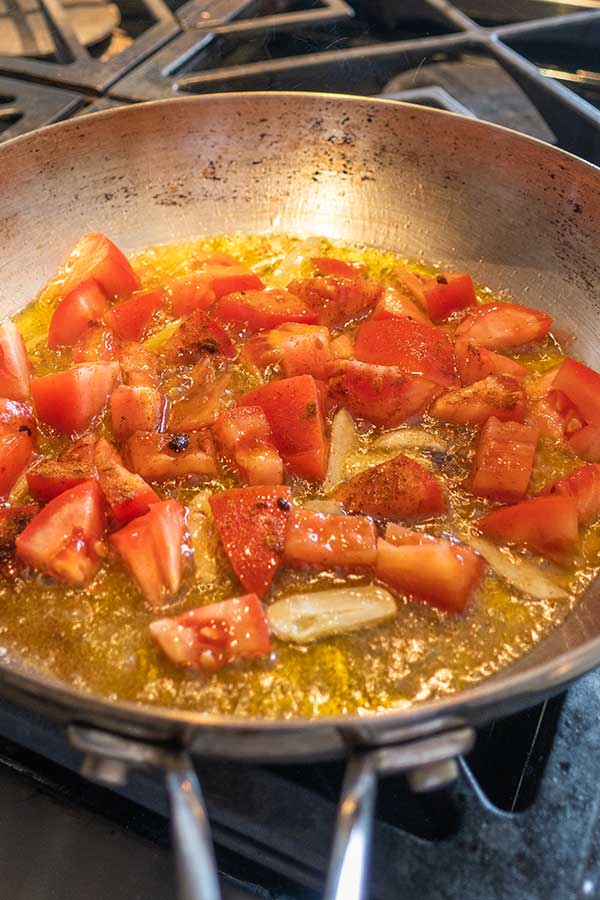 While the beans are steaming, saute garlic in a good quality extra virgin olive oil, add tomatoes and paprika and cook the tomatoes until they start to release some of their juices.
next, mix the steamed beans with the garlic tomatoes
Now that the beans are tender and the garlic tomatoes are seasoned and lightly cooked, stir in the yellow beans. Cover the saucepan and continue cooking for three more minutes.
The tasty beans will become infused with garlic tomatoes and lightly flavoured with olive oil. OMG, this healthy bean dish is insanely delicious.
Since wax beans have a very short season, you can always freeze them. The best way to freeze fresh beans is first by blanching them. Then make sure they are dry before sealing them in freezer bags. The beans will keep up to three months in the freezer.
What goes well with wax beans side?
I love this Yellow Bean With Garlic and Tomatoes dish so much that when I have a vegetarian meal, I make a rice dish, such as this Vegan Dirty Rice and top it with these delicious beans.
But if you like to add protein, anything goes. My favourite protein to add to this low-carb bean side dish is fish, such as this Parmesan Crusted Halibut, the way they served it in Greece …….. so GOOD!
Let's Connect!
Be sure to FOLLOW US on FACEBOOK and PINTEREST.
Many thanks!
Kristina xx
Yellow (Wax) Beans With Garlic and Tomatoes
Published on Mar 01, 2014
by
Kristina Stosek
Instructions
1.

Steam beans for about 5 minutes or until tender

2.

Using a large saucepan add olive oil and garlic and sauté until just fragrant about a minute. Add tomatoes and paprika, and cook until the tomatoes start releasing their juices. About 3 minutes

3.

Add beans, season with salt and pepper and toss to coat the beans with the garlic tomatoes. Cover and cook for 3 minutes longer

4.

Gently stir just before serving and top with fresh herbs
Leave a Comment
Kristina
Thank you for sharing John
Thanks for reminding me of this dish. We do three to four separate plantings of wax beans and I've grown weary of our go to favorites. I can't leave well enough alone and quite often like to use cherry tomatoes, bannana peppers, pepperoncini, kalmata olives, feta cheese, and plenty of basil, oregano, black pepper and crusty bread to soak up the juices.
Kristina
wonderful to hear Ahna, thank you
This recipe was easy and tasty. Was looking for a quick yellow bean side and this was perfect. Will make this again. Thank you.
Great recipie! My husband was so excited to have a different way of serving beans!!