Spicy Sambal Pork Noodles with Bok Choy – Gluten Free
Published on Jun 17, 2022
by
Kristina Stosek
Prep Time:

5 minutes
Cook Time:

50 minutes
Serves:

6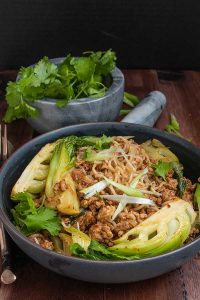 ​This post may contain affiliate links, please see our
privacy policy
for details
A Spicy Sambal Pork Noodles with Bok Choy is so insanely good. And the best part, this gluten-free pork noodle dish is super simple to put together. The key ingredients are ground pork, ginger, garlic, hot chilli sauce, tamari sauce, and noodles.
I added bok choy for healthiness and fresh taste, giving this sambal pork noodle dish a good mix of textures, flavour and freshness.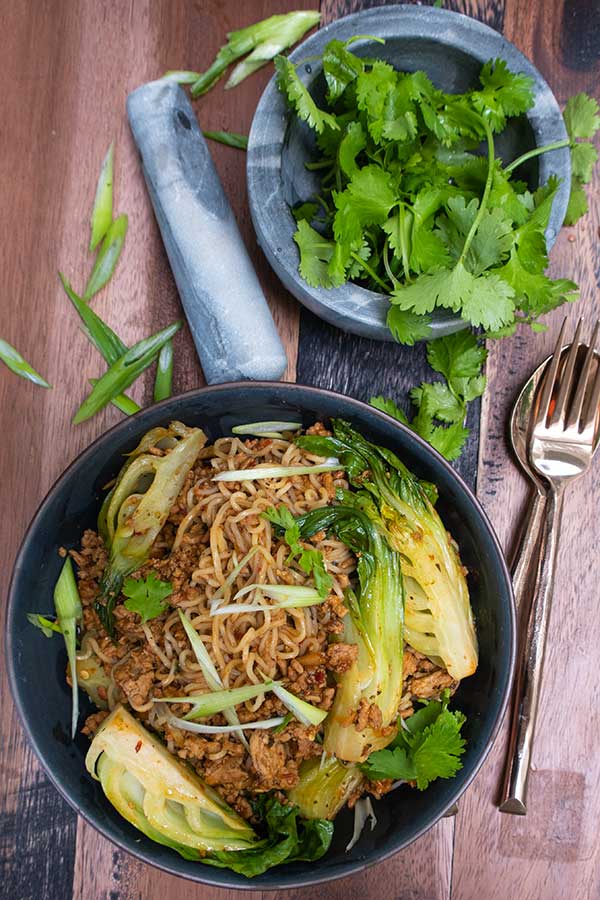 What is Sambal Pork Noodles Dish?
A gluten-free noodle dish with a lot of meat, noodles and a bold flavour with heat. The spiciness comes from Sambal Oelek, an Indonesian hot chilli paste. The bold flavour comes from a lot of fresh garlic, fresh ginger, tamari sauce, tomato paste and rice vinegar.
The one herb I added is dried basil leaves. Yes, you can use fresh basil – however, you will find that the basil flavour intensifies by using dried herbs, bringing this sambal pork noodle dish to another level.
3 reasons not to add salt to sambal pork noodles recipe
I want to note that you don't need to add salt to this gluten-free pork noodle dish. One reason is the tamari sauce has 320 mg of sodium per teaspoon. Second, sambal oelek has about 400 mg of sodium per 1/4 cup. And we are adding salted pasta water.
However, taste the sambal pork noodles just before serving, and if you feel this noodle dish needs more salt, add some. I found that this pork recipe didn't need extra salt.
What is sambal oelek made of?
Sambal Oelek is a spicy Indonesian chilli paste made with raw Thai hot red chile peppers, salt and vinegar that are ground together. You can also use red jalapenos, serranos, Fresno peppers and cayenne peppers.
If you need to replace sambal oelek in a recipe, then the best options are sriracha, gochujang, or a mix of crushed red chilli flakes with rice vinegar.
Meaning of sambal
Sambal is a chilli hot relish found in the cooking of Sri Lanka, Indonesia, Malaysia and Singapore.
What does Oelek mean?
Oelek refers to the mortar and pestle used to make sambal in Indonesian kitchens. Compared to sriracha, sambal oelek is less acidic and lacks a strong presence of vinegar. This means you can add spiciness without impacting the flavour of the dish.
home-made sambal oelek recipe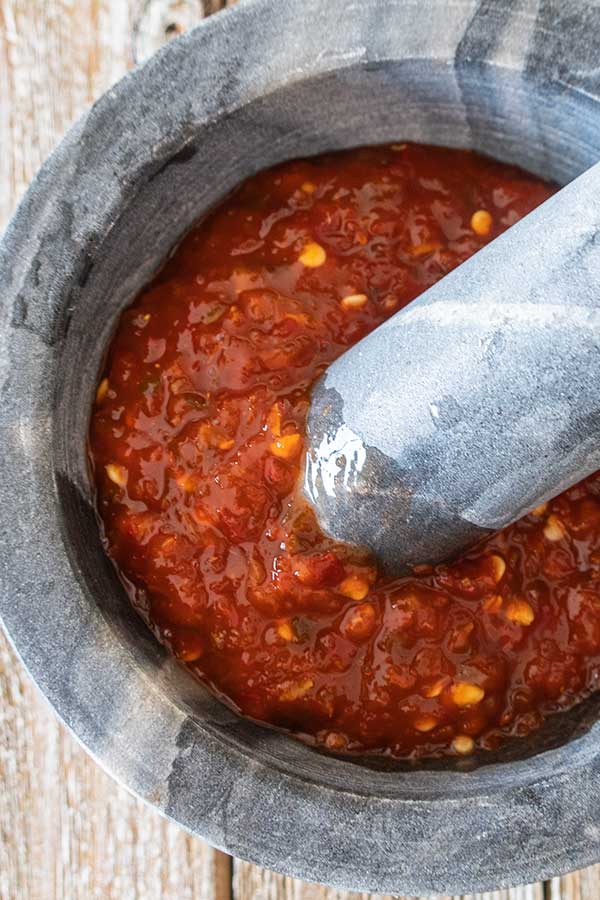 Ingredients:
1 pound red chilli peppers, stems removed. Thai peppers are traditional, but red jalapenos, serranos, Fresno peppers and cayenne peppers are suitable substitutes
2 Tbsp. rice vinegar (unflavoured)
1 Tbsp. sea salt
2 garlic cloves (optional)
1 tsp. fresh lime juice
Instructions:
Add all of the ingredients to a mortar or a food processor. Grind until coarse paste forms.

Add to a jar and cover. Refrigerate until ready to use. It keeps up to 3 days refrigerated or freezes for up to 6 months.
Best gluten-free noodles for Sambal Pork Noodle Dish
If you can find gluten-free ramen noodles, I highly recommend using them. But you can also use gluten-free soba or spaghetti noodles. Or, serve the sambal pork sauce over simple rice and sauteed veggies.
the toppings
I like to add freshness to this meaty noodle dish. This means fresh herbs such as Thai or regular basil, cilantro and thinly sliced green onions.
I used cilantro because I love the flavour. Asian recipes often use cilantro, sometimes referred to as coriander leaves or Chinese parsley. You can also add chopped peanuts or cashews.
Can I substitute ground chicken or ground turkey for ground pork?
Yes, you can use chicken or turkey. The only thing you will need to add is about three tablespoons of cooking oil before you start browning the meat because both chicken and turkey have less fat than ground pork.
Can I substitute other vegetables for bok choi?
The best veggies that will work in this sambal pork noodle dish are broccoli florets, sliced mushrooms, thinly sliced Nappa cabbage, thinly sliced kale, julienned carrots, sliced green onions or roughly chopped spinach.
Let's jump into the details,
Peel and slice the ginger and garlic – 2 min hands on time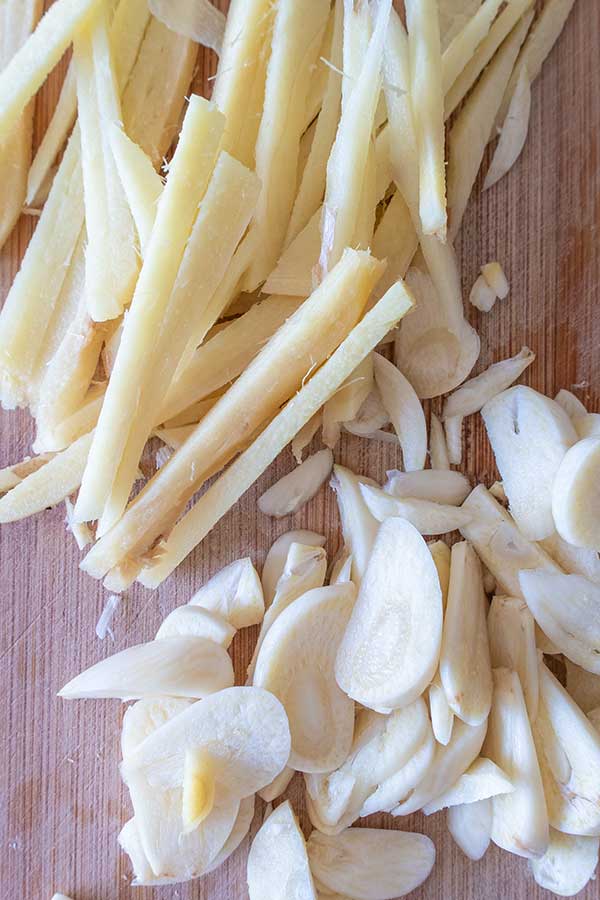 Brown the meat and add all the ingredients with water except the noodles, bok choy and butter. Cook for 45 minutes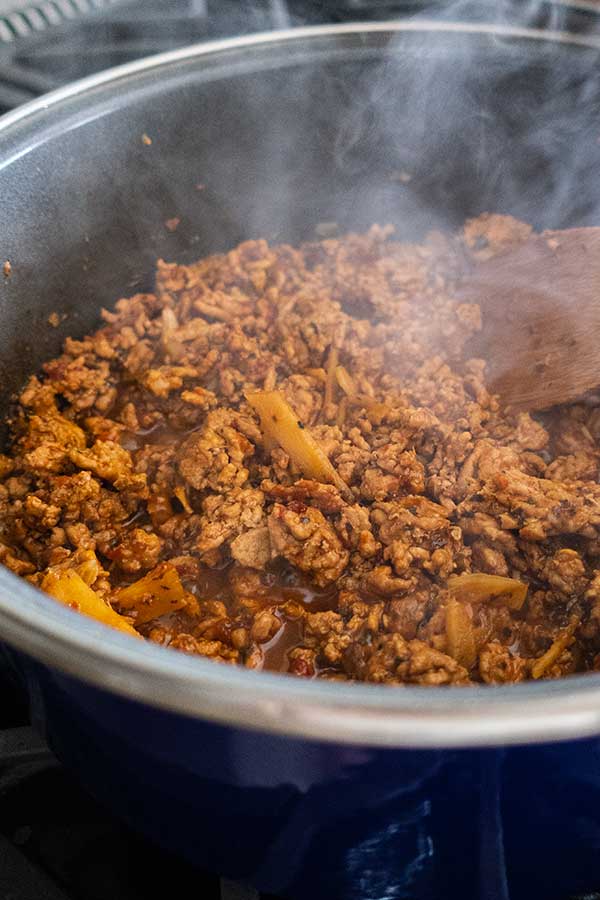 Prepare the gluten-free ramen noodles per package instructions, drain and reserve some of the water

Quarter the bok choy – 1 minute hands on time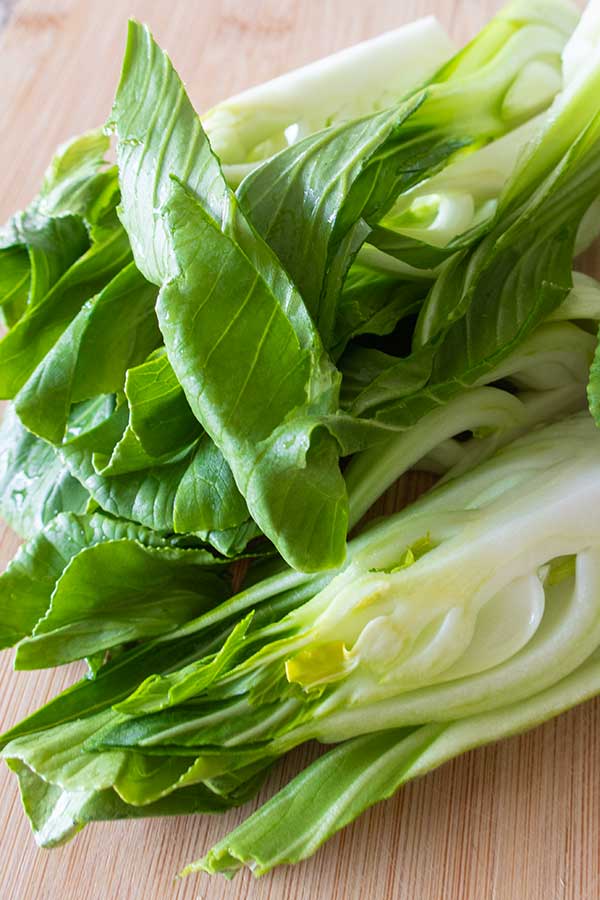 Stir bok choy into sambal pork sauce and cook covered for additional 2 minutes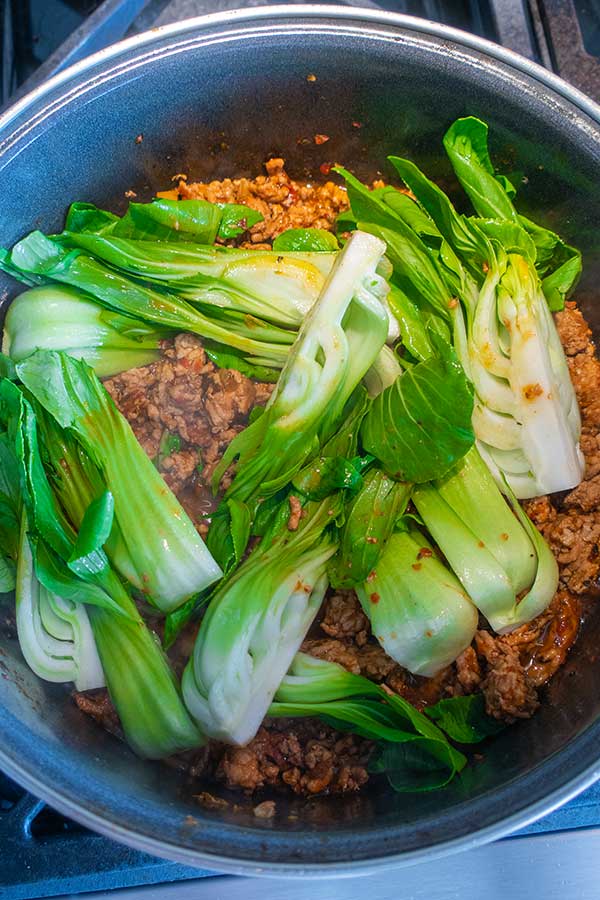 Add noodles, butter and a splash of pasta water, and stir to coat the noodles with the sauce – 2 minutes hands on time.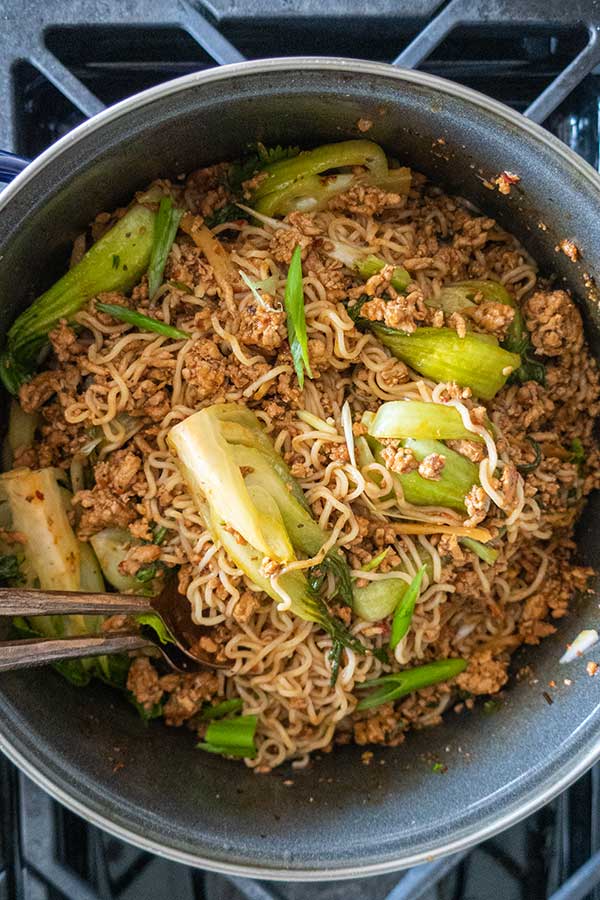 Serve with your favourite toppings.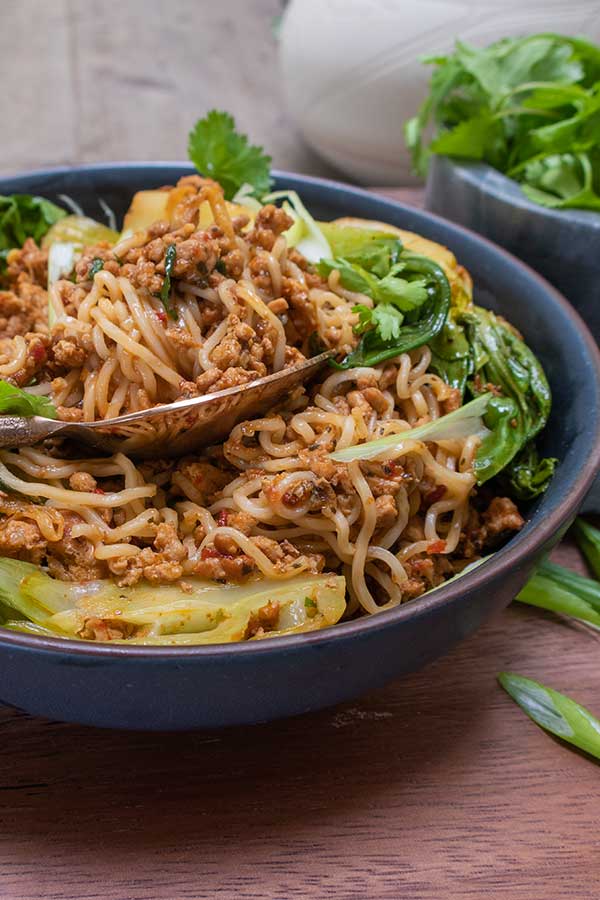 This gluten-free sambal oelek pork noodle dish is such an easy and delicious recipe it may become one of your favourite go-to weeknight meals—a great gluten-free noodle recipe with very little hands on time and a sure crowd pleaser. Enjoy!
Spicy Sambal Pork Noodles with Bok Choy – Gluten Free
Published on Jun 17, 2022
by
Kristina Stosek
Instructions
1.

Heat a large wide pot over medium-high heat. Add half the pork, break it up into large pieces and brown on all sides. Move the meat to one side and add the remaining meat and brown on all sides

2.

Stir in garlic, ginger, sugar and basil

3.

Add vinegar, tamari sauce, sambal oelek, tomato sauce and 2 cups of water. Bring to a boil, cover and reduce heat to medium. Cook for 45 minutes, stirring as needed. Taste and if you prefer more spice, add more sambal oelek

4.

Meanwhile, cook noodles per package instructions keeping them al-dente. Drain and reserve 1 cup of pasta water

5.

Stir bok choy into meat sauce, cover and simmer for 2 more minutes or until bok choi starts to soften. It should be tender but firm to bite

6.

Add butter, noodles, and a splash of reserved pasta water to the meat mixture and toss to coat the noodles with the sauce

7.

To serve, divide noodles among bowls and top with fresh herbs and green onions.