Spanish Pork and Sausage Casserole
Prep Time
15 Minutes
Difficulty
Easy
Cook Time
40 Minutes
Serves
4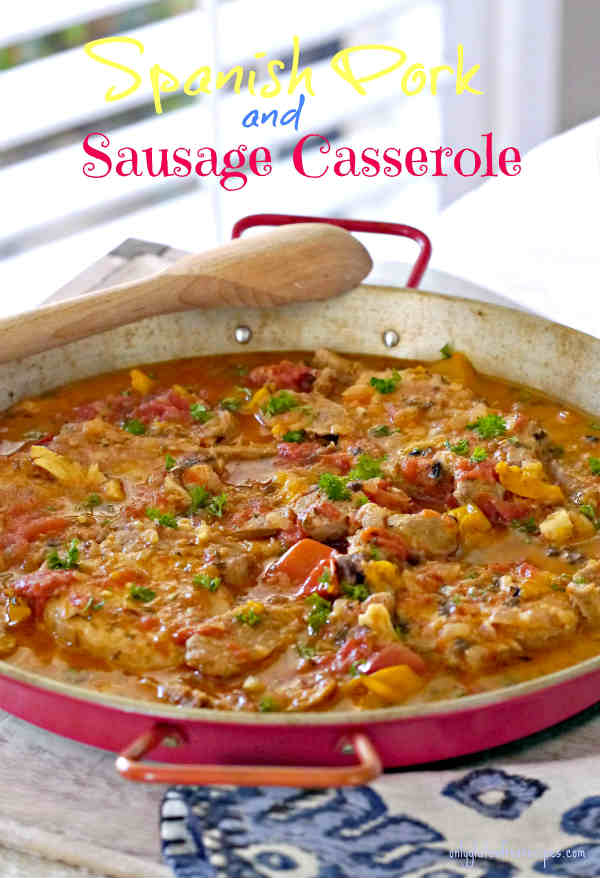 Average Rating: 4 | Rated By: 1 users
This is one of Spain's favourite pork and sausage casseroles. This traditional Spanish dish is made with spices and wine creating deliciously intense flavour in this casserole. This is truly a warming dish to try. Serve with potatoes or rice
Ingredients
2 Tbsp. coconut oil
4 bone-in pork chops, about ½-inch thick. Remove as much fat as possible
4 gluten free Italian or Chorizo sausages
1 large yellow onion, chopped
1 yellow bell pepper cut to bite size pieces
4 large garlic cloves
1 Tbsp. GF smoked paprika, if you do not have smoked you can use sweet paprika
¼ tsp. GF caraway seeds
½ cup dry white wine
4 Roma or vine tomatoes, quartered
2 GF bay leaves
½ cup chopped fresh parsley
Sea salt to taste
Instructions
Heat oil over high heat in a large deep frying pan. Add pork chops and brown on both sides. Transfer to a plate
Reduce heat to medium and add sausages, onion, yellow pepper and garlic to the pan. Cook until onions are softened, turning the sausage so they are browned on all sides
Stir in paprika and caraway and return pork chops to the pan.
Add wine, tomatoes, bay leaves and parsley and season with salt. Reduce heat to low and cover the pan. Cook for 35 – 40 minutes or until the pork chops are tender
Remove the sausages and cut into thick slices, then return back to the pan and cook for 3 more minutes. Enjoy!
Tip: this recipe can also be made in the oven. Once you stir in the wine, tomatoes, bay leaves and parsley transfer the casserole into a deep baking dish, cover and bake at 375 F for 30 minutes. Add a little water if needed during the baking
Similar Recipes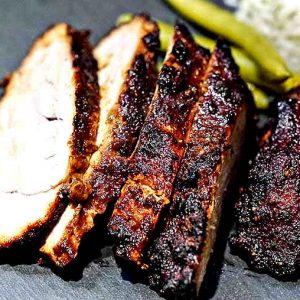 Orange Spiced Pork Tenderloin Recipe
Enjoy this decadent pork tenderloin dish that proves extravagance can be easy.  The tenderloin is marinated in an orange spiced sauce, making this dish unforgettable. Serve with rice or potatoes and your favourite vegetable side Read More
Prep Time
5 Minutes
Difficulty
Easy
Cook Time
60 Minutes
Serves
4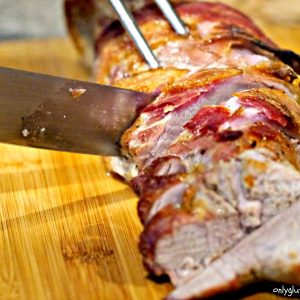 Pork Tenderloin with Bacon
Tender pork tenderloin flavoured with maple syrup and wrapped in crispy bacon. Simply amazing recipe! The  spiced rice with raisins will make a wonderful side to this succulent pork tenderloin Read More
Prep Time
15 Minutes
Difficulty
Easy
Cook Time
60 Minutes
Serves
4
Feijoada ~ Black Beans Meat Stew
Feijoada is a typical Portuguese dish but in Brazil, feijoada is considered their national dish. It is a slowly simmered stew made with black beans and pork or beef, but there are many versions of this stew, depending on the region. This dish is hearty and is mostly served with rice and greens, but adding […] Read More
Prep Time
15 Minutes
Difficulty
Easy
Cook Time
300 Minutes
Serves
6 - 8