Honey Ginger Chicken Wings
Prep Time
10 Minutes
Difficulty
Beginner
Cook Time
30 Minutes
Serves
16 wings
Average Rating: 5 | Rated By: 2 users
Chicken wings make a good appetizer especially when they are coated with a honey ginger sauce. This recipe is simple to make and can be prepared in advance. Just pop the wings in the oven when ready
Ingredients
16 chicken wings or just drumsticks (my preference)
2 Tbsp. minced ginger
¼ cup liquid honey
1 Tbsp. freshly squeezed lime juice
2 Tbsp. GF tamari sauce
2 garlic cloves, minced
4 green onions (spring) thinly sliced
½ tsp. freshly ground black pepper
1 Tbsp. toasted sesame seeds (optional)
*As an Amazon Associate and member of other affiliate programs, I earn from qualifying purchases. Please check out my sponsorship and disclosure policy page for more details
Instructions
Preheat oven to 400 F and line a baking pan with parchment paper
In a large bowl, whisk together all the ingredients except the chicken
Add chicken and coat well with marinade. Cover in an airtight container and refrigerate for 8 hours or overnight for best results. Bring to room temperature before cooking.
Place chicken wings on a baking tray and bake for 20 - 30 minutes or until crispy, turning half way through
Barbecue option ~ cook chicken wings at 350 F for 20 – 30 minutes or until nice and dark turning often.
To serve sprinkle with toasted sesame seeds and spring onions.
Similar Recipes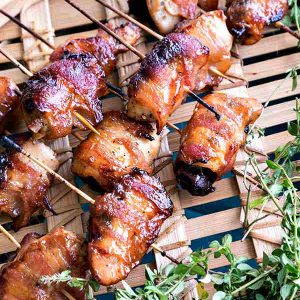 Chicken and Dates Bacon Wraps
Super tasty Chicken and Dates Bacon wraps…anything with bacon is heavenly, especially, when you combine bacon with dates and chicken. The flavours smoldering in your mouth are from the sweetness of dates mixed with the saltiness of  bacon. You will find that this recipe for Chicken and Dates Bacon Wraps is simple to make and […] Read More
Prep Time
15 Minutes
Difficulty
Easy
Cook Time
25-30 Minutes
Serves
24 pc
Baked Chicken Satay Bites
This is a South East Asian inspired chicken recipe without the peanut sauce. The chicken is tender, juicy and flavourful. Whether you are entertaining a crowd or just looking for a snack, chicken satay is always popular. Read More
Prep Time
20 Minutes
Difficulty
Easy
Cook Time
10 Minutes
Serves
20 skewers
Gluten-Free Peking Style Chicken
Fingerlicking Peking Style Chicken. I know the recipe sounds complicated, but it's not. This dish originates from Beijing and is traditionally made with a duck.  I wanted to use chicken in this Peking-style recipe because it is simpler and faster.  The simple details for Peking style chicken recipe! To make this gluten-free exotic chicken dish […] Read More
Prep Time
5 Minutes
Difficulty
Beginner
Cook Time
55 Minutes
Serves
8 pc