7 Things To Know When Creating a Cheese Party Board
Cheese party boards have become increasingly popular and for a good reason. They are visually appealing and offer a delightful array of flavors and textures for guests to enjoy. Whether you're hosting a casual get-together or a formal soirée, a well-curated cheese board can be the centerpiece of your event.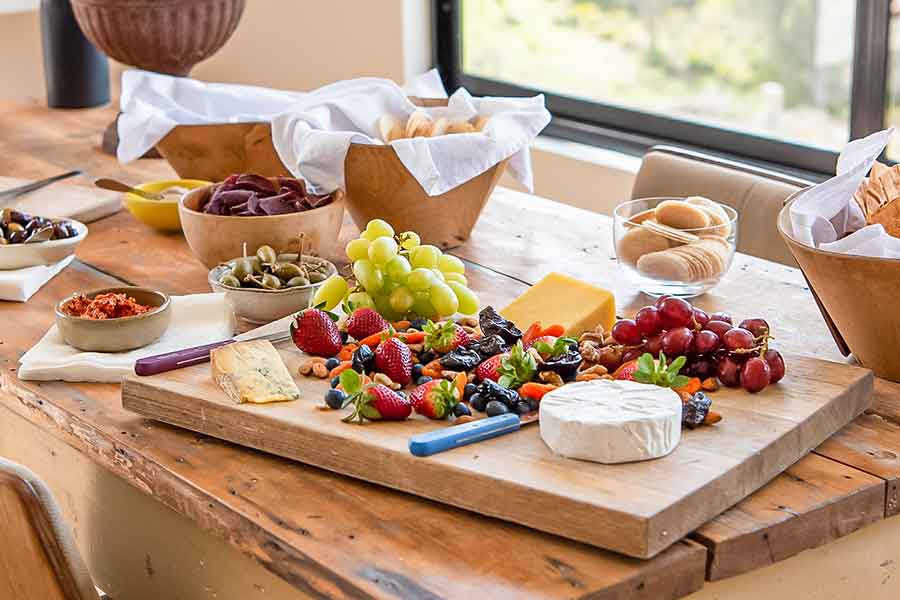 Before you start creating a memorable cheese party board.
Choose a Variety of Cheeses One of the keys to a successful cheese board is variety. Aim for a mix of flavors, textures, and types of cheese. Include a range of styles such as soft, semi-soft, hard, and blue cheese. Consider offering options like creamy brie, tangy cheddar, nutty Gouda, and pungent Roquefort. Including familiar and more adventurous choices will cater to different preferences and allow guests to try something new.
Consider Pairings While cheese can be delightful on its own, pairing it with complementary flavors can elevate the tasting experience. Consider including accompaniments like cured meats, fresh fruits, nuts, and gluten free crackers.
For example, a slice of sharp cheddar can be enhanced by a thin slice of apple, and a drizzle of honey can balance creamy goat cheese. Experiment with different combinations to find pairings that create harmony on the palate.
Pay Attention to Presentation A visually appealing cheese board is inviting and adds to your party's overall ambiance. Start by choosing an appropriate board or platter to accommodate all your selections. Arrange the cheeses and accompaniments organized, allowing guests to choose easily. Use small dishes or ramekins to hold olives, spreads, or condiments. Adding garnishes like fresh herbs or edible flowers can provide an extra touch of elegance.
Allow for Texture and Temperature Variations When creating a cheese board, consider the importance of texture and temperature. Include cheeses that range from creamy and spreadable to firm and crumbly. This variety will add interest and excitement to the tasting experience. Additionally, allow some time for the cheese to come to room temperature before serving. This will enhance their flavors and aromas, allowing guests to fully appreciate their nuances.
Offer Accommodations for Dietary Restrictions To ensure that all your guests can enjoy the cheese party board, be mindful of dietary restrictions. Consider offering at least one or two options suitable for vegetarians or those who follow a gluten- or lactose-free diet. This can be accomplished by including plant-based cheeses, gluten-free crackers, and dairy-free spreads. Providing a diverse range of options will make your guests feel appreciated. When serving gluten free options, be sure to serve them on a separate platter to avoid cross-contamination with gluten.
Provide Cheese Descriptions Not everyone is a cheese connoisseur, so it can be helpful to briefly describe each cheese on the board. This can be done by placing small labels or note cards next to each variety, indicating its name, origin, and key characteristics. This information will guide guests in their cheese selection and encourage conversation about the different flavors and origins.
Keep It Fresh and Replenish as Needed As the party progresses, monitoring the cheese board and replenishing any items running low is important. Freshness is key, so remove any cheeses sitting out for an extended period and replace them with fresh portions. Make sure to discard any leftovers left at room temperature for too long to ensure food safety.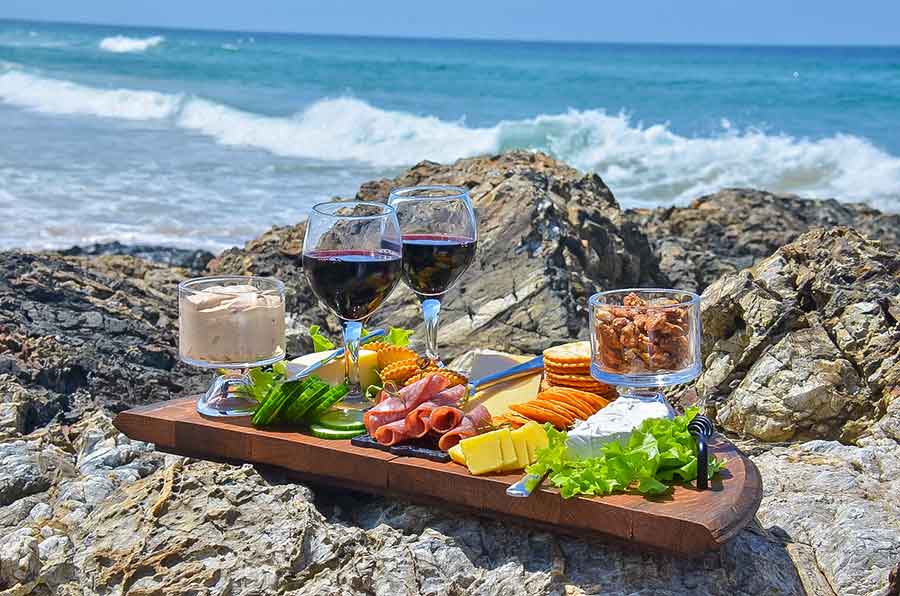 7 Things To Know When Creating a Cheese Party Board
1) Theme
When creating a party board, consider the theme of the party. For example, is it a fancy cocktail party, a casual barbecue get together, a birthday celebration or a party that serves only finger food?
For example, for cocktail parties stick to cheese, olives, nuts and crackers. For casual get together add dips, wings, firecracker chicken and mozzarella meatballs and plenty of chips. For finger food go for heartier items like baked tuna melt jalapeno poppers.
2) Budget
Party boards can be very costly, so unless you have an unlimited budget, it is essential to decide on how much you are going to spend. You can create an attractive board starting at $10.00 and go as high as $100.00 or more. If you want to keep the cost down, stick to simple cheeses like cheddar cheese and plenty of fresh veggies and fruit.
3) Time
How much time do you have to make a party board? Some simple boards with fruit and cheese or veggies and dips take minutes to make. Other boards, for example, if you want to add honey ginger chicken wings, cheesy focaccia with olives, or try our best baked gluten free meatballs, allow for extra time. So plan ahead, make things in advance, and then just throw everything together when ready to start the party.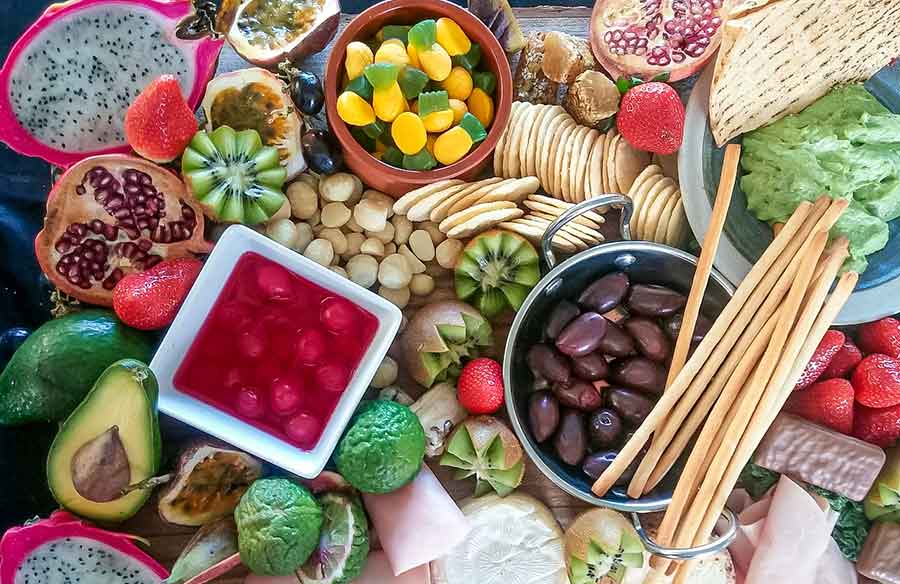 4) Board
This is the fun part. You can use various items to plate your food on. Starting from a simple rimmed baking sheet, wicker baskets, cutting boards, cake stands, ceramic or metal platters or serving trays. Just make sure to line the baskets or baking sheets with parchment or wax paper.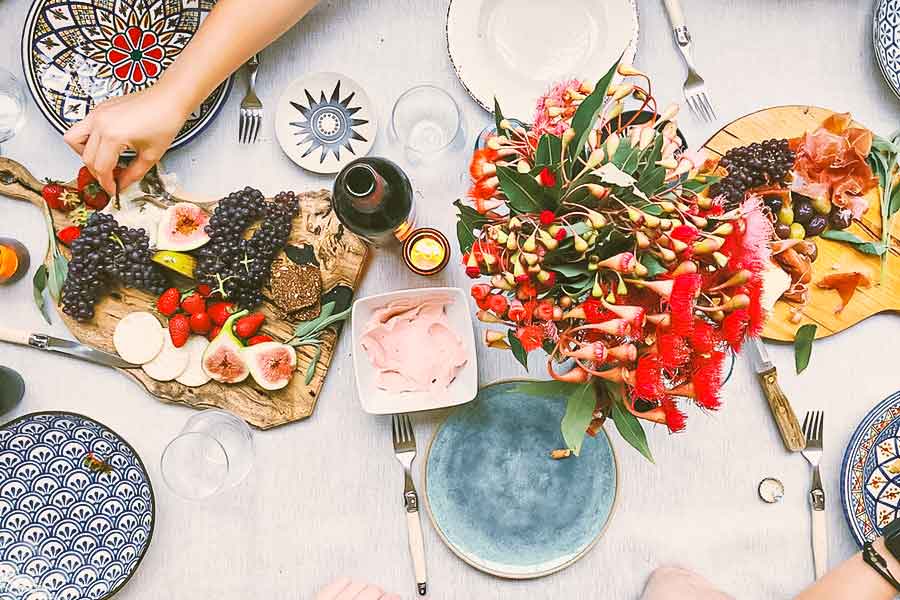 5) Size
How many people are you making the board for? Is this party board used as an appetizer or is this finger food party? For an appetizer, rule of thumb is three servings per person, if this is going to be a finger food party, allow for four servings per person.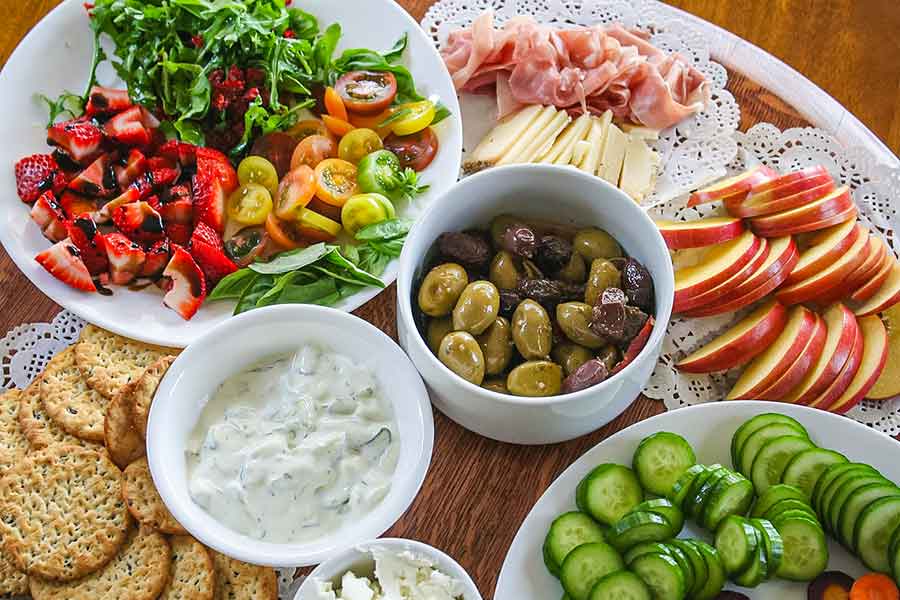 6) What to add to your board?
Let your imagination go wild. Don't limit yourself to basics like soft and hard cheeses, fruit and cured meats. Add some different things like dried fruit, nuts, jams, marinated mushrooms, jalapeno meatballs, grilled veggies. It all depends on your budget and time.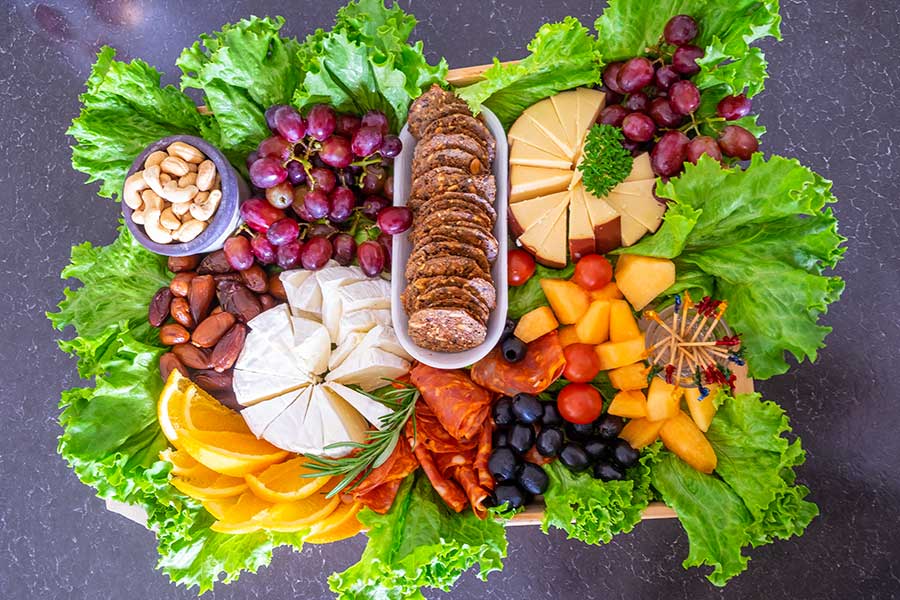 7) Keep it fancy without breaking your budget.
You don't have to spend a lot of money to create a beautiful party board. Start with a tray lined with fresh lettuce leaves, the leaves fill empty spaces, and the board looks colourful. Then make your favourite dip and salsa.
Dips and fresh salsa are costly if you have to buy them, so make your own. Add gluten free corn chips, celery sticks, carrot sticks, cheddar cubes, apple or pear slices, and that is all you need. If you feel you need to fill more space, add parsley, it makes everything look beautiful.
Remember, you don't have to have a lot of different things on the board for it to look pretty and colourful! Quick tip, to stop the fresh fruit from browning dip the fruit in lemon juice and water.
To summarize, when it comes to a party board, it is all about your imagination. Stick to fresh, quality ingredients and add plenty of greens, and don't forget cheese spreaders and cutters.
Creating a Cheese Party Board – The Highlights
Creating a cheese party board is an enjoyable and creative endeavor. By considering the variety of cheeses, pairings, presentation, texture and temperature variations, accommodations for dietary restrictions, cheese descriptions, and freshness, you'll be well on your way to creating a memorable cheese experience for your guests.
So unleash your creativity, and let the cheese party begin!
Let's Connect!
Be sure to FOLLOW US on FACEBOOK and PINTEREST. And don't forget to sign up for our newsletter, the form is at the bottom of this page. We always have something new and exciting for you!
Many thanks!
Kristina xx
Affiliate Disclosure: Only Gluten-Free Recipes is a participant in the Amazon Services LLC Associates Program, an affiliate advertising program designed to provide a means for sites to earn advertising fees by advertising and linking to amazon.com. Please check out my sponsorship and disclosure policy page for more details