Gluten-Free Cheesy Focaccia With Olives
Published on May 28, 2019
by
Kristina Stosek
Prep Time:

10 minutes
Cook Time:

35 minutes
Serves:

8 pc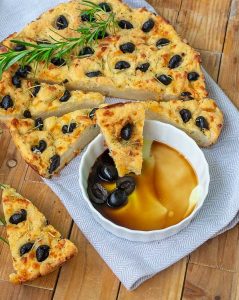 ​This post may contain affiliate links, please see our
privacy policy
for details
This Gluten-free cheesy focaccia with olives is crispy on the outside and soft on the inside. The cheesy flavour with the added saltiness of olives makes this flatbread outstanding.
You will love this gluten-free Italian bread! The focaccia is a perfect side to antipasto or a delicious replacement for bread.
I wanted to make this focaccia more flavourful. This is why I added cheese and olives. However, I also added rosemary, which complements the olives and gives the bread extra flavour.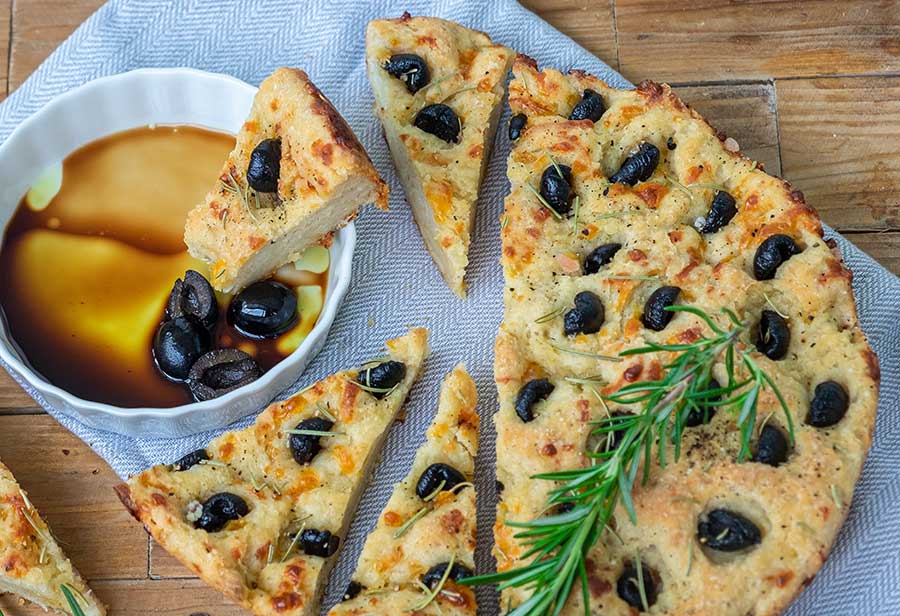 Gluten-free Italian flatbread called focaccia.
Focaccia is an oven-baked yeast flatbread that is loved in Italy. It is often served with a good quality extra virgin olive oil and balsamic vinegar.
The best part about this focaccia recipe is that it is super simple to put together and is baked in a cast-iron skillet. This allows the flatbread to become beautifully crispy on the outside but staying soft on the inside.
What I love about this cheesy focaccia with olives is, the bread makes a delicious savoury gluten-free snack for any time of the day. Another favourite of mine is this 30 Minute Gluten-Free Cheese and Garlic Flatbread.
Gluten-Free Cheesy Focaccia With Olives
Published on May 28, 2019
by
Kristina Stosek
Instructions
1.

Place warm milk, olive oil and sugar in a bowl. Stir until the sugar has dissolved

2.

Place flour, yeast, xanthan gum and salt in a large bowl and whisk together

3.

Add milk mixture to dry ingredients and using an electric mixer beat on medium speed for 1 minute, then using a spatula fold in cheese

4.

Generously brush a 9 to 10-inch cast iron skillet with olive oil. Transfer the dough into the skillet and using your fingers dipped in oil spread the dough outwards toward the edges. Cover the skillet with a dry towel and let the dough rise for one hour in a draft free place

5.

Once the dough has finished rising, generously brush with olive oil and using your finger poke holes randomly in the dough and insert the olives. Sprinkle with rosemary, coarse salt and coarse pepper

6.

Bake in a preheated oven at 375 F for 30 - 35 minutes until golden

7.

Remove from the oven and cover the skillet with a dry towel for 5 minutes. Then transfer the bread onto a cooling rack to cool completely

8.

Note; you can replace the cast iron skillet with a round baking pan or pizza pan, the focaccia may not be as crispy