Deluxe White Bean Chili
Prep Time
15 Minutes
Difficulty
Easy
Cook Time
90 Minutes
Serves
6 family style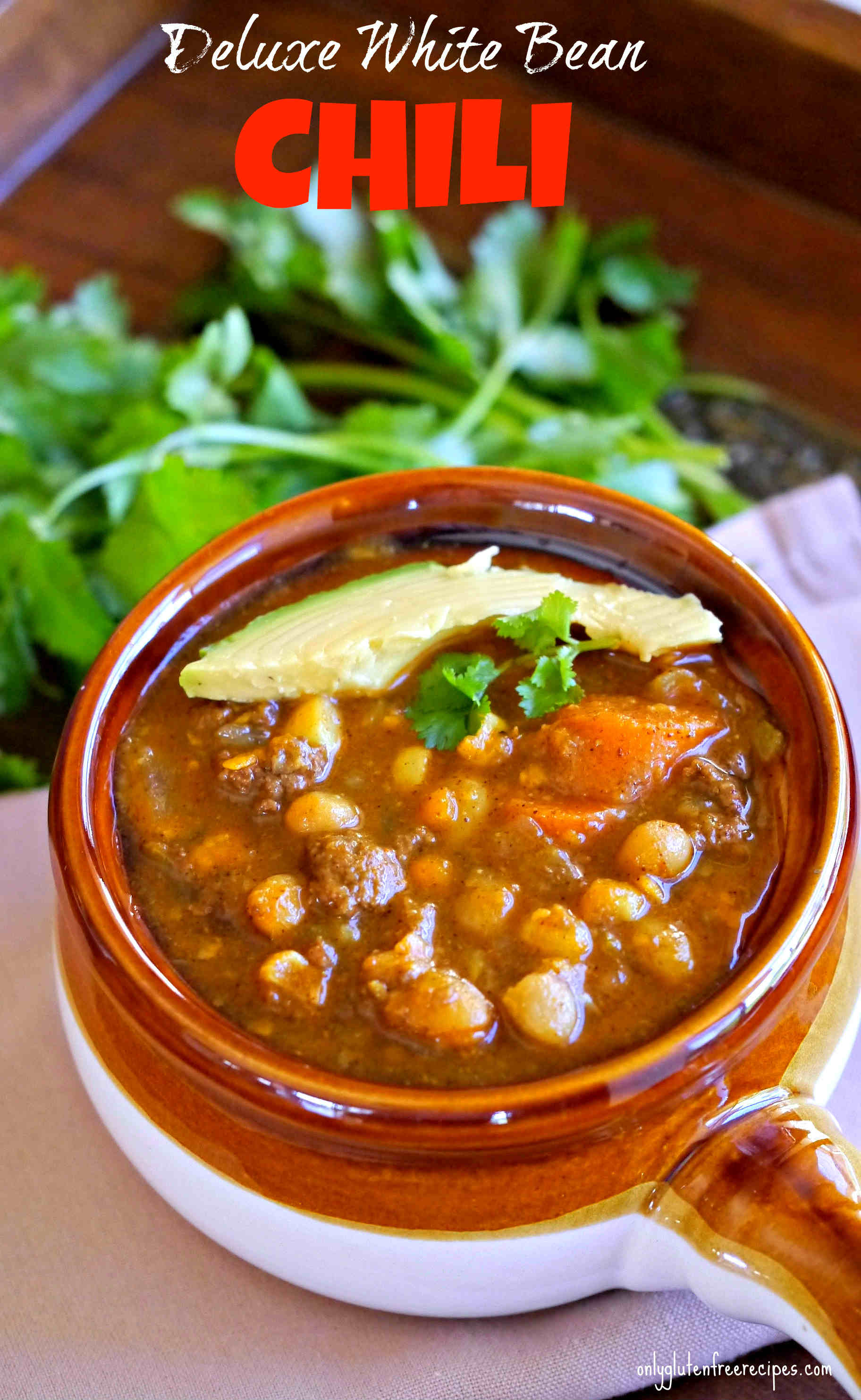 This chili is explosively delicious!
Ingredients
1 lb. extra lean ground beef
2 medium onions, chopped
3 garlic cloves, crushed
2 tbsp. ground chili powder
1 tbsp. ground cumin
1 tbsp. ground turmeric
1 tsp. dry oregano leaves
2 bay leaves
¼ tsp. ground cinnamon
½ tsp. cayenne pepper or to taste
3 tbsp. pure tomato paste
6 + cups water
3 medium carrots diced
3 medium celery stalks diced
1 yellow or red bell pepper cut into small bite size pieces
2 x (13.5 oz.) cannellini beans (navy beans), rinsed and drained
1 medium size zucchini with skin grated
1 small sweet potato peeled and grated
2 cups frozen corn
Sea salt to taste
Juice of 1 large lime
Choice of toppings: fresh cilantro, sour cream, cheddar cheese, goat cheese or avocado
NOTE: All ingredients including spices must be gluten-free and preferably organic
Instructions
Place the ground beef in a large pot and cook over medium-high heat until browned. Add onions and garlic and cook for five minutes while stirring. Stir in spices and tomato sauce and then add water, carrots, celery, bell pepper and beans. Season with salt and cover. Cook on low heat for 1 hour. Add water as needed during cooking
Add zucchini, sweet potato and corn and cook for 20 more minutes. At the end stir in lime juice
© Copyright 2017 Only Gluten Free Recipes. All Rights Reserved.